From the Desk of Brian Bales: Week of Feb., 7, 2022
Image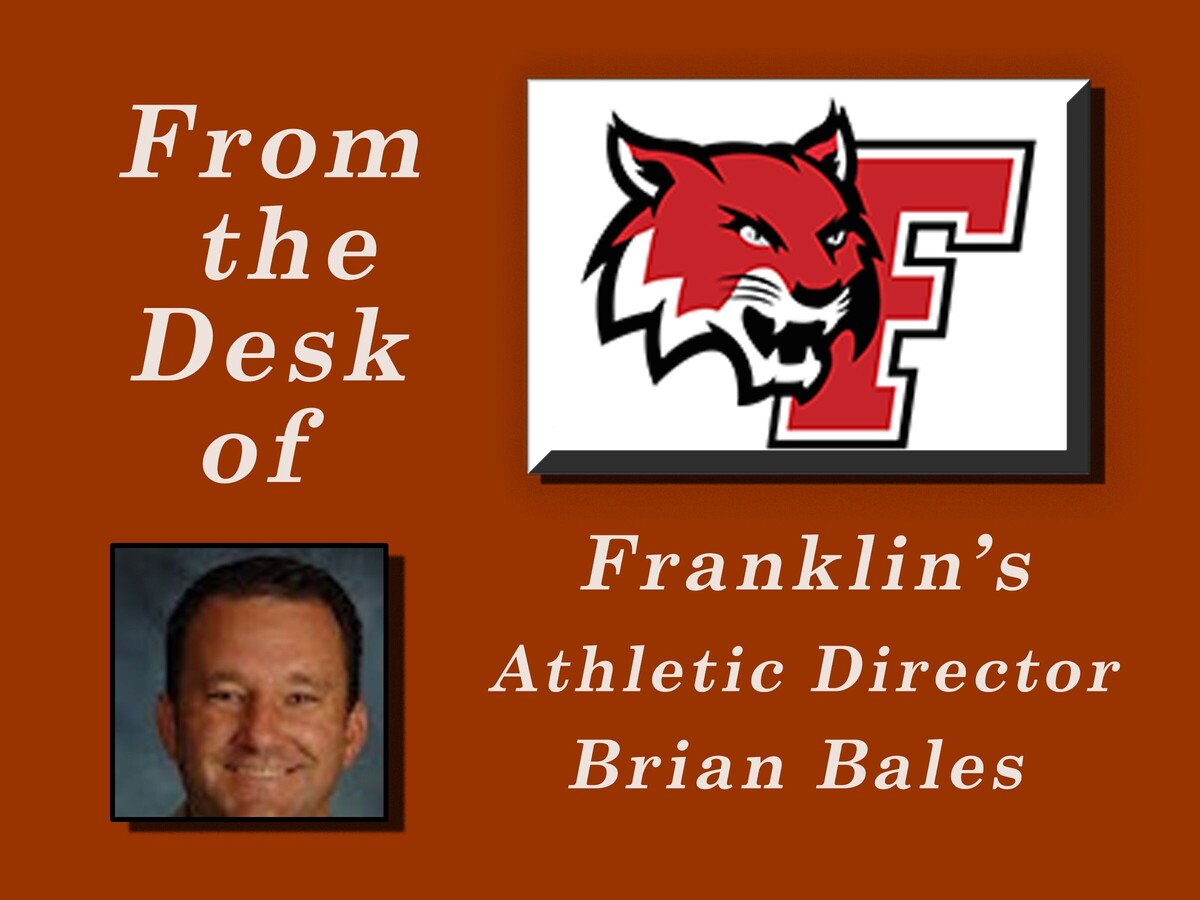 FRANKLIN, OH -- Congratulations to the following students for signing their letter of intent last night:
Nate Paarlberg - Basketball Taylor University
Pierce Bauerle - Baseball Frontier Community College
Evan Fry - Baseball Indiana Wesleyan
Nate Frazier - Baseball Clark State
---
Wrestling
The Franklin Wrestling program hosted a Senior night dual last night against Dayton Carroll. The cats won 50-9. All 4 seniors won. Congrats to the following seniors:
Gage Anderson
Landon Speers
Brandon Garrett
Garrett Tackett
The wrestling team has the weekend off, but competes in the league tournament next weekend at Carlisle High School.
---
Swim
Swimming is wrapping up its season this week with the Sectional Meet. (Hopefully, we get some district swims). 
The boys swim tonight in Centerville at the Washington Township Recreation Center. 
The girls swim tomorrow at Mason. 
Please check the results on Swimmeet.com! We had a strong showing at SWBL's with several time drops from the previous year - Multiple swimmers on the podium!
---
Basketball Sideline Cheer
Join us tonight in "the pit" at Oakwood to cheer for our boys basketball team! TONIGHT's theme- BENGALS- WHO DEY!!!! 
Tomorrow night, join us to honor ALL winter sports seniors before the Cats take on Brookville! 
Good Luck Winter sports and Congratulations to all of our Seniors as they finish their '22 Winter Sports Season!!!! GO CATS! 
Competition
The FHS comp squad is in Disney World this weekend competing at the UCA National competition. Good luck girls!

---
Bowling
Girls Bowling — This was a busy week for the Wildcat bowlers in bowling 2 away matches and one home match where we went 2 for 3. 
Tues., 2/8:  We traveled to Poelking Lanes Wilmington to take on Dayton Carroll. It was a close match, and we came ahead in the last game winning 1,895 to 1,881. Cj Jones was a high bowler bowling 181 and 158 and Bailey Judy was close behind with 167 and 159.
Weds., 2/9: We had Senior Night where we honored our senior, Arebella Lloyd for her hard work and determination to improve each year. We won our match 1,555 to 1,182 against Valley View. Bailey Judy was high bowler of the night bowling 170 and 168. Arebella Lloyd bowled a high game of 173.
Thurs., 2/11: We lost a close match to Springboro 1,711 to 1,752. We were ahead until the very last baker games. Bailey Judy led the team with her personal best scores 204 and 175. CJ Jones was close behind with 171 and 182. Arebella Lloyd also bowled a high game of 179.
Mon., 2/14: It is our last match before Sectionals. It is home at JD Legends against a tough Middletown team.
Boys Bowling — The Boys Bowling Team had 3 matches this week. The Team dropped a match on Tuesday against Dayton Carroll. Ashton Smiley had a high game of 242 and high series of 445. Ethan Rebholz added a 144 game. 
Wednesday night the Team celebrated our Seniors, Ashton Smiley and Ethan Rebholz, at our match against Valley View. 
The Team lost a close match to the Spartans. Ashton Smiley had the high game for Cats with a 193 and senior Ethan Rebholz added a 159. Thursday, the Team dropped a match to Springboro. Andrew Sanders rolled a 127, that was 27 pins above his average. 
The Team returns to JD Legends on Monday versus Middletown.
---
Basketball
Boys Basketball: We traveled to Monroe this past Tuesday in a big SWBL road contest. Noah Rich came out strong from the start and led the Cats in scoring with a game high 32 points to go with 11 rebounds. The win moved the TEAM to an overall record of 17 wins and 3 losses with a SWBL league record of 10-1.
Tonight, the Cats travel to Oakwood to take on the Lumberjacks who are ranked in the state poll rankings. 
Tomorrow night, we host Brookville for Senior Night. We are honoring 7 Seniors who have been a HUGE part of our program over the years. Over the past two years, they have compiled an overall record of 37 wins and only 5 losses. We are going to miss these young men and will be pulling for them in their future journey. Please come out and support them in their final home game.
Ethan Adkins
Isaiah Bales
Pierce Bauerle
Evan Fry
Trustin Highley
Nate Paarlberg
Noah Rich
***We also want to thank our Senior cheerleaders!
Girls Basketball:The Lady cats defeated Fairborn 53-33 Monday for our 3rd Win of the
season and the last home appearance for Senior Mallory Wulff.
The Girls Tournament game will be Wednesday, February 16th at Troy HS at 6:00pm. We play the winner of Bellbrook/Piqua. 
Our program would like to thank everyone for the support, and we wish all winter student athletes the best of luck!
---
Lacrosse
Lacrosse Season begins February 21st!!! We are excited about this upcoming season and if you are interested in playing, regardless of experience, please do not hesitate to join! Email Coach Abshear at matthew.abshear@lakotaonline.com with any questions.
Link for Youth LAcrosse
https://wildcatlacrosse.sportngin.com/page/show/6285866-registration