Who's Playing Out Brought To You By Hall Around Town Radio: March 16, 2022
Image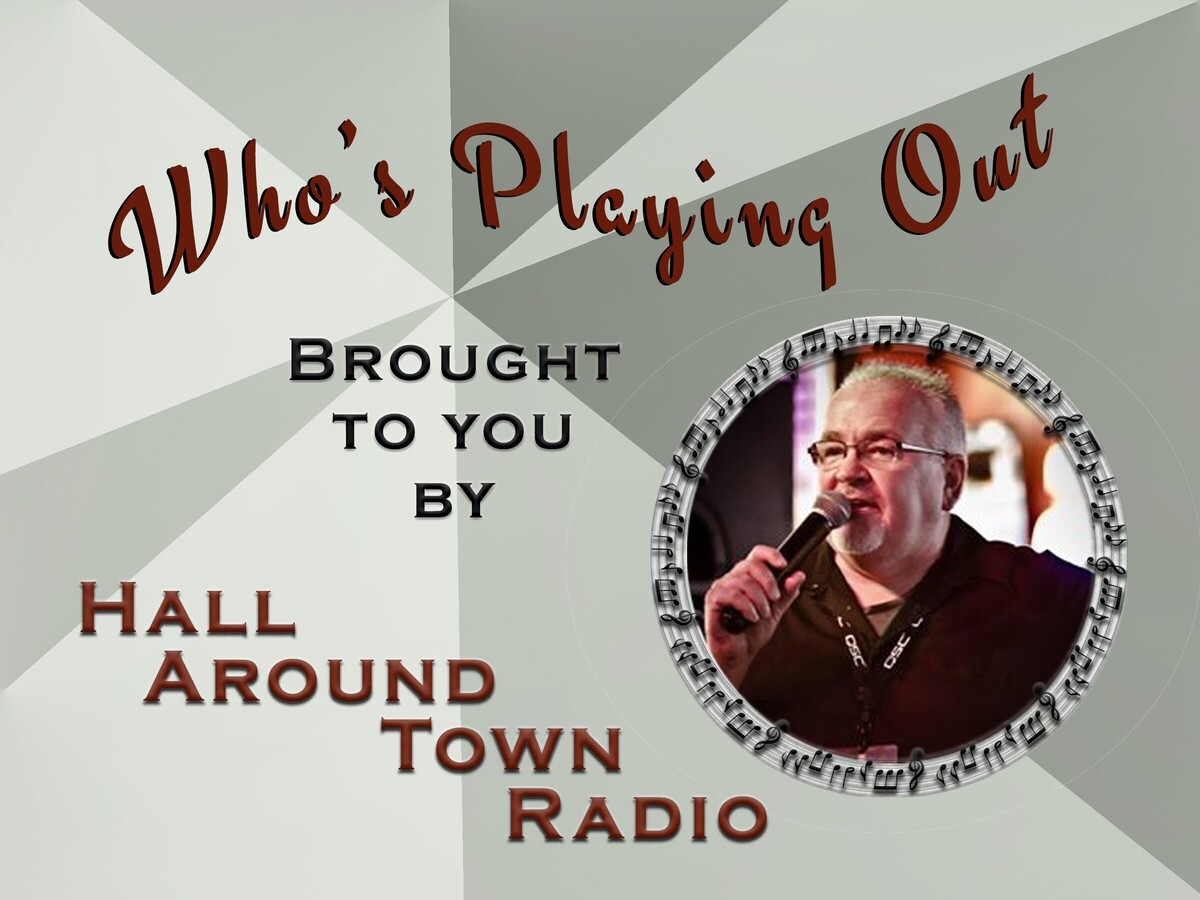 Brought to you by Scott Hall from "Hall Around Town Radio"
A little live music can turn an ordinary day into a memorable experience. The area's top musicians take center stage at some of the tri-states best restaurants and nightspots, bringing live music to our region nearly every night of the week. Make your first stop here weekly to find out "Who's Playing Out" at one of our live local music venues.
Bands and solos brought to you by our friends at Froggy's in Monroe, Ohio and Hall Around Town Radio (follow us on Facebook)
Froggy's in Monroe – Sponsor of our Thursday LIVE show on Facebook
Thursday- St. Patty's Day - 8a -1p Kegs & Eggs and 9-12 Joe Jordan acoustic 2- 6p Hot Cargo
And 8p-12 Social Chemist
Friday – 4 to 7pm Blue September acoustic
Friday - 9pm - Missing Pieces
Saturday - 9pm - Britney's Lipstick
Mondays- 8pm - 8 ball Tornament double eliminations ‐ $10 to play
Tuesday - 7:30pm What's that Tune Bingo with DJ Angela
Wednesday - 8pm Karaoke with Dj Songz
Online seating reservations / tickets at www.gotofroggys.com
---
Mr. Boro's Tavern Springboro
Thursday – Until Rust and Cullen Acoustic 7pm
Friday – Ethan and Joey 8 to 11pm
Saturday – Mixtape 8 to 11pm
Sunday – Funday with Last Call 2pm
Tuesday – Trivia with Scott at 7pm
Wednesday –Queen of Hearts Drawing
NTT Trivia at 7pm
---
The Belle & The Bear (Montgomery)
Thursday "St. Pattys Bash" featuring a host of local music celebrities at 7:30 pm
Friday – Soul Shadow 7pm and Stoney Doperella 8:30 pm
Saturday – Billy Rock Band 8:30 PM
Monday Game Night - 6pm
Tuesday – Jamie Combs 7pm
---
Lebanon Grand Opry House
Saturday – St Pattys show with Jessie Lyn and the Opry House Band with Austin Line and Keeli Lacroix doors at 6pm… show at 7pm.
Reservations by calling 513-850-1770
---
Sorg Opera House
Friday – The Wonderlands 8pm
Saturday – The Cleverlys 8pm
Tickets at Cincyticket.com
---
Soft Rock Café
Karaoke – Thursday 7pm - Friday 8pm - Saturday 8:30 pm.
---
Crooked Handle Brewing Co.
Thursday – Zane Gerlach DJ 7pm Open at 1pm
Friday – Zane Gerlach Acoustic at 6pm
Little River Bar and Grill (Oregonia)
Thursday – Thirty Ot 6 at 1pm
Friday – Jordan Wood Nick Giese 7pm
Saturday – Wishlist 7pm
---
The Blue Note Harrison
Thursday – Adelita's Way with Gemini Syndrome doors 5:30pm
Saturday – Triple Header - DV8 - Blackbone Cat - 1330 Doors at 6PM
Tickets available at …. CincyTicket.com
---
Pohlman Lanes & Scott's Bar & Grill (Hamilton Ohio)
Family Entertainment Complex 954 Pyramid Hill Blvd., Hamilton Ohio
Friday - Pandora Project 7pm to 11pm
Saturday - MorePlay 7pm to 11pm
Monday Big Band Swing 7pm to 9pm
Wednesday Standard Country Time Band 1pm to 3pm
---
Hidden Gem Music Club
Thursday – Blues Jam 6pm
Friday – The Distance 8pm
Saturday – Quiet Storm – 8pm
Sunday – Dayton JAZZ ORCHESTRA 7pm
Wednesday – Open Mic Night 7PM
---
---
Lori's Roadhouse
Thursday – Michelle Robinson 6pm. Free Show
Friday – Red Idle Rejects 6pm
Friday – 90 Proof Twang 8:30pm
Saturday – Cornfield Mafia 6pm
---
Miami Valley Gaming
Friday- The Company – 9pm Center Bar
Saturday – DAT Band – 9pm Center Bar
---
St. Pat-Rocks Day – 5 N. Broad – Fairborn

10am – 12pm Dulahan
12pm – 12:30pm Dwyer School of Irish Dance
12:30pm – 2:30pm Dulahan
3pm – 4:45pm The Weekend Effect
4:45pm – 5:15pm Dwyer School of Irish Dance 
5:30pm – 7:30pm Velvet Crush
8pm – 10pm Stranger
---
Dublin Pub Dayton
Wednesday – Naked Karate Girls – 8 to 11pm
Thursday - St. Patty's Celebration – Music All Day
The Village Theatre – Covington Ky.
---
Thursday – Chalk Eye, The Mudpies and 57 Fury 7 to 11pm
Scott Hall – Hall Around Town Radio
Tuesday Trivia at Mr. Boros Tavern 7pm
Wednesday – Name That Tune at Mr. Boros 7pm
---
Live Monday to Thursday On Hall Around Town Radio
Scotty Long / DJ Songz
Tonight Froggys - St. Patrick's Eve Party 8pm-12am
St. Patrick's Day 
*Putters Sports Grill-Liberty ShamROCK PARTY 6pm-10pm
*Legends Bar & Grill-Hamilton Drunken Peers w/ Green Beers Karaoke Party 11pm-2:30am
Friday- Legends Bar & Grill Hamilton 9pm-1am Karaoke
Sunday- Barks at The Barrel 11pm-7pm Karaoke & Tunes in between Live Music.
Tuesday – The Barrel – Karaoke
---
Bands, Solos and Duos
Retrobution
Thursday - O' Connors in Springfield Noon to 4pm
---
Bob Dellaposta
Thursday Dutch Tavern in Middletown 8:30 to Midnight
---
Jacob Gaither
Friday – Jens Bar & Grill at 7pm
---
Jacob William
Thursday – Franklin Tavern 7pm
---
Liars for Hire
Saturday at Katz Lounge - Kettering 9p-1a.
---
Brass Tracks
Thursday – Harrigans Pub 7:30pm
---
Thom Stephenson
Thurs. @ Monkey Bar 1-5pm (ZaaZoo)
Fri. @ Wiedeman's 7:30pm (ZaaZoo)
Sat. @ Nicolson's 7pm (Gee Your Band Smells Terrific)
Sunday @ Little Miami Brewing 4pm (TomCat)
---
Lil Heat
Saturday at Foleys Irish Pub – Reading . 7 to 11pm
---
White Knuckle Weekend
Thursday… St Paddy's Day at Dublin Pub from 9pm to 1am
---
Boombox
Saturday - Southern Lanes in Alexandria Ky. 8 PM
---
Derek Stewart - Brian Morrow
Thursday – Open Mic at West Side Pub and Grub 7pm
---
Nick Wheeler
Thurs March 17 with the Carey Hunley band Legends in Hamilton 3-5
---
Mixtape
Saturday at Mr. Boro's from 8-11.
---
Until Rust
Thursday 3/17 Mr. Boro's Tavern Springboro, Oh St. Patrick's Day Shenanigans W/ Paul Cullen 4-7
Friday 3/18 Knollwood Tavern Beavercreek, Oh 9:30-12:30
Saturday 3/19 Dublin Pub Dayton, Oh 8-12
---
Shane deMoss
Wednesday 3/23 Orioles Franklin, Oh 7-10
---
Six String Hustle
Fri 3/18 9:30-1:30 Jimmy B's Cincinnati, Ohio
Full band show featuring Lee Dixon, Catfish Campbell and Erik Sears from KMB
Sat 3/19 9:30-1:30 Highway House Cincinnati, Ohio
Acoustic Band show featuring Andy Uzzel and Greg Goforth
Sun 3/20 1-5 Zazou Covington, KY
Wed 3/23 7-10 The Hangar Bar West Chester, Ohio
---
Jacob William
Thursday 3/17 Franklin Tavern 7-10
---
Jordan Wood
Thursday 3/17 Misery&Jen - full band 8pm Hamilton
Friday 3/18 Little River Bar - w/Mac McDaniel 7pm Oregonia
Monday 3/21 Misery & Jens Open Jam 8pm - ? Hamilton, OH
Thursday 3/24 Liberty Inn 6:30pm Liberty Township
---
Ithika
Thursday @Troll Pub Dayton St. Patrick's Day 3/17 7-10pm
---
Lätter
Saturday @ Sloopy's for the Hair of the Dog post Patty's Day bash! 9-1am
---
StrangeLove
Thursday St Pattys Day evening from 7-11 at Monkey Bar (likely outside due to the projected temperature)
---
Night Reign
Friday at the Miamisburg Moose @ 8pm
---
Seiter Haus
Wednesday 3/16 @ 8PM at Shorty's Pub
Thursday 3/17 @ 2PM at Old Miller's Tavern
Friday 3/17 @ 6PM at Barrett's Pour House
Saturday 3/19 @ 8PM at Tony's Ole Saloon
Sunday 3/20 @ 8PM at The Squeaky Squirrel
Wednesday 3/23 @ 7PM at Gano Tavern
---
Dat Band
Saturday 3/19 Miami Valley Gaming Centre Bar 9pm-Midnight.
---
Johnny Fink
Thursday 3/17 Belle and bear jam 730pm
Friday 3/18 Ricks Tavern 8pm
Saturday 3/19 Smoke Justis 7pm
---
Crown Watts
Saturday 3/19 Ricks Tavern 8:00
---
Acoustic Blue –
Thursday - 3/17 - Par's Place, Fairfield, Ohio @ 5:30pm til' 8:30pm.
---
Michelle Robinson Band
Thursday - St Patricks Day at Lori's Roadhouse 6:30-10:30
Saturday at Bobby Mackeys 7pm
---
Kevin Cooper
Tues 3/22 630-1030pm: Eyes Up Here at Liberty Inn
---
Sepia heyday
Saturday opening for Psychostick at the Thompson house in Newport , tickets still available 7pm
---
Tori Faith
Wednesday 3/16 ~ Tori Faith Acoustic at The Squeaky Squirrel ~ 7-9pm
Friday 3/18 ~ Tori Faith Band at King's Landing in Rising Sun, IN ~ 8pm-12am
---
Audio Graffiti
3/16-3/22 at Sloppy Joes Bar in Key West, Fl 10-2 each night
---
Chris Reese
Thursday Chris, Byron Walton, and Rick Dews will be repping DB at the Paddy's Day Jam at the Belle
---
Joe Lipinski
Jersey Joe Celtic show St. Patrick's Day "Kegs and Eggs" brunch 8AM - 11AM at The Dingle House Irish Pub in West Chester
---
Wesley Green
Thursday - 9eight Central - Full band Mutt's Brewery and Lounge 8-12
Friday - Bourbon Road Band Trillions 8-12
Sunday - 9eight Central The Barrel (police K-9 benefit) 2-3:30
---
Short of Stable
Thursday at GTC from 3-7
Sunday The Barrel (K-9 benefit) 4-5:30
---
The Weekend Effect
Thursday - 3-17 @ WTUE St PatRocks in Fairborn 3-4:45 and then at
OConners in Springfield 6-10pm.
---
Kevin McCoy Band
Saturday March 19 7-11pm The Monkey Bar & Grille
---
Ben & Pete
Friday at Lucky Star Brewery in Miamisburg, 8 to 11 PM
---
Heath Bowling
Thursday 3/17 Foleys Irish Pub W/ Benny Bodine 8-12 Reading, OH
Friday 3/18 AJ's Tavern 8-11p Franklin, OH
Saturday 3/19 Foleys Irish Pub Beauty and The Beast 8-12a Reading, OH
Sunday 3/20 Open Mic(Good Time Charlies) 5-9p Miamisburg, OH
Wednesday 3/23 Open Mic(AJ's) 8-11p Franklin, OH
---
Blind Faith Duo
Friday Alexandria Brewing Company 7 to 10pm
---
David Thornton
Wed 3/16 The Barrel (Springboro) 7:00-10
Thurs 3/17 Jayne's On Main (Miamisburg) 3:00-5
Fri 3/18 Middletown ELKS LODGE #257 7:00-10
Sat 3/19 The Common Beer Company (Mason) 7:30-10:30
---
Spungewurthy
Saturday at Wings Vandalia. 8pm
If you would like to have your musical act featured on our weekly podcast or in Warren County Post the contact us @Hall Around Town Radio on Facebook! For additional Band information follow our daily Facebook "Live at Five" program @Hall Around Town Radio