Who's Playing Out Brought To You By Hall Around Town Radio
Image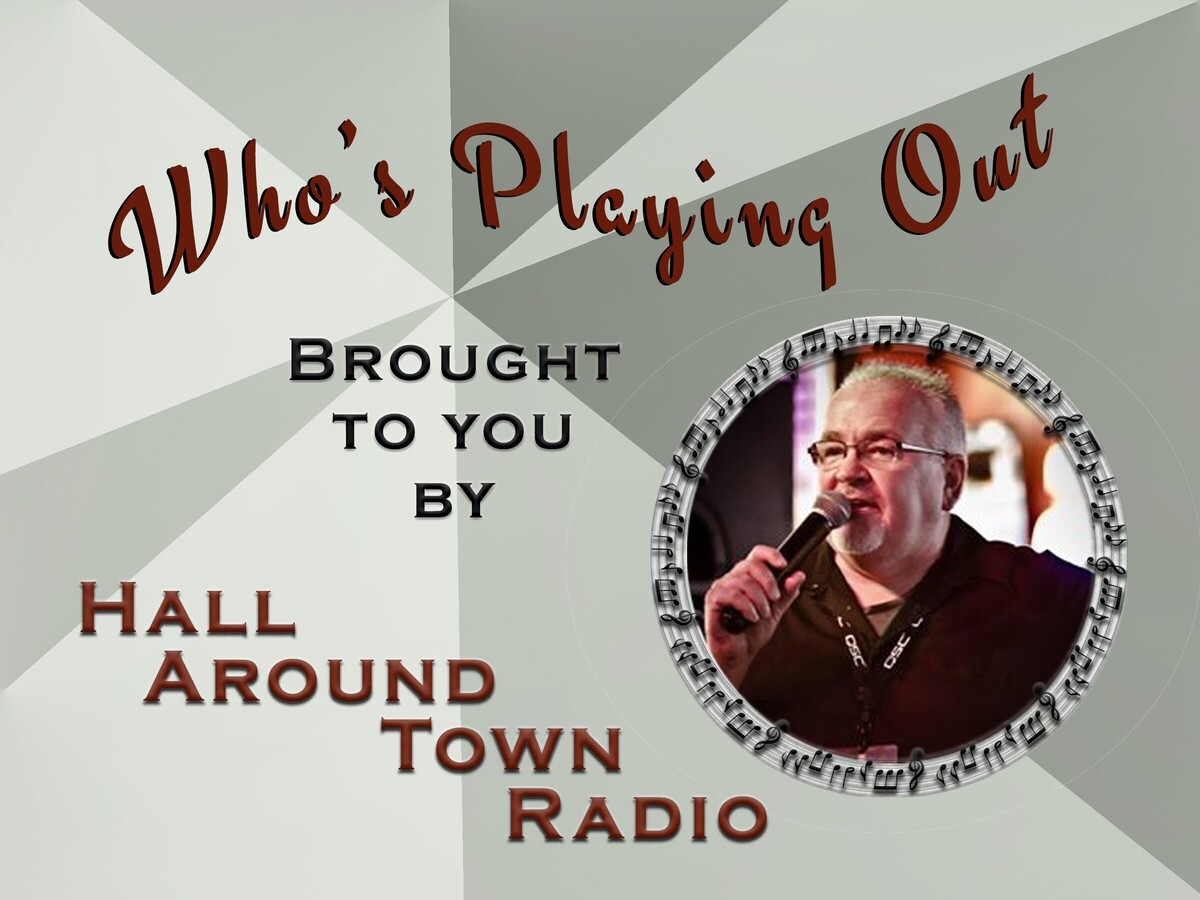 Brought to you by Scott Hall from "Hall Around Town Radio"
A little live music can turn an ordinary day into a memorable experience. The area's top musicians take center stage at some of the tri-states best restaurants and nightspots, bringing live music to our region nearly every night of the week. Make your first stop here weekly to find out "Who's Playing Out" at one of our live local music venues.
Bands and solos brought to you by our friends at Froggy's in Monroe, Ohio and Hall Around Town Radio (follow us on Facebook)
Froggy's in Monroe – Sponsor of our Thursday LIVE show on Facebook Now open at 11am daily.
Friday - 9pm Timestamp
Saturday- 9pm Montage
Tuesday - 7:30 What's that Tune Bingo with DJ Angela
Wednesday - 8pm Karaoke with Dj Songz
Online seating reservations / tickets at www.gotofroggys.com
---
Mr. Boro's Tavern Springboro
Thursday – 5 Star Day 7pm
Friday – Last Call Duo with Jamie Combs 8 to 11pm
Saturday – Xander Wells 8 to 11pm
Sunday – Funday with Amy Newhart 2pm
Tuesday – Trivia with Scott at 7pm
Wednesday –Queen of Hearts Drawing
---
The Belle & The Bear (Montgomery)
Thursday "Jam" featuring a host of local music celebrities at 7:30 pm
Friday – IRL 8:30 pm
Saturday – DV8 8:30 PM
Monday Game Night - 6pm
Tuesday – Jamie Combs 7pm
---
Lebanon Grand Opry House
Saturday – Stage and Dinner Show with Jerry Ray, Jessie Lyn and the TNT Band and Kodie Montana doors at 6pm.
Reservations by calling 513-850-1770
---
Sorg Opera House
No Music Shows this weekend
Tickets at Cincyticket.com
---
Soft Rock Café
Karaoke – Thursday 7pm - Friday 8pm - Saturday 8:30 pm.
---
Crooked Handle Brewing Co.
Thursday – Brian Jump "The Good Song Guy" 7pm
Friday – Until Rust at 6pm
---
Little River Bar and Grill (Oregonia)
Thursday – Karaoke with DJ Songz 7pm
Friday – Terry Metcalf 7pm
Saturday – Jordan Wood Band 7pm
---
The Blue Note Harrison
Friday – Jack Russell's Great White with DV8 doors 6pm
Saturday –Def Leppard – Poison – Ratt Tributes " with 13:30 Doors at 6PM
Tickets available at …. CincyTicket.com
---
Pohlman Lanes & Scott's Bar & Grill (Hamilton Ohio)
Family Entertainment Complex 954 Pyramid Hill Blvd., Hamilton Ohio
Friday 7pm to 11pm Jim Burns
Saturday 7pm to 11pm Outta Here
Monday Big Band Swing 7pm to 9pm
Wednesday Standard Country Time Band 1pm to 3pm
---
Hidden Gem Music Club
Thursday – Closed
Friday – The Termites 8pm
Saturday Snake Oil Revival – 7pm
Sunday – JR Erb Trio
Wednesday – Open Mic Night
---
Lori's Roadhouse
Tuesday – Line Dancing
Thursday – Stagger Lee 6pm
Friday – TBA
Saturday – Davisson Brothers 6pm
Saturday – Easton Corbin 8pm
---
Miami Valley Gaming
Friday- Marty Conner Band – 9pm Center Bar
Saturday – Jason Owens Band – 9pm Center Bar
---
Scott Hall – Hall Around Town Radio
Tuesday Trivia at Mr. Boros Tavern 7pm
Live Monday to Thursday On Hall Around Town Radio
---
Scotty Long / DJ Songz
Tonight - Little River B&G 7-11pm
Friday- Legends B&G of Hamilton 9pm-1am
Tuesday- The Barrel 7pm-11pm
Wednesday - Froggys 8pm-12am
---
Bands, Solos and Duos
Aces High – Iron Maiden Tribute
Saturday JD Legends with Sunset Mafia 7p - 11p
Overdrive
Friday - Miamisburg Moose at 8pm
Matthew Allen
Friday - White Dog Distilling Co. Middletown 7:30 to 10:30
Kevin McCoy
Thursday-The Lounge acoustic with Lee Dixon 8-11pm
Saturday- Full Band Moonbird 8-12midnight
Sunday- Acoustic Zazou Grill & Pub KY 1-4pm
White Knuckle Weekend
Saturday at Kings Point Pub 8:30-12:30
Heath Bowling
Thursday 2/24 Legends Bar & Grill Hamilton, OH 7-11p
Friday 2/25 Misery & Jens Hamilton, OH 6-10p
Saturday 2/26 The Hangar West Chester, OH 8-12a
Wednesday 3/2 Open Mic(AJ's) Franklin, OH 8-11p
Michelle Robinson
Friday Bristol Republic 10-1
Saturday Ricks Tavern 8-12
Wednesday Liberty Inn 7-10
Chris Lee Acoustic
Friday- Instrumental music at Red Rose Jems Pizzeria. 6pm-8pm
Saturday-Solo acoustic at Swine City Brewing. 8pm-10pm
Jordan Wood
Thursday 2/24 Twenty Mile Tavern Open Jam 9pm Landen
Friday 2/25 Wiedemann's Fine Beer, Brewery & Pub 7:30pm Cincinnati
Saturday 2/26 Little River Bar & Grill 7pm Oregonia
Monday 2/28 Misery & Jens Open Jam 8pm - ? Hamilton, OH
Timestamp
Friday at Froggys in Monroe 9pm
Brandy Conarroe
Saturday StrangeLove is back at The Monkey Bar 7-11pm for our comeback show!
Johnny Fink
Saturday - Johnny Fink and the Intrusion... Mansion hIll tavern 8pm
RED HOT RIOT
Friday Gano Tavern- 2/25-8:00 pm
Marsha Brady
Saturday Feb 26th Jimmy B's 9:30pm - 1:30am
Curt Cranmer Jr.
Friday, Feb 25 Curt Cranmer Jr with Mac McDaniel The Fairfield Pub 8-12
Excalibur
Friday at Knotty Pine 9pm
Kevin Cooper
Thurs 730-1130pm: B&B Jam
Fri 8pm-12am: The Hanky Panks at Trillions
Sat 8pm-12am: Eyes Up Here at Foley's Irish Pub
Audio Graffiti
Saturday 2/26 10-2 Tin Roof on the Banks for Mardi Gras
Seiter Haus
Thu @ 8PM at The Squeaky Squirrel
Sat @ 8PM at Tony's Ole Saloon
Shane Demoss Music
Wednesday 2/23 Orioles Franklin, Oh 7-10
Until Rust
Friday 2/25 Crooked Handle Springboro, Oh 7-10
Saturday 2/26 Bellfontaine Moose Lodge Bellfontaine, Oh 7-11
Chad Applegate
Saturday The Chad Applegate Band at The Barrel in Springboro 8 til 12
Tuesday - Chad Applegate solo at Jimmy Bs in Beechmont. 6 til 10.
Truk
Friday, Feb 25. full band The Brick Tap in Huber 8-12
Six String Hustle
Thur 2/24 6-9 Hebron Grille Hebron, KY
Fri 2/25 7-10 Putters Liberty Twnshp, OH
Sat 2/26 First Show 5-7 Ricks Tavern Fairfield, Ohio
Sat 2/26 2nd Show 9-1 Fairfield Pub Fairfield, Ohio
Velvet Crush Unplugged
Saturday 2/26 Heroes pizza house Springboro, oh 7-10
Ithika
Saturday Wings - Vandalia 9:30-1:30am
If you would like to have your musical act featured on our weekly podcast or in Warren County Post the contact us @Hall Around Town Radio on Facebook! For additional Band information follow our daily Facebook "Live at Five" program @Hall Around Town Radio