Four Votes In Montgomery County Could Change A Warren County City's Outcome
Image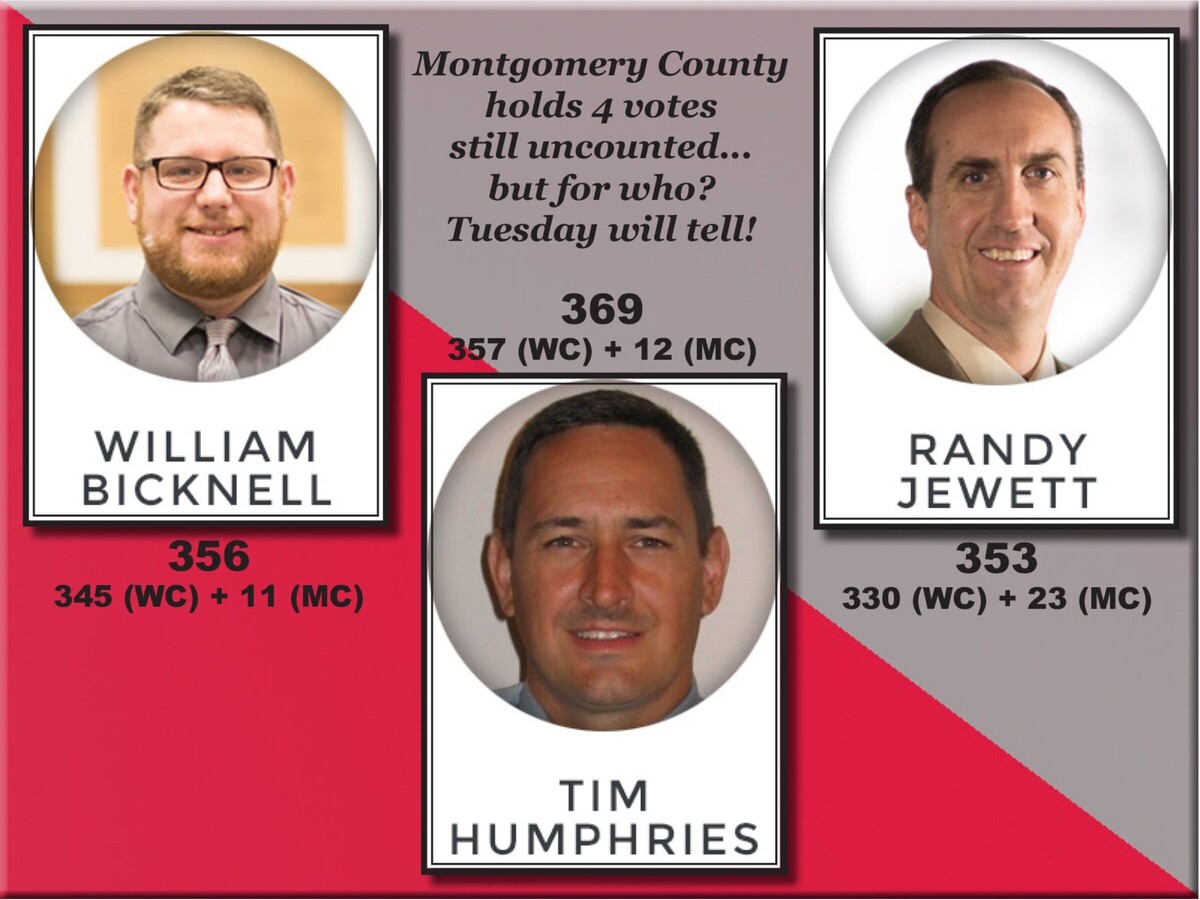 Carlisle, OH--Carlisle must wait till after December 6 for election numbers to be certified and its four council members can be officially named. 
Incumbents William Bicknell and Randy Jewett are waiting to see who will be named the fourth council member. Bicknell, who is only three votes ahead of Jewett, knows his lead could change once Montgomery County BOE meets Tuesday Nov. 23. 
A small portion of Carlisle City boundaries lies in Montgomery County, and currently there are four votes still waiting to be counted on Tuesday.
These votes are either mail-in or provisional votes, said Carlisle Councilman Tim Humphries, who is currently in third place when it comes to the tallied votes. 
Challenger Michael Kilpatrick took first place with a total of 670 votes. Incumbent Kim Bilbrey came in with a total of 600 votes holding strong at second. 
Humphries noted that while he is safe at staying in third place with 369 votes, his numbers where added into the equation to see if there was to be a recount.
"They took my numbers, Bicknell's numbers and Jewett's numbers and totaled them together. That number was then multiplied by .005. If that adds to 5 or under then there needs to be a recount," Humphries said.
Brian Sleeth Director of the Warren County Board of Elections explained that because the city's jurisdiction covers two different counties, it is The Secretary of State who must order the automatic recount of any multi-county.
Warren County met Thursday Nov. 18 to count mail-in and provisional votes. Humphries did pick up 9 more votes, while Jewett received 6 and Bicknell obtained 3... keeping Humphries safe as coming in third .
It is the four votes that sit in Montgomery County that can change who takes the fourth seat on Carlisle's Council. 
Sleeth said the Warren County Election Board has scheduled for the recount Dec. 6 even though it is the Secretary of State who must order it. 
"We are just being proactive and planning ahead," Sleeth said.