Who's Playing Out Brought To You By Hall Around Town Radio
Image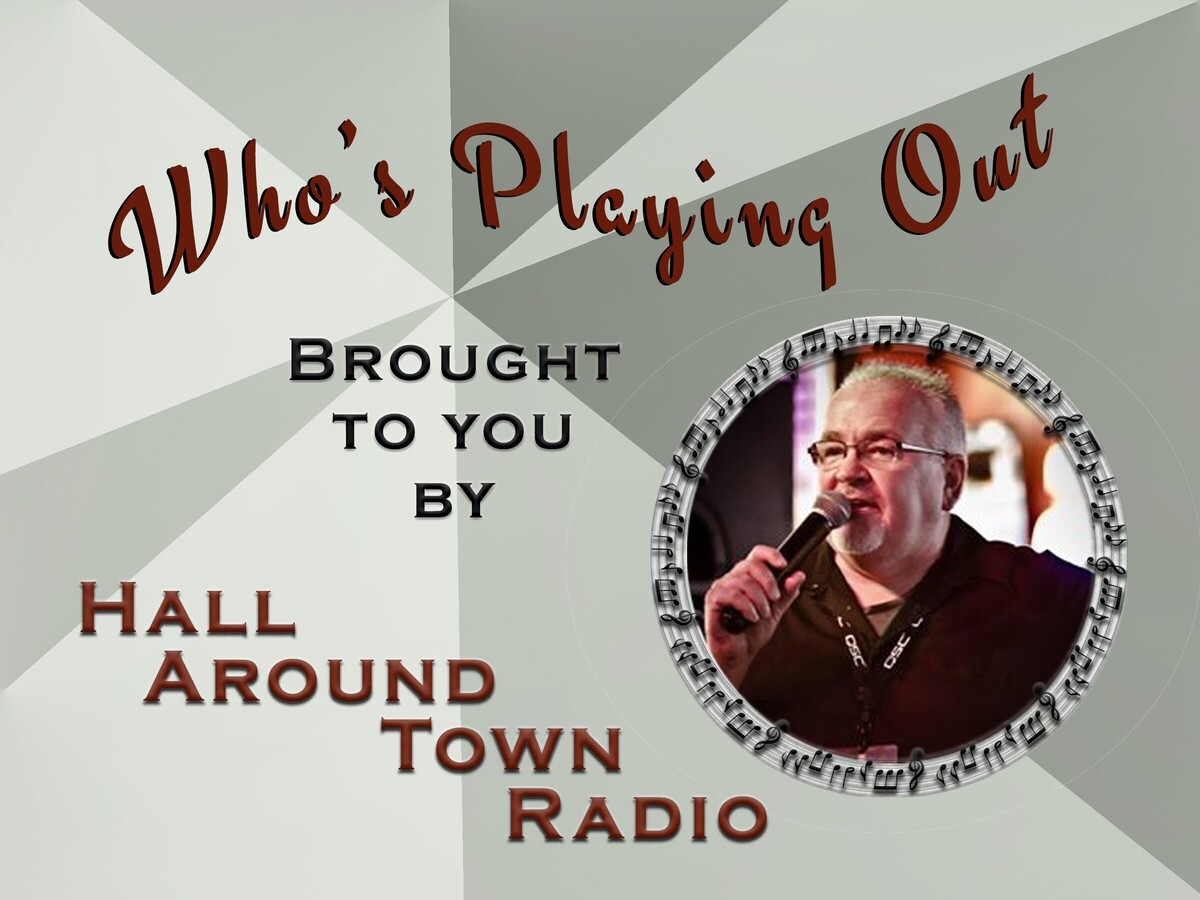 Brought to you by Scott Hall from "Hall Around Town Radio"
A little live music can turn an ordinary day into a memorable experience. The area's top musicians take center stage at some of the tri-states best restaurants and nightspots, bringing live music to our region nearly every night of the week. Make your first stop here weekly to find out "Who's Playing Out" at one of our live local music venues.
Bands and solos brought to you by our friends at Froggy's in Monroe, Ohio and Hall Around Town Radio (follow us on Facebook)
Froggy's in Monroe – Sponsor of our Thursday LIVE show on Facebook Now open at 11am daily.
Friday - 4-7pm Joe Jordan acoustic
Friday - 9pm - The Inturns
Saturday- 9pm Vinyl Countdown
Mondays- 8pm -8 ball Tornament double eliminations ‐ $10 to play
Tuesday - 7:30 What's that Tune Bingo with DJ Angela
Wednesday - 8pm Karaoke with Dj Songz
Online seating reservations / tickets at www.gotofroggys.com
---
Mr. Boro's Tavern Springboro 5th Anniversary Weekend
Friday – Spungewurthy 8 to 11pm
Saturday – Last Call 8 to 11pm
Sunday – 5 Year Anniversary Party and Fundraiser – featuring
Until Rust at Noon, Stoney Doperella at 2pm, Velvet Crush at 4:30pm and The Kevin McCoy Band with Ashley Martin at 7pm
Tuesday – Trivia with Scott at 7pm
Wednesday –Queen of Hearts Drawing
---
The Belle & The Bear (Montgomery)
Thursday "Jam" featuring a host of local music celebrities at 7:30 pm Guest Host-Rick Kern
Friday – Soul Quest 8:30 pm
Saturday – Britney's Lipstick 8:30 PM
Monday Game Night - 6pm
Tuesday – Jamie Combs 7pm
---
Lebanon Grand Opry House
Saturday – Elvis Mania – Tyler Christopher doors at 5:30… show at 7pm.
Reservations by calling 513-850-1770
---
Sorg Opera House
Friday – Sweet Baby James – James Taylor Tribute 8pm
Saturday – Riders In The Sky 8pm
Tickets at Cincyticket.com
---
Soft Rock Café
Karaoke – Friday 8pm - Saturday 8:30 pm.
---
Crooked Handle Brewing Co.
Friday – Ricky Veeneman at 6pm
---
Little River Bar and Grill (Oregonia)
Friday – Sean Poole Acoustic 7pm
Saturday – Missing Pieces 7pm
---
The Blue Note Harrison
Friday – Purple Madness – Americas #1 Prince Experience Band with DAT Band doors 6pm
Saturday –The Rock Show – "Journey Tribute" and Dreamboatn Annie" with Excalibur Doors at 6PM
Tickets available at …. CincyTicket.com
---
Pohlman Lanes & Scott's Bar & Grill (Hamilton Ohio)
Family Entertainment Complex 954 Pyramid Hill Blvd., Hamilton Ohio
Friday 7pm to 11pm Don Pruett Acoustic
Monday Big Band Swing 7pm to 9pm
Wednesday Standard Country Time Band 1pm to 3pm
---
Hidden Gem Music Club
Friday – Soul Express 7pm
Saturday – I Dig Pig – Grateful Dead Tribute – 8pm
Sunday – Sax Tone Arrington 7pm
Wednesday – Open Mic Night
---
Lori's Roadhouse
Tuesday – Line Dancing
Thursday – Stagger Lee 6pm
Friday – Eskimo Brothers 9pm
Saturday – Alexis Gomez 6pm
Saturday – Emmy Jerde and Zeona Road 9:30pm
---
Miami Valley Gaming
Friday- The River City Band – 9pm Center Bar
Saturday – Jay Jesse Johnson Band – 9pm Center Bar
---
Scott Hall – Hall Around Town Radio
Sunday – Hosting Mr. Boros 5th Anniversary Event at Noon
Tuesday Trivia at Mr. Boros Tavern 7pm
Live Monday to Thursday On Hall Around Town Radio
---
Scotty Long / DJ Songz
Friday- Legends B&G of Hamilton 9pm-1am
Tuesday- The Barrel 7pm-11pm
Wednesday - Froggys 8pm-12am 
---
Bands, Solos and Duos
Timestamp
Friday - The Barrel – Springboro 8pm
---
Vaughn Sutherland
Thursday Fairfield Pub w/Heath 7-10
Friday at Woollys 7-10
Saturday Foleys Irish w/Jason Roy 8-12.
---
Tyler VanB Music
Thursday – Stewarts Brewing Springfield at 6pm
---
More Than Zero
Saturday – The Barrel – Springboro 8pm
---
Liars for Hire
Saturday at Katz Lounge - Kettering 9p-1a.
---
The Weekend Effect
Saturday at Wings Beavercreek 9-1.
---
Chris Lee Acoustic
Saturday - Solo acoustic at the Lucky Turtle in Finneytown 8pm-10:30pm
---
White Knuckle Weekend
Saturday at Little York Tavern. 8-12
Next Thursday… St Paddy's Day at Dublin Pub from 9pm to 1am
---
Ben & Pete
Thursday at Mr. Boro's in Springboro from 7:00 to 10:00 PM
---
Short of Stable - Mike and Tiff
Friday - Jayne's on Main 8-11
Saturday Short of Stable Trio at Misery & jens 7-11
Sunday - Mike and Tiff Good time Charlie's Open Mic Sunday 5-9
---
David Stautberg
Saturday - Acoustic Blind Faith Duo The Game in Anderson 8 to 11pm
---
Wesley Green Music
Friday - 9eight Central at Heroes Pizza 7-10
Saturday at Kettering VFW 7-10
---
Matthew Allen
Friday 7-9 pm Fratelli's Restaurant (Springfield)
Sunday 2-5 pm Dalton Union Winery & Brewery (Marysville)
---
Spungewurthy
Friday - Mr Boros Tavern 8 to 11
Thursday 3/17 St Patty's Day - Troll Pub 3 to 6
---
Michelle Robinson
Saturday (Double header) KnottyPine 4 - 6:15 and Big Buls 9-1
---
Heath Bowling
Thursday at Fairfield Pub W/Vaughn Sutherland 7-10p Fairfield, OH
Friday at Knollwood Tavern 9-12a Beavercreek, OH
Saturday at The Hangar 8-12am West Chester, OH
Wednesday at Open Mic (AJ's) 8-11p Franklin, OH
---
David Thornton
Thursday - Jayne's On Main in Miamisburg 7:30-10:30
Wednesday - The Barrel Springboro 7-10
---
Kevin Mccoy Band
Saturday at JD Legends 8pm
Sunday at Mr Boros 5 Year Anniversary Headline with Ashley Martin 7pm
---
Jay Clark Band
Friday - Phone Booth Lounge 8-12
---
Route 88
Saturday - 7-11 Englewood VFW Open to the public
---
Until Rust
Friday at W. O. Wrights Beavercreek, Oh - Opening for Ithika 9-1
Saturday at The Hitching Post Oxford, Oh 8-11
Sunday at Mr. Boro's Tavern Springboro, Oh 5 Year Anniversary Parking Lot Party/ Harry Clevenger Scholarship Fundraiser
---
Until Rust, Stoney Doperella, Velvet Crush, Kevin McCoy Band & Ashley Martin from 12 to 9
Wednesday at Country Club Of The North Beavercreek, Oh 6-9
---
Jacob William
Friday at Orioles Franklin. 8-11
Saturday at Good Time Charlie's 9-Midnight
---
Shawn Bell
Friday - full band - Reading FOE 8 to 12 Reading Ohio
---
Linus Tate
Saturday at Newport Racing & Gaming - Newport, KY 8:30PM
---
Jordan Wood
Friday - Ron's Place Blanchester 9-1
Saturday private wedding
Monday Misery&jen 8p open Jam,
Thursday St Patrick Day full band Misery&jen 8pm
---
Mad Hatter
Saturday at Carroll HS St Pats Festival 9-11pm free admission!!!
---
DRIVE
Saturday at Mutt's Brewery lounge 8pm.
---
RED HOT RIOT
Saturday at Miller's in Bellevue - 8:30pm
---
Acoustic Blue
Friday - Rick's Tavern, Fairfield, Ohio at 5:30pm.
---
StrangeLove
Saturday at Club Trios for their St Pattys Day show 8-12
---
Dat Band
Friday - opening for Purple Madness (Prince Tribute) at The Blue Note 7:30
Special Guest with DB on Friday night...Ty Holiday on bass.
Saturday - Private Event in Dayton
---
Whiskey State Line
Saturday at Knotty Pine 1-3:15 pm for St Patty's show
---
Tori Faith
Thursday ~ Tori Faith Acoustic at Luna's Bar and Grill ~ 7-10pm
Friday ~ The Tori Faith The Tori Faith Band at Dixie Station Elsmere ~ 9:30pm-1:30am
---
Seiter Haus
Friday - 11PM - Louisville Billiards Club
Saturday - 8PM - Maysville Brewing Company
Wednesday - 8PM - Shorty's Pub
---
Marsha Brady
Saturday - Rick's Tavern - 8pm
---
BLUE SEPTEMBER
Friday at DC Roadhouse, Middletown Ohio, 8pm
---
Ithika
Friday at WO Wrights SG: Until Rust and Most Falcons 9pm-1am
Saturday at Carroll HS St Pats Festival 5pm-6:30pm
---
Sepia Heyday
Saturday – Legends Bar And Venue with Cry Baby Cry, Tyler Scott, Ratta ka kat, Echo Break and Deathtax 7:30 pm
---
Gerhard Albinus Band
Saturday – Swine City Brewing 7pm
---
Dave Taylor Solo
Thursday – Foleys Irish Pub – 7 to 11pm
---
The Wright Brothers Band
Saturday at Heroes Pizza 7pm
---
Mojo Rizin
Saturday 7pm at Little Miami Brewing
---
The Gamut
Friday – Monkey Bar and Grill 7pm
---
Six String Hustle
Fri - 8-12 Pirates Den Cincinnati, Ohio
Sat - 8-12 Foleys Irish Pub Cincinnati, Ohio
Tues - 7-10 Submarine House Centerville, Ohio
If you would like to have your musical act featured on our weekly podcast or in Warren County Post the contact us @Hall Around Town Radio on Facebook! For additional Band information follow our daily Facebook "Live at Five" program @Hall Around Town Radio