From the Desk of Brian Bales: March 4, 2022 Friday Week Wrap UP
Image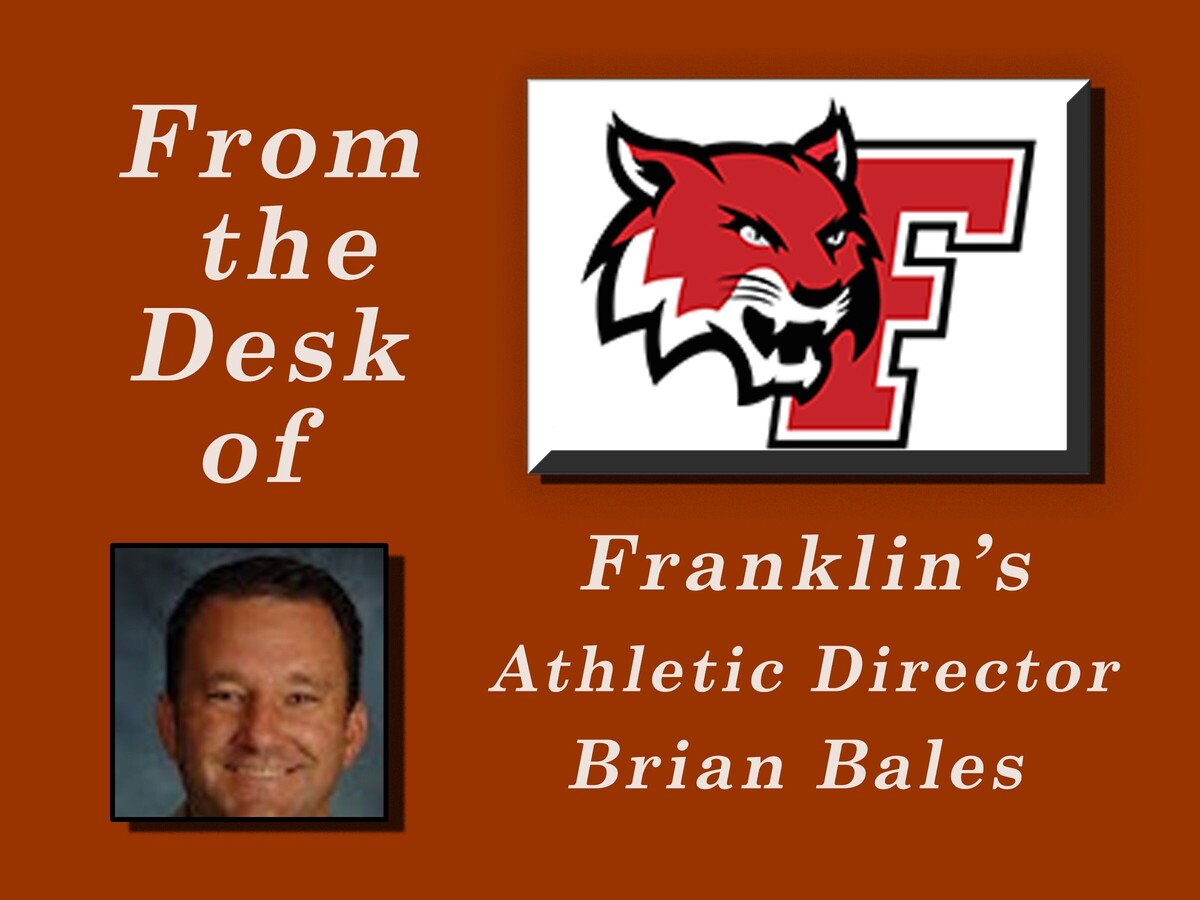 FRANKLIN, OH -- Spring athletes, please make sure your physicals are up to date and your Finalforms are completed in full.
ATHLETIC BOOSTERS
Calling all interested women and men for designer purses!!! Purse Bingo will help support Franklin JH and High School Cross-Country and Track teams. Join us for amazing raffle baskets from your local businesses, split-the-pot, a wristlet and wallet raffle, and a "cash and carry" table for all your needs! 
COST:
$35 until April 23rd, at 11:59pm! 
Otherwise, it is $45 at the door.
$35 ticket includes: 20 Rounds of bingo AND a Dauber
$45 ticket includes: 20 rounds of Bingo, a Dauber, AND Chick-fil-A sandwich, chips, and a cookie.
Seating: Circular Tables up to 8-10 people.
After you check-in, you will be able to purchase extra Bingo cards to enhance your chances of winning! We will have a raffle for wallets and wristlets throughout the evening.
We will have concessions running. This includes: Pulled Pork Sandwiches (until supplies last), chips, popcorn, and more.The always favorite, split-the-pot!
Come support a wonderful fundraiser for the Cross-Country and Track teams!
**Remember, you MUST be 18 to play Bingo**
**Sorry, no refunds - only transfer of tickets to other individuals**
**Bingo License available upon request** REGISTRATION LINK - We are LIVE NOW! Register below.
***if registering separate from friends and you want to sit together, please put in the "notes" section who you would like to be placed with***
FOR MORE INFORMATION VISIT... Franklinathleticboosters.org
---
Wrestling
The wrestling team competed in the Sectional tournament at Clinton Massie last weekend. The team qualified 6 wrestlers to the district tournament and two alternates. The team places 10 wrestlers in the top 6. 
The wrestling team now competes in the District tournament at Wilmington High School today and tomorrow. Good luck to the following wrestlers:
Gage Anderson
Nathan Baker
Cole Stephens
Landon Speers
Brandon Garrett
Garrett Tackett
---
BASKETBALL SIDELINE CHEER
Thank you basketball sideline cheerleaders for a WONDERFUL season! Good luck to our seniors, we will miss you!!!
Franklin's Varsity Competition Cheerleaders competed in the OASSA Division 3 Non-Building State Competition this past weekend at Pickerington North High School. They went against 16 other qualifying teams in the largest Non-Building division of the day. The squad hit an amazing routine and the energy from the crowd was dynamic. 
During the awards presentation (and sitting through a 16 team countdown) it came down to the final 2 in the State and Franklin High School was named Runner's Up... getting beat by only 2 points to a very talented team from Steubenville High School. 
To put it in perspective there was a 25 point difference between Franklin and the 3rd place team from Granville High School- so it was a very close competition between Franklin and Steubenville.
This was a very special squad and an incredible season. We want to say thank you to our Seniors: Isabella Knipper, Hailey Tirey, Maren Gilley, and Emma Madden for their time and dedication to Franklin Cheer and we wish them the very best as they finish out their Senior year. They will be greatly missed!!
---
---
---
BOWLING
Girls Bowling: Extenuating circumstances worked in our favor and Payton Perez was able to bowl in districts this week. Even after bowling well, it was not enough to advance to state. We are proud of the effort, class, and sportsmanship that she put forth. Way to go Payton! This concludes the Girls Bowling season. 
We wish all the teams and individuals left in tournament play the best of luck. GO CATS!!
---
BASKETBALL
Girls Basketball: Girls Basketball will hold their banquet Thursday March 10th at 7:00pm
in the media center. Good Luck to all Spring Sports as they gear up for a big season. Also,
good luck to any winter teams still competing!
Boys Basketball: The Boys Basketball season came to an end for this season as the team lost in the Sectional Final game vs. Wayne. We appreciate all of the support from our fans. 
The Banquet date will be announced soon.
Congrats to Noah Rich on being selected to the SW Ohio 3rd Team and to Nate Paarlberg on being selected Honorable Mention.

---
LACROSS
This upcoming week we have three scrimmages:
March 8th: @ Dayton Carroll-6:30
March 11th: HOME vs Fenwick-6:00
March 12th: HOME vs Buckeye Valley School
Come out and enjoy some lacrosse…going to be an exciting year!
---
E- Sports
Welcome to the world of eSports! This is a brand new activity for students at FHS. We are excited to participate in the spring season and look forward to sharing all the great things our students are learning. 
Our season will focus on two games - Fortnite and Rocket League. This week was scrimmage week for our spring team and it was a learning experience for all of us. 
The Fornite team scrimmaged Westlake High School on Monday and although they came away with several wins, the match went to Westlake. 
On Wednesday, our Rocket League team took on Wapakoneta High School. Our athletes kept a top world tier player at bay with three nail biters. We rocketed out to an early lead, but Wapakoneta came from behind to win the series. 
Our season begins next week as we tackle the Fortnite State Champions - Middletown. Thanks to everyone who has been a part of getting this program up and running! Special shout out to Mrs. Fromm for working with us to find space for students to compete and the technology department for getting our equipment game-day ready.
Fortnite Varsity: David Walton (captain), Christian Balhetchet, Caden Dill, Beckett Swoll, Owen Hudson Bateson, Noah Woo, Colton Lenihan
Rocket League Varsity: Christian Balhetchet (captain), Owen Hudson Bateson, Noah Woo, David Walto
---
Flag Football
Alpha Flag Football League Combine
The combine is happening right before the season so that coaches and players have a chance to meet. We are also timing and grading the athletes in drills just like NFL players. This will help us make teams as even as possible during the season.
Sign up at: https://www.alphaflagfootball.org/Default.aspx?tabid=1105204
When:
K-3rd: Saturday March 26th from 2:00-3:00
4th-6th: Sunday March 27th from 10:00-11:00
Where:
Home Field Instruction
201 Shotwell Dr
Franklin, Ohio
How much: $15
Special guest speaker: Ryan Montgomery on March 27th
Contact: Taylor Briggs