Who's Playing Out – Brought to you by "Hall Around Town Radio" January 12
Image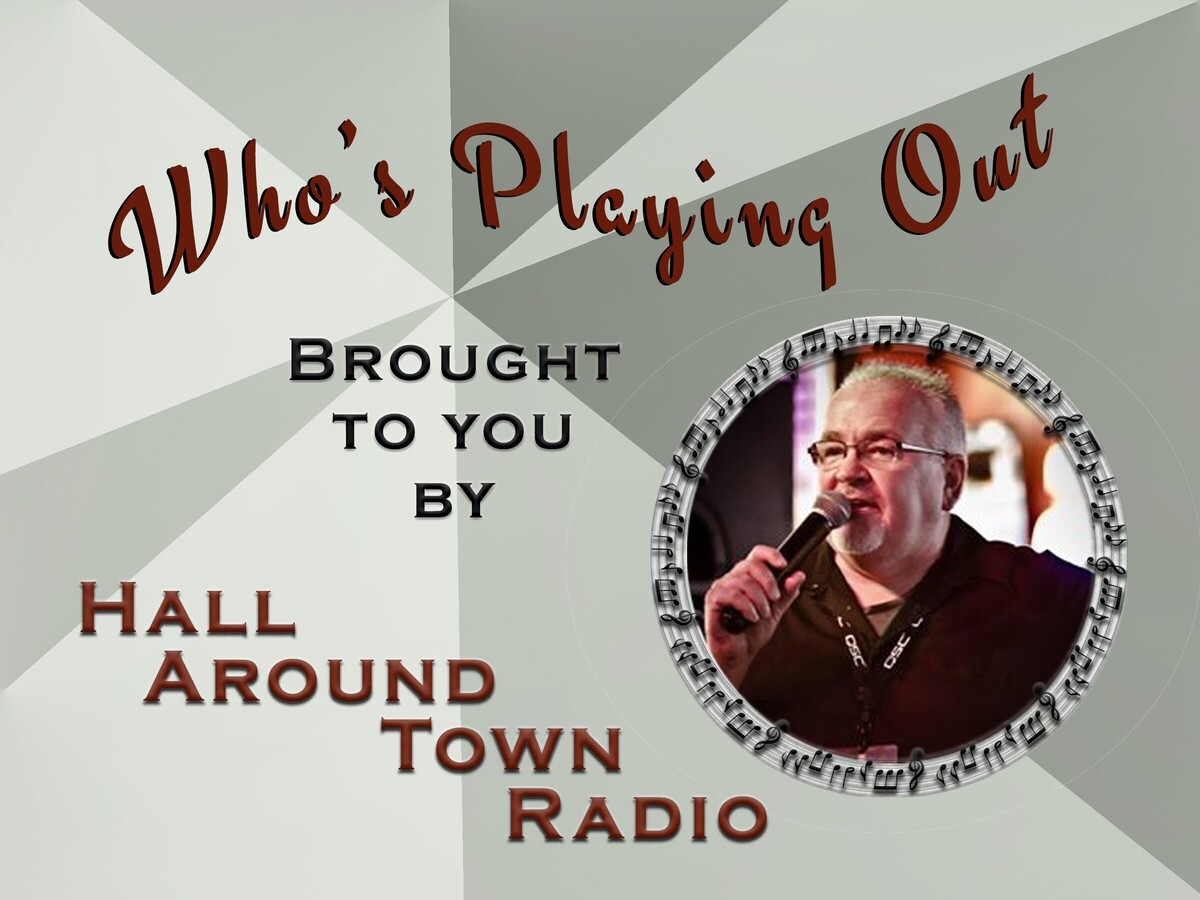 Brought to you by Scott Hall from "Hall Around Town Radio"
A little live music can turn an ordinary day into a memorable experience. The area's top musicians take center stage at some of the tri-states best restaurants and nightspots, bringing live music to our region nearly every night of the week. Make your first stop here weekly to find out "Who's Playing Out" at one of our live local music venues.
Bands and solos brought to you by our friends at Froggy's in Monroe, Ohio and Hall Around Town Radio (follow the on Facebook)
---
Froggy's in Monroe – Sponsor of our Thursday LIVE show on Facebook
Friday at 9pm Jet Pack Academy
Saturday at 9pm Time Stamp
Tuesday – 7:30pm Queen of Hearts jackpot is over $1K
Wednesday - 7pm Karaoke with DJ Songz
Starting in February … bands start at 8pm
---
Mr. Boro's Tavern Springboro 
Thursday – Mark Goodwin 7 to 10
Friday – Nawty Dawg (Debut) 8 to 11pm
Saturday – Spungewurthy 8 to 11pm
Tuesday – "Quiztastic" Q&A Trivia with Scott at 7pm
Wednesday – Queen of Hearts Drawing. 8pm over 30K
---
The Belle & The Bear (Montgomery)
Thursday "The Award Winning Jam" 7:30ish
Friday – Michelle Robinson Band at 8:30 pm
Saturday - CFG & The Family at 8:30pm
Monday Game Night - 6pm
Tuesday – Jamie Combs Acoustic Jam 7pm
Sunday – Annual Chili Cook Off 2pm
Wednesday – Gina and Johnny Band 7:30pm
---
Crooked Handle Brewing Co. Springboro 
Piqua location now open Music starts 1st week of Feb
Friday – Good Song Guy 7pm
---
Pohlman Lanes & Scott's Bar & Grill (Hamilton Ohio)
Family Entertainment Complex 954 Pyramid Hill Blvd., Hamilton Ohio
Friday at 7pm - Joe C Band
Saturday 7pm - Six String Hustle
Monday at 7pm The After Hours Big Band on the lanes
Tuesday at 7pm - Karaoke With Dj KODIE Montana
Wednesday at 1pm matinee performance with the Standard Country Time Band
Sorg Opera House
Lorrie Morgan – Friday February 3rd
Future show tickets available at Cincyticket.com visit SORG page for more info
---
Soft Rock Café
Karaoke – Thursday- 7:30 pm - Friday 8:30pm - Saturday - 8:30 pm.
---
Little River Bar and Grill (Oregonia)
Thursday –– DJ Songz Patioke Party at 7pm Party on the covered enclosed patio
Friday – Eliment 3 at 7pm
Saturday – Everything Hurts 7pm
---
The Blue Note Harrison
Friday - Joe Riley & The Hellhounds - HELLFAST featuring Joe Riley (& the Hellhounds) with special guests Russell Jinkens XL, Kilmeister (A Tribute to Motorhead) and Smoke Healer!!! 6pm
Saturday - Metallica tribute "Battery" returns with Pantera tribute "Walk On Homeboys". Rocking in the pub it's 1330! 6pm
Future show tickets available at Cincyticket.com
---
Hidden Gem Music Club
Thursday – Chris Yakopcic 7pm
Friday – The Weekend Effect at 9pm
Saturday – Authorized Personnel 8pm
Sunday – Dayton Jazz Orchestra 7pm
Tuesday – Open Mic Night 8PM
---
Lori's Roadhouse
Thursday – Football and Wings
Friday – Dave Campbell 7pm
Saturday – Tyler Moore Band 8pm
Tuesday – Line Dancing 7pm
Wednesday – Boozy Bingo and Karaoke at 6pm
---
Miami Valley Gaming
Friday – The Company 9pm Center Bar
Saturday – The Turned Up Band 9pm Center Bar
---
Rex Patrick and the Country Legends Show in Germantown
Saturday – The Country Legends Band Starring Dave Gutner, Duece Collins, Doug Baird , Larry Miller , Jon Haney and Doug Goeltz Reserve your table now 513-594-1282
---
The Brick Tap and Tavern
Thursday – Open Mic with Scott Houchens 8:30
Friday – Rodney The Band at 8:30pm
Saturday – The Finnigan–Denson Incident feturing Sean Finnigan of the Gregg Allman Band 8:30pm
---
Fairfield Pub
Thursday – The Heather Linville Duo 7pm
Friday – The Sheldon Road Band 9pm
Saturday – Quiet Storm 9pm
Sunday – Football
---
Avenue Sports and Spirits Lebanon
Wednesday – Open Jam with Wishlist 6:30pm
---
Scott Hall – Hall Around Town Radio
Tuesday "Qiztastic" at Mr. Boros Tavern 7pm
Live Monday to Thursday on Hall Around Town Radio
---
Scotty Long / DJ Songz
Wednesdays Froggys Monroe, OH 7pm-11am Karaoke Xperience
Thursdays at Little River Bar and Grill 7pm
Bands, Solos, Duos and Events
Perry Waldron
Thursday – with Lee Dixon at The Lounge 8pm
Saturday – with Michael Paulick at The Ugly Coat Social Club 9pm
---
CFG and Family
Saturday at The Belle & The Bear 8:30pm
---
That One Party Band
Friday the 13th at the Pirates Den in Western Hills from 8:30-12:30
---
Jordan Wood
Thursday at Twenty Mile Tavern - Open Jam 9pm Landen
Saturday at the TinCap w/Mac McDaniel 7pm Wilmington
Monday – Misery and Jen Open Jam 8 till ?? Hamilto, Oh
---
Standard Country Time Band
Saturday at the Woodshed with Rick Henderson from 6 to 8pm
Wednesday at Pohlman Lanes from 1 to 3pm
---
Shane deMoss
Thursday at Moe Harrigan's Tavern Kettering, Oh 8:00-11:00
---
Jacob William
Friday the 13th at Woollys watering hole Main st Franklin 9-11:30
---
Benny Bodine
Friday 1/13 Knollwood Tavern 9-12 Beavercreek, OH
Saturday 1/14 Jayne's On Main 7:30-10:30. Miamisburg, OH
---
6 String Hustle
Friday 1/13 from 8-11 at The Orioles Franklin, OH
Saturday 1/14 from 7-11 at Pohlman Lanes w/ Lee Dixon Hamilton, OH
Tuesday 1/17 from 6-10 at Liberty Inn Liberty Twnshp, OH
Wednesday 1/18 from 8-11at Olde Village Tavern West Chester, OH
---
Shawn Bell
Friday Jan 13 Acoustic Show at Reading Eagles 7-11pm Reading OH
---
Linus Tate
Friday January 13 at Middletown Moose, Middletown, OH 8PM
Saturday January 14th at Knollwood Tavern Beavercreek, OH 9PM
---
Jet Pack Academy
Friday at Froggys in Monroe from 9p-1a
---
Joe Cowels
Friday - The Joe Cowels Band at Pohlman Lanes and family entertainment complex w/LIVE radio broadcast by Rooster Radio!!! We want to see EVERYONE who isn't playing that night! 7p-11p
Thursday January 19th The Joe Cowels Band comes to Mansion Hill, 7p-11p
---
Marsha Brady
Saturday January 14th - Latitudes - Anderson Ohio - 9pm - 1am
---
Night Reign
Saturday at the Barrel in Springboro 8:00pm
---
GAMUT—
Friday at MVP's 8:30pm start time
Saturday ar Jim & Jacks from 8pm -midnight
---
DRIVE
Saturday at The Rusty Nail 8pm
---
Kevin Cooper
Thursday from 730-1130pm: B&B Jam
Friday from 630-1030pm: Eyes Up Here at Gano Tavern
Saturday from 8pm-midnight: The Hanky Panks at Trillions
---
Acoustic Blue Trio
Saturday - 7:00pm at The Shift, Bright, In
---
Dat Band
Friday at Turfway Park from 9:30pm-12:30
---
Johnny Fink
Saturday - Gina and Johnny duo- Smoke Justis from 7-10pm
Wednesday - Gina and Johnny band- at The Belle & The Bear 730 pm
---
Chris Lee Acoustic
Friday, Jan 13 at Fibonacci Brewing Cincinnati/Mt Healthy OH 7pm-9pm
Saturday, Jan 15 at Lucky Turtle Cincinnati/Finneytown OH 8pm-10:30pm
---
Cryin Out LOUD
Saturday the 14th at the Miamisburg Moose, 8-12
---
Wesley Green
Friday with Bourbon Road Band at The Barrel from 9-12
Saturday with 9eight Central at Huber Heights Amvets from 7 to 11
---
The Weekend Effect
Friday at the Hidden Gem from 9-1am.
Saturday at Wings Vandalia friom 9:30-1:30am 5$ cover.
---
Heath Bowling Music
Thursday 1/12 Legends Bar & Grill Hamilton, OH 7-11p
Friday 1/13 Misery & Jens Hamilton, OH 6-10p
---
Short of Stable Mike and Tiff
Sunday - Open Mic from 5-9 at Good time Charlie's
---
David Thornton
Thursday - Jayne's On Main Miamisburg from 7-10
Friday at Grainworks Brewing Co West Chester from 7-10
---
Michelle Robinson
Friday Belle & Bear 8:30-12:30
Saturday Community Lanes Minister Ohio 7-11
---
SIGNS OF LIFE The Amerivcan Pink Floyd
Saturday at Little Miami Brewing Co. Event Center 8pm
If you would like to have your musical act featured on our weekly podcast or in Warren County Post contact us @Hall Around Town Radio on Facebook! For additional Band information follow our daily Facebook "Live at Five" program @Hall Around Town Radio