Travels with Paul: Georgetown Kentucky with ILR
Image
WARREN COUNTY OHIO -- Back in May, a group of retired folk from Warren and other surrounding counties had the opportunity to take a day trip to Lexington, Kentucky to see the Toyota Manufacturing Plant and the Ward Hall 1837 Greek Revival Mansion. The trip was through Miami University's Institute for Learning in Retirement (ILR). 
The program was started back in 1997 to provide "opportunities to explore, develop, and share knowledge and skills in a wide variety of topics. Courses taught by volunteer instructors, complemented by a variety of special events, enable participants to broaden their horizons and engage with other lifelong learners," reads the miamioh.edu Website.  
Paul, took advantage of the opportunity and he and his camera have this to share...
The Toyota Motor Manufacturing Kentucky (TMMK) Plant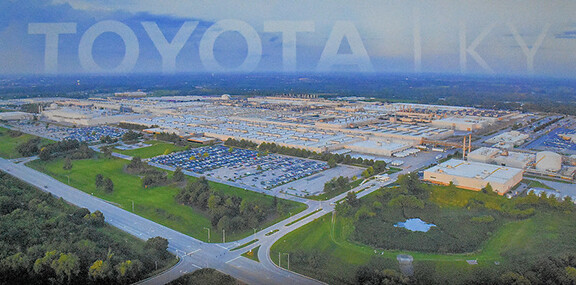 The TMMK is actually in Georgetown, KY just a little north of Lexington. It is the largest automobile manufacturing facility in the world... covering 8.1 million square feet and producing 2000 cars a Day. It is capable of producing 550,000 vehicles and more than 600,000 engines annually.
Toyota broke ground in Georgetown back in May of 1986, and two years later in May 1988, it produced it's first Camry. Since 1988, more than 13 million vehicles have rolled off Toyota's assembly lines in Kentucky, where full-time employment is more than 9,300.
In addition to the Camry, America's best-selling car, TMMK manufactures:
Camry Hybrid, 
RAV4 Hybrid, 
Lexus ES 350,  
Lexus ES 300h, 
Four-cylinder and V-6 engines. 
Toyota has invested more than $147 million to various philanthropic and educational initiatives since 1986. 
TOYOTA FACTORY TOURS:
Toyota Georgetown factory tours are available to groups of most any size.
Complete tour information is available at: TOUR 
Photography, of any type, is NOT allowed in the Toyota factory area.
Displays of the Factory are posted inside the visitor entrance and some of these displays are shown here. 
In addition, Toyota created on a RIDE video of the factory, showing their robots in action. 
Ward Hall 1837 Greek Revival Mansion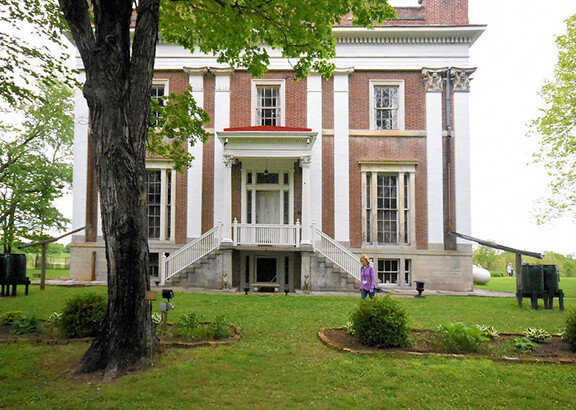 Just a few miles from TMMK and nestled among the rolling hills of Georgetown, Kentucky, stands a magnificent mansion known as Ward Hall. With its stately columns and grandeur, it can captivate one's imaginations. 
The mansion's story began in the mid-19th century when Junius Richard Ward, a wealthy planter and horse breeder, commissioned its construction. Its shape as a testament to the elegance and opulence of the antebellum South.
Construction began in 1852 and finished in 1857. Skilled artisans crafted intricate woodwork, ornate plaster moldings, and stunning crystal chandeliers. The mansion became a symbol of Junius Ward's prosperity and refined taste. The mansion's completion was celebrated with a lavish ball. Distinguished guests from far and wide gathered to marvel at the architectural marvel that had emerged from the Kentucky countryside.
Over the years, Ward Hall witnessed the ebb and flow of history including the outbreak of the Civil War, which brought great turmoil to the nation.  The mansion served as a makeshift hospital for wounded soldiers from both sides, a poignant reminder of the devastation that war brings.
After the war, Ward Hall transitioned into a new era. The Ward family returned and continued to reside in the mansion for many years. However, as time went on, the upkeep of the grand estate became increasingly challenging. In the mid-20th century, the family sold Ward Hall to a preservation organization dedicated to its restoration and preservation — The Ward Hall Preservation Foundation.
Today Ward Hall has become a living museum, offering visitors a glimpse into the past and the opulence of a bygone era. It also became a popular venue for special events, such as weddings to cultural festivals.
Ward Hall's fame continues to grow. Its exquisite architecture and rich history attracts tourists from around the world. Visitors marveled at the mansion's grand rooms, adorned with period furniture and decor.   Its halls echo with whispers of the past, and its walls hold the memories of generations gone by.
Ward Hall had become more than just a mansion; it was a living testament to the resilience and beauty of Kentucky's heritage.
For more information on Ward Hall and its tours and fees visit www.wardhall.net or phone 502-863-5356.
Click here to see my WARD HALL Photos of both inside and outside of the mansion from the ILR trip and Click here to learn more about ILR. 
More News from Lebanon