Local Brewers Featured at Warren County Fair
Image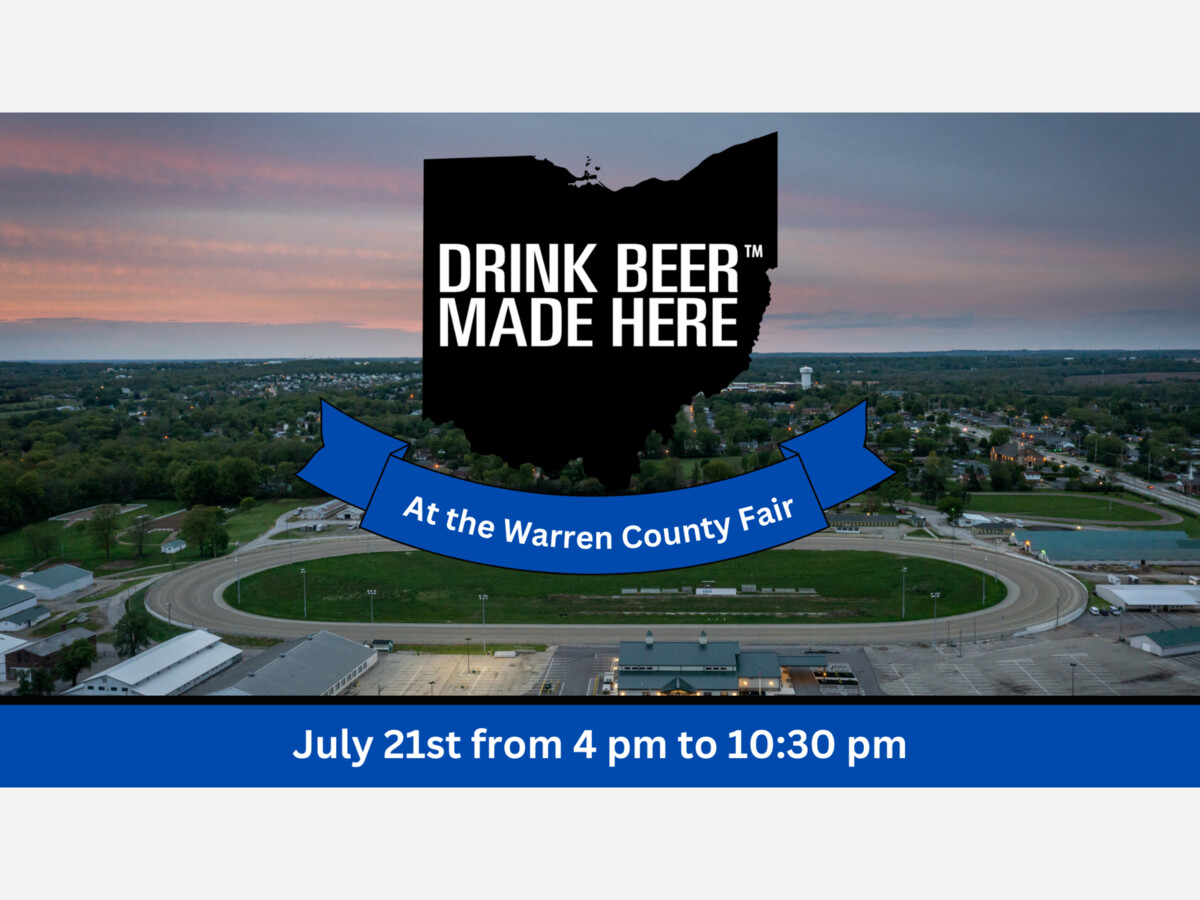 Submitted By Justin Hemminger Deputy Director Ohio Craft Brewers Association
LEBANON, Ohio – Local breweries will get their first chance to show off their craft beers at this year's Warren County Fair. The Warren County Agricultural Society and the Ohio Craft Brewers Association have teamed up to put on the Fair's first Drink Beer Made Here Night on Friday, July 21 from 4-10:30 p.m. at the Warren County Fairgrounds in Lebanon.
Seven Warren County breweries are participating in the inaugural event: 16 Lots Brewing Company of Mason, Cartridge Brewing of Maineville, The Common Beer Company of Mason, Crooked Handle Brewing Company of Springboro, The Lebanon Brewing Company of Lebanon, Sonder Brewing of Mason, and Warped Wing Brewing Company with locations in Mason and Springboro. A curated list of beers will be available for purchase by the glass or can, as well as in flights of four 4 oz. servings for those who want to sample multiple beers.
Craft breweries are cornerstones of growing communities. The more than 430 independent craft breweries in Ohio were responsible for $1.27 billion in economic impact in 2022 and support more than 12,000 jobs statewide. They serve as inclusive gathering places and give back to their communities through charitable donations and volunteerism. Craft breweries tend to emphasize locally grown ingredients in their beers, and often give their spent barley, wheat and other grains to local farmers to be used as feed for livestock.
"We are excited to partner with the Ohio Craft Brewers Association and their members at this year's Warren County Fair," said Gene Steiner, executive director of the Warren County Agricultural Society. "The grains, hops and brewing byproducts greatly add to our county's $60 million agricultural business. Adding these Ohio craft beers will surely enhance our agricultural celebration."
The Ohio Craft Brewers Association supports Ohio's small and independent breweries by providing government advocacy, educational resources, industry connections and marketing services like the Ohio On Tap statewide brewery passport app, which encourages users to travel throughout the state to visit craft breweries. Ohio On Tap users will be able to collect a bonus passport stamp by attending Drink Beer Made Here Night at the Warren County Fair.
"Our app is an exciting way to connect Ohio breweries with new customers," said Mary MacDonald, executive director of the Ohio Craft Brewers Association. "Partnering with the Fair gives craft beer fans a unique, fun environment to sample brews, while also allowing our breweries to connect with people in their community who value locally made products."
Eight craft beers will be available at Drink Beer Made Here Night:
• 16 Lots – Soak City juicy IPA
• Cartridge – The Squeeze fruit beer with pink guava, passionfruit and mango
• The Common – Some Like It Mild English-style mild ale
• Crooked Handle – Boro Blonde ale
• Lebanon – German Hefeweizen wheat beer
• Sonder – Voss Kölsch-style ale (2023 World Beer Cup gold award winner)
• Warped Wing – RadioVision hazy IPA
• Warped Wing – Trotwood lager
Founded in 2008, the Ohio Craft Brewers Association is a nonprofit guild that exists to promote, preserve, diversify and unify Ohio's craft brewing industry. We aspire to be recognized as the industry leader at both state and national levels for preserving the art of making high-quality, unique craft beer; to serve as the unified voice for craft brewers across the state; to advocate on behalf of the Ohio craft beer industry; to contribute to systemic, local community development by driving economic and job growth, while creating experiences that bring people together; to promote safe, responsible enjoyment of Ohio craft beer; and to serve as a beacon for local production and manufacturing through craft beer, resulting in diverse choices for consumers.
More News from Lebanon