Benchmark Gensuite Celebrates New World Headquarters in Deerfield Township
Image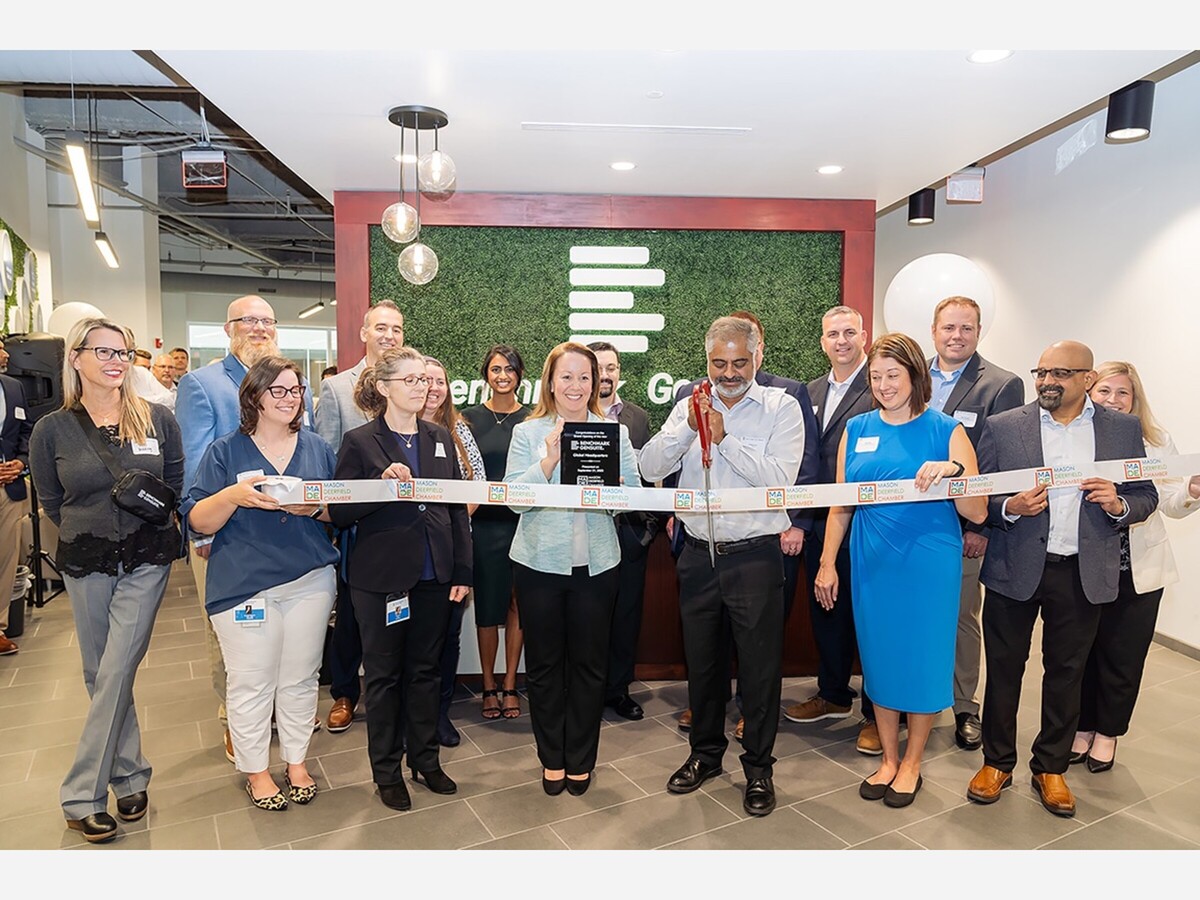 MASON (Deerfield Township), OH -- Over 100 visitors came out to help Benchmark Gensuite celebrate its new global headquarters in Deerfield Township last week. The guests were greeted with a welcome bag, food, drinks, a champagne toast, as well as some basic knowledge on what this global company does that sits here in Warren County Ohio.
The company was conceived in 1997 by R. Mukund, Natasha Porter and other peer managers at General Electric. It officially launched in 2000 as GE Powersuite. Then, in 2005 it became Gensuite .
"We were General Electric employees," explained Porter, who is now Benchmark Gensuite's Chief Customer Officer. "Both Mukund and I started out as Environmental Health and Safety professionals."
Porter further explained how the two began researching how to leverage web-based technology to do their jobs better.
"Our goal was to find a way how we could use technology to make our jobs easier and standardize that across the one business we were supporting," she said. "Mukund had an idea. He loved technology and coding. He said, 'we're going to build an app for our own use.' Then, the app caught fire with folks in other GE businesses."
Eventually, Gensuite  was leveraged by all the GE Businesses. By 2010 Gensuite LLC was formed and moved its first headquarters to Deerfield Township. In Mukund and Porter's forming of a new company, they had worked out an agreement with GE to be able to present a global market offering, which then allowed the Gensuite mobile app to be created.
By 2018, Gensuite had established itself as a leader in smart technologies. In 2019, Gensuite experienced record-breaking growth. By 2020, it was recognized on the Inc 5000 Annual List of America's Fastest-Growing Private Companies.
 As technology keeps advancing so has Gensuite. By 2021, Gensuite introduced the Benchmark suite — an expanded solution suite reflecting their commitment to high standards or "Benchmarks" in Sustainability, ESG Disclosure Reporting, and Advanced Technology enabling solutions, leading to the rebrand: Benchmark Gensuite, unifying both the Benchmark and Gensuite application suites.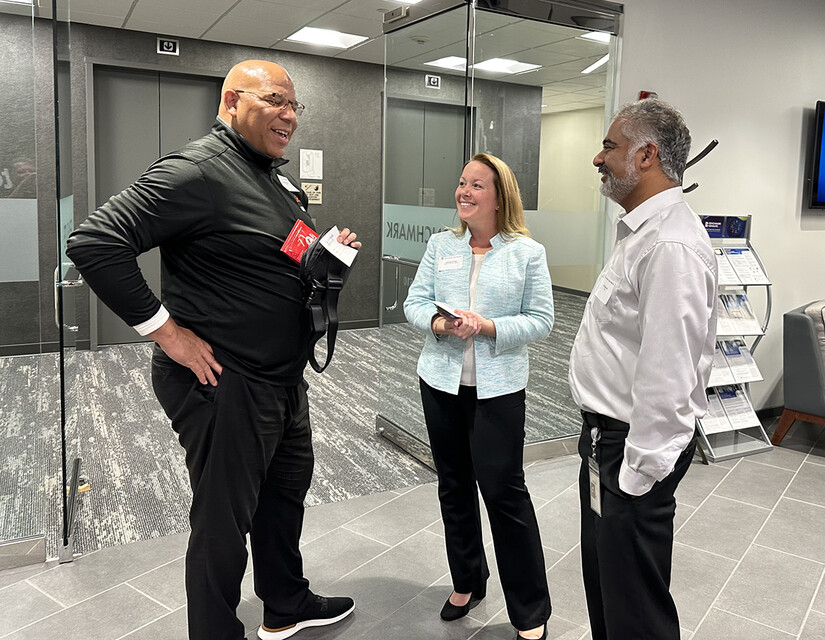 But what exactly is Benchmark Gensuite and  what does it do?
Benchmark Gensuite is a comprehensive Environment, Health, and Safety (EHS) management tool (known as an app) that is used on phones and computers. It helps companies store, organize and analyze their data in all three of the mentioned areas.
"Health and safety is all about keeping your employees safe. In the majority of countries and the U.S., there are regulatory requirements that govern these requirements. Here in the U.S., we have OSHA who governs and sets laws. Employers are required to follow those laws, but with those laws and regulations, there is a lot of record keeping that goes with them," Porter explained, adding that Benchmark Gensuite technology gives employers a more sustainable way to keep the records and reports.
Porter noted that the same technology can also be used for company's needing to manage their environmental data, such as how much and what kind of emissions are going into the atmosphere.
Porter explained that because this data is mandatory , there needs to be a way to create it, organize it, analyze it and store it.
"You can do it on an Excel spread sheet, but that would be very tedious and time-consuming for a company that has 150 facilities all over the world," Porter said, adding that is why Gensuite was created. 
"Using technology and our software solutions makes it easier to manage the data... show you're in compliance with the laws. And not only is it easier to keep data, it's easier to organize it, analyze it, and notify the people who need to be notified," she explained.
Along with higher standards for its applications software, Benchmark Gensuite is keeping up with computer technology. "We are now using AI (Artificial Intelligence). One way this helps is that it gives people insights on pending risks … things that maybe keep popping up in the data that are not being noticed and may need their attention."
Mukund and Porter's desire and concept to make their jobs easier in the 1990's has paid off for them. Today Benchmarch Gensuite is working with over 400 companies worldwide and introducing its new world headquarters at 5181 Natorp Blvd in Deerfield Township.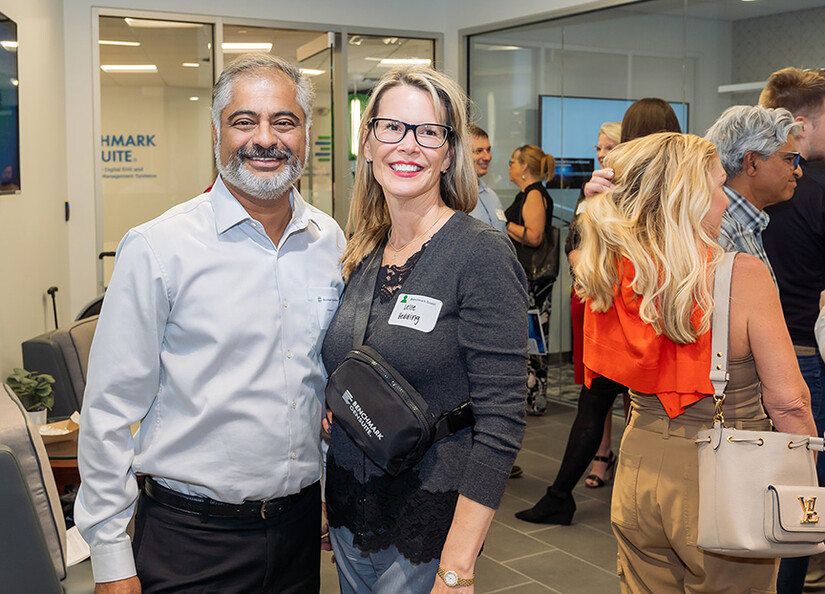 To help with celebration The MADE Chamber held an official ribbon cutting ceremony and Deerfield Township Board of Trustee President Lelle Lutts Hedding spoke, thanking Mukund for keeping the headquarters in the township and for all Benchmark Gensuite has done and does for the local community.
To learn more about Benchmark Gensuite visit benchmarkgensuite.com and to see some more photos from the celebration check out some of Kristie Bulach of Dolce Vita Photography's photos below.
More News from Maineville