Looking Back at Kings Island and the Two Famous TV Familie's Visits
Image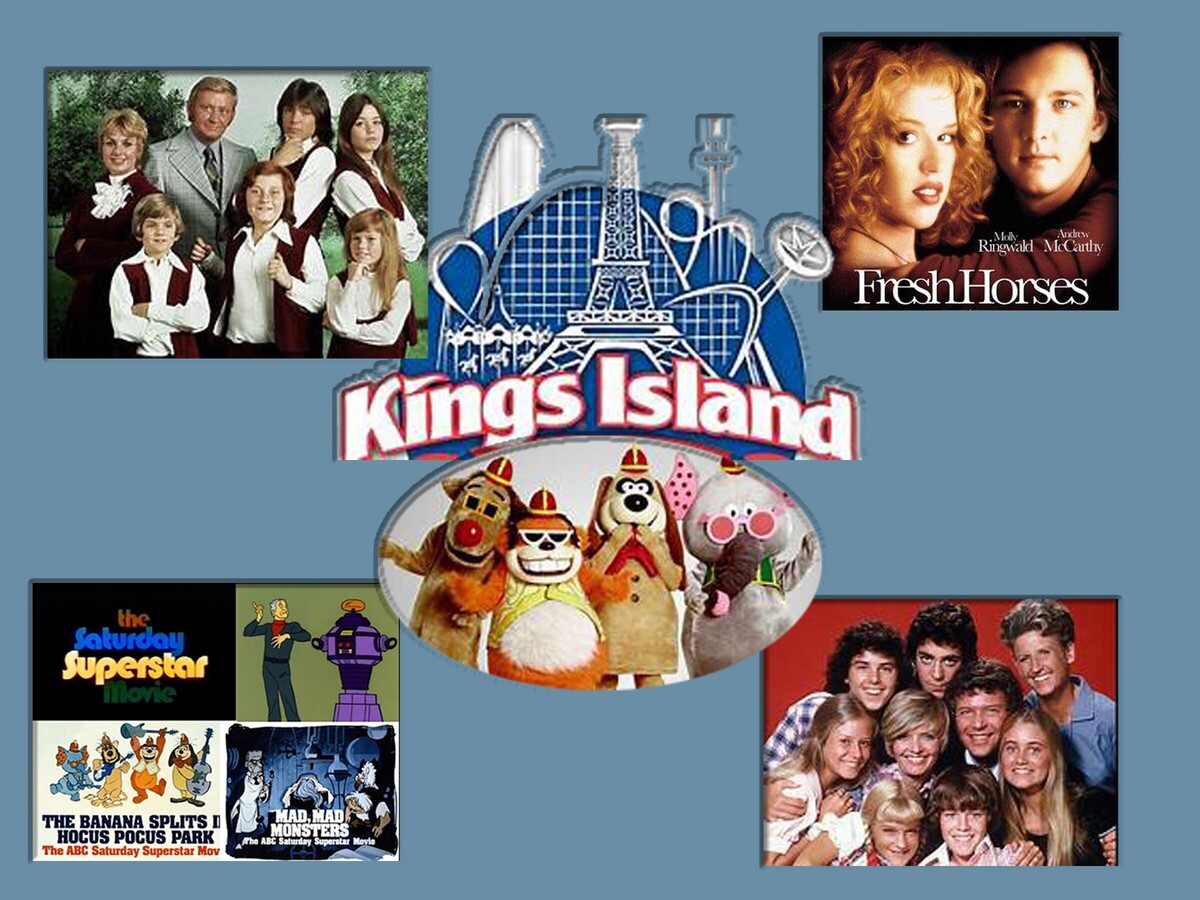 MASON, OH -- As Kings Island is celebrating its 50th Anniverary this 2022 Season, I thought it might be fun to see how many TV shows or movies were filmed at the Mason park. 
Many remember The Brady Bunch going to the park and how they spent the day looking for dad Mike Brady's architectual blue prints that got lost. (A few years ago, my dental hygienist in Springboro shared how her knees made the cut for one of the scenes. She was working one of the rides that they used in the show. I think she said her knees can be seen in the Derr Spinning Keggers scene.)
But, many forget prior to that famous TV family coming to the park, there was another famous family that came to Kings Island the very first year it opened...The Partridge Family.
When Kings Island opened 50 years ago, it was owned by the Taft Broadcasting Company, which also owned  Hanna-Barbera Cartoons. Because of its purchase of Hanna-Barbera in 1966, Taft Broadcasting was able to use its connections in Hollywood to promote its new park.
In its inaugural year, the amusement park had a visit from The Partridge Family when they filmed the episode "I Left My Heart in Cincinnati" at Kings Island from August 7-11, 1972.
The episode, which premiered on January 26, 1973, even had a special appearance by The Cincinnati Reds Hall of Famer Johnny Bench, who guest-starred as a waiter in one of the scenes at the pool. You can catch the episode on Crackle.com.
There is also a nice story from OhioTraveler.com with pictures contributed from Sandra Hanning, who was at Kings Island when the 1970s teen-throb David Cassidy (a.k.a. Keith Partridge) was there.
Although the Partridge family was well loved, the Brady Family's visit to the park seems to be the most popular. It was so popular that back in 2013 Greg (Barry Williams) Peter (Christopher McKnight) and Cindy (Susan Olsen) Brady came back to Kings Island to do a 40th anniversary event, which you can catch below. 
After these two, I did find that there were 6 more productions filmed at Kings Island. I found them at imdb.com 
Fresh Horse starred Molly Ringwald and Andew McCarthy. The ice-skating scene at the end of the drama was filmed at Kings Island. Many people thought that the rollercoaster scene was also done at Kings Island, but it was actually filmed  at "Americana" (also known as LeSourdsville Lake) 0n the old Screechin Eagle Rollercoaster, that no longer exists.
The ABC Saturday Superstar Movie was released on September 9, 1972 and was filmed from 1972 to 1974, often at Kings Island. The ABC Saturday Superstar Movie, renamed the New Saturday Superstar Movie in its second season was a series of one-hour animated TV-movies and was broadcast on ABC television networks on Saturday mornings

The Banan Splits in Hocus Pocus Park involved a girl named Susie who went to the amusement park  to be greeted by the Banana Splits who took her on a tour of the park. A witch sees Susie and lures her into her witch realm to make her a witch. The Splits follow her so that they can rescue her from the witch.  The Splits are aided by a couple of bickering wizards. The movie was released in November 25, 1972.
A lot has changed over the years. Going back and watching some of these older shows, especially The Partridge Family and The Brady Bunch, can bring back some happy memories for us Baby Boomers.
Happy Birthday Kings Island!