Who's Playing Out Brought To You By Hall Around Town Radio: Sept 1, 2022
Image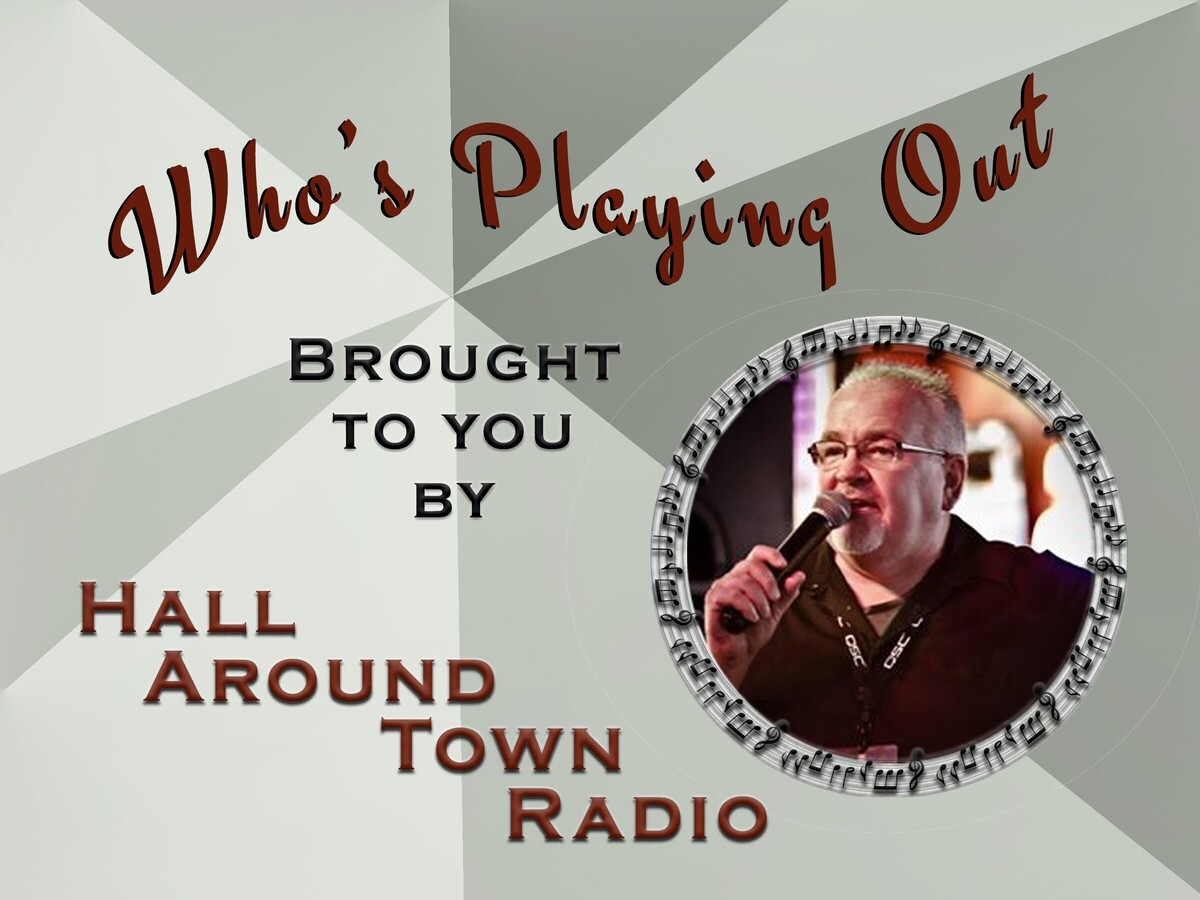 Brought to you by Scott Hall from "Hall Around Town Radio"
A little live music can turn an ordinary day into a memorable experience. The area's top musicians take center stage at some of the tri-states best restaurants and nightspots, bringing live music to our region nearly every night of the week. Make your first stop here weekly to find out "Who's Playing Out" at one of our live local music venues.
Bands and solos brought to you by our friends at Froggy's in Monroe, Ohio and Hall Around Town Radio (follow the on Facebook)
Froggy's in Monroe – Sponsor of our Thursday LIVE show on Facebook
Friday at 9pm – Pulse
Saturday at 9pm - Miss Jacque
Tuesday- 6-9pm on the patio Roger & Louie 7:30 queen of hearts drawing
Music Bingo returning to Tuesdays 7-10pm.. stay tuned
Wednesday - 6-9pm on the patio Tyler Van B
8-12 Karaoke Dj Songz
Wednesday - 8pm Karaoke with DJ Songz
Online seating reservations / tickets at www.gotofroggys.com
---
Heathers Café
Thursday – Dave Taylor at 6:30pm
Friday – Velvet Crush 7pm Rolling Indulgence Food Truck
Saturday – What She Said 7pm Crepe in Shape Food Truck
Tuesday – Open Mic Night with Junior 7pm + the Queen of Hearts Drawing at 8
Wednesday – Name That Tune with Scott. 7pm Call for reservations
---
Mr. Boro's Tavern Springboro -
Thursday – Josh Smedley 7 to 10 pm
Friday - Dave'd and Confused – 8 to 11pm
Saturday – Buckeye Football - 7:30
Sunday – Football
Tuesday – "Quiztastic" Q&A Trivia with Scott at 7pm
Wednesday – Queen of Hearts Drawing. 8pm over 10K
---
The Belle & The Bear (Montgomery)
Thursday "The Jam" 8ish
Friday Blue Otis at 9pm
Saturday - The Whammies at 9 PM
Sunday – Eliza Neals and Noah Wotherspoon 7pm $20 at the door
Monday Game Night - 6pm
Tuesday – Jamie Combs Acoustic Jam 7pm
---
Crooked Handle Brewing Co.
Thursday – Joe C Solo 6 to 9 pm
Friday – Benny Bodine at 7pm
---
Sorg Opera House
Future event Tickets available at Cincyticket.com
---
Pohlman Lanes & Scott's Bar & Grill (Hamilton Ohio)
Family Entertainment Complex 954 Pyramid Hill Blvd., Hamilton Ohio
Friday - Stillhouse from Branson Missouri 7pm to 11pm
Saturday - Dj Christian D. at 7pm
Wednesday at 1pm The Standard Country Time Band
---
Lebanon Grand Opry House
Saturday – Warren County Fair Winners Showcase featuring Jessie Lyn and the TNT Band – Crystal White and Lauran Wolfe
Doors open at 6pm for dinner Show - 7pm
Reservations by calling 513-850-1770
---
Little River Bar and Grill (Oregonia)
Thursday –– DJ Songz Patioke Party at 7pm
Friday – Unofficial Shane Smith 7pm
Saturday – Until Rust at 7pm
Tuesday – Bike Night with music
---
The Blue Note Harrison
Sunday - Outdoor and inside stages going! Pre party on patio stage with Sweet Sister Mercy. DV8 on outdoor stage! After party in the pub with 1330!
Tickets are available at …. CincyTicket.com
---
Hidden Gem Music Club
Thursday – Blues Jam at 8pm
Friday – The Mind Reels – 8pm
Saturday – Past Present and Future Ladies Edition 7pm
Sunday – Bright Moments Mega Jazz Blow Out 7pm
Tuesday – Open Mic Night 8PM
---
Lori's Roadhouse
Thursday – Service Industry Night
Friday – Nick Winters at 6pm
Friday – Billy Brown at 9:30pm
Saturday: Kenny Welch at 6pm
Saturday – Alexis Gomez at 9pm
Tuesday – Line Dancing 7pm
---
Miami Valley Gaming
Friday – The River City Band – 9pm Center Bar
Saturday – Model Behavior – 9:00pm Center Bar
---
Rex Patrick and the Country Legends Show in Germantown
Saturday – Closed for the Holiday Reservations by calling 513- 594-1282
---
Soft Rock Café
Karaoke – Thursday 7pm - Friday 8pm - Saturday 8:30 pm.
---
Brick Tap Tavern
Thursday – Open Mic Night with Scott Houchens 7:00pm
Friday – Café Unit 8:30pm
Saturday – Junior and Guitar Mike at 530pm
---
Scott Hall – Hall Around Town Radio
Tuesday Trivia at Mr. Boros Tavern 7pm
Wednesday – "Name That Tune" at Heathers Café on the patio 7pm "Call for Reservations"
Live Monday to Thursday On Hall Around Town Radio
---
Scotty Long / DJ Songz
Thursdays - at Little River Bar and Grill 7pm PatiOKE Party.
Tuesday - The Barrel 7pm Karaoke obSESSION.
Wednesday- Froggys 8pm Karaoke Xperience.
Bands, Solos, Duos and Events
Austin Landing "Party at the Landing – Food Truck Frenzy"
Friday from 5 to 10pm The Menus opened up the season and is closing out the Party in the Park season. The Menus go on and 630pm. - Food trucks
All proceeds from the Bud Light garden benefit SICSA.
Promoting the welfare and adoption of companion animals, and nurturing loving, lifelong relationships between animals and people. To support our mission, SICSA offers numerous animal-centered programs and services for families and children.
---
"Margo & Adam Furnish"
Friday at Grandview Tavern in Ft. Thomas, Ky., 7pm
---
Nick Mitchell
Thursday at Dublin Pub 7 to 10pm
Friday from 8:00-11:00, Chappys Social House
---
The Whammies
Saturday - debut at The Belle and the Bear 8:30pm
Sunday at a fundraiser for the Purple People Bridge before and after the WEBN Fireworks.
---
Sons of Liberty
Saturday at Powder Keg Harley Davidson from 11am till 2pm
---
Party Town
Saturday – Easy Riders Rodeo Tour in Bloomville Oh 4 to 5:30pm
---
The Courtney Jo Band – playing the Labor Day Hootenanny
Friday opening for Rehab & Saving Abel this Friday in South Shore, Kentucky 7:45-8:45pm
Tickets are $25/each at the gate that day
---
Sweet Sister Mercy
Saturday - Opening up for .38 Special at St. Cecilia Fest in Independence, KY from 7 - 8:30 then they are moving on to play Club Trio the same night 9/3 from 9:30 - 1:30.
Sunday - End of Summer Bash with DV8 and 1330 at the Blue Note on 9/4.
---
Rich the Soulman and the Metro City All Stars
Sunday 4 to 7pm at Hamiltons Urban Backyard
---
Madrigal
Friday at 7:30 – Mt Healthy City Park "Santana Tribute"
---
Until Rust
Thursday 9/1 Jasper Hills Golf Club Xenia, Oh 6:30 - 10
Saturday 9/3 Little River Bar & Grill Oregonia, Oh 7-11
---
Benny Bodine
Friday 9/2 Crooked Handle Brewing Co. 7-10 Springboro, OH
Saturday 9/3 Hank's Local 7-10 Dayton, OH
---
Velvet Crush
Friday 9/2 Heathers cafe Springboro, oh 7-11
---
SOUND PRODUCTION

Saturday and Sunday Providing sound Kerry smith band Marblehead, oh
---
VC Unplugged
Wednesday 9/7 Milanos Miamisburg, oh 7-10
---
Six String Hustle
Thursday – The Lounge 8 to 11pm
Fri 9/2 8-12 Macs Pizza Pub Covington, KY
Sat 9/3 6:30-9:30 Hidden Valley Orchards ft Lee Dixon Lebanon, Ohio
Sun 9/4 4-8 Club Trio Cincinnati, Ohio
Tues 9/6 6:30-10:30 Liberty Inn Liberty Twnshp, Ohio
Wed 9/7 7-10 The Hanger West Chester, Ohio
---
Billy Brown
Friday Sept 2 at 9:30pm - Lori's Roadhouse in West Chester on the main stage
Saturday Sept 3 at 10pm - Bristol Republic in Columbus OH
Wednesday Sept 7 at 7pm - Jerzees in Newport KY
---
GAMUT
Friday at MVP on the NOS Stage 9pm
Saturday Jim & Jacks 8:30pm
---
Kevin Cooper
Thurs 730-1130pm: B&B Jam
Fri 7-10pm: Eyes Up Here at Hamilton's Urban Backyard
Sat 730-1130pm: The Hanky Panks at Pirate's Cove
---
Jet Pack Academy
Monday (9/5) 1-5pm: at The Monkey Bar
---
Joe Cowels
Thursday Joe C solo Crooked Handle Brewing 6p-9p
Friday Sept 2 Kro-bar beckett ridge 5p-9p
Sunday Sept 4 Streetside Brewery 3p-6p
---
Joe C Band
Saturday Sept 3 Nicc & Norm's Tavern [formerly west side pub and grub, in Hamilton Ohio], 8p-midnight w/special guest Kenny Kinderman
---
Marsha Brady
Saturday September 3rd - The Moose, Indian Lake Ohio - 3pm - 7pm
Sunday September 4th - WEBN Fireworks, Mt Echo Park for Riverfest West - 6pm - 9pm
---
Lätter
Saturday - Celina eagles patio edition 8pm
---
Tori Faith
Thursday 9/1 ~ Tori Faith Acoustic at Luna's Bar and Grill ~ 7-10pm
Friday 9/2 ~ Whiskey Town at Peecox Erlanger ~ 9pm-1am
Saturday 9/3 ~ Whiskey Town at Williamstown Marina ~ 8pm-12am
---
Audio Graffiti
Friday 9/2- Tin Roof Indianapolis 10:30-2:30
Saturday 9/3- Manhattan Harbour Yacht Club 8:00-Midnight
---
Dv8
Friday Sep 2 Newport on the Levee Newport KY One Levee Way 7pm to 9pm
Sunday Sep 4th Blue Note Rack'n Stack Fest 9660 Dry Fork Rd Harrison Ohio
---
Overdrive
Saturday at The Country Legends Concert in West Liberty Ohio With The Bellamy Brothers, Terri Clark, Mark Chestnut and Craig Morgan. Starts at 2:00pm
---
Sepia heyday
Saturday at Southgate House Revival doors at 7 ish …. Also on the ticket Gastly a go go, V twin sinAnd Jake Logan and the midnight riders
---
Johnny Fink
Sat 9/3 Johnny Fink and the Intrusion with the Doug Hart band. The phone booth (Dayton oh) 8pm
---
Kick Engine
Saturday with Sponge at Epic Live Event Center
---
Heath Bowling Music
Thursday 9/1 Old Dayton Pizza 6-9p Dayton, OH
Friday 9/2 O'Learys 8-11p Centerville, OH
Saturday 9/3 Audrey's Frogtown Tavern 9-12 Cleves, OH
Tuesday 9/6 Monkey Bar 6-10p Maineville, OH
Wednesday 9/7 Open Mic (AJ's) 8-11pm Franklin, OH
---
Matthew Allen
Friday at Hank's Local (Dayton). 7-10 pm
---
The Weekend Effect
Saturday at Froggy's at the Lake 2pm-6pm.
Sunday at Cedarville Labor Day Festival 6pm-9pm
---
Michelle Robinson
Thursday Hamilton Urban Backyard 7-10
Friday Hollywood Casino 8-12
Sunday St John Neumann Festival 7-11
---
Chris Lee Acoustic
Saturday, Sept 3 at Swine City Brewing Fairfield OH. 8pm-10:30pm
---
Spungewurthy
Saturday 830 to 1pm at Alterfest
---
Wesley Green Music
Friday with 9 eight Central Riverside Athletic Club 7-10
Saturday with 9Eight Central 7 Mile Winery 6-9pm
Sunday with Bourbon Road Band Montgomery Inn – Boathouse 5-9
---
White Knuckle Weekend
Friday at Duckfoot's Lake Celina 8-12
If you would like to have your musical act featured on our weekly podcast or in Warren County Post contact us @Hall Around Town Radio on Facebook! For additional Band information follow our daily Facebook "Live at Five" program @Hall Around Town Radio