Who's Playing Out: Hall Around Town Week of October 20, 2022
Image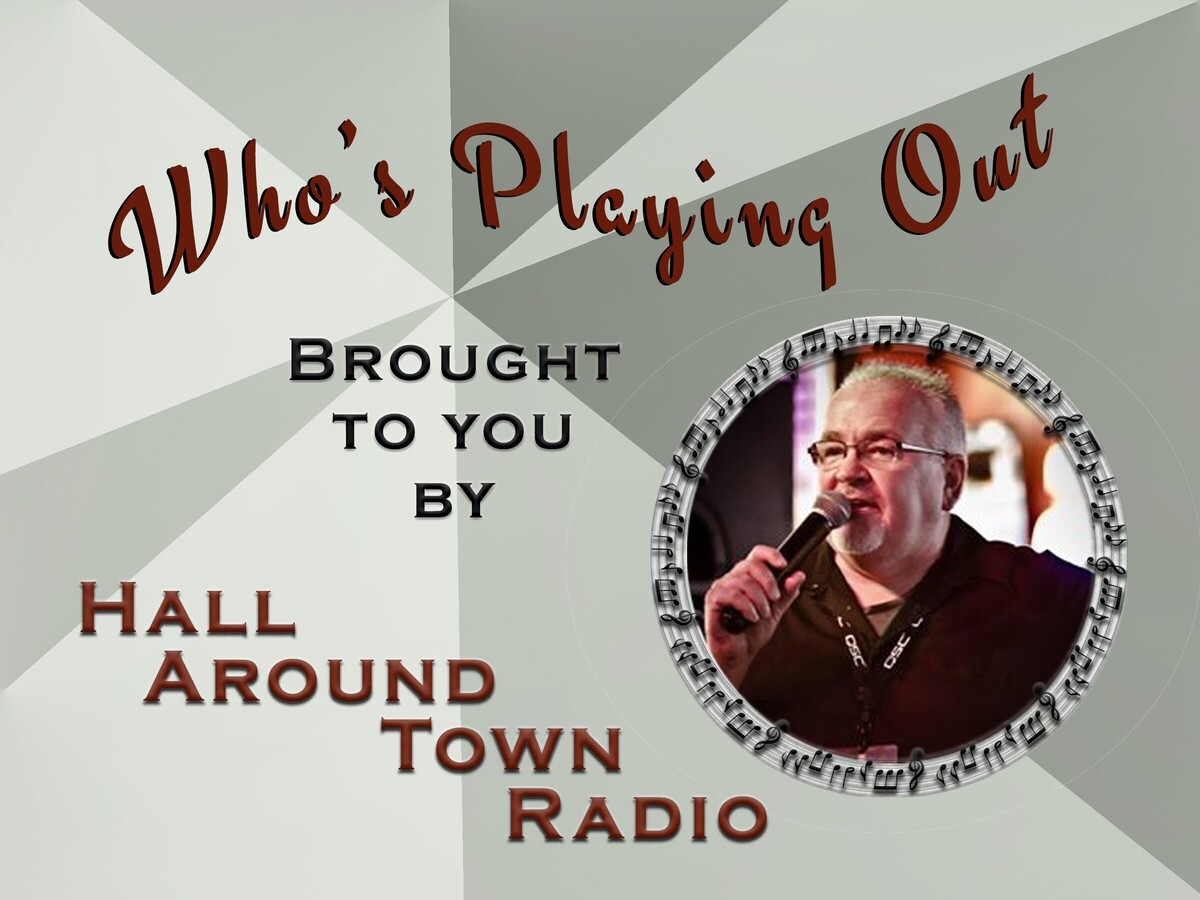 Brought to you by Scott Hall from "Hall Around Town Radio"
A little live music can turn an ordinary day into a memorable experience. The area's top musicians take center stage at some of the tri-states best restaurants and nightspots, bringing live music to our region nearly every night of the week. Make your first stop here weekly to find out "Who's Playing Out" at one of our live local music venues.
Bands and solos brought to you by our friends at Froggy's in Monroe, Ohio and Hall Around Town Radio (follow the on Facebook)
Froggy's in Monroe - Sponsor of our Thursday LIVE show on Facebook 
Friday at 9pm - Dawgfoot
Saturday - Wood n Steel Revival 9pm
Tuesday at 7:30 Queen of Hearts Drawing
Wednesdy - Karaoke 7p-11p with Dj Songz
*New hours Mon- Thur 11am til midnight - Fri & Sat 11a- 2a - Sun 11a- 10p. Online seating reservations for weekend shows only (but not required) at www.gotofroggys.com.
---
Heathers Café
Friday – No Music - Sides up on Tents
Saturday – JakeHambone Davis 7-11pm
Wednesday – Name That Tune with Scott. 7pm 
Call for reservations. Only a few more weeks
---
Mr. Boro's Tavern Springboro 
Thursday – Shannon Schmidt and Carey Hunley 7 to 10 pm 
Friday –– Nick and Jake 8 to 11pm
Saturday – Short of Stable 8pm
Sunday – NFL Football
Tuesday – "Quiztastic" Q&A Trivia with Scott at 7pm 
Wednesday – Queen of Hearts Drawing. 8pm over 16K
---
The Belle & The Bear (Montgomery)
Thursday "The Award Winning Jam" 8ish 
Friday – Linus Tate Band at 8:30 pm 
Saturday - Dat Band at 8:30 PM Monday Game Night - 6pm
Tuesday – Jamie Combs Acoustic Jam 7pm
---
Crooked Handle Brewing Co.
Thursday – Good Music Guy 6 to 9 pm Friday – Short of Stable Duo at 7pm
---
Pohlman Lanes & Scott's Bar & Grill (Hamilton Ohio)
Family Entertainment Complex 954 Pyramid Hill Blvd., Hamilton Ohio
Friday – 7pm Ivy Square
Saturday 7pm The Gamut
Monday - After Hours Big Band 7pm
Wednesday - Honky Tonk Wednesday at 1pm The Standard Country Time Band
---
Sorg Opera House
Friday Saturday and Sunday – Next two weekends "The Rocky Horror Show."
Tickets available at Cincyticket.com. See the SORG page for more info
---
Lebanon Grand Opry House
Closed this weekend – Future Show Reservations by calling 513-850-1770
---
Little River Bar and Grill (Oregonia)
Thursday –– DJ Songz Karaoke at 7pm 
Friday –The Bradley Band at 7pm 
Saturday – The Grey Day Band 7pm
---
The Blue Note Harrison
Saturday – Black Sabbath Tribute "Sabbath" Opening the show it's H & R Rock... Rocking in the pub it's the Diaz Brothers Doors open at 5:30pm. Tickets are available at .... CincyTicket.com
---
Hidden Gem Music Club
Thursday – The Mainline Funk at 7pm Friday – Spill The Wine – 8pm 
Saturday – Linus Tate 7pm
Sunday – Tracy Monaco Trio 7pm 
Tuesday – Open Mic Night 8PM
---
Lori's Roadhouse
Thursday – Service Industry Night and Football
Friday – William Clark Greene - 9:00pm
Saturday – East of Austin 6pm Saturday – Mouch & Friend at 9:00pm 
Sunday – Game Day
Tickets available at LRHLIVE.COM
Tuesday – Line Dancing 7pm
---
Miami Valley Gaming
Friday – The Brass Tracks Band - 9pm Center Bar 
Saturday – 4 Day Echo – 9pm Center Bar
---
Rex Patrick and the Country Legends Show in Germantown
Saturday – Butch Jones and the Standard Country Time Band show from 7-10pm 
Reservations by calling 513- 594-1282
---
Brick Tap Tavern
Thursday - Open Mic Night with Scott Houchens 8:30 
Friday – The Pullouts at 8:30 pm
Saturday – Over Drive at 8:30pm
Soft Rock Café
Karaoke – Thursday 7pm - Friday 8pm - Saturday 8:30 pm.
---
Scott Hall – Hall Around Town Radio
Tuesday Trivia at Mr. Boros Tavern 7pm
Wednesday – "Name That Tune" at Heathers Café on the patio 7pm "Call for Reservations" Live Monday to Thursday On Hall Around Town Radio
---
Scotty Long / DJ Songz
Thursdays - at Little River Bar and Grill 7pm Party.
Mondays The Avenue Sports & Spirits Lebanon, OH 6pm-10pm Karaoke Madness! 
Tuesdays The Barrel Springboro, OH 7pm-11pm Karaoke
Wednesdays Froggys Monroe, OH 7pm-11am Karaoke Xperience
Bands, Solos, Duos and Events
Special Event at Macks Tavern to Benefit The Pink Ribbon Girls
Saturday from 7 to 11pm featuring music from the Burrress Brothers
Cryin Out Loud
Friday, October 21st at the Dublin Pub. 8-11p
White Knuckle Weekend
Saturday Oct 22 Kings Point Pub from 8-12
Don't tell Steve
Saturday from 9-1 at Club Trio
Matthew Allen
Friday Oct. 21st, White Dog Distilling Co & Saloon, from 7:30 - 10:30pm
Spungewurthy
Friday at the Greene County Fairgrounds for Camp or Treat event 7 to 11
Saturday at Wings Vandalia 9:45pm
Missing November
Saturday at Waverly Eagles from 9-12pm
Chris Lee Acoustic
Saturday, Oct. 22 at Lucky Turtle Winton Rd in Cincinnati OH 8pm-10:30pm 
Sunday, Oct. 23 at TGI Fridays Stone Creek Blvd in Cincinnati OH 7pm-11pm
Michelle Robinson
Friday at The Barrel from 8-12
Donna Kennedy Band
Saturday at Amvets 464 Huber Heights 7pm
Blind Faith Duo
Saturday at Anderson Tap House 9 - 12
Tyler VanB Music
Friday: Audrey's Frogtown Tavern - 9 to 12 Cleves, Oh
Sunday: Heroes 3rd Annual 'BAND' Together Breast Cancer Benefit. Music is 12 to 7. Tyler at 3pm
Short of Stable
Friday - Crooked Handle 7-10 (Mike & Tiff) 
Saturday - Mr. Boros 8-11
Sunday - Heroes Breast Cancer Benefit 2-3 Sunday - OPEN MIC at GTC 5-9 (Mike and Tiff)
Heath Bowling
Thursday 10/20 Miamisburg Eagles 7-10p Miamisburg, OH 
Friday 10/21 Harrigan's Tavern 8-11p Kettering, OH 
Tuesday 10/25 Cape Lounge 8-11p Huber Heights, OH 
Wednesday 10/26 O'Learys 8-11p Kettering, OH
Thursday 10/27 Liberty Inn 630-1030p Liberty Township, OH
Aces High
Iron Maiden tribute Aces High Saturday at J.D. Legends with BlackWater at 8pm and Aces at 9pm
Six String Hustle
Friday from 9-12 Olearys Pub Centerville Ohio
Thom Stephenson
Friday With ZaaZoo at Ricks Tavern 8pm
Also every Wednesday at Little Miami Brewing Co. at 6pm.
The Courtney Jo Band
Saturday at the Pumpkin Show – Circleville Eagles 7pm to 11pm
That One Party Band
Friday at KJ's Pub in Crescent springs KY from 9-1 
Saturday at Strasse Haus in Covington 10-2
Benny Bodine
Saturday 10/22 Miamisburg Eagles 2306 8-11 Miamisburg, OH
Sunday 10/23 at Heroes Pizza House 3rd Annual 'BAND' Together Breast Cancer Benefit 5-6
Until Rust
Friday 10/21 Kingspoint Pub Kettering, Oh 8-12 
Saturday 10/22 Diplomat Lounge Kettering, Oh 8-12 
Wednesday 10/26 Milano's Miami Twp, Oh 7-10
Jacob William
Friday at Orioles Franklin 8-11
Burress Brothers
Saturday at Mack's Tavern 7-10 Pink Ribbon Girls event $5 cover
The Joe Cowels Band
Saturday Oct 22nd Foley's Irish Pub 7-11
Linus Tate
Thursday October 20 at Hidden Valley Orchards Lebanon, OH 6PM 
Friday October 21st at The Belle and The Bear Cincinnati, OH 8:30PM
Saturday October 22nd at Hidden Gem Music Club Centerville, OH 8PM
Alex Poteet
Sunday October 23rd at Anderson Township Kroger Wine Bar Anderson, OH 12PM
Kevin Cooper
Thursday from 7:30-11:30pm: Belle & Bear Jam
Friday from 7-11pm: Eyes Up Here at Jeff Ruby Carlo & Johnny
GAMUT
Friday-10/21 Newport on the Levee from 7-9 
Saturday-10/22 Pohlman Lanes 7-11
StrangeLove
Saturday at the Monkey Bar from 7-11pm (first of the last 5 SL shows)
Dat Band
Saturday at The Belle and the Bear 8:30pm Special guests joining the lineup Jason Schuster - bass - Stays In Vegas...
Tom Heitkemper - trumpet - Second Wind
"The Professor" Jim Questa - keys - DV8
Crown Watts
Saturday at the KnottyPine 9:00pl
Johnny Fink and the Intrusion
Saturday at Chappys in Milford 9pm-1am
Overdrive
Friday at the Miamisburg Moose 8:00PM. 
Saturday at Brick Tap and Tavern at 8:00PM
RED HOT RIOT
Saturday at Silverton Cafe -8:00 PM
Tony Bee
Friday at Woollys Franklin 9pm
If you would like to have your musical act featured on our weekly podcast or in Warren County Post contact us @Hall Around Town Radio on Facebook! For additional Band information follow our daily Facebook "Live at Five" program @Hall Around Town Radio