Who's Playing Out – Brought to you by "Hall Around Town Radio" December 15
Image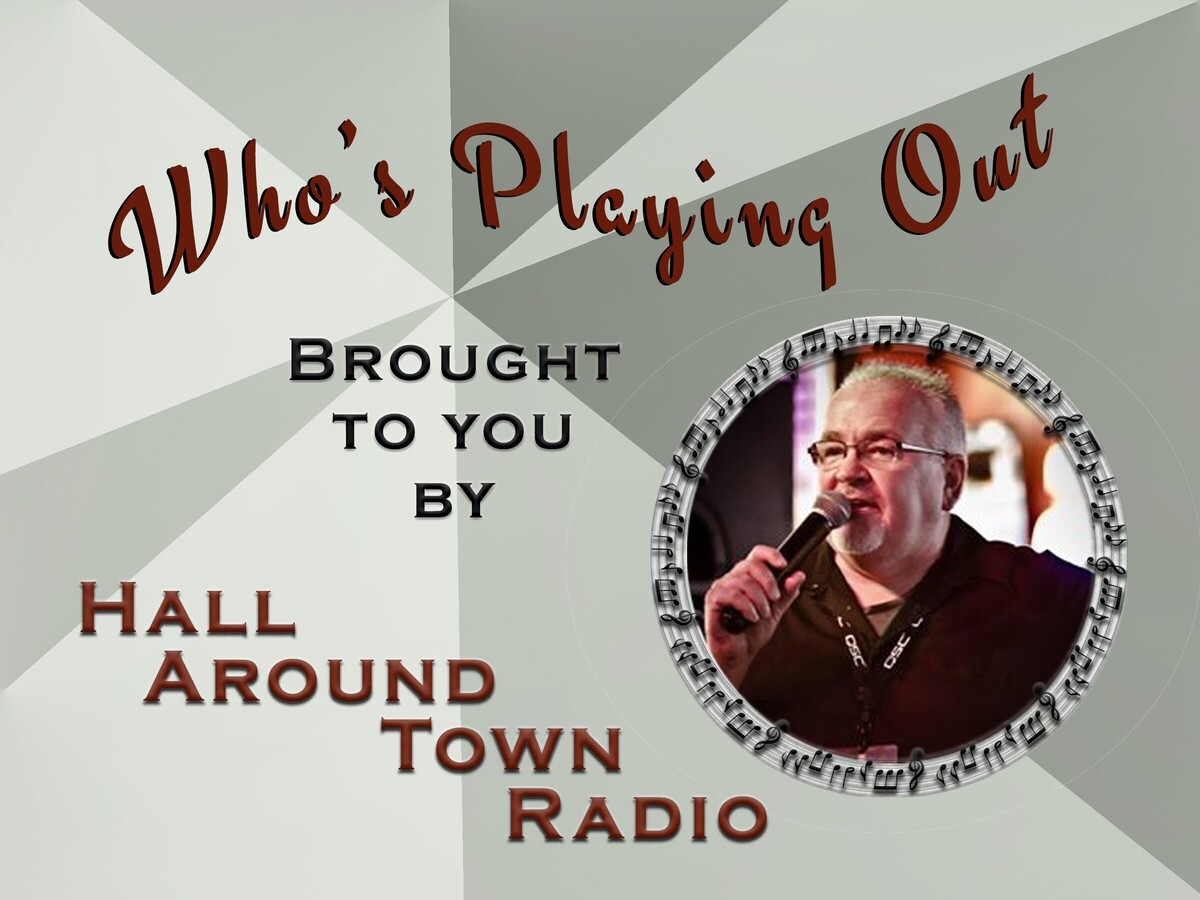 Brought to you by Scott Hall from "Hall Around Town Radio"
A little live music can turn an ordinary day into a memorable experience. The area's top musicians take center stage at some of the tri-states best restaurants and nightspots, bringing live music to our region nearly every night of the week. Make your first stop here weekly to find out "Who's Playing Out" at one of our live local music venues.
Bands and solos brought to you by our friends at Froggy's in Monroe, Ohio and Hall Around Town Radio (follow the on Facebook)
Froggy's in Monroe – Sponsor of our Thursday LIVE show on Facebook
Friday at 9pm After the Party's ( ATP) Christmas pajama party ..
Saturday at 9pm DRIVE
Sunday - Bengals/ Buccaneers on the TVsSaturday –
Tuesday - 7pm Music Trivia Bingo
Tuesday at 7:30 Queen of Hearts Drawing
Wednesday - Karaoke 7p-11p with Dj Songz
---
Mr. Boro's Tavern Springboro 
Thursday – Paul Cullen 7pm
Friday –– Kevin McCoy Band 8 to 11pm
Saturday – Truk and Last Call 8 to 11pm
Sunday – NFL Football
Tuesday – "Quiztastic" Q&A Trivia with Scott at 7pm
Wednesday – Queen of Hearts Drawing. 8pm over 23K
---
The Belle & The Bear (Montgomery)
Thursday "The Award Winning Jam" 7:30ish
Friday – Fast Forward at 8:30 pm
Saturday Ugly Christmas Sweater Party with Caffeine at 9 PM
Monday Game Night - 6pm
Tuesday – Jamie Combs Acoustic Jam 7pm
Wednesday – The Gina and Johnny Band at 7pm
---
Crooked Handle Brewing Co.
Thursday – Jake "Hambone" Davis 7pm
Friday – Benny Bodine at 6pm
---
Pohlman Lanes & Scott's Bar & Grill (Hamilton Ohio)
Family Entertainment Complex 954 Pyramid Hill Blvd., Hamilton Ohio
Friday at 7pm – Michelle Robinson Band
Saturday – The Gamut at 7pm
Monday - After Hours Big Band 7pm
Wednesday – This week off - Honky Tonkin' with the Standard Country Time Band 1pm
---
Sorg Opera House
Theatre Productions all week - No Music Shows
Future show tickets available at Cincyticket.com visit SORG page for more info
---
Soft Rock Café
Karaoke – Thursday- 7:30 pm - Friday 8:30pm - Saturday 8:30 pm.
---
Lebanon Grand Opry House
TBA - Future Show Reservations by calling 513-850-1770
---
Little River Bar and Grill (Oregonia)
Thursday –– DJ Songz Karaoke Party at 7pm
Friday – Mike Soloman at 7pm
Saturday – American Rebels –7pm
---
The Blue Note Harrison
Friday - Fleetwood Mac Tribute "Fleetwood Gold" Doors at 6pm
Saturday- it's Judas Priest tribute "Rapid Fire" with Sammy Hagar tribute "One Way To Rock". Doors at 5pm Music starts at 7pm!
---
Hidden Gem Music Club
Thursday at 7pm - Lab Partners with Somersault
Friday at 8pm Soul Express
Saturday at 7pm The Hauer Swing Band Christmas Concert
Sunday at 7pm Dayton Jazz Orchestra
Tuesday – Open Mic Night 8PM
---
Lori's Roadhouse
Thursday – Football and Wings
Friday – Brad Huddleson Band at 8pm
Saturday –Jesse Cain 8pm
Tuesday – Line Dancing 7pm
Wednesday – Boozy Bingo and Karaoke at 6pm
---
Miami Valley Gaming
Friday – Party Punch 9pm Center Bar
Saturday – The River City Band at 9pm Center Bar
---
Rex Patrick and the Country Legends Show in Germantown
Saturday – Terry Lee Ridley and his Million Dollar Band – A Rockin Christmas= doors at 5:30 show at 7pm Reserve your table now 513-594-1282
---
Brick Tap Tavern
Thursday – Open Mic with Scott Houchens 8:30
Friday – The Pullouts at 8:30pm
Saturday – Preminition at 8:30 pm
---
Scott Hall – Hall Around Town Radio
Tuesday "Qiztastic" Trivia at Mr. Boros Tavern 7pm
Live Monday to Thursday on Hall Around Town Radio
---
Scotty Long / DJ Songz
Wednesdays Froggys Monroe, OH 7pm-11am Karaoke Xperience
Thursdays at Little River Bar and Grill 7pm
Tuesdays The Barrel Springboro, OH 7pm-11pm Karaoke Party
Bands, Solos, Duos and Events
Standard Country Time Band
Saturday at 7pm The Avenue in Lebanon
Rick Henderson
Saturday sharing Christmas Tunes FACEBOOK LIVE from the Woodshed in Lebanon at 2:00pm Join in person and on line.
Dan Marshall
Thursday from 6 til 9 LoopManDan at Little Miami Brewing... One of his last public shows in cincy
Wesley Green Music
Friday at the Barrel from 8 to 12 with 9Eight Central
Sweet Sister Mercy
Friday - Sweet Sister Mercy returns to "The West side The Best side" with an evening of 80's Rock n Roll at Pirate's Den Bar and Grill
Matthew Allen
Fri Dec 16th 7:30-10:30pm at White Dog Distilling Co & Bourbon Bar (Middletown)
Tue Dec 20th 8-11pm at O'Conners Irish Pub (Springfield)
The Fast Forward Band
Friday at The Belle and The Bear Friday from 9 -1
Ben & Pete
Thursday 12/15 at The Pub at the Greene/ Beavercreek, 6:30 to 9:30 PM
Heath Bowling
Friday 12/16 Cadillac Jacks Shelbyville, IN 8-12
Saturday 12/17 Old Dayton Pizza Riverside, OH6-9p
Saturday 12/17 Courtyard Lounge Englewood, OH 9-1a
Wednesday 12/21 Milano's Miamisburg, OH 7-10p
Greg Goforth drummer
Friday with Six String Hustle at The Monkey Bar, Friday. 8pm.
Saturday with Shawn Bell and Blowin the Damn Fuses at Reading Eagles, 7pm
Short of Stable - Mike & Tiff Duo
Friday at Putters (Maineville) 7-10
Saturday at Putters (Liberty Twsp) 7-10
Sunday at Good Time Charlie's Open Mic 5-9
Michelle Robinson
Friday at Pohlman's 7-11
Saturday at Jim & Jacks 8-12
David Thornton
Thurs 12/15 Jayne's On Main 7:30-10:30
Fri, 12/16 Middletown ELKS LODGE #257 7:00-10
Sat, 12/17 The Rusty Nail (New bar in Middletown) 8:00-11
Wed, 12/21 The Barrel 7-10
Billy Brown
Friday Dec 16 at 9pm - Old Crow Smokehouse in Wrigleyville in Chicago IL
Saturday Dec 17 at 9pm - Old Crow Smokehouse in Wrigleyville in Chicago IL
Benny Bodine
Friday 12/16 Crooked Handle Brewing Co. 7-10 Springboro, OH
Thursday 12/22 Liberty Inn 6:30-10:30 West Chester, OH
Alex Poteet
Thursday December 15th - Angela Combs and Alex Poteet The Pike Cincinnati, OH 6PM
Monday, December 19th - Angela Combs and Alex Poteet Mutts Brewery Lounge Trenton, OH 6PM
Linus Tate unplugged
Friday December 16th DeShas American Tavern Cincinnati, OH 6Pm
Shane Demoss
Thursday 12/15 at Moe Harrigan's Tavern Kettering , Oh 8:30 - 11:30
Jordan Wood
Thurs 12/15 Twenty Mile Tavern - Open Jam 9pm Landen
Friday 12/16 Putters - Ugly Sweater Party 7pm Liberty Township
Saturday 12/17 Misery & Jen w/Mac McDaniel 9pm Hamilton
Monday 12/19 Misery & Jens Open Jam 8pm - ? Hamilton, OH
Shawn Bell
Saturday 12-17 Full Band Reading Fraternal Order of Eagles Members and qualified guests 8-12
Chad Applegate
Saturday - Chad Applegate solo at Pike St Cafe annual Christmas party in Lynchburg 8 to 11
6 String Hustle
Thur 12/15 Liberty Inn 6-10 Liberty Twnshp, OH
Fri 12/16 Monkey Bar 7-11 Maineville, OH
Sat 12/17 Olearys Pub 9-12 Centerville, Ohio
Jacob William
Fri 12/16 Woolly's 7:30-10:30 Main st Franklin
Sat 12/17 Franklin Golf Club 8-11 * last show of the year
Brandy Conarroe
Saturday - StrangeLove at Monkey Bar one last time 7-11pm
Joe Cowels
Thursday the 15th Joe Cowels solo at The Fairfield Pub 7 to 10,
Saturday the 17th The Joe Cowels Band at Foley's Irish Pub 7-11
GAMUT
Friday 12/16 at Jim & Jacks 8:30pm
Saturday 12/17 at Pohlmans 7pm
C.R.A.P. formerly 'sepia Heyday
Saturday at Leo's in Middletown for the black market party very punk Christmas show doors at 5 first band at 6 pm And crap hits the stage at 9 ish
Johnny Fink
Friday 12/16 Johnny Fink solo acoustic at Cappys wine in Loveland 730p
Sat 12/17 Johnny Fink and the Intrusion Mansion hill tavern 8p
Wednesday with Gina at the Belle and Bear 7pm
Kevin Cooper
Thurs 730-1130: B&B Jam
Fri 8pm-12am: The Hanky Panks at Trillions
Sat 6-9pm: Eyes Up Here at deSha's
Lätter
Saturday Dec 17th 9:30pm at Sloopy's in Greenville. Our annual Fugly Sweater Show!
DRIVE
Marsha Brady
Saturday December 17th - Club Trio - Club Trio's Christmas Party !! 9pm - 1am
RED HOT RIOT
Friday at Rick's Tavern & Grille -8:00PM
Dat Band
Saturday 12/17 Belterra Park Stadium Bar 8-11:30
If you would like to have your musical act featured on our weekly podcast or in Warren County Post contact us @Hall Around Town Radio on Facebook! For additional Band information follow our daily Facebook "Live at Five" program @Hall Around Town Radio