End of the Year 2022 Who's Playing Out – Brought to you by "Hall Around Town Radio"
Image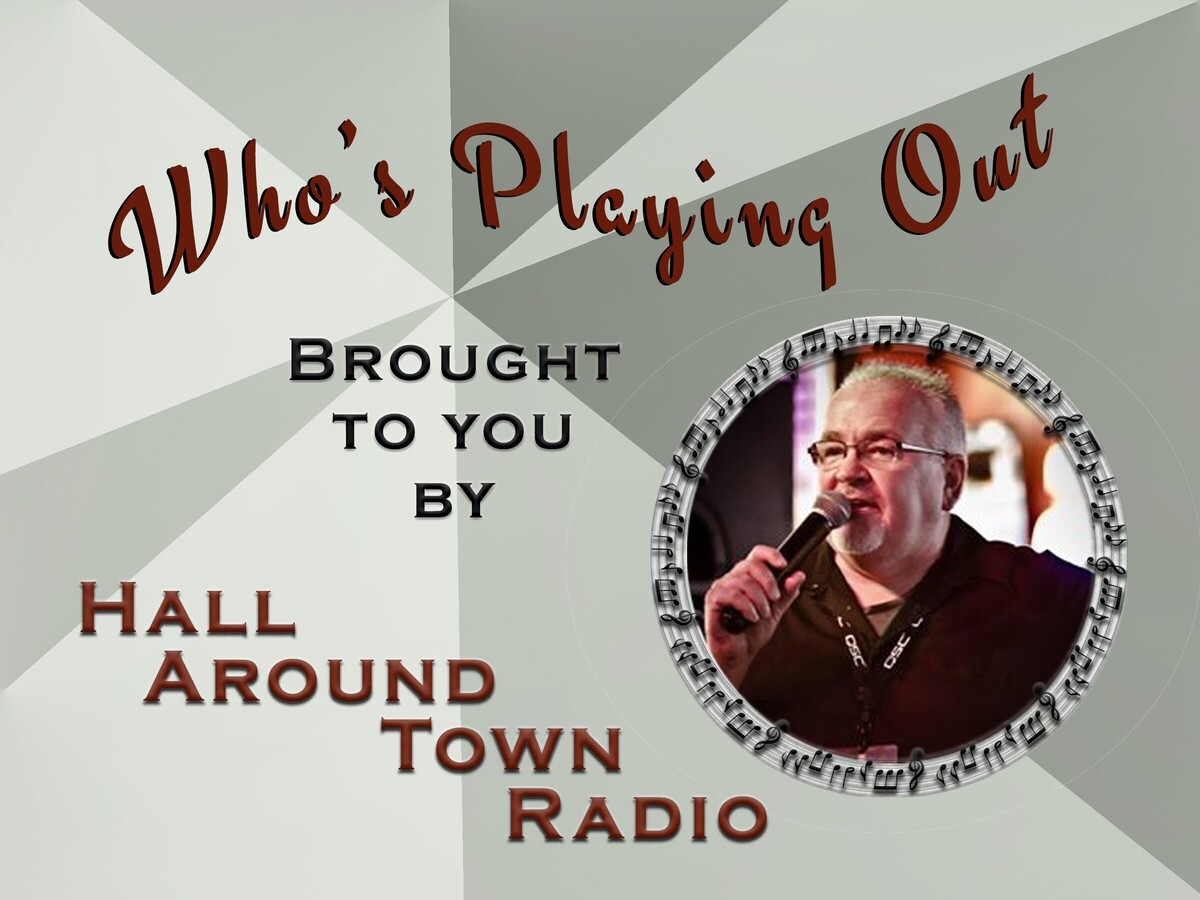 Brought to you by Scott Hall from "Hall Around Town Radio"
A little live music can turn an ordinary day into a memorable experience. The area's top musicians take center stage at some of the tri-states best restaurants and nightspots, bringing live music to our region nearly every night of the week. Make your first stop here weekly to find out "Who's Playing Out" at one of our live local music venues.
Bands and solos brought to you by our friends at Froggy's in Monroe, Ohio and Hall Around Town Radio (follow the on Facebook)
Froggy's in Monroe – Sponsor of our Thursday LIVE show on Facebook
Friday at 9pm Fri- 9p Highway 65
Saturday NYE at 9p Jimmy's New Invention ....$5 Cover, table treats, champagne toast, kitchen open til 11p....Reservations at www.gotofroggys.com are recommended.
Tuesday - 7pm Music trivia/ bingo 7:30 Queen of Hearts
Wednesday - 7pm Karaoke with DJ Songz
---
Mr. Boro's Tavern Springboro 
Thursday – Jake Roberts Acoustic 7 to 10 "Jakes Birthday"
Friday –– Pearl Street 8 to 11pm
Saturday NYE Celebration with the Courtney Jo Band 9 to 12
Tuesday – "Quiztastic" Q&A Trivia with Scott at 7pm
Wednesday – Queen of Hearts Drawing. 8pm over 27K
---
The Belle & The Bear (Montgomery)
Thursday "The Award Winning Jam" 7:30ish Celebrating the wedding of Brandy and Mickey
Friday – Audio Gtraffiti at 8:30 pm
Saturday - New Years Eve with Miss Jacque and Headliner Lita Ford at 8pm
Monday Game Night - 6pm
Tuesday – Jamie Combs Acoustic Jam 7pm
Crooked Handle Brewing Co. Springboro - Piqua location now open
Thursday – Joe C Solo - 6pm
Friday – Jake Hambone Davis 7pm
---
Pohlman Lanes & Scott's Bar & Grill (Hamilton Ohio)
Family Entertainment Complex 954 Pyramid Hill Blvd., Hamilton Ohio
Friday at 7pm - Blue Sacrifice
Saturday at 8pm - New Year's Eve Party with H&R Rock
Monday at 7pm The After Hours Big Band on the lanes
Tuesday at 7pm - Karaoke With Dj KODIE
Wednesday at 1pm matinee performance with the Standard Country Time Band
---
Sorg Opera House
No Music Shows this week .... Future show tickets available at Cincyticket.com visit SORG page for more info
---
Soft Rock Café
Karaoke – Thursday- 7:30 pm - Friday 8:30pm - Saturday New Years Eve Ticketed Event 8:30 pm.
---
Lebanon Grand Opry House
TBA - Future Show Reservations by calling 513-850-1770
---
Little River Bar and Grill (Oregonia)
Thursday –– DJ Songz Patioke Party at 7pm Party on the covered enclosed patio
Friday – Brad Hatfield Band at 7pm
Saturday – New Years Eve Cowboy Roundup with the American Rebels doors at 5pm...No tickets needed
---
The Blue Note Harrison
Saturday - New Years Eve at the Blue Note! The Classic Rock Experience - 1330 - The New Machine! - 3 stages of Rock N Roll! Complimentary Italian Buffet from 6:30pm- 7:30pm. Doors open at 6:30pm and music starts at 8pm.
Future show tickets available at Cincyticket.com
---
Hidden Gem Music Club
Friday – The Hathaways at 7pm
Tuesday – Open Mic Night 8PM
Lori's Roadhouse
Thursday – Football and Wings
Friday – Yours for the Taking at 8pm
Saturday – NYE with Chris Janson VIP tickets are SOLD OUT Hurry and grab the remaining tickets to join one of the the biggest NYE party around...Get tickets here: https://lrhlive.com/.../loris.../west-chester-township-ohio/  Live music will kick off at 5 PM with Corey Tyler Moore followed by performances from Blake Tyler, direct support Shane Proffit, and Chris Janson to ring in the new year!
Tuesday – Line Dancing 7pm
Wednesday – Boozy Bingo and Karaoke at 6pm
---
Miami Valley Gaming
Friday – Model Behavior 9pm Center Bar
Saturday – New Years Eve with the Whammies 9pm Center Bar
---
Rex Patrick and the Country Legends Show in Germantown
Saturday – New Years Eve and CD Release Partywith the Richard Lynch Band doors at 6pm Music starts at 8pm Reserve your table now 513-594-1282
---
Brick Tap Tavern
Thursday – Open Mic with Scott Houchens 8:30
Friday – The Donna Kennedy Band at 8:30pm
Saturday – Pandora Project for the NYE Party 8pm
---
Scott Hall – Hall Around Town Radio
Tuesday "Qiztastic" Between the Holiday Trivia at Mr. Boros Tavern 7pm
Live Monday to Thursday on Hall Around Town Radio
---
Scotty Long / DJ Songz
Wednesdays Froggys Monroe, OH 7pm-11am Karaoke Xperience
Thursdays at Little River Bar and Grill 7pm
Bands, Solos, Duos and Events
Jordan Wood
Monday – Misery and Jen Open Jam 8 till ??
Standard Country Time Band
Friday at Hunter Pizzeria from 6 to 8pm
Wednesday at Pohlman Lanes from 1 to 3pm
Shane deMoss
Thursday at Moe Harrigan's Tavern Kettering, Oh 8:30-11:30
Benny Bodine
Friday at Lucky Star Brewery 8-11 Miamisburg, OH
Saturday at Miamisburg Eagles 2306 (with Heath Bowling)... Benny & Heath New Years Eve bash at Miamisburg Eagles 2306 8-12 Miamisburg, OH
Wednesday at O'Leary's 7-10 Centerville, OH
Ithika
Saturday at Wings - Vandalia NYE Party 9pm - 1am $5 cover
Velvet Crush Unplugged
Friday at Dublin Pub Dayton oh 8-11
Saturday at Harrigan's Kettering oh 8-11
Wednesday at Milanos Miamisburg oh 7-10
6 String Hustle
Thursday from 6-10 at Trillions Sports Bar West Chester, Ohio
Rise II Reign
Saturday NYE from 7-10 Putters Maineville, Ohio
That One Party Band
Saturday at MVPs New Year's Eve with a $5 door cover that includes champagne and treats 8pm
GAMUT—
Friday New Years Eve Eve at Trillions 8pm-Midnight
Mad Costanza
Saturday at AnDERson Tap House for their New Years Eve party 8pm
OVERDRIVE
Saturday - New Years Eve at the Miamisburg Moose 8:00pm showtime.
Rock Star
Saturday NYE at Tiffany's saloon in Aurora Indiana. Free admission! 9pm - 1pm! Midnight toast!
Joe Cowels
Thursday 29th Joe Cowels solo at Crooked handle brewing 6p-9p
Friday 30th The Joe Cowels Band at The Fairfield Pub 9p-1a
Saturday the 31st, The Joe Cowels Band NYE BASH at Knollwood Tavern 9p - Midnight
Sunday January 1st Joe Cowels solo at Streetside Brewery 10a - 1p
Kevin Cooper
Friday from 7-11pm: Eyes Up Here at Carlo & Johnny
Saturday 9pm-1am: The Hanky Panks (aka The Regal Beagles) at Carlo & Johnny (NYE)
RED HOT RIOT
Saturday NYE at Bellevue Eagles- 8:00 PM. $5 Cover. Food, Drinks, Big Party!
Marsha Brady
Saturday - New Years Eve Bash - American Legion Post # 318, Anderson Ohio -...  Doors at 7pm, MB plays 9pm - 1am - " SOLD OUT "
Audio Graffiti
Friday at The Belle and the Bear from 8:30-12:30
Saturday NYE show at Minster, Oh at the Lanes 8-1
Heath Bowling Music
Friday at Knollwood Tavern 9-12 Beavercreek, OH
Saturday at Miamisburg Eagles W/ Benny Bodine 8-12 Miamisburg, OH
Dv8
Saturday NYE Bash at Turfway Park 9:30 til 1
Tony Bee
Saturday - Tony Bee Rock & Blues NYE 12/31 10- midnight Woollys Franklin
The Fast Forward Band
Saturday at The Honey Hole in Alexandria Ky. from 8 to 12ish
Don't Tell Steve
Saturday NYE at Belterra Casino in Indiana 2 private shows for high rollers 545 - 945 Public show in the lobby bar 10-1230
The Weekend Effect
Saturday- back in Celina at Froggys Bar for a New Years Eve bash!!!! 9-1ish
The Donna Kennedy Band
Friday at Brick Tap and Tavern Huber Heights 8:30 to 12.
Saturday New Years Bash at Amvets 24 Dayton 8:30 to 12:30
Michelle Robinson Band
Friday at The Barrel, Springboro 8-12
Brian Noble
Thursday at Wippels in Sunman. Indiana 7-10pm
Cross River Junction
Saturday – New Years Eve Show at Urbana Moose Lodge #1215 8pm
Vinyl Countdown Cincinnati
Saturday NYE at Latitudes Bar & Bistro from 9-1.
Monday playing the Bengals Pregame at The Banks before the Bengals vs Bills game on Monday from 4-8:30.
More Than Zero
Friday at the phone booth in Kettering at 8pm
Velvet Soul
Saturday New Year's Eve Party at Grandview Tavern With guest guitarist Adam Furnish 8pm
Audio Mayhem
Saturday – NYE at Madison Inn 8pm
Xero Hour
Friday at Legends Bar and Venue – Cheviot with The Mimics, Out of Torpor and Feral Friends with Headliner Scotty Austin formerly of Saving Abel Doors at 7pm Music starts at 7:30pm. $13 pre-sale $20 day of the show
Junior and Guitar Mike
Thursday at the Pub at the Greene 6:30pm
Authorized Personnel
Saturday NYE Party at Hanks Local 8pm
Party Punch
Friday pre NYE at Wings in Vandalia 9:30pm
Saturday NYE Party at Kingspoint Pub 9pm
Second Wind
Saturday NYE Bash at Ricks Tavern 9pm
Doug Hart Band
Saturday NYE Bash at Mansion Hill Tavern 8pm
The Inturns
Friday at Good Time Charlies 8:30pm
Saturday NYE at Strasse Haus 10pm
HiFi Honey
Saturday NYE at Jeff Rubys Steakhouse 8pm
Paul Cullen
Friday Jaynes on Main 7:30pm
Templin Road
Friday at the Monkey Bar 7pm
David Thornton
Thursday at Jaynes on Main 7:30pm
Blue Otis
Saturday Rockin NYE Bash at the Monkey Bar 8pm
If you would like to have your musical act featured on our weekly podcast or in Warren County Post contact us @Hall Around Town Radio on Facebook! For additional Band information follow our daily Facebook "Live at Five" program @Hall Around Town Radio