Who's Playing Out: Brought To You By Hall Around Town Radio Feb., 16
Image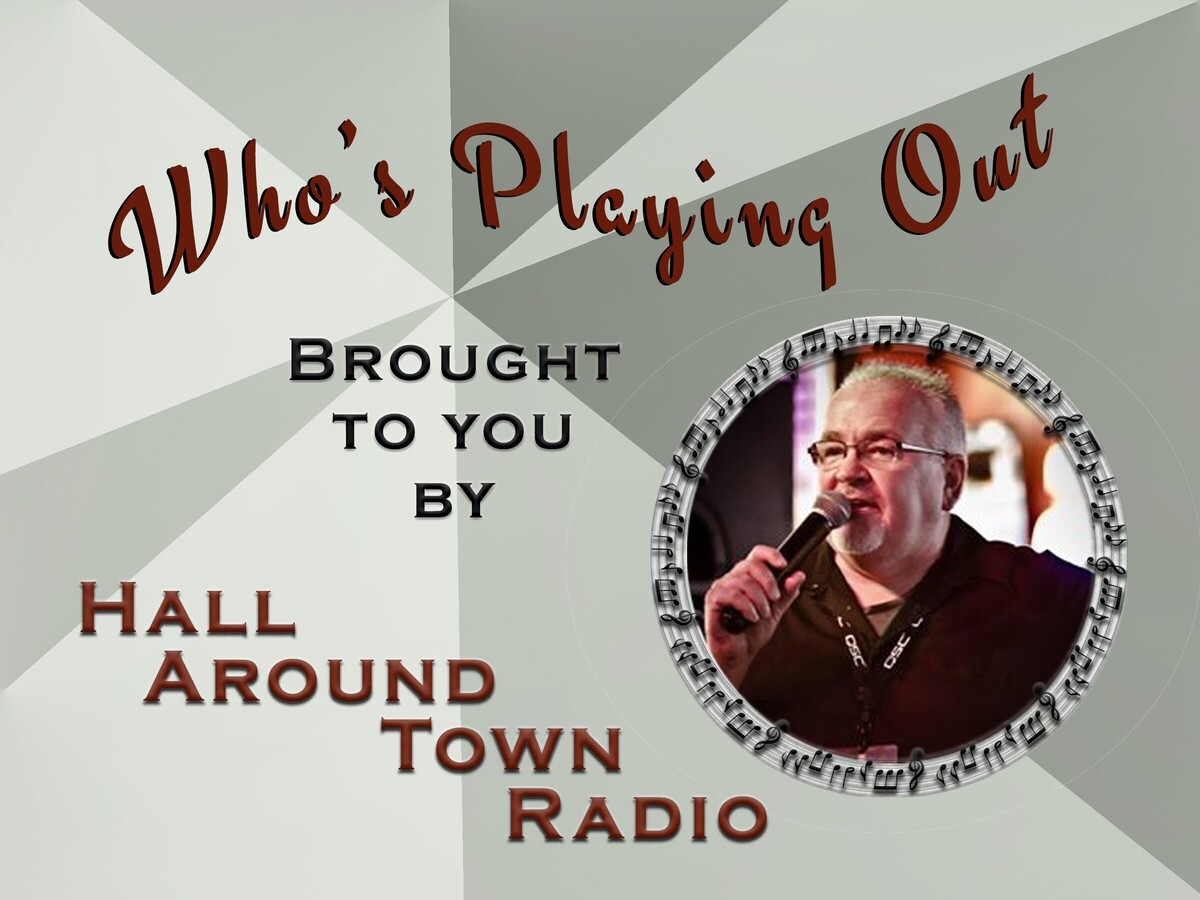 Brought to you by Scott Hall from "Hall Around Town Radio"
A little live music can turn an ordinary day into a memorable experience. The area's top musicians take center stage at some of the tri-states best restaurants and nightspots, bringing live music to our region nearly every night of the week. Make your first stop here weekly to find out "Who's Playing Out" at one of our live local music venues.
Bands and solos brought to you by our friends at Froggy's in Monroe, Ohio and Hall Around Town Radio (follow the on Facebook)
---
Froggy's in Monroe – Sponsor of our Thursday LIVE show on Facebook
Friday from 8p-12 Wood and Steel Revival
Saturday – After The Party
Tuesday at 7:30 Queen of Hearts $1500+
Wednesday - 7pm Karaoke with DJ Songz
---
Mr. Boro's Tavern Springboro 
Thursday – Junior and Guitar Mike 7 to 10
Friday – 5 Rivers 8 to 11pm
Saturday – The Hanky Panks (Debut) 8 to 11pm
Tuesday – "Quiztastic" Q&A Trivia with Scott at 7pm
Wednesday – Queen of Hearts Drawing. 8pm over 39K
---
The Belle & The Bear (Montgomery)
Thursday "The Award Winning Jam" 7:30ish
Friday – Red Hot Riot at 8:30 pm
Saturday - Under The Sun at 9:00pm
Monday Game Night - 6pm
Tuesday – Jamie Combs Acoustic Jam 7pm
Wednesday – Karaoke 7:30 pm
---
Crooked Handle Brewing Co. Springboro
Thursday – Jake Hambone Davis 7 to 9pm
Friday – Truck from 7pm to 10pm
---
Crooked Handle Brewing Co. Piqua
None Listed This Week
---
Pohlman Lanes & Scott's Bar & Grill (Hamilton Ohio)
Family Entertainment Complex 954 Pyramid Hill Blvd., Hamilton Ohio
Thursday – Listening Party - DJ Christian D's Mixy-Mix Funk Show – 7pm
Friday 7pm - Miss Jacque
Saturday 7pm – Jukebox Heroes
Monday at 7pm The After Hours Big Band on the lanes
Tuesday - Karaoke With Dj KODIE
Wednesday at 1pm matinee performance with the Standard Country Time Band
---
Soft Rock Café
Karaoke – Thursday- 7:30 pm - Friday 8:30pm - Saturday - 8:30 pm.
---
Sorg Opera House
No Music Shows this week - Future show tickets available at Cincyticket.com visit SORG page for more info
---
Little River Bar and Grill (Oregonia)
Thursday –– DJ Songz Patioke Party at 7pm Party on the covered enclosed patio
Friday – Jordan Wood and Nick Giese at 7pm
Saturday – Streetwise at 7pm
---
The Blue Note Harrison
Friday comedy returns to the Blue Note with Kevin Farley! Opening the show it's Cincinnati's own Rob Wilfong doors at 6 and show starts at 7pm
Saturday it's Jackyl Opening the show it's 1330. Rocking in the pub it's the New Machine, Sons Of Liberty & Critical Khaos! Doors open at 5:30pm and music starts at 6:30pm.
Tickets available at Cincyticket.com
---
Hidden Gem Music Club
Thursday –Roaring 20's - A Prohibition Era Event with music by Big Al's Speakeasy Jazz Band
Friday – Shannon Clark and the Sugar with Jamie Suttle and Ryan Alfred at 7pm
Saturday – Black Water Voodoo at 8pm
Sunday – Dayton Jazz Orchestra 6:30pm
Tuesday – Open Mic Night 7:30PM
---
Lori's Roadhouse
Friday – The Lacs at 8pm
Saturday – Easton Corbin 8pm
Sunday – Autism rocks 14 …Doors open. At 11:30
Tuesday – Line Dancing 7pm
Wednesday – Boozy Bingo and Karaoke at 6pm
---
Miami Valley Gaming
Friday – Model Behavior 9pm Center Bar
Saturday – Ladi T of Cinci 9pm Center Bar
---
Rex Patrick and the Country Legends Show in Germantown
Saturday – Standard Country Time Band 7pm Reserve your table now 513-594-1282
---
The Brick Tap and Tavern
Thursday – Open Mic with Scott Houchens at 8:30pm
Friday – Doug Hart Band at 8:30pm
Saturday – Authorized Personnel at 8:30pm
---
Ricks Tavern
Friday – Soul Quest at 8pm
Saturday – Miss Jacque at 8pm
---
Scott Hall – Hall Around Town Radio
Tuesday "Qiztastic" at Mr. Boros Tavern 7pm Live Monday to Thursday on Hall Around Town Radio
---
Scotty Long / DJ Songz
Wednesdays Froggys Monroe, OH 7pm-11am Karaoke Xperience
Thursdays at Little River Bar and Grill 7pm
Bands, Solos, Duos and Events
AUTISM ROCKS 14 at Lori's Roadhouse
Sunday at noon Advance Tickets $25 at KAA Cincyticket.com
Doors open at 11:30 – Sports Legends – Raffles – Live Music from Melodic Connections – Billy Rock Band – Stagger Lee – Johnny Fink and the Intrusion – Crown Watts – Bronson Arroyo Band
---
Talon Tavern – Rockin For Autism
Friday at 7pm With Dj Dave Kahle Music and Videos
Butch Jones and Standard Counttry Time Band
Saturday at Rex Patrick in Germantown 7 to 10pm
Wednesday at 1pm Pohlman Lanes
Short of Stable
Sunday - Mike and Tiff host Open Mic at Good Time Charlies from 5 to 9pm
Rockstar!
Friday at Club Trios from 8 - 12
Side Piece
Friday - Debut at the Phone Booth Lounge in Kettering from 8 to 12
Junior
Thursday 7-10 Junior and Guitar Mike at Mr Boro's
Friday Junior and Guitar Mike at American Legion #140 in Greenville 8pm
Wednesday Dublin Pub open mic tonight 6:30 sign up / 7pm music starts
Kevin Cooper
Thursday from 730-1130pm: Belle & Bear Jam
Friday from 6-10pm: Kevin Cooper solo at Z Place for Wine and Cheese
Saurday from 8-11pm: The Hanky Panks debut at Mr. Boro's Tavern
Sunday from 6-10pm: Eyes Up Here at Trillions
Joe Cowels
Thursday Joe Cowels solo at Fairfield Pub, Fairfield OH 7p-10p
Friday - The Joe Cowels Band at The Madison Inn, Middletown OH 9P-1am
Saturday - Joe Cowels solo at The Tin Cap, Wilmington OH, 7p-10p
Acoustic Blue 
Thursday at Par's Place - Fairfield, Oh. 6:30 to 9:30pm
Saturday at The Shift - Bright, In. 7:00 pm
Saturday at Sloopy's in Greenville Ohio. 9pm
The BillyRock Band
Friday at Turfway Park - 9:30p
RED HOT RIOT
Friday at The Belle & The Bear - 8:30 PM
Marsha Brady
Saturday at Jimmy B's, Eastside of Cincy - 9:30pm - 1:30am
Xero Hour
Saturday opening for The Eternal Now with Crooked Rook - South Gate House doors 7pm music 8pm
Crown Watts
Sunday at Autism Rocks 14 - Lori's Roadhouse
Johnny Fink and the Intrusion
Sunday at Autism Rocks 14 Lori's Roadhouse - 4:20 pm
Shane Demoss
Thursday at Moe Harrigan's Tavern Kettering, Oh from 8-11
Saturday Until Rust at Hidden Valley Orchards "Mix & Mingle" from 6:30 - 9:30
Jacob William
Friday at the Rusty Nail from 8-11
Saturday at Franklin Golf Club from 8-11
Benny Bodine
Friday at O'Leary's Pub & Grub from 8-11 Centerville, OH
Truk
Friday at Crooked Handle Springboro from 6-10
Alex Poteet
Thursday at Smoke Justis in Covington, KY at 7:30PM
Linus Tate
Friday February at DeShas American Tavern Cincinnati, OH 6PM
Saturday at Mutts Brewery Lounge Trenton, OH 8PM
6 String Hustle
Thursday from 8-11 at The Lounge Cincinnati, Ohio
Sunday from 7-10 at O'learys Pub in Centerville, Ohio
Tuesday from 7-10 at the Submarine House Centerville, Ohio
Heath Bowling
Thursday at the Liberty Inn from 6:30-10:30 in Liberty Township, OH
Friday at the Hitching Post 8-11p in Darrtown, OH
Saturday with Route 88 for Todd's Bday Bash at the Franklin Eagles from 7-9ish Franklin, OH
Dv8
Saturday at the Knotty Pine 6947 Cheviot Rd Cincinnati Ohio 45247 9 pm til 12:30
White Knuckle Weekend
Saturday at O'Connor's Pub in Springfield from 9-1.
Matthew Allen
Friday from 7:30-10:30pm at White Dog Distilling Co. & Bourbon Bar (Middletown)
Tuesday from 8-11pm at O'Conners Irish Pub (Springfield)
Spungewurthy
Friday at 9:30. Wings Vandalia
David Thornton
Thursday at Jaynes on Main in Miamisburg at 7 to 10 pm
Friday at the Middletown ELKS LODGE #257 7-10
Saturday at The Common Beer Company (Mason) from 7:30-10:30
Velvet Crush
Friday at the Dublin Pub, Dayton oh from 8-12
Britney's Lipstick
Saturday at the Monkey Bar 7pm
Pauly and The Fall From Grace
Saturday from 9pm to 1am at the Rusty Nail on Middletown
Visitor
Friday at Hanks Local from 8 to 11pm
Lori's Secret
Friday at Jocko's Pub 9pm
Sideshow
Saturday at The Avenue in Lebanon from 7 to 11pm
Cassette Junkies
Friday and Saturday at The Hard Rock Casino Cincy 9pm to 1am
Courtney Jo Band
Saturday at the Ironton Moose from 8 to midnight
Jr. Hunter and the Crossfire
Friday at O'Conners Pub 9pm
If you would like to have your musical act featured on our weekly podcast or in Warren County Post contact us @Hall Around Town Radio on Facebook! For additional Band information follow our daily Facebook "Live at Five" program @Hall Around Town Radio
More News from Springboro