Who's Playing Out: Brought To You By Hall Around Town Radio April 5th
Image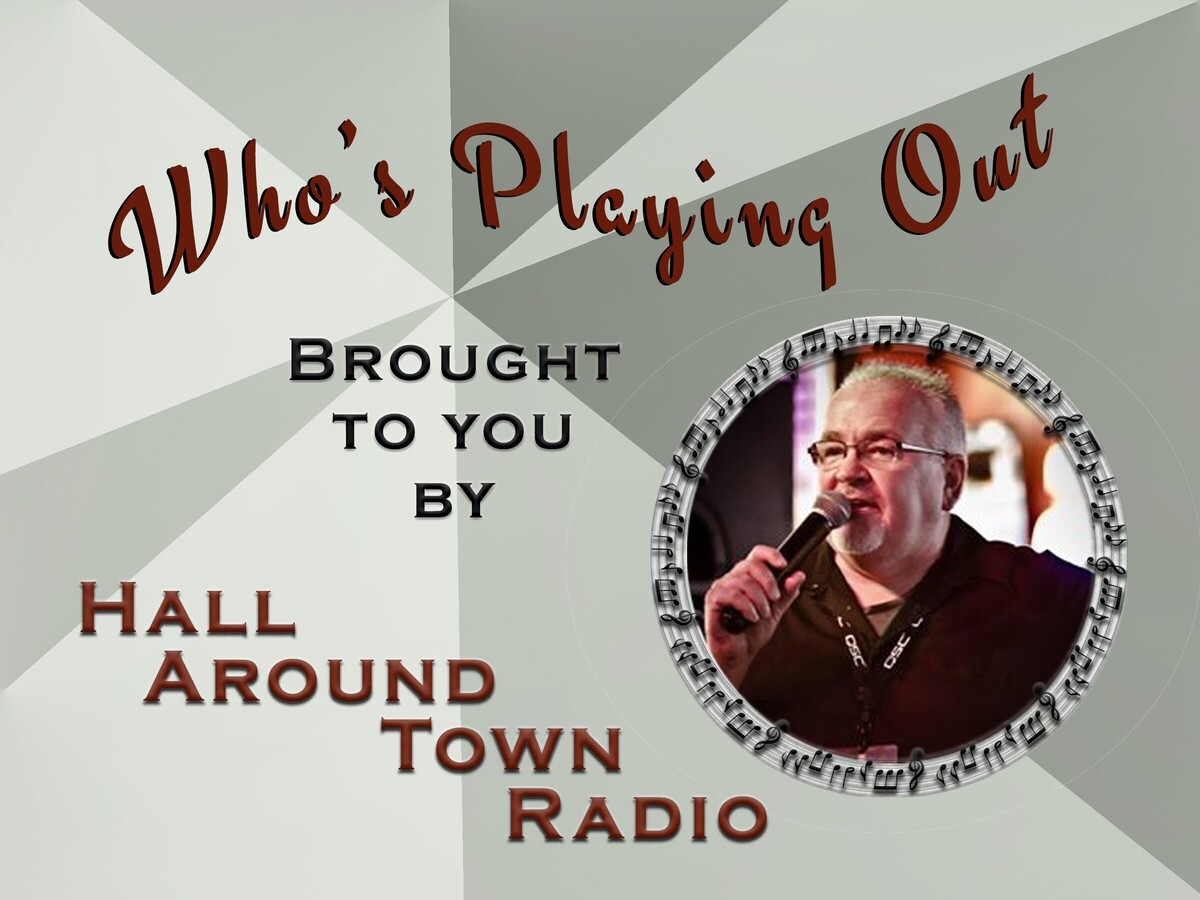 Brought to you by Scott Hall from "Hall Around Town Radio"
A little live music can turn an ordinary day into a memorable experience. The area's top musicians take center stage at some of the tri-states best restaurants and nightspots, bringing live music to our region nearly every night of the week. Make your first stop here weekly to find out "Who's Playing Out" at one of our live local music venues.
Bands and solos brought to you by our friends at Froggy's in Monroe, Ohio and Hall Around Town Radio (follow the on Facebook)
---
Froggy's in Monroe – Sponsor of our Thursday LIVE show on Facebook
Friday at 8pm Diamonds and Boots Dance Party
Saturday at 8pm The Relics
Tuesday 7pm Frog-ingo, 7:30 Queen of hearts
Wednesday 7pm Pokeoke (Karaoke )
---
Mr. Boro's Tavern Springboro
Thursday – Brad Wehlitz with Logan Flum 7 to 10
Friday – 9Eight Central 8 to 11pm
Saturday – Element 8 to 11pm
Sunday – Visitor 2 to 5pm
Tuesday – "Quiztastic" Q&A Trivia with Scott at 7pm
Wednesday – Queen of Hearts Drawing. 8pm 50K
---
The Belle & The Bear (Montgomery) - Award Winning
Thursday "The Award Winning Jam" 7:30ish
Friday – Sweet Sister Mercy at 8:30 pm
Saturday Second Wind at 8:30pm
Monday - Game Night - 6pm
Wednesday – Rick Kern - 7:30 pm
---
Crooked Handle Brewing Co. Springboro
Thursday – Good Song Guy 7 to 9pm
Friday – Nothing But Treble 7 to 10pm
Crooked Handle Brewing Co. Piqua
Saturday – Scott Houchens 6pm
---
Pohlman Lanes & Scott's Bar & Grill (Hamilton Ohio)
Family Entertainment Complex 954 Pyramid Hill Blvd., Hamilton Ohio
Friday 7pm - Angela Combs Band at 7pm
Saturday – Liars For Hire 7pm
Monday - After Hours Band 7pm
Tuesday Karaoke DJ KODIE 7pm
Wednesday Standard Country Time Band 1pm
---
Soft Rock Café
Karaoke – Thursday- 7:30 pm - Friday 8:30pm - Saturday - 8:30 pm.
---
Sorg Opera House
Saturday – Tyler Christopher as Elvis 8pm
Future show tickets available at Cincyticket.com visit SORG page for more info
---
Little River Bar and Grill (Oregonia)
Thursday –– DJ Songz Patioke Party at 7pm Party on the covered enclosed patio
Friday – Triple Edge Band at 8pm
Saturday – Linus Tate at 8pm
Wednesday – Singer Songwriter Open Mic 6 to 9pm
---
The Blue Note Harrison
Saturday - Fleetwood Gold returns to the Blue Note! Opening the show it's The Johnny and Gina Duo! Doors open at 5:30pm and music starts at 6:30pm.
Tickets available at Cincyticket.com
---
O'Connors Irish Pub Springfield
Thursday – Karaoke 9pm
Friday – Route 88 9pm
Saturday – Side Piece at 9pm
Monday – Trivia with Matt Allen
Tuesday – Flashback Band Unplugged 8pm
Wednesday – Karaoke 10pm
---
Hidden Gem Music Club
Thursday – Chris Yakopcic at 7pm
Friday – Nasty Bingo 8pm
Saturday – The Weekend Effect at 9pm
Sunday – Mike Wade & The Mighty Groovin' Quartet 7pm
Tuesday – Open Mic Night 7:30PM
---
Lori's Roadhouse
Friday – Carter New at 7pm
Saturday – Lo Cash at 9pm
Tuesday – Line Dancing Lessons 7pm
Wednesday – Boozy Bingo and Karaoke at 6pm plus Queen of Hearts …
Tickets at LRHLIVE.com
---
Miami Valley Gaming
Friday - Chuck Brisbin & The Tuna Project 9pm Center Bar
Saturday - Chuck Brisbin & The Tuna Project 9pm Center Bar
---
Rex Patrick and the Country Legends Show in Germantown
Saturday –Original Jam Band - doors open at 5:30 Music 7 to 10 –
Reserve your table now 513-594-1282
---
Moe Harrigan's Tavern
Thursday – Shane Demoss 8pm
Saturday – Heath Bowling 8pm
---
The Brick Tap and Tavern
Thursday – Open Mic with Scott Houchens at 8:30pm
Friday – Comstock Lode 8:30pm
Saturday – Wild Front Tears at 8:30pm
---
Ricks Tavern
Thursday – The Mill Creek Duo 7pm
Friday – Shuffle at 8pm
Saturday – Miss Jacque at 8pm
---
KnottyPine
Thursday - Kenny Cowden acoustic show from 7-11
Friday and Saturday - Flatline 9-1am
---
Scotty Long / DJ Songz
Wednesdays - Froggys in Monroe - Poker Karaoke Party 7pm. Each Singer who sings 2 songs will pick 2 cards from the shuffled decks. At 10:30pm we will lay down the 5 cards. Whoever has the highest Holdem Hand will win $25 Froggys Gift Card that can be used the following week.
Thursdays - Little River Oregonia, OH. PatiOKE Party 7pm!
Tuesdays - Trillions in West Chester, OH. Karaoke Party 8pm
---
Scott Hall
Friday at the Kettering VFW for Classic TV and Music Trivia at 7:30 pm
Tuesday at Mr Boros Taver for Quiztastic Tuesday Trivia at 7pm
Bands, Solos, Duos and Events
Dallas Moore
Thursday: Proof 124 Table & Tavern Lawrenceburg, Indiana 6pm
Friday: Merle's Whiskey Kitchen Louisville, Kentucky 8pm
Saturday: Bobby Mackey's Wilder, Kentucky 7:30pm
Sunday: Trillions Sports Bar and Grill West Chester, Ohio 6pm
Justin Back
Saturday at the Urban Backyard in hamilton from 7 to 9
VISITOR
Sunday at Mr. Boro's for Sunday Funday, from 2-5.
Tony Peters
Friday at Bock Family Brewing 7pm
Shane Demoss Music
Thursday at Moe Harrigan's Tavern Kettering, Oh 8-11
Until Rust
Saturday at the Flying Pig Tavern - Fairborn, Oh Opening for Hollow (Alice In Chains Tribute) 8pm Start time
Heath Bowling Music
Thursday at the Fairfield Pub 7-10p Fairfield, OH
Saturday at Moe's Harrigan's Tavern 8-11p Kettering, OH
Route 88
Saturday at O'Connors Irish Pub from 9-1a in Springfield, OH
Benny Bodine
Thursday at Elsa's Mexican Restaurant 7-10 Springboro, OH
Friday at Jayne's On Main from 7:30-10:30. Miamisburg, OH
Mad Hatter
Friday at Little York Tavern and Pizza 9pm
Velvet Crush
Saturday at Timothy's near UD for their anniversary party Dayton oh 10:30pm -2am
Billy Brown
Thursday at 6pm - PBR on 4th Street Live in Louisville KY
Friday at 8pm - Trillions Sports Bar in Cincinnati OH
Saturday at 4pm - Ole Red in Gatlinburg TN
Sunday at 11am - Ole Red in Gatlinburg TN
Alex Poteet
Thursday at Smoke Justis in Covington, KY 7:30PM
Linus Tate
Friday at DeShas American Tavern in Cincinnati, OH 6PM
Saturday at Little River Bar & Grill Oregonia, OH 7PM
6 String Hustle
Wednesday April 5th at O'Leary's Pub 7-10 Centerville, Ohio
Chad Applegate
Every Wednsday at Chiefs in Clarkesville OH Lake from 7 til 10.
CDB Unplugged
Saturday at Bushrod Brew Works 8pm
Shifferly Road
Friday at Frosty's – Buckeye Sports Club 8:30pm
Crown Watts
Friday at Lattitudes with Jim Quest 8:30pm
Mad Hatter
Friday at Little York Tavern 9pm
Rock Star
Saturday at 1st & 10 Sports Bar in Florence Ky. 9pm
Doug Hart Band
Friday at Mansion Hill Tavern 9pm
Saturday at Big Al's BBQ and Grill in Miamisburg 7pm
Catalina Wine Mixer
Saturday at Fretboard Brewing 8pm
Overdrive
Timestamp
Saturday at 8pm The Barrel in Springboro
Chris Lee Acoustic
Thursday - Acoustic duo w/Alexa Michelle at Keystone Bar and Grill Covington, KY. 7pm-10pm
Friday at Art Attacks Show - Braxton Brewing Cincinnati OH. 7pm-11pm
Saturday at Maya Mexican Restaurant Milford OH. 6:30pm-9pm
Sunday at Treasure Aisles Flea Market Monroe OH. 11:30-2:30pm
Blind Faith Duo
Thursday at Little Miami Brewery from 6:30 - 9;:30
Friday at Cappy's in Loveland from 7:30 - 10:30
Saturday at VFW Post 72 Mt Carmel from 7:00 - 10:00
Liars for Hire
Saturday debut at Pohlman Lanes 7p - 11p.
Joe Lipinski
Saturday jersey joe solo at the Blind Lemon 8:30PM - 1:00AM.
The Weekend Effect
Saturday at The Hidden Gem Music Club 8-12pm.
Tyler VanB Music
Friday from 7 to 9PM at COhatch, Springfield OH
Don't tell Steve
Friday at Mad Tree Brewery from 7-11
Spungewurthy
Friday at Wings Vandalia 9:30pm
Michelle Robinson Band
Saturday - Opening for LoCash at Lori's Roadhouse 8:00pm
Jordan Wood
Thursday - Open Jam at Twenty Mile Tavern 9pm
Saturday at the Hangar Bar 8pm in West Chester
Sunday - Open Jam at the Miamiville Tavern 3pm in Miamiville
Monday - Open Jam at Misery & Jen 8pm in Hamilton
Sweet Sister Mercy
Friday at The Belle & The Bear 8:30ish P.M.
David Thornton
Thursday at Jayne's On Main in Miamisburg 7-10
Friday at Lucky Star Brewery in Miamisburg 8-11
Saturday at The Swire Inn Middletown 7-10
Joe Cowels
Friday - Joe Cowels solo at Marty's hops and vines 8p- 10:30p
The BillyRock Band
Friday at 1 More Bar & Grill 7pm
Latter
Saturday at McSobers for April fools day at 9:30 pm in Coldwater Ohio.
Marsha Brady
Saturday April 1st - Jimmy B's - Eastside of Cincy - 9:30 - 1:30am
Kevin Cooper
Thursday from 730-1130pm at the Belle & Bear Jam
Friday from 6-10pm: Kevin Cooper solo at Z Place for Wine and Cheese (Montgomery)
Jet Pack Academy
Friday at MVP's 8:30pm-12:30am
Acoustic Blue Band
Friday - Rick's Tavern 5 pm
Saturday- The Shift 7 pm
Rick George
Thursday at The Pub Beavercreek from 6:30-9:30
DRIVE
Saturday at 8pm - Satch's Bar & grill, Trenton Ohio
Johnny Fink
Saturday the Gina and Johnny duo at the Blue note 7pm opening for Fleetwood Gold
Adam West and the Beez Kneez
Friday, March 31st, at BellHOP Cafe with Dennis Geehan's Storied Blues Project and Tyler "T-Bone" Joseph – 7 to 9:30pm
Xero Hour
Saturday at 8pm opening for Chains Over Razors at Thompson House in Newport doors open 7pm presale tickets available through Xero Hour Facebook page or at the door.
Short of Stable
Saturday at the Dublin Pub 8:30-12. (full band)
Sunday – Mike and Tiff at Good Time Charlies Open Mic 5 - to 9pm
Side Piece
Saturday at O'Conners Irish Pub in Springfield 9 to 1
Abe's Lincoln
Friday at Jimmy B's Bar & Grill 9:30 to 1:30 am
Thom Stephenson
Thursday at the BB Jam 7:30 pm
Saturday at MVP's with ZaaZoo at 8:30
Sunday at Little Miami Brewing feat. Brother Stretch 2pm!
Rick Henderson & The 50 Caliber Band…
Friday at Hunter Pizzeria in Franklin.
Saturday at The Woodshed in Lebanon.
Shuffle
Friday at Rick's Tavern from 8-Midnight
SideShow Band
Saturday at the Urbana Moose, Urbana, Ohio - 7pm start.
The Grateful Dads
Saturday at the FC Cincy pregame party at Washington park 4:30 to 7:30
5 Story Plunge
Friday at the Phone Booth Lounge 8pm
If you would like to have your musical act featured on our weekly podcast or in Warren County Post contact us @Hall Around Town Radio on Facebook! For additional Band information follow our daily Facebook "Live at Five" program @Hall Around Town Radio