Who's Playing Out: Brought To You By Hall Around Town Radio June 1st
Image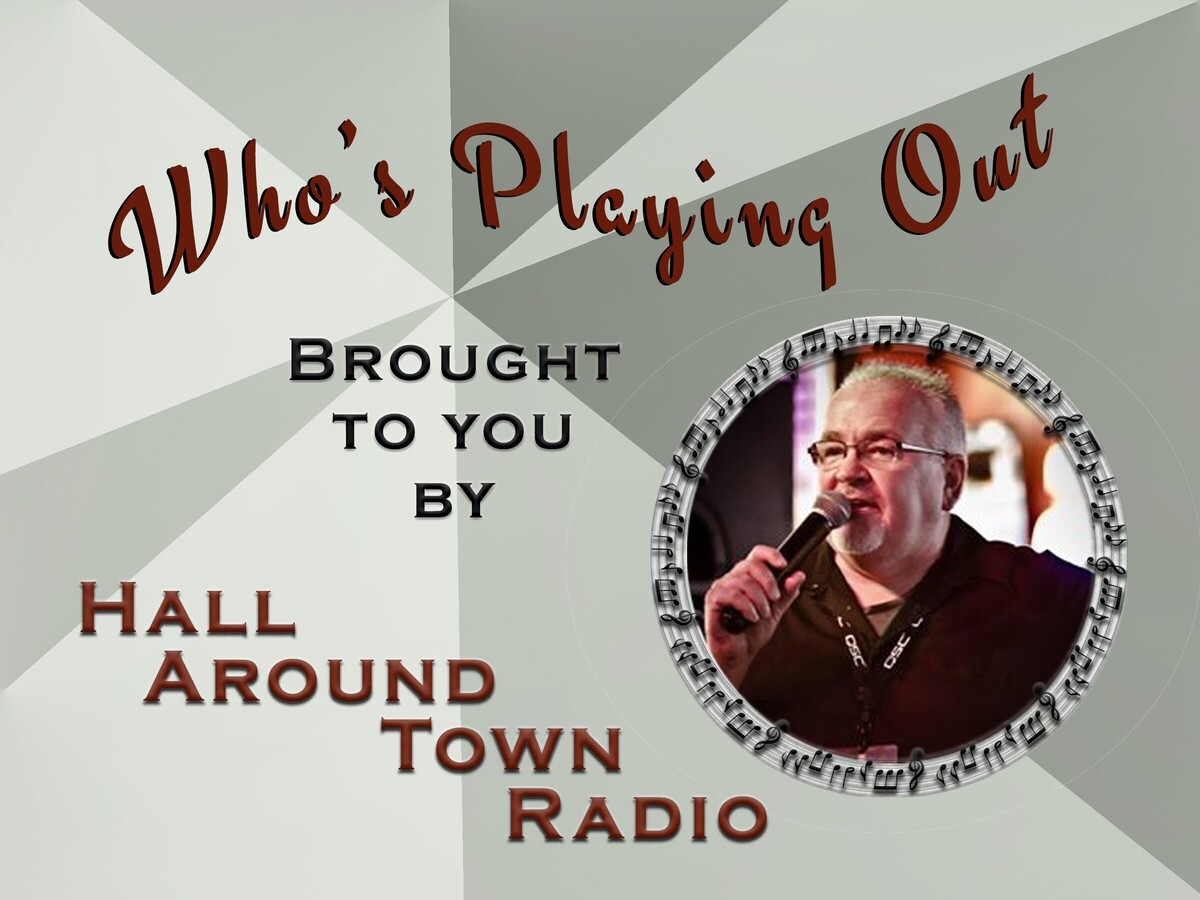 Brought to you by Scott Hall from "Hall Around Town Radio"
A little live music can turn an ordinary day into a memorable experience. The area's top musicians take center stage at some of the tri-states best restaurants and nightspots, bringing live music to our region nearly every night of the week. Make your first stop here weekly to find out "Who's Playing Out" at one of our live local music venues.
Bands and solos brought to you by our friends at Froggy's in Monroe, Ohio and Hall Around Town Radio (follow both on Facebook)
Froggy's in Monroe – Sponsor of our Thursday LIVE show on Facebook
Thursday – TAPS – Tursday Acoustic Patio Sessions 6 to 10pm
Friday at 8pm – The Hanky Panks
Saturday at 8pm – Black Water Voodoo
Tuesday 7pm Frog-ingo, 7:30 Queen of hearts $3900 15 cards left
Wednesday – Jeep Night (Collect Frogs) from 6 to 10pm Patio with Live Music
---
Heathers "On the Patio"
Thursday – Ricky Veeneman from 7 to 9:30
Friday – Missing November at 7pm
Saturday – Lakes Ridge at 7pm
Tuesdays – Heathers Bingo & Queen of Hearts
Wednesdays – The award winning - Name That Tune with Scott 7pm - Resrvations Reccomended
---
Mr. Boro's Tavern Springboro
Thursday – Last Call Trio 7 to 10
Friday – Social Chemists 8 to 11pm
Saturday – Pearl Street 8pm
Sunday – Funday with The Inturns from 2 to 5pm
Tuesday – "Quiztastic" Q&A Trivia with Scott at 7pm
Wednesday – Queen of Hearts Drawing. 8pm 35K.
---
The Belle & The Bear (Montgomery) - Award Winning
Thursday "The Award Winning Jam" 7:30ish a
Friday – Blackbone Cat at 8:30 pm
Saturday - Miss Jacque at 9 pm
Monday - Game Night - 6pm
Wednesday – Rick Kern - 8pm
---
Crooked Handle Brewing Co. Springboro
Thursday – Nicholas Clay – Live 6 to 9pm
Friday – Doug Hart 6pm to 9pm
---
Crooked Handle Brewing Co. Piqua
Saturday – TBA 6pm to 9pm
---
Soft Rock Café
Karaoke – Thursday- 7:30 pm - Friday 8:30pm - Saturday - 8:30 pm.
---
Pohlman Lanes & Scott's Bar & Grill (Hamilton Ohio)
Family Entertainment Complex 954 Pyramid Hill Blvd., Hamilton Ohio
Friday - Miss Jacque at 7pm
Saturday – The Inturns 7pm
Monday – After Hours Band 7pm
Tuesday – Karaoke with DJ Kodie 7pm
Wednesday - Standard Country Time Band 1pm
---
O'Connors Irish Pub Springfield
Thursday – Open Jam from 7 to 10pm
Thursday – Karaoke 9pm in the dining room
Friday – The Matthew Clarkson Band at 9pm
Saturday – DJ Mike at 10pm
Monday – Trivia with Matt Allen
Tuesday – Ryan Fyffe at 8pn
Wednesday – Karaoke 10pm
---
Sorg Opera House
Friday – Autum Kings at 8pm
Saturday – Beatlemania Magic – A Tribute To the Beatles 8pm
Tickets available at Cincyticket.com visit SORG page for more info
---
Stubbs Park in Centerville
Sunday – Practically Petty 7 to 9pm
---
Lofino Park in Beavercreek
Sunday - Noah Wotherspoon 7pm
---
The Heights Summer Music Series at Eichelberger
Saturday – The Victorius KayBirds 7 to 9pm
---
Springboro Summer Concert Series – North Park
Sunday – Springboro Wind Symphony 7pm
---
Little River Bar and Grill (Oregonia)
Thursday – DJ Songz Patioke Party at 7pm Party on the covered enclosed patio
Friday – Route 88 at 7pm
Saturday – Terry Metcalf Band at 7pm
Tuesday – Little River Bike Night
Wednesday – Singer Songwriter Open Mic 6 to 9pm
---
The Blue Note Harrison
No shows listed this weekend - Future show Tickets available at Cincyticket.com
---
Miami Valley Gaming
Friday - Zach Attack 9pm Center Bar
Saturday – 3 Day Rule 9pm Center Bar
---
Hidden Gem Music Club
Thursday – Mambo Combo 7pm
Friday – 8pm Adam West and the Bees Kneez
Saturday – The Tracers at 8pm
Sunday at 7pm – Ron Jones Quartet
Tuesday – Open Mic Night 7:30PM
---
Lori's Roadhouse
Friday – Chris Linton Band at 4:30
Friday – Carrie Anne McDonald at 8pm
Saturday – Chase Rosselot 4:30
Saturday – Danny Frazier 6pm
Saturday – Jake Taylor Band 9:30pm
Tuesday – Line Dancing Lessons 7pm
Thursday – Boozy Bingo and Karaoke at 6pm plus Queen of Hearts …
Tickets at LRHLIVE.com
---
Milanos (Miami Township)
Wednesday – Live Music at 7pm
---
Rex Patrick and the Country Legends Show in Germantown
Saturday – It's a Sock Hop Dance with the Band Thunderbay Come out for snacks root beer floats best costume wins a special prize…. doors open at 5:30 Music 7 to 10
Reserve your table now 513-594-1282
---
Moe Harrigan's Tavern
Thursday – Adam West and the Bees Kneez at 7pm
Friday – The Eric Henry Blues Band 8pm
Saturday – TBA 8pm
Wednesday – Nick Mitchell 8pm
---
The Brick Tap and Tavern
Thursday – Scott Houchens LIVE at 8:30pm
Friday – Music Bingo at 8pm
Saturday – Retrobution from 8:30 to 11:30
Wednesday – Doug Hart Solo 7:30pm
---
Ricks Tavern
Friday – Soul Quest at 8pm
Saturday – Rox City at 8pm
---
KnottyPine
Live Music all weekend
---
Scotty Long / DJ Songz
Thursdays - Little River Oregonia, OH. PatiOKE Party 7pm!
Scheduled Fridays: Township Tavern - Hamilton, OH 8pm Karaoke & Dance Party!
Check out his Facebook pages at Scotty Long or DJ Songz for all Friday night shows!
---
Scott Hall
Tuesday at Mr Boros Taver for Quiztastic Tuesday Trivia at 7pm
Wednesday – Heathers Name That Tune - Weekly Residency 7pm sharp
Bands, Solos, Duos and Events
Oakley Beer Fest
Saturday at 3:30pm … Beer Tasting – Food – Music featuring Brad Martin, 3 to 5pm – Matt Cowherd, 5 to 7pm – Eliot Sloan 7 to 8pm – Jesse Forrest 8 to 9:30pm – DJ Whodini 9:30
Retroactive Band
Saturday - at Element Eatery 7 to 10pm
Grocery Store Vodka
Friday at The Barrel in Springboro 8:00 pm
Visitor
Friday at Good Time Charlies 8:30pm
Saturday at The Barrel from 8 to 12pm
Joe Cowels
Thurs June 1st The Joe Cowels Band at Mansion Hill Tavern 8p-11p
Fri June 2nd The Joe Cowels Band at Knollwood Tavern 9p-1a
Sun June 4th Joe Cowels solo at Streetside Brewery 3p-6p afternoon show!
Whiskey Town
Saturday at Barretts Pour House 9pm to 1am
Vinyl Countdown
Friday, June 2nd at MadTree Brewing 7-11
Saturday, June 3rd at VFW's Cabana on the Whitewater 8-12
GAMUT
Saturday at Latitudes Bistro from 8-12
Rick Kern
Friday with Black Bone Cat with special guests Jonathan Grooms and John Michael 9-1 Belle & Bear
Marsha Brady
Thursday June 1st - Rockin' the Roebling - Downtown Cincinnati at Smale Park, Morelein Lager House - 6pm - 10pm
Friday June 2nd - Knotty Pine - Westside of Cincy - 9pm - 1
Saturday June 3rd - St Cecilia Summer Concert Series - Independence Kentucky - 7pm - 11pm
Adam Wes & The Beez Kneez
Thursday at Moe Harrigans Tavern 7 to 10
Friday at The Hidden Gem 8-11
The Times
Saturday from 7-9 at Bock Family Brewing
Kevin Cooper
Thurs 730-1130pm: B&B Jam
Fri 8pm-12am: The Hanky Panks at Froggys
Sat 8pm-12am: Eyes Up Here at Par's Place
Sun 6-10pm: Eyes Up Here at Trillions
Wed 7-11pm: Kevin Cooper solo at The Corner Pub
Drive
Saturday at 12pm Jeep & Eats. Smith park Middletown.
Crown Watts
Saturday with special guest Jamie Combs 8pm - Club Trio Lounge
Mark Robinson
Sunday June 4Th filling in for the awesome Jim Miller and Fronting his band "Muleshine" for a benefit called , "Banding Together a concert for children's Cancer" at The Village Theater 635 Main st., Covington, KY. Doors open at 12pm & Music starts at 1pm with:
CFG & the family
Ben Walz 
Matt Waters
Noah Wotherspoon 
Chalk Eye 
Danny Frazier  
Muleshine
Raffles/Spit the pot $15 at the door
The BillyRock Band
Friday at 9pm - Turfway Park
Saturday at 9pm June 3rd - The Crow's Nest
Step Lätter Acoustic
Saturday at the Troy Strawberry Festival 7-8:30 the levee stage.
Dv8
Friday June 2nd All Saints Festival 8939 Montgomery Rd Cinti OH 45236 from 5:30-8:00 PM
Saturday at the Strawberry Festival in Troy Ohio Pouty Plaza Stage 7:00 -8:30
OVERDRIVE
Friday at the Champaign County Art's Council's Free Summer Kickoff Concert at 6PM at the Melvin Miller Park in Urbana!
Night Reign
Saturday at the Dancing In The Streets in Miamisburg 7PM. The Street will be closed down between TJ Chumps and Jaynes on Main for this event.
RED HOT RIOT
Tuesday - (w/special guest, GARY GRIFFIN, of The Brian Wilson Band)-TURFWAY PARK- 7pm
Xero Hour
Saturday opening for One Day Alive at Peecox in Erlanger with special guests Sons of Liberty and Life after This. Doors open at 6:30. Tickets & VIP packages that include a meet and greet with One Day Alive are still available. Tickets are $12 in advance of show.
Michelle Robinson Band
Friday at the Monkey Bar 7-11
Saturday at Hooters Newport 7:30-11:30
Jet Pack Academy
Saturday at Jimmy B's - 9:30-1:30
That One Party Band
Friday at MVPs in Silverton 9-1
Saturday at Skippers in New Richmond 9-1
Short of Stable - Full Band
Saturday - Private Party at Heritage Hills Campground at Brookville Lake 8-12 *public invited as long as they RSVP
Ben & Pete
Friday at Jayne's On Main 7:30 to 10:30
Missing November
Friday at Heathers in Springboro from 7-11
Spungewurthy
Friday at Wings Vandalia at 9pm
Chris Lee Acoustic
Saturday at Caesar Creek Flea Market Wilmington OH. 11am-3pm
Sunday at Jungle Jim's Paradise Pavilion Cincinnati OH. 2pm-5pm
Kevin McCoy Band
Friday Trillions 8pm-12mid
Saturday at Lawrenceburg Event Center with Erik Sears 6-9
Sunday Kreimers 4-8pm with Erik Sears
Donna Kennedy Band
Saturday at The Greene Beavercreek from 6-9
The Weekend Effect
Saturday at Froggy's Indian Lake 8-12pm.
Blind Faith Duo
Friday - Acoustic at Quaker Steak & Lube - Florence 6-9
The Fast Forward Band
Saturday at Riverside Marina in Dayton Kentucky from 8-12.
Heath Bowling
Thursday at Gano Tavern West Chester, OH 6-10p
Friday at Little River Bar with Route 88 - Oregonia, OH 7-11p
Saturday at a Private Party in Marysville, OH from 4-7p
Saturday at Courtyard Lounge Englewood, OH 9-1a
Don't Tell Steve
Saturday at Kreimer's River Bar from 7-11
Tyler VanB Music w/ James Zornes
Friday at O'Leary's, Centerville, OH 8 to 11
David Thornton
Thursday at Jayne's On Main (Miamisburg) 7-10
Friday at Grainworks Brewing Company (West Chester) 7-10
Saturday at The Swire Inn (Middletown) 7-10
Matthew Allen
Friday from 7-10 pm Wing Bar (Urbana)
Shane Demoss
Wednesday at Olde Village Tavern West Chester, Oh "Pat Riley & Friends" 7-10
Chad Applegate
Friday - Chad Applegate Solo at Barnesburg Grill and Tavern innColerain OH 7 to 10
Saturday at Yankee Moonshine in Ripley OH for bike night 5 to 9
Shawn Bell Band
Saturday at The General Denver Hotel and Restaurant Wilmington Ohio 7-10
Jay Clark Band
Saturday at Four Seasons Pool Club- Dayton from 6-9pm
Benny Bodine
Thursday at Elsa's Boro Cantina 7-10 Springboro, OH
Friday - Marine Reunion - Private Event 6-10 Waynesville, OH
Saturday at Moe Harrigan's Tavern 8-11 Kettering, OH
Sunday - Marine Reunion - Private Event 6-10 Waynesville, OH
Velvet Crush Unplugged
Thursday at Bargos Centerville, Oh 7-10
Friday at Hidden Valley Orchards Lebanon oh 6-9
6 String Hustle
Thursday from 6-9 at Kreimers Bier Haus in Cleves, Ohio
Friday from 8-12 at Township Tavern Hamilton, Ohio
Saturday from 9:30-12:30 Turfway Park Gaming Florence, KY
Tuesday from 6-10 Liberty Inn Liberty Twp, Ohio
Linus Tate
Friday at Satchs Bar & Grill(formerly Mutts Brewery Lounge) Trenton, OH 8PM
Saturday at DeShas American Tavern Cincinnati, OH 6PM
Sunday at Strawberry Days - Blooms and Berries Farm Market Loveland, OH 1:30PM
Billy Brown
Saturday at 4pm - Country Days Festival in Farmington Missouri
Lindsey Ellen and the Track Hounds
Friday at Lucky Star Brewing Miamisburg 8 to 11
Pandora Effect
Friday at Kreimer's River Bar! 7-11pm.
The Ultra Sonics
Friday at Carlo & Johnny in Montgomery with guest guitarist Adam Furnish 8-11pm
The Jim Jones Show
Friday - Jim's Jukebox Gold at 4:30 – Kyles Station Kroger
Saturday – Jim Jones as Elvis at El Caporal in Liberty Township 6 to 8pm
Next in Line
Friday At Miamisburg Moose Lodge 8 to 11:30
If you would like to have your musical act featured on our weekly podcast or in Warren County Post contact us @Hall Around Town Radio on Facebook! For additional Band information follow our daily Facebook "Live at Five" program @Hall Around Town Radio
More News from Springboro