Who's Playing Out: Brought To You By Hall Around Town Radio July 6th
Image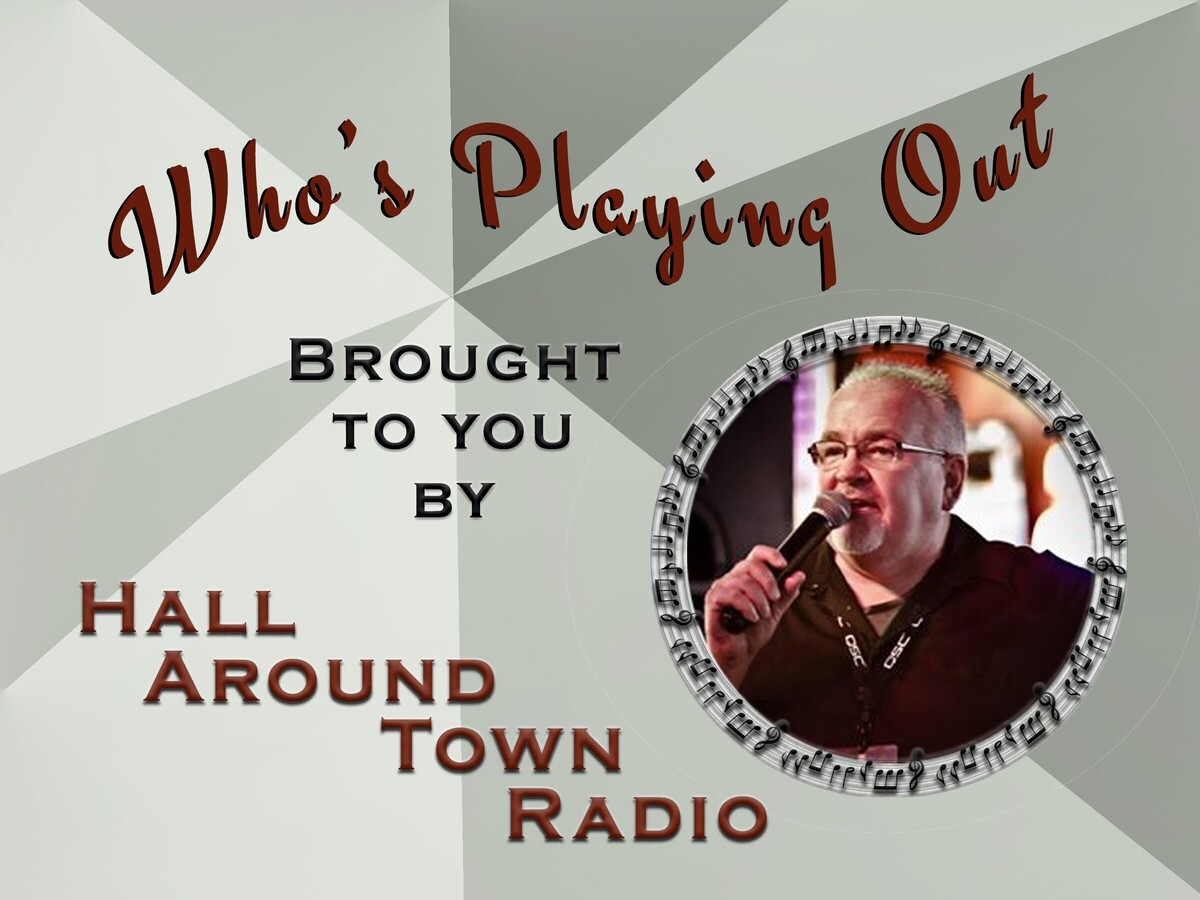 Brought to you by Scott Hall from "Hall Around Town Radio"
A little live music can turn an ordinary day into a memorable experience. The area's top musicians take center stage at some of the tri-states best restaurants and nightspots, bringing live music to our region nearly every night of the week. Make your first stop here weekly to find out "Who's Playing Out" at one of our live local music venues.
Bands and solos brought to you by our friends at Froggy's in Monroe, Ohio and Hall Around Town Radio (follow both on Facebook)
Froggy's in Monroe – Sponsor of our Thursday LIVE show on Facebook
Thursday – TAPS – Tursday Acoustic Patio Sessions – Angela Combs Duo
Friday at 8pm – Visitor
Saturday at 8pm – Jordan Wood Band
Tuesday 7pm Frog-ingo, 7:30 Queen of hearts $4500+ 11 cards left
Wednesday – Jeep Night (Collect Frogs) from 6 to 10pm Patio with Jordan Wood
---
Heathers "On the Patio"
Thursday – Two for the Road from 6:30 to 9:30
Friday – The Blake Tyler Band at 7pm
Saturday – Sweet Sister Mercy at 7pm
Tuesdays – Heathers Bingo & Queen of Hearts
Wednesdays –Name That Tune Trivia with Scott 7pm - Resrvations Reccomended
---
Mr. Boro's Tavern Springboro
Thursday – David Thornton
Friday - Dave'd and Confused 8 to 11pm
Saturday – The Catlin Davis Band Debut at 8pm
Sunday Funday - Stark Marlin from 2 to 5pm
Tuesday – "Quiztastic" Q&A Trivia with Scott at 7pm
Wednesday – Queen of Hearts Drawing. 8pm 37K.
---
The Belle & The Bear (Montgomery) - Award Winning
Thursday "The Award Winning Jam" 7:30ish
Friday – IRL at 8:30 pm
Saturday - Under The Sun at 8:30 pm
Monday - Game Night - 6pm
Wednesday –- Scotty Bratcher and Noah Wotherspoon 7:30pm
---
Crooked Handle Brewing Co. Springboro
Friday – Nothing But Treble - 7pm to 10pm
---
Crooked Handle Brewing Co. Piqua
Thursday – Bike Night 6 to 9pm
Saturday – Step Latter 6 to 9pm
---
Soft Rock Café
Karaoke – Thursday- 7:30 pm - Friday 8:30pm - Saturday - 8:30 pm.
---
Hamilton's Urban Backyard
Friday – Full Circle at 7pm
Saturday – Johnny Fink at 7pm
---
Pohlman Lanes & Scott's Bar & Grill (Hamilton Ohio)
Family Entertainment Complex 954 Pyramid Hill Blvd., Hamilton Ohio
Friday - Linus Tate at 7pm
Saturday – Michelle Robinson Band at 7pm
Monday – After Hours Band at 7pm
Wednesday – Standard Country Time Band at 1pm
---
O'Connors Irish Pub Springfield
Thursday – Open Jam at 7pm
Thursday – Karaokre in the dining room at 9pm
Friday – NO Music
Saturday – Premonition at 9pm
Monday – Trivia with Matt Allen
Wednesday – Karaoke 10pm
---
Sorg Opera House
No Music Shows this Weekend
Future Show Tickets available at Cincyticket.com visit SORG page for more info
---
Stubbs Park in Centerville
Sunday – Simply Queen from 7 to 9pm
---
Lofino Park in Beavercreek
Sunday – Pandora Project 7pm
---
The Heights Summer Music Series at Eichelberger
---
Springboro Summer Concert Series – North Park
Friday – Message in a Bottle "Police Tribute" at 7:30pm
Tuesday – Don't Tell Steve at 7pm
---
Little River Bar and Grill (Oregonia)
Thursday –– DJ Songz Karaoke
Friday – Joe Cowels Band at 7pm
Saturday – 30.06 at 7pm
Tuesday – Little River Bike Night plus the Queen of Hearts Drawing
---
Miami Valley Gaming
Friday - TBA 9pm Center Bar
Saturday – TBA 9pm Center Bar
---
The Blue Note Harrison
No Shows this week – Future Show Tickets available at Cincyticket.com
---
Hidden Gem Music Club
Thursday – Mambo Combo 7pm
Friday – John Dubuc's Guilty Pleasures with Ward Son 8pm
Saturday – Michael Harris and Tranz-Fuzion with Groove Elation 7:30pm
Sunday at 7pm –SaxTone Arrington with sayceeofdreams: "Suited & Booted" A SaxDreams Experience
Tueday - Open Mic Night 7:30PM
---
Lori's Roadhouse
Thursday – Boozy Bingo and Karaoke at 6pm plus Queen of Hearts …
Friday – Jason Owens at 8pm
Saturday – Cody Doench at 5pm
Saturday – Kaleb Hensley at 8pm
Tuesday – Line Dancing Lessons 7pm
Tickets at LRHLIVE.com
---
Milanos (Miami Township)
Wednesday – Benny Bodine at 7pm
---
Rex Patrick and the Country Legends Show in Germantown
Saturday – The Country Legends Band with special guests Tim Hembree on lead vocals and Lonnie Huffgarden on drums …. doors open at 5:30 Music 7 to 10 Reserve your table now 513-594-1282
---
Moe Harrigan's Tavern
Thursday – Bryan Scott at 7:30pm
Friday – TBA
Saturday – Heather Roush and the Heartstrings 7pm
Wednesday – Nick Mitchell 8pm
---
The Brick Tap and Tavern
Thursday – Scottg Houchens at 8:30pm
Friday – Music Bingo at 8pm
Saturday – Benny Bodine from 8:30 to 11:30
Wednesday – Doug Hart Solo 7:30pm
---
Ricks Tavern
Friday – Caffine at 8
Saturday – 3 Day Rule at 8pm
---
KnottyPine
Friday –90 proof Twang at 9pm
Saturday – Jason Wilmont Band from 9 to 1 …
Scotty Long / DJ Songz
Thursdays - Little River Oregonia, OH. Daisy Dukes and Cowboy Boots Party 7pm!
Check out his Facebook pages at Scotty Long or DJ Songz for all Friday night shows!
---
Scott Hall
Tuesday at Mr Boros Tavern for Quiztastic Tuesday Trivia
Wednesday – Heathers Name That Tune - Weekly Residency 7pm sharp RESERVATIONS AVAIL
Bands, Solos, Duos and Events
Pauly Torrence
Friday at the Borderline Grill 10pm to 2am
Saturday - full band Pauly and the Fall from Grace
Rockstar
Saturday at Jethros tiki hut in Aberdeen Ohio 9pm
Standard Country Time Band
Friday at Hunter Pizzeria 6pm
Wednesday at Pohlman Lanes 1pm
Rick Henderson
Saturday at The Woodshed in Lebanon. 6-8pm with The .50 Caliber Band.
Flatline
Saturday at Big Bulls Roadhouse, 9pm.
Benny Bodine
Friday at Hidden Valley Orchards 6:30-9:30 Lebanon, OH
Saturday at The Brick Tap & Tavern 8:30-11:30 Huber Heights, OH
Wednesday at Milano's 7-10 Miami Township, OH
Linus Tate
Friday at Pohlman Lanes and Family Entertainment Complex Hamilton, OH 7PM
Shawn Bell
Saturday Full Band at the General Denver Hotel 7-10
Six String Hustle
Thursday from 6-10 at the Liberty Inn Liberty Twp, Oh
Friday from 8-11at Belterra Park Cincinnati, Oh
Sunday from 1-4 at Zazou in Covington, KY
Ben & Pete
Friday at Jayne's on Main 7:30 to 10:30
Saturday at Moeller Brew Barn in Dayton 4:30 to 6:30
Cryin' Out Loud
Friday at Little York Tavern from 8-12
White Knuckle Weekend
Sunday at Froggy's at the Lake from 2-6
Fast Forward Band
Saturday at Riverside Marina - Dayton Ky from 8-12am
Liars for Hire
Friday at Corner Club in Englewood 7p to 11p
Saturday from 9p - 1a at Wings in Vandalia .
Blind Faith Duo
Thursdy at Little Miami Brewery from 7-10pm
Friday at Quaker Steak and Lube - Florence from 6-9 pm
Short of Stable

Friday - Mike & Tiff acoustic The Hitching Post 7-10
Saturday - Full band The Barrel 8-12
David Thornton
Thursday at Mr. Boro's Tavern 6:00-9
The Weekend Effect
Friday at Wings Vandalia 9-1am.
Saturday at Station One in Springfield 8-12.
Matthew Allen
Saturday - Second Saturdays event Downtown Urbana Monument Square Matthew Allen 12-3pm Bros Pennington 4-7pm
Kevin McCoy
Saturday at Country Concert '23 7pm Homegrown Stage AND 9:15 VIP Stage
Don't Tell Steve
Saturday Kreimer's Beir Haus 7-11
Tuesday - The Springboro Tuesday night concert in North park 7pm
Tyler VanBuskirk
Thursday - Tyler VanB Music w/ James Zornes from 6:30 to 9:30pm at The Pub - Beavercreek
Sunday from 4:00 to 7:00pm Jasper Hills Golf Club - Xenia
Michelle Robinson
Thursday from 7-9 Anderson Park Concert Series
Saturday 7-11 at Pohlman Lanes
Heath Bowling
Thursday at Gano Tavern from 6-10p West Chester, OH
Friday at Cadillac Jacks 830-1230 Shelbyville, IN
Donna Kennedy Band
Saturday from 8-12 at DC Roadhouse Middletown
That One Party Band
Saturday at the Beer Seller on the river in Newport KY 7:30-11:30pm Outside Hooters stage
Crown Watts w/Jim Questa
Saturday at the Pirates Den 8:30pm
Joe Cowels
Friday - The Joe Cowels Band at Little River Bar and Grille 7pm
Saturday - The Joe Cowels Band at The Rusty Nail 9pm
Wednesday - Joe Cowels solo at the Greenhill Commons 730pm
Vinyl Countdown
Friday at Downtown Summer Sounds in Maysville, Kentucky 7-9 PM
Saturday at Big Ash Brewing (Outdoor Stage) 7:30-10:30 PM
The Whammies
Friday from 8-11pm - 16 Lots Southern Outpost at Newport on the Levee)
Saturday from 9-10:30 at Trucks on the Track (@ Miami Valley Gaming)
RED HOT RIOT
Friday at the "Music In Mason" Outdoor Concert -6:00 PM
Kevin Cooper
Thursday from 7:30-11:30pm: B&B Jam
Friday from 6:30-10:30pm: Eyes Up Here at Gano Tavern
Sweet Sister Mercy
Saturday at Heather's Springboro,oh Showtime 7pm-11pm
Mike Roberts
Sunday - Man on da Box Band with Kevin Cooper and Nick Vidas - Jamaica Royale Beach Resort, Siesta Key, Fla. - Sunday, July 9th… 7pm-ish.
GAMUT—
Friday at Mt Healthy Summer Concert Series from 7-9
Saturday at Anderson Tap House from 9-1
Whiskey Town
Friday at Cabana on the River 8 to 12
Saturday at Dixie Station 9:30 to 1:30
OVERDRIVE
Saturday at the Ohio Valley Thunder Rally in Waynesville at the renaissance grounds - 2:00PM
ReDD
Friday at the Pirate's Den from 8:30p-12:30a
The BillyRock Band
Thursday at 7pm Live at the Levee
Friday at 7pm at Lucius Q
Dat Band
Saturday from 9:30-12:30 at Turfway Park
Step Lätter Acoustic
Saturday at Crooked Handle Brewery Piqua Ohio 6pm
Adam West and the Beez Kneez
Tuesday from 5-7, Dorothy Lane Market Springboro
Jet Pack Academy
Saturday at Florence Y'all's (Thomas More Stadium) directly following the game. 9:30pm
Ninety Four .04
Saturday at the Monkey Bar 1pm
Margo & Adam
Friday acoustic at Miamiville Trailyard 7-10pm
Saturday at Little Miami Brewing Co. Full Band 7:30-10:30
Jim Jones as Elvis
Thursday at Krobar Kyles Station 4:30
Saturday in Milford Summer Staurday Nights as Elvis 6 to 8pm
Full Circle
Friday at Hamilton's Urban Backyard in Hamilton. 7pm
Saturday at Gano Tavern in West Chester. 7pm
Visitor
Friday at Froggys from 8 to 12pm
THAT ARENA ROCK SHOW 
Thursday - Springfield Arts Council's 2023 Summer Arts Festival at the Veterans Park. Free concert show starts at 8pm.
If you would like to have your musical act featured on our weekly podcast or in Warren County Post contact us @Hall Around Town Radio on Facebook! For additional Band information follow our daily Facebook "Live at Five" program @Hall Around Town Radio
More News from Springboro