Who's Playing Out: Brought To You By Hall Around Town Radio August 24th
Image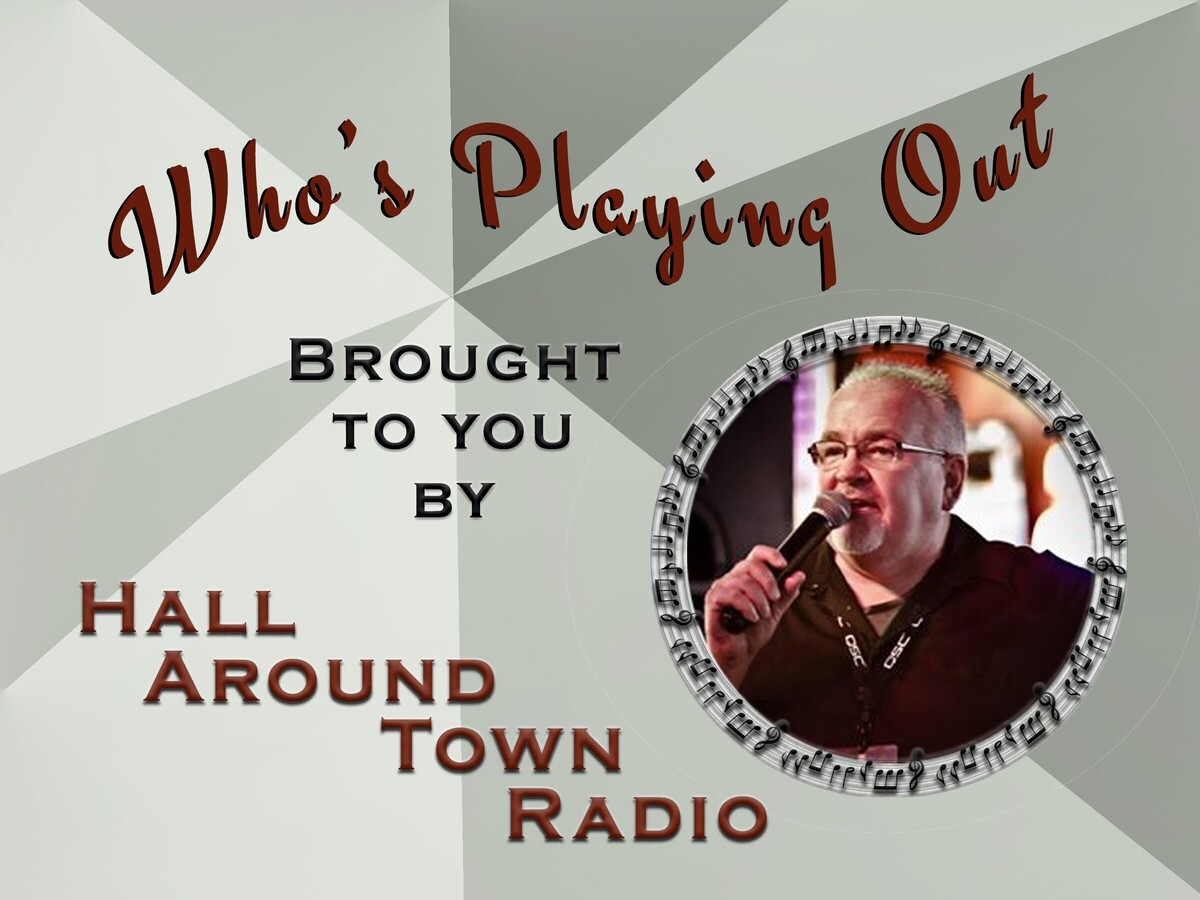 Brought to you by Scott Hall from "Hall Around Town Radio"
A little live music can turn an ordinary day into a memorable experience. The area's top musicians take center stage at some of the tri-states best restaurants and nightspots, bringing live music to our region nearly every night of the week. Make your first stop here weekly to find out "Who's Playing Out" at one of our live local music venues.
Bands and solos brought to you by our friends at Froggy's in Monroe, Ohio and Hall Around Town Radio (follow both on Facebook)
Froggy's in Monroe – Sponsor of our Thursday LIVE show on Facebook
Thursday – TAPS – Tursday Acoustic Patio Sessions – Lori's Secret 6 to 10
Friday at 8pm – No Band
Saturday at 8pm – Sweet Sister Mercy
Tuesday 7pm Frog-ingo, 7:30 Queen of Hearts –at $700
Wednesday – Jeep Night (Collect Frogs) from 6 to 10pm Patio with ATP
Check out the expanded patio! Live and Follow Froggys on Facebook
---
Heathers "On the Patio"
Thursday – Spungewurthy 6:30
Friday – White Knuckle Weekend at 7pm
Saturday – Vicious Cycle at 7pm
Tuesdays – Heathers Bingo 7pm
Wednesdays –Name That Tune Trivia with Scott 7pm - Resrvations Reccomended
---
Mr. Boro's Tavern Springboro
Thursday – Kevin McCoy 7 to 10pm
Friday – Ethan and Joey 8 to 11pm
Saturday –Missing November at 8pm
Sunday Funday - Heath and Benny from 3 to 6pm
Tuesday – "Quiztastic" Q&A Trivia with Scott at 7pm
Wednesday – Queen of Hearts Drawing. 8pm 40K.
---
The Belle & The Bear (Montgomery) - Award Winning
Thursday "The Award Winning Jam" 7:30ish with an amazing cast and the Faded Cow food truck
Friday – Party Town at 8:30 pm
Saturday - Boogie G & The Titanics at 8:30 pm
Monday - Game Night - 6pm
Tuesday – "Singo" 7 to 9pm
Wednesday –- Karaoke at 8pm
---
Crooked Handle Brewing Co. Springboro
Thursday – Shane DeMoss 6pm
Friday – Doug Hart 6 to 9pm
---
Crooked Handle Brewing Piqua
Friday – The Chris Arellano Band 6 to 9pm
Saturday – Wright Brothes Band 6 to 9 pm
---
Soft Rock Café
Karaoke – Thursday- 7:30 pm - Friday 8:30pm - Saturday - 8:30 pm.
---
Hamilton's Urban Backyard
Friday – Queen City Silver Stars at 7pm
Saturday – Vernon Mcinter's Appalachian Grass at 7pm
Tuesday – Turntable Tuesday All Vinyl with host Hollewood
Wednesday – Team Tune Trivia 7pm
---
Pohlman Lanes & Scott's Bar & Grill (Hamilton Ohio)
Family Entertainment Complex 954 Pyramid Hill Blvd., Hamilton Ohio
Friday - Visitor 7pm
Saturday – High Fi Honey 7pm
Monday – The After Hours Band at 7pm
Wednesday – The Standard Country Time Band at 1pm
---
O'Connors Irish Pub Springfield
Thursday – No Open Jam this Week
Thursday – Karaokre in the dining room at 9pm
Friday – Weekend Effect 9pm
Saturday – TBA
Monday – Classic Car Show 5pm - Trivia with Matt Allen 7pm
Tuesday – Matt Clarkson Acoustic at 8pm
Wednesday – Karaoke dining room 10pm
---
Sorg Opera House
No Music Shows this Weekend - Friday September 8th – The Oak Ridge Boys
Future Show Tickets available at Cincyticket.com visit SORG page for more info
---
Stubbs Park in Centerville
Sunday – Brass Tracks Band from 7 to 9pm
---
The Heights Summer Music Series at Eichelberger
Saturday – Mar Monroe Hip Hop 6pm
---
Little River Bar and Grill (Oregonia)
Thursday –– DJ Songz at 7pm
Friday – Brad Hatfield Band at 7pm
Saturday – Linus Tate 7pm
Tuesday – Little River Bike Night plus the Queen of Hearts Drawing
---
Miami Valley Gaming
Friday - 90 Proof Twang 9pm Center Bar
Saturday – DJ Big Daddy Walker 9pm Center Bar
---
The Blue Note Harrison
Monday Legendary Guitarist Greg Howe And His Band Doors at 6pm
Tickets available at Cincyticket.com
---
Hidden Gem Music Club
Thursday – Generations Big Band 7pm,
Friday – Spill The Wine 8pm
Saturday – Day Luster & Friends R&B Edition 8pm
Sunday at 7pm – Jimmy Leach Quartet
Tueday - Open Mic Night 7:30PM
---
Lori's Roadhouse
Thursday –Boozy Bingo 6pm plus Queen of Hearts
Friday – Fillmore 8pm
Saturday – Colt Ford at 8pm Marshull as direct support and The Hazlett Brothers as opener
Tuesday – Line Dancing Lessons 7pm
Tickets at LRHLIVE.com
---
Milanos (Miami Township)
Wednesday – Live Music with Gina Cullen at 7pm
---
Rex Patrick and the Country Legends Show in Germantown
Saturday – B Caged Band …. doors open at 5:30 Music 7 to 10
Reserve your table now 513-594-1282
---
Moe Harrigan's Tavern
Thursday – Gina Cullen 7:30
Friday – Six String Hustle 8pm
Saturday – The Eric Henry Blues Band 8pm
Wednesday – Nick Mitchell 8pm
---
The Brick Tap and Tavern
Thursday – Scott Houchens 7pm
Friday – Driving Force at 8:30pm
Saturday – Amy Newhart from 8:30 to 11:30
Wednesday – Doug Hart Solo 7:30pm
---
Ricks Tavern
Friday – Second Wind at 8pm
Saturday – Lady Joya at 8pm
---
KnottyPine
Thursday – Kenny Cowden at 7pm
Friday – Lunch Box at 9pm
Saturday – Wayward Son at 9pm
---
Scotty Long / DJ Songz
Thursdays - Little River Oregonia, OH. Throwback Thursday Party 7pm!
Friday at the Township Tavern Karaoke Party 8pm
Check out his Facebook pages at Scotty Long or DJ Songz for all shows!
---
Scott Hall
Tuesday at Mr Boros Tavern for Quiztastic Tuesday Trivia
Wednesday – Heathers Name That Tune – Week 18 7pm sharp RESERVATIONS AVAIL
Bands, Solos, Duos and Events
Rivers Edge – Hamilton
Thursday - Opening Act Cristina Vane 7pm Headliner The Reverend Peyton's Big Damn Band 8:30pm
RiversEdge 116 Dayton St Hamilton Ohio Free Show
---
Visitor
Friday at Pohlman Lanes 7pm in Hamilton
Saturday at the Levit Pavillion opening for Scotty Bratcher 7pm
---
Ninety Four .04
Saturday at Putters in Mainville 7pm
---
Lamar Bliznar
Saturday at Tuck-N-Reds in Yellow Springs from 6 to 9pm
---
Tim Blankeny
Saturday - Tim Blakeney and the Missing Pieces Band - Kings Bar 9pm-12am
Monday Night Open Mic at Billy's Burgers and Beers Columbus Ave Lebanon
---
Lori's Secret (acoustic)
Thursday at Froggys 6-10pm
---
Pauly Torrence solo acoustic
Friday at Municipal Brew Works in Hamilton from 7-10.
---
The Liquor Store Dogs
Friday at The Fairfield Pub from 9-1
Saturday at Pirate's Cove (at the Four Seasons Marina on Kellog) from 7-11.
---
Retroactive Band
Saturday at the Adult Pool patio at Camp Cedar, RV Park & Resort (near Kings Island) from 6-9 PM. This event is open to the public.
---
Abe's Lincoln
Friday from 7-11 at the Monkey Bar
---
Kevin Cooper
Thursday from 730pm-1130am: B&B Jam
Friday from 830pm-1230am: Kevin Cooper solo at Pirates Den (Western Hills)
Saturday from 8pm-12am: The Hanky Panks at Trillions
Sunday from 4-8pm: Eyes Up Here at Pirate's Cove
---
Joe Cowels

Friday at Gano Tavern - Full Band 7PM-11PM
Saturday at the Tin Cap - Full Band 7PM-11PM
Wednesday at Misery & Jen - SOLO 6:30PM-9:30PM
---
The GAMUT—
Private Gig Saturday Elk Lake Harbor
---
Latter
Saturday at Sloopy's in Greenville Ohio 9pm
---
Crown Watts
Saturday at 7:00pm Celina Moose Lodge
---
Sweet Sister Mercy
Saturday at Froggy's in Monroe 8pm-Midnight
---
Adam West and The Beez Kneez
Saturday at ARTfest on Main, Springboro 2:30-4:30
The Whammies:
Thursday (8/24) "The Takeover" at West Chester Clock Tower, 6-9. Bring a lawn chair, a tent, a fan, and plenty of water, cause it's gonna be HOT!
Friday (8/25) Turfway Park - Bourbon and Brew, 8:30-11:30
Saturday (8/26) Holy Cross High School Indian Summer Festival (Latonia, KY) 8-11
---
Brandy Evans
Wednesday 8/30 Brandy and The Beard at Club Trios from 7-10
---
Whiskey Town
Friday at Peecox in Erlanger 9:30 to 1:30
Saturday at GTO from 9:00 to 1:00
---
Rick Kern
Thursday - Rick Kern So Low Show, Kriemer's Bier Haus, 6:00-9:00pm
---
RED HOT RIOT
Friday at the Cabana on the River -8:00 PM
---
The BillyRock Band
Friday at 9pm The Crow's Nest
Saturday at 8pm - Little Miami Brewing
---
Audio Graffiti
Saturday at Hard Rock Cincinnati from 9:30-1:00
---
Dv8
Saturday - IGGY FEST 5222 North Bend Rd Cincinnati Ohio 45247 from 7:30 -11:30
---
Johnny Fink
Friday - Gina and Johnny duo at Grandview tavern 7p
Saturday - Gina and Johnny full band at Mansion Hill tavern 8p
---
Michelle Robinson Band:
Friday- Cincinnati Distilling 7-10
Saturday-HAMILPALOOZA 1-5
---
ReDD
Saturday at Buffalo Bob's (Florence, KY) 7-11pm
---
Until Rust
Thursday 8/24 Crooked Handle Brewing Co. Springboro, Oh 6-9
Friday 8/25 Rip Rap Roadhouse W Scott Houchens Dayton , Oh U. R. = 7-8:30 S. H. = 8:30 - 10
Saturday 8/26 Taco & Nacho Fest Austin Landing from 3 -3:50
Saturday 8/26 Doc's Place Lebanon, Oh 7-10
Monday 8/28 Cincinnati Tin Roof Showcase W/ Joseph Fulton 8:45pm
Wednesday 8/30 Oleary's Bar & Grill Centerville, Oh 7-10
---
Benny Bodine
Sunday 8/27 Mr. Boro's Tavern (with Heath Bowling) 2-5 Springboro, OH
Tuesday 8/29 Submarine House (with Heath Bowling) 7-10 Centerville, OH
Wednesday 8/30 Jayne's On Main 7-10 Miamisburg, OH
---
Alex Poteet
Thursday August 24th Smoke Justis Covington, KY 7:30PM
---
Linus Tate
Friday August 25th Smoke Justis Covington, KY 7:30PM
Saturday August 26th Little River Bar and Grill Oregonia, OH 7PM
Tuesday August 29th Mutts Main Bar Middletown, OH 6PM
---
6 String Hustle
Thursday 8/24 6-10 Liberty Inn (Cevin & Lee) Liberty Twnshp, OH
Friday 8/25 8-12 More Harrigan's Tavern Kettering, OH
Saturday 8/26 7-11 Skippers River Café New Richmond, OH
Sundau 8/27 4-7 Jasper Kitchen + Bar Xenia, OH
Wed 8/30 7-10 Route 50 Saloon Cincinnati, Ohio
---
Velvet Crush Unplugged
Thursday 8/24 at Elsa's Springboro, oh 7-10
---
Velvet Crush full band
Friday 8/25 Kentucky dental association Corporate party The Galt House Hotel Louisville, K y 6pm
Saturday at the Boonshoft museum of discovery annual Galla fundraiser Dayton oh 8-11
---
Billy Brown
Thursday Aug 24 at 6-10pm - Trillions in Cincinnati OH
Friday Aug 25 at 11-3pm - Ole Red in Gatlinburg TN
---
White Knuckle Weekend
Friday at Heather's from 7-11
---
Cryin Out LOUD
Saturday at The Greene from 6 to 9pm
---
The Weekend Effect
Friday at O'Conners Irish Pub in Springfield 9-1pm 5$ cover.
---
Blind Faith Duo acoustic:
Wednesday st Barleycorn's Lakeside Park 6-9pm
Friday at Tucker's Landing on Kellogg Ave 7-10pm
---
Liars for Hire
Saturday at Austin Landing from 4-6:30 opening for Alexis Gomez.
---
Ben & Pete
Saturday at Next Door in the Oregon District, 8 to 11 PM
---
Wesley Green
Friday - Wes Green Acoustic at Franklin Orioles from 7-10
Saturday with 9eight Central at 7 Mile Winery from 6-9
Subnday with Bourbon Road at Loveland Summer Concert Series Nisbet Park 6-8pm
---
Heath Bowling
Friday at Knollwood Tavern 9-12 Beavercreek, OH
Saturday at Bushrod Brew 7-10 Eaton, OH
Sunday at Mr Boro's W/ Benny Bodine 2-5p Springboro, OH
Tuesday at Submarine House W/ Benny Bodine from 7-10p Centerville, OH
---
Mike & Tiff
Open mic Sunday at Good Time Charlies from 5-9
---
Spungewurthy
Thursday at Heathers 6:30-9:30pm
Saturday at the Kingspoint Pub 9 to 1
---
Chris Lee Acoustic
Friday at Pensive Distilling Co in Newport KY. 6pm-8pm
Saturday at The Hangar Bar and Grill in West Chester OH. 8pm-Midnight
Wednesday at Marty's Hops & Vines in Cincinnati/College Hill OH. 7pm-9:30pm
---
David Thornton
Friday from 7-10 at Middletown Elks Lodge #257 (Open to the public)
Saturday from 7:30-10:30 at The Common Beer Company (Mason)
---
Kevin McCoy Band
Thursday at Mr Boros Tavern- 7-10
Friday at the Allen Co. Fair- 7-10pm
Saturday at the Candy Mountain Music Festival 9pm
---
Donna Kennedy Band
Saturday Amvets 24 Dayton, 7-11
---
Brandon Harvey
Thursday at Bleachers Bar and Grill Ladies Night with C Baccus and Company 8pm
---
Margo & Adam
Saturday at Hops & Berry Taproom - Loveland 5-8pm
---
Jim Jones as Elvis
Friday at Bock Family Brewing 7 to 9pm
Saturday at El Rancho Nuevo on MJenards Blvd 6 to 8pm
---
ZaaZoo
Friday at Pirates Cove 7pm
---
Authorized Personnel
Friday at Jaynes on Main 7pm
If you would like your band or musical act featured on our weekly podcast or shared in the Warren County Post contact us @Hall Around Town Radio on Facebook! For additional Band information follow our daily Facebook "Live at Five" program @Hall Around Town Radio
More News from Springboro