Who's Playing Out: Brought To You By Hall Around Town Radio For The Week Of Oct. 26th
Image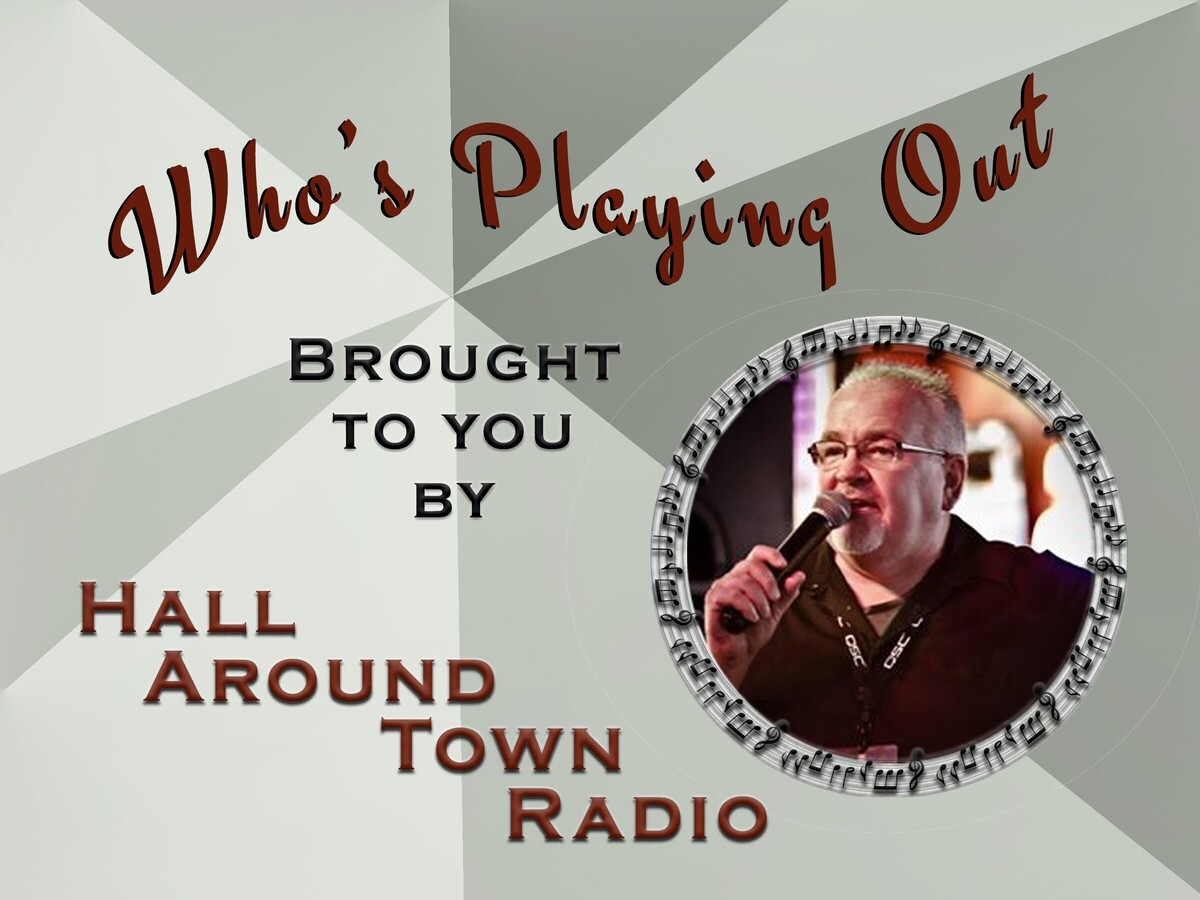 Brought to you by Scott Hall from "Hall Around Town Radio"
A little live music can turn an ordinary day into a memorable experience. The area's top musicians take center stage at some of the tri-states best restaurants and nightspots, bringing live music to our region nearly every night of the week. Make your first stop here weekly to find out "Who's Playing Out" at one of our live local music venues.
Bands and solos brought to you by our friends at Froggy's in Monroe, Ohio and Hall Around Town Radio (follow both on Facebook)
Froggy's in Monroe – Sponsor of our Thursday LIVE show on Facebook
Thursday – Music is cancelled
Friday – Halloween party with ATP 8pm
Saturday at 8pm - Halloween Party with TimeStamp and a Costume Contest
Sunday - Chili Cook Off – Bengals Football Call For Details
Monday – Football with Jess
Tuesday 7pm Frog-ingo, 7:30 Queen of Hearts – over $1500
Wednesday – Karaoke returns with Kj Love 6 - 10p)
---
Heathers "On the Patio"
Thursday – Last Call 6:30
Friday –Element 3 at 7pm
Saturday – Private Event
Tuesdays – Heathers Bingo 7pm
Wednesdays – Week 27 - Name That Tune Trivia with Scott 7pm - Resrvations Reccomended
---
Mr. Boro's Tavern – New Menu Items
Thursday - Beauty and the Beast 5:30 to 8pm Footballl at 8:15pm
Friday – Vinyl Rewind 8 to 11pm
Saturday – Halloween Party with Cryin Out Loud at 8pm
Sunday NFL Football on Surround
Tuesday – "Quiztastic" Q&A "HALLOWEEN" Trivia with Scott at 7pm
Wednesday – Queen of Hearts Drawing. 8pm
---
The Belle & The Bear (Montgomery) - Award Winning
Thursday "The Award Winning Jam" 7:30ish and the Faded Cow Food Truck
Friday – The Whammies Halloween Glow Party at 8:30 pm
Saturday - Caffine and the Halloween Bash at 9 pm
Monday - Game Night - 6pm
Tuesday – "Singo" 7 to 9pm
Wednesday –- Rick Kern So Low at 7:30pm
---
Soft Rock Café
Karaoke – Thursday- 7:30 pm - Friday 8:30pm - Saturday - 8:30 pm.
---
Crooked Handle Brewing Co. Springboro
Thursday – Shane Demoss 6pm
Friday – Gerlach & Clemons 6pm
---
Crooked Handle Brewing Piqua
Saturday – Cory Breath 6:30 pm
---
Hamilton's Urban Backyard
Friday at 7pm – Terry Metcalf
Saturday at 7pm – Evan Matthew
Tuesday – Turntable Tuesday OFF THIS WEEK All Vinyl with host Hollewood
Wednesday – Team Tune Trivia 7pm
---
O'Connors Irish Pub Springfield
Thursday – Karaoke in the dining room at 9pm
Friday – Allison Road at 9pm
Saturday – DJ Mike Reelz Halloween Party at 9:00pm
Monday – Trivia with Matt Allen 7pm
Tuesday – Matt Clarkson at 8pm
Wednesday – Music Trivia at 7pm
Wednesday - Karaoke with host Mike Reelz at 10pm
---
Pohlman Lanes & Scott's Bar & Grill (Hamilton Ohio)
Family Entertainment Complex 954 Pyramid Hill Blvd., Hamilton Ohio
Friday - Brock and John 7pm
Saturday – Don't Tell Steve Halloween Show "Freak Show" 7pm
Monday - The After Hours Band at 7pm
Wednesday – The Standard Country Time Band at 1pm
---
Sorg Opera House
No Music Shows This Weekend
Future Show Tickets available at Cincyticket.com visit SORG page for more info
---
Little River Bar and Grill (Oregonia)
Thursday –– DJ Songz at 7pm
Friday – Ryan Adams and SOB at 7pm
Saturday – Scott Dawson at 7pm
Tuesday – Bar Bingo Queen of Hearts Drawing
---
The Blue Note Harrison
Friday – The return of Kevin Farley Come on out for a great night of comedy! Also on the bill it's Rob Wilfong and Tony Kordenbrock! 6pm
Saturday –the Stacy Mitchhart Band Come on out for some of the best rockin blues around! 6pm
Future Show Tickets available at Cincyticket.com
---
Milanos (Miami Township)
Wednesday – Live Music each week at 7pm with Benny Bodine this week
---
Miami Valley Gaming
Friday - Billy Rock Band 9pm Center Bar
Saturday – DJ Big Daddy Walker – 9pm Center Bar
---
Rex Patrick and the Country Legends Show in Germantown
Saturday – The Richard Lynch Band "Halloween Party and Costume Contest" 7 to 10pm - Doors open at 5:30 … Reserve your table now 513-594-1282
---
Hidden Gem Music Club
Thursday – Frank Zappa Tribute Show at 8pm
Friday – 7pm Blessid Union of Souls with Alexis Gomez ond opening Grayson Zelik
Saturday –7pm 13Pagan Holiday13, Kilmeister, and Circle of Snakes - Halloween Show
Sunday at 7pm – James Murrell Jazz Trio
Tueday - Open Mic Night 7:30PM
---
Lori's Roadhouse
Thursday –Football and Line Dancing
Friday – Chase Matthew, LAKEVIEW, & Shoot Em Strait live at 8pm
Saturday – Haloween Party with Q102 - costume contest Live music from Martin McDaniel and Dave Campbell II.
Sunday – Football
Tuesday – Line Dancing Lessons 7pm
Wednesday – Karaoke 9pm
Tickets at LRHLIVE.com
---
Moe Harrigan's Tavern
Thursday – Doug Hart 8pm
Friday – Sean Lamb / Janet Miller Band 8pm
Saturday – Paul Cullen 8pm
Sunday – Open Mic with Acoustic Junior 7pm
Wednesday – Nick Mitchell 8pm
---
The Brick Tap and Tavern
Thursday – Scott Houchens 8:00pm
Friday – Scott Houchens and Café Unit at 8:30pm
Saturday – The Doug Hart Band at 8:0pm
Wednesday – Doug Hart 7:30pm
---
Ricks Tavern
Friday – The Menus at 9pm
Saturday – DV8 at 9pm Halloween Party both nights
---
KnottyPine
Thursday – Mitch Greve at 7pm
Friday – and Saturday – Black Bone Cat – Halloween Party at 9pm
---
Scotty Long / DJ Songz
Thursdays - Little River Oregonia, OH. Party 7pm!
Friday - Township Tavern Halloween Party 8pm-1am.
Check out his Facebook pages at Scotty Long or DJ Songz for all shows!
---
Scott Hall
Tuesday at Mr Boros Tavern for Quiztastic Tuesday Trivia
Wednesday – Heathers Name That Tune – Week 27 7pm RESERVATIONS Please
Weekly on Hall Around Town Radio for all your music news and needs
Bands, Solos, Duos and Events
1330
Saturday at the Highway House 9:30pm
Rockstar
Saturday at Rockies Sports Bar in Rising Sun Indiana 9pm Halloween party.
Gina Cullen
Thursday - The Pub at the Greene 6-9
Tuesday - Submarine House in Centerville 7-10
Halfway Hammered
Friday at Kentucky Local in Hebron, KY tomorrow (Frida8pm-11pm
Saturday at Boonedocks Pub & Grub in Union KY Halloween Party Saturday 9pm-1pm
Frayed Covers
Sunday at Weidemann Brewing in St. Bernard from 4:00-7:00
Pauly and the Fall From Grace
Thursday Pauly is solo acoustic at McCoys Colerain from 7-10.
Saturday the full band at the Crows Nest Cincy on W. Eighth from 8-12.
Lamar Bliznar
Saturday at 7pm Lamar Bliznar, Forgetting Dinosaurs 🦕 and Angels from the Gallows will be performing at Tuck-n-Reds in Yellow Springs for a spooktacular Halloween party.
Lätter'
Saturday Halloween show at Sloopy's 9pm
Joe Cowels
Friday - The Madison Inn Full Band 9pm To 1am
Saturday - The Hanger Full Band 8pm To Midnight - Halloween Party! Costume contest and more!
Finding Melissa Acoustic
Friday - Bock Family Brewery Dayton 7p
Saturday - Sourmugs West Milton 8p
Whiskey Town
Saturday at Dixie Station from 9 - 1
Rick Kern
Friday and Saturday - Black Bone Cat at the Knotty Pine 9:00-1:00
Wednesday – Rick Kern So Low Show at the Belle & Bear 7pm
Brandy Evans
Friday - Brandy and the Beard at Anderson Taphouse from 7 to 11pm
Kevin Cooper
Thursday 730-1130pm: B&B Jam (Kevin off this week, Dick Stewart from Doghouse filling in)
Friday 9pm-1am: The Hanky Panks at The Oak Tavern
Saturday 8pm-12am: Eyes Up Here at Par's Place
Wednesday 730-11pm: Kevin Cooper solo at Olde Village Tavern (filling in for Pat Riley)
CFG and The Family
Thursday: Bedford with CFG & the Family at Radio Artifact 8:30pm
The Whammies:
Friday - Belle and the Bear (Halloween Glow Party) 8:30-12:30
Saturday- Fretboard Brewery (Halloween Costume Party) 8-11
Drive
Saturday at Mutt's Main bar Middletown 9-1
Jet Pack Academy
Friday at 1 More Bar & Grille 8p-12a
Saturday at Club Trio 9p-1a
The BillyRock Band
Friday at 9p - Miami Valley Gaming Center Bar
Saturday at 8p - Little Miami Brewing Co. Halloween Party
Sunday 2:25p Little Miami Brewing Co. Bengals Pre-Game Party
Marsha Brady
Boots n Bourbon - Celina Ohio - Halloween Bash - 10pm - 2am
The Gamut
Playing the best Halloween party that is a PRIVATE event
See them Friday 11/17 at Heathers Christmas in Boro Party
Johnny Fink
Friday - Gina and Johnny duo at the Grandview Tavern 7p
Saturday - Johnny Fink and the Intrusion at Mansion Hill halloween Party 8pm
Dv8
Saturday at Ricks Tavern Halloween Party 9 pm til 12:30
Shane deMoss Music
Thursday at Crooked Handle Springboro, Oh from 6-9
Friday at Putter's in Mainville, Oh from 7-10
Saturday - Shane & David Gregory at Doc's Lebanon, Oh from 7-10
Benny Bodine
Wednesday at Milano's from 7-10 Miami Township, OH
Velvet Crush Unplugged
Friday at the Barrel in Springboro, oh from 8-12
Heath Bowling
Thursday at Mr Boro's tavern Beauty and the beast 5:30 to 8 p Springboro, OH
Friday at Knollwood tavern 9-12a Beavercreek
Jason Roy
Thursday with Rise II Reign 6-10 Liberty Inn Liberty Twp
Friday the Ashley Paige Band from 8-12 at the Dublin Pub Dayton, Ohio
Saturday with the Ashley Paige Band from 9-12 Halloween Hoedown ---Costume Contest Cash Prize for 1st Place by Crowd Vote at Oleary's Pub & Grub Centerville, Ohio
Alex Poteet
Thursday at Smoke Justis in Covington, KY 7:30PM
Saturday Linus Tate Unplugged at Olde Schoolhouse Winery. Eaton, OH 6:30PM
Cryin Out LOUD
Saturday - Mr Boros Halloween Party 8-11 PM
Chris Lee Acoustic
Friday at DogBerry Brewing in West Chester OH. 5pm-8pm
Saturday at Caesar Creek Flea Market in Wilmington OH. 11:30am-2:30pm
Blind Faith Duo
Thursday acoustic at Little Miami Brewery 6:30 - 9:30
Friday at Cappy's in Loveland from7-10.
Fast Forward Band –
Saturday at Riverside Marina Halloween Bash in Dayton Ky Saturday 8-12
Joe Lipinski
Saturday - jersey joe solo at Dingle House Irish Pub, West Chester from 6 to 9 PM.
The Weekend Effect
Saturday at Roots Pub's Halloween costume party in St. Mary's. 9-1
Don't tell Steve
Saturday at Pohlman lanes in Hamilton 7-11 "cirque de Steve"
Please bring a non perishable food item, we have partnered with open door food pantry.
Spungewurthy
Friday at Wings Beavercreek Halloween Bash 9pm
David Thornton
Thursday at Jayne's On Main (Miamisburg) 7-10
Friday at Middletown ELKS LODGE #257 7-10
Saturday at the VFW Auxiliary #3809 (Middletown) 7-11
Wesley Green
Saturday with the Bourbon Road Band at Good Time Charlies from 8:30-12:30
Donna Kennedy Band
Saturday at the Eaton Eagles 7-10
Greg Goforth Drummer
Saturday night at Oleary's Pub, Halloween Party, 8pm with the Ashley Paige Band
Britches Down
Saturday at the Phone Booth Lounge Halloween Party 8pm
Curious Animals
Saturday at Kingspoint Pub in Kettering 8pm
The Hathaways
Saturday – Monster Mash Halloween Bash at the Miamisburg Moose 8pm
If you would like your band or musical act featured on our weekly podcast or shared in the Warren County Post contact us @Hall Around Town Radio on Facebook! For additional Band information follow our daily Facebook "Live at Five" program @Hall Around Town Radio
More News from Springboro