Who's Playing Out Brought To You By Hall Around Town Radio: March 24, 2022
Image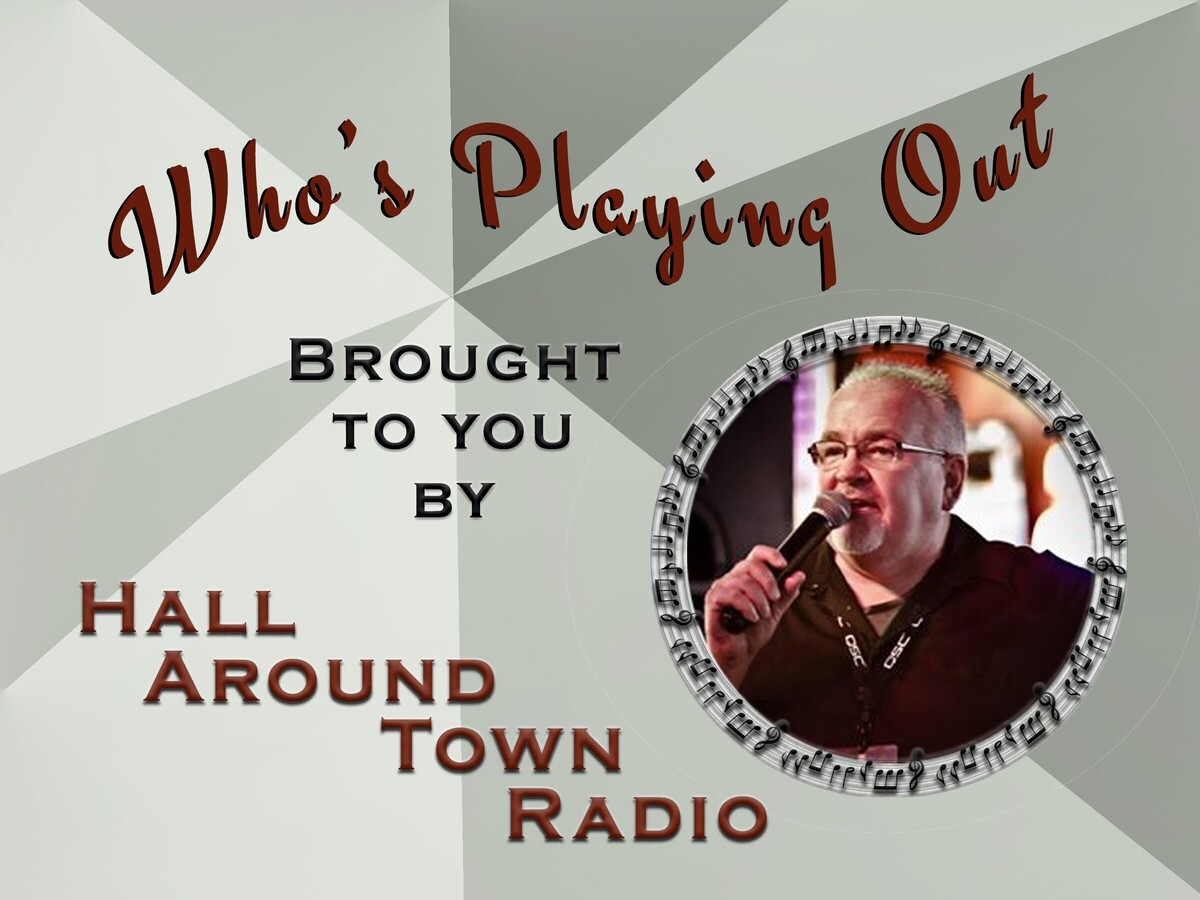 Brought to you by Scott Hall from "Hall Around Town Radio"
A little live music can turn an ordinary day into a memorable experience. The area's top musicians take center stage at some of the tri-states best restaurants and nightspots, bringing live music to our region nearly every night of the week. Make your first stop here weekly to find out "Who's Playing Out" at one of our live local music venues.
Bands and solos brought to you by our friends at Froggy's in Monroe, Ohio and Hall Around Town Radio (follow us on Facebook)
Froggy's in Monroe – Sponsor of our Thursday LIVE show on Facebook
Friday 4-7 Brett Brock & Danny Kaufman
Friday. - 9pm- The Reckoneers
Saturday - Crown Watts – 9pm
Mondays- 8pm - 8 ball Tornament double eliminations ‐ $10 to play
Tuesday - 7:30pm What's that Tune Bingo with DJ Angela
Wednesday - 8pm Karaoke with Dj Songz
Online seating reservations / tickets at www.gotofroggys.com
---
Mr. Boro's Tavern Springboro
Thursday – David Thornton Acoustic 7pm
Friday – Jo Jo McZunk Band 8 to 11pm
Saturday – Jay Clark Band 8 to 11pm
Sunday – Carey Hunley and Shannon Schmidt Duo 2pm
Tuesday – Trivia with Scott at 7pm
Wednesday –Queen of Hearts Drawing
---
The Belle & The Bear (Montgomery)
Thursday "The Jam" featuring a host of local music celebrities at 7:30 pm
Friday – Brent James and the Vintafge Youth 8:30 pm
Saturday – Miss Jacque 9 PM
Monday Game Night - 6pm
Tuesday – Chris Rook filling in for Jamie Combs 7pm
---
Lebanon Grand Opry House
Saturday – Stage and Dinner Show with Jessie Lyn and the Opry House Band with Tori Faith and Finton Collins doors at 6pm… show at 7pm.
Reservations by calling 513-850-1770
---
Sorg Opera House
No Music Shows this week
Future Show Tickets at Cincyticket.com
---
Soft Rock Café
Karaoke – Thursday 7pm - Friday 8pm - Saturday 8:30 pm.
---
Crooked Handle Brewing Co.
Thursday – Michael Moeller 7pm
Friday – Ben and Pete at 6pm
---
Little River Bar and Grill (Oregonia)
Thursday – DJ Songz – Karaoke at 7pm
Friday – Jason Ritchie 7pm
Saturday – Barley Able 7pm
---
The Blue Note Harrison
Friday – Jon Langston with The Michelle Robinson Band doors 6pm
Saturday – Double Header – Sweet Sister Mercy and Social Chemists Doors at 6PM
Tickets available at …. CincyTicket.com
---
Pohlman Lanes & Scott's Bar & Grill (Hamilton Ohio)
Family Entertainment Complex 954 Pyramid Hill Blvd., Hamilton Ohio
Friday - Fat Chance 7pm to 11pm
Saturday - DRIVE - 7pm
Monday Big Band Swing 7pm to 9pm
Wednesday Standard Country Time Band 1pm to 3pm
---
Hidden Gem Music Club
Friday – The Great Serpant Mound of Ohio Band 8pm
Saturday – The Hathaways – 7pm
Sunday – Blues Tribute Jam with Noah Witherspoon and The Doug Heart Band 5pm
Wednesday – Open Mic Night 7PM
---
Lori's Roadhouse
Friday – Grace Leer 4pm
Friday – Logan Mize 10pm
Saturday – The Roasters 6pm
Saturday – Jake Taylor Band 9pm
Tuesday – Dine and Dance 4pm
---
Miami Valley Gaming
Friday- Marty Connor Band – 9pm Center Bar
Saturday – Richard Lynch – 9pm Center Bar
---
Scott Hall – Hall Around Town Radio
Tuesday Trivia at Mr. Boros Tavern 7pm
Live Monday to Thursday On Hall Around Town Radio
---
Scotty Long / DJ Songz
Thursday – Little River Bar and Grill 7pm
Friday- Legends Bar & Grill Hamilton 9pm
Tuesday – The Barrel – The Boroake Contest - Karaoke 8pm
Wednesday – Froggys – Karaoke 7pm
---
Bands, Solos and Duos
Jay Clark Band
Saturday – Mr. Boros Tavern 8pm
---
Until Rust
Friday 3/25 Kettering VFW Kettering, Oh 7-10
---
Shawn Bell
Sat 3/26 Private Event Norwood OH
---
Mad Hatter
Saturday at Wings Beavcereek. 9 to 1 pm
---
Six String Hustle
Fri 3/24 8-11pm Flintlocks bar California, Ky
Sat 3/25 7-10pm Hebron Grille Hebron, KY
Tues 3/29 6-10pm Jimmy Bs Cincinnati, Ohio
Wed 3/30 8-11 Center Bar Madison, Indiana
---
Jordan Wood
Saturday 3/26 TinCap 7pm Wilmington
Monday 3/28 Misery & Jens Open Jam 8pm - ? Hamilton, OH
---
Linus Tate
Friday March 25 Smoke Justis Covington, KY 7PM
Saturday March 26 Hitching Post Darrtown, OH 8PM
Sunday March 27 Northern Row Brewery & Distillery OTR Cincinnati 2PM
---
Crown Watts
Saturday at Froggy's - 9:00
---
Kevin Cooper
Thurs 730-1130pm: B&B Jam (Jim and I are back)
Sat 8pm-12am: The Hanky Panks at Trillions
---
Tori Faith
Friday 3/25 ~ Tori Faith Band at Fairfield Pub ~ 9pm-1am
Saturday 3/26 ~ Tori Faith at The Lebanon Grand Opry House ~ 7-9:30pm
---
RED HOT RIOT
Saturday - Silverton Café w/SOUL CRUSH BAND 8:00pm
---
Marsha Brady
Friday 3/25 - The Eagles, Marysville Ohio - 7:30pm - 11:30pm
Saturday 3/26 - Latitudes, Anderson Ohio- 9pm - 1am
---
DRIVE
Saturday 3/26,7pm at Pohlman lanes.
---
Sons Of Liberty
Saturday 5:30Pm Sunset Beach Bar and Grill
---
Michelle Robinson Band
Friday opening for Jon Langston at the Blue Note Harrison 7:30
Saturday at Mutts in Trenton 8-12
---
Sepia heyday
Friday at Southgate Revival House at 8pm with Super Monkey
Saturday in Yellow Springs at Tuck and Reds - show starts a 6
---
Thom Stephenson
Friday March 25th Wiedemann Brewing 7:30pm ZaaZ00 ​
Sunday March 27th Little Miami Brewing 4-7pm Thom Stephenson ​Solo
Tuesday March 29th MVP Sports Bar 7:45pm Thom Stephenson Solo MVP Musicians Showcase
---
Derek Stewart and Brian Morrow
Thursday – Open Mic - Westside Pub and Grub 7pm
---
Tyler Van B
Thursday – Jaynes on Main 7pm
---
The Weekend Effect
Saturday at Duckfoots in Celina 8-12pn.
---
Ben & Pete
Friday at Crooked Handle Brewing Company in Springboro 6 to 9 PM
---
Kevin McCoy Band
Thursday The Lounge 7-10pm
Saturday The Lounge 6-9pm
---
Matthew Allen
Friday March 25th - White Dog Distilling Co. Middletown 7:30 ~ 10:30
---
Heath Bowling
Thursday 3/24 Pudders 7-9p Shelbyville, IN
Friday 3/25 Possum Saloon 930-130 Bright, IN
Saturday 3/26 St Paul Tavern 9-12 St Paul, IN
Sunday 3/27 Cadillac Jacks 4-7 Shelbyville, IN
Tuesday 3/29 Submarine House W/ Benny Bodine 7-10 Centerville, OH
Wednesday 3/30 Open Mic (AJ's) 8-11 Franklin, OH
---
David Thornton
Thurs, 3/24 Mr. Boro's Tavern 7-10
Fri, 3/25 Veterans of Foreign Wars 3809 (Middletown) 6:30-9:30
Sat, 3/25 Grainworks Brewing Company 7-10
---
The HomeGrown Band
Saturday - The Brick Tap and Tavern 8:30-12:00
If you would like to have your musical act featured on our weekly podcast or in Warren County Post the contact us @Hall Around Town Radio on Facebook! For additional Band information follow our daily Facebook "Live at Five" program @Hall Around Town Radio