Who's Playing Out Brought To You By Hall Around Town Radio: April 8, 2022
Image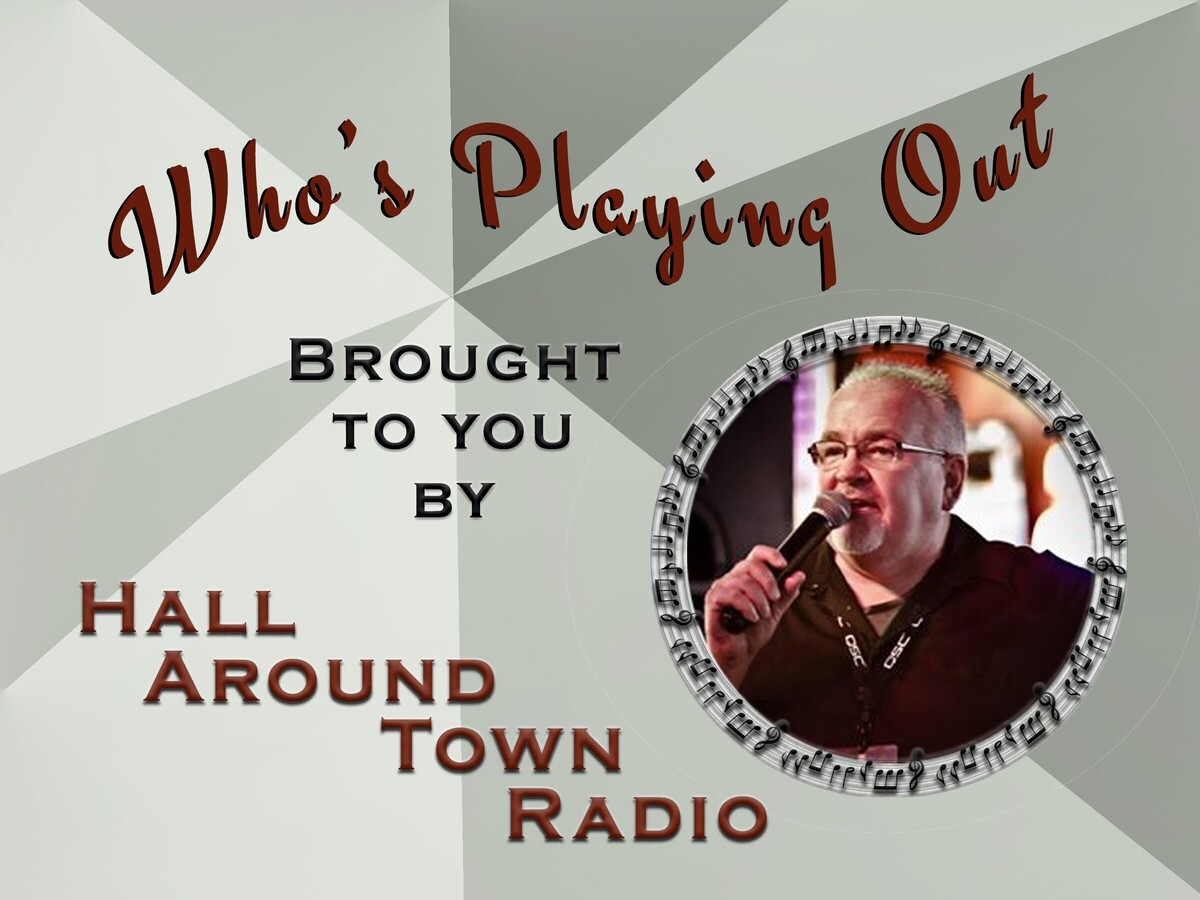 Brought to you by Scott Hall from "Hall Around Town Radio"
A little live music can turn an ordinary day into a memorable experience. The area's top musicians take center stage at some of the tri-states best restaurants and nightspots, bringing live music to our region nearly every night of the week. Make your first stop here weekly to find out "Who's Playing Out" at one of our live local music venues.
Bands and solos brought to you by our friends at Froggy's in Monroe, Ohio and Hall Around Town Radio (follow us on Facebook)
Froggy's in Monroe – Sponsor of our Thursday LIVE show on Facebook
Friday 9pm Gerhard Albinus
Saturday - Miss Jacque 9pm
Monday - 8pm 8 Ball Tournament
Tuesday- 7:30 What's that Tune Bingo with DJ Angela with more $5 & $10 rounds ( one round winner won $160 last week ! ) more players = more $$ to win
Wednesday - 8pm Karaoke with Dj Songz
Online seating reservations / tickets at www.gotofroggys.com
---
Mr. Boro's Tavern Springboro

Friday – Route 88 8 to 11pm
Saturday – Grey Days with Bryan Scott, Andrea Grey and Nicholas Hey 8 to 11pm
Sunday – Last Call with Jamie Combs 2pm
Tuesday – Trivia with Scott at 7pm
Wednesday –Queen of Hearts Drawing. New game with a starting pot of $3,328
The Belle & The Bear (Montgomery)
Friday – H&R Rock 8:30 pm
Saturday – Michelle Robinson Band 9 PM
Monday Game Night - 6pm
Tuesday –Jamie Combs 7pm
Wednesday - Name That Tune with Scott 7pm
---
Lebanon Grand Opry House
Saturday – Stage and Dinner Show with Jessie Lyn and the Opry Band dinner at 6pm… show at 7pm.
Reservations by calling 513-850-1770
---
Sorg Opera House
No Music Shows this week
Future Show Tickets at Cincyticket.com
---
Soft Rock Café
Karaoke – Thursday 7pm - Friday 8pm - Saturday 8:30 pm.
---
Crooked Handle Brewing Co.
Friday – Scott Houchens at 7pm
---
Little River Bar and Grill (Oregonia)
Thursday – DJ Songz – Karaoke at 7pm
Friday – Joe and Justin Acoustic 7pm
Saturday – Terry Metcalf Band 7pm
---
The Blue Note Harrison
Saturday – Van Halen Tribute "Panama"with Sammy Hagar tribute "One Way To Rock" Doors 6PM
Tickets available at …. CincyTicket.com
---
Pohlman Lanes & Scott's Bar & Grill (Hamilton Ohio)
Family Entertainment Complex 954 Pyramid Hill Blvd., Hamilton Ohio
Friday - Honky Tonk Weekend 7pm to 11pm Ashley Best and Jake Roberts
Saturday - Honky Tonk Weekend Night 2 With Jim Burns Raelyn Nelson and 90 Proof Twang
6pm to 11pm
Monday Big Band Swing 7pm to 9pm
Wednesday – The Standard Country Time Band 1pm to 3pm
---
Hidden Gem Music Club
Friday – Terry Metcalf Project 8pm
Saturday – Noah Ramirez and the Coalition present video game music – 7pm
Sunday – Blue Heron Trio 7pm
Wednesday – Open Mic Night 7PM
---
Lori's Roadhouse
Friday – 4 Low at 6pm
Friday – Tom Yankton at 9:30pm
Saturday – Brad Hardin 6pm
Saturday – Lewellen Degenerates 9pm
Tuesday – Dine and Dance 4pm
---
Miami Valley Gaming
Friday- Danny Frazier Band – 9pm Center Bar
Saturday – Turned Up Band – 9pm Center Bar
---
Brick Tap Tavern
Saturday – Retrobution 80s 8pm
---
Scott Hall – Hall Around Town Radio
Tuesday Trivia at Mr. Boros Tavern 7pm
Wednesday – Name That Tune at The Belle &The Bear 7pm
Live Monday to Thursday On Hall Around Town Radio
---
Scotty Long / DJ Songz
Friday - The Barrel 7pm Sound/Light Gig for 9Eight Central and Tyler Reese Tritt.
Tuesday -The Barrel 7pm The Boroake Contest Finals.
Wednesday - Froggys 8pm Karaoke & Jamz
---
Bands, Solos and Duos
Bronson Arroyo Band
Saturday – Bircus Brewing 7pm
---
The Inturns
Friday – Strasse Haus – 10pm
---
The Marthas
Friday at Hanks Local 8pm
---
Route 88 Full Band
Friday 8 Apr 8-11pm Mr. Boro's Springboro, OH
Saturday 9 Apr 9-1pm The Triangle Greenville, OH
---
Shane deMoss
Wednesday 4/13 The Barrel Springboro, Oh 7-10
---
Ithika
Saturday 4/9 - Kingspoint Pub 9pm-1am
---
Truk
Friday, April 8 WO Wrights. 7-10
---
Jordan Wood
Friday 4/8 Putters Sports Grill 7pm Liberty Township
Saturday 4/9 Putters Sports Grill 7pm Maineville
Monday 4/11 Misery & Jens Open Jam 8pm - ? Hamilton, OH
---
Shawn Bell and Blowin The Damn Fuses
Friday 4/8 Grub Pub in Hamilton OH 9 to 1
Saturday 4/9 The Possum Saloon Lawrenceburg Indiana 830 to 1230
---
Six String Hustle
Fri 4/8 8-12 Macs Pizza Pub Covington, Ohio
Sat 4/9 7-11 Monkey Bar Mainville, Ohio Unplugged band featuring Lee Dixon and Greg Goforth
Sun 4/10 2-5 The Belle & The Bear Cincinnati, Ohio
---
Mad Hatter
Friday at Vandalia Wings 9pm
---
Benny Bodine
Friday 4/8 Solo acoustic Knollwood Tavern Beavercreek 9:00 to 12:00pm
Sunday 4/10 Solo acoustic Upper Deck at The Cove Cincinnati 3:00 to 6:00pm
Tuesday 4/12 Solo acoustic Country Club of the North Beavercreek 6-9pm
---
Gerhard Albinus Band
Friday at Froggys in Monroe 9 to 1
---
The Weekend Effect
Friday at The Dublin Pub Friday April 8th . 8pm-11pm
---
Wesley Green Music
Friday, April 8th with 9eight Central The Barrel 7-8? Opening for Tyler Tritt
---
Liars For Hire
Saturday at Bojangles-West Carrollton 9p-1a
---
Short of Stable
Friday 4/8 Bellefontaine Moose 7-11
---
Blind Faith Duo Acoustic:
Thur April 7th 6:30 - 9:30 Little Miami Brewery
---
Heath Bowling Music
Friday 4/8 Miamisburg Eagles 8-11p Miamisburg, OH
Saturday 4/9 Hitching Post W/ Tiff and Mike(SOS) 8-12a Darrtown, OH
Wednesday 4/13 AJ's Franklin Tavern Open Mic 8-11p Franklin, OH
---
David Thornton
Thurs, 4/7 Jayne's On Main (Miamisburg) 7:30pm
Fri, 4/8 Veterans of Foreign Wars 3809 (Middletown) 6:00pm
---
Joe Lipinski
Friday - Dayton Dragons presents jersey joe Island duo as part of the Plaza Opening Day festivities. from 6-7PM at Day-Air Ballpark Plaza.
---
Kevin McCoy Band
Friday-Club Trio 9-1
Sunday-Zazou Covington 1pm-4pm
Tuesday-Reds Opening Day Parade on Float-High Noon
*Also Tuesday: Outside Red's Stadium-7-11pm party 🎉
---
Bryan Scott "Grey days"
Friday Apr.8th the Krobar Princeton Glendale Rd. 5 to 8
Saturday Apr.9th Mr.Boros Tavern 8 to 11
---
Michelle Robinson Band
Friday Hollywood Casino 8-12
Saturday Belle & Bear 8:30-12:30
---
Spungewurthy
Friday Apr 8th 930 pm Katz lounge
---
Chris Lee Acoustic
Saturday, April 9 The Lucky Turtle Cincinnati (Finneytown) OH 8pm-10:30pm
---
Casey Gomez "CFG and Family"
Friday - The Plien Air Paitings of Hamilton – at Artspace Hamilton 6 to 9pm
---
Loopman Dan
Friday at Deadlow Brewing 7pm
Sunday at Paddys on Main in Covington 2 to 5pm
---
Tyler Van B
Friday – at the Trolley Stop 8:30pm
---
DRIVE
Saturday @ The Madison inn 9pm
---
Joe Cowels
Sunday - Joe C Solo at BrewRiver Creole kitchen, SUNDAY BRUNCH! 11am to 2pm!
---
Kevin Cooper
Fri 6-9pm: Eyes Up Here at deSha's
---
RED HOT RIOT-
Friday - Mansion Hill Tavern in Newport -8:00 pm
---
Acoustic Blue Band
Friday (4/8) @ Rick's Tavern Fairfield 5:30-7:30pm ….
Saturday (4/9) @ Smoke Justis (Covington) 7:00-10:00pm+
---
Crown Watts
Saturday 8:30pm at Latitudes
---
Marsha Brady
Friday at Knotty Pine 9pm - 1am
---
Tori Faith
Friday 4/8 ~ TFB at Dixie Station ~ 9:30pm-1:30am
Wednesday 4/13 ~ Tori Faith Acoustic at Fairfield Pub ~ 7-10pm
---
Johnny Fink and the Intrusion
Friday 4/8 Ludlow Garage 830p
---
Paisley Cane
Friday at Talon Tavern from 8 to 12pm
---
No Refunds
Friday at Little York Tavern 8pm
---
H&R Rock
Friday at The Belle and The Bear 8:30pm
---
Black Bone Cat
Friday at Ricks Tavern 8:30pm
---
The Menus
Friday at JD Legends 8pm
---
Pearl Street Acoustic
Friday at Moeller Brew Barn 8pm
---
DV8
Friday at Belterra Park Stadium Bar 8pm
If you would like to have your musical act featured on our weekly podcast or in Warren County Post the contact us @Hall Around Town Radio on Facebook! For additional Band information follow our daily Facebook "Live at Five" program @Hall Around Town Radio