Who's Playing Out Brought To You By Hall Around Town Radio: June 2, 2022
Image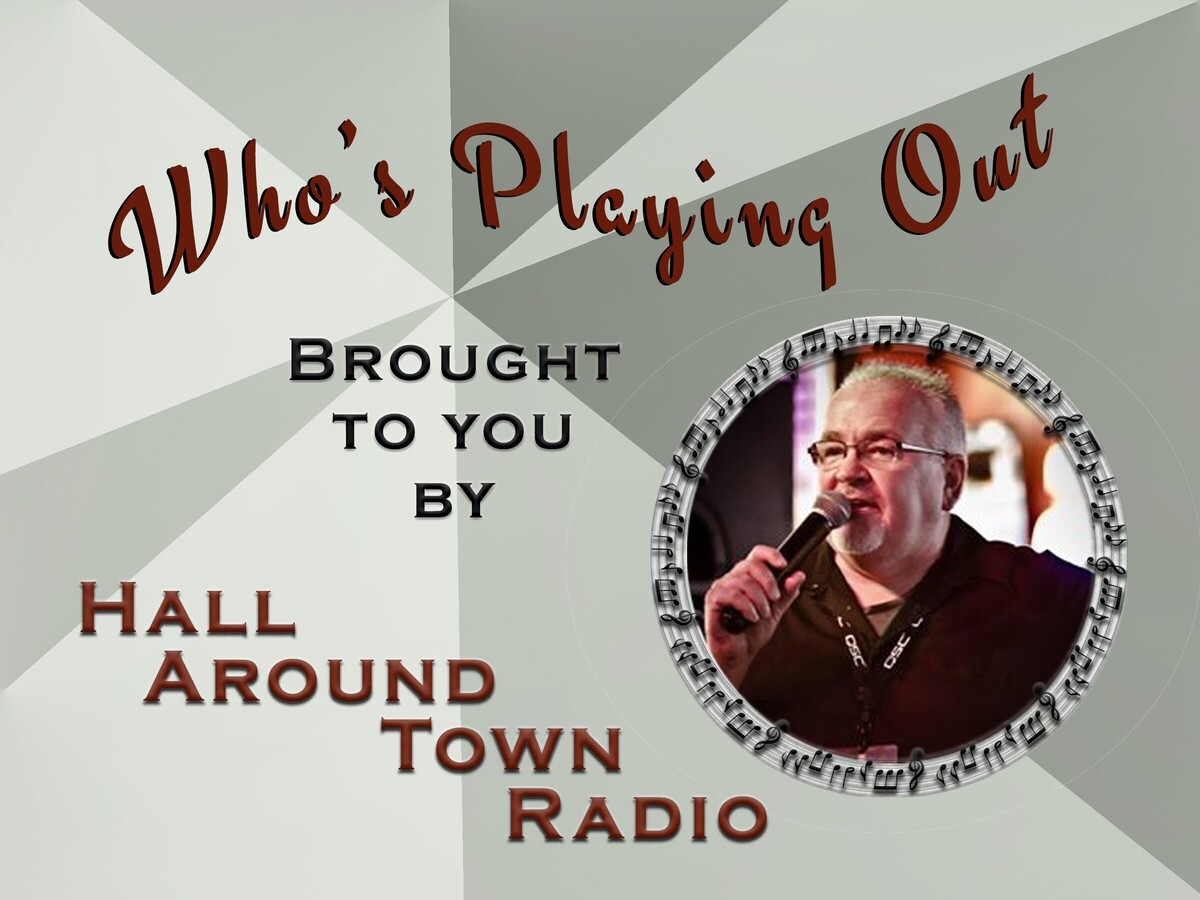 Brought to you by Scott Hall from "Hall Around Town Radio"
A little live music can turn an ordinary day into a memorable experience. The area's top musicians take center stage at some of the tri-states best restaurants and nightspots, bringing live music to our region nearly every night of the week. Make your first stop here weekly to find out "Who's Playing Out" at one of our live local music venues.
Bands and solos brought to you by our friends at Froggy's in Monroe, Ohio and Hall Around Town Radio (follow the on Facebook)
Froggy's in Monroe – Sponsor of our Thursday LIVE show on Facebook
Friday - 9-1 Dirty Water Revival
Saturday - 9-1 Timestamp
Wednesday - 6-9 Jim Williams on the patio
Wednesday - 8pm Karaoke with Dj Songz
Online seating reservations / tickets at www.gotofroggys.com
---
Mr. Boro's Tavern Springboro -
Thursday – Nicholas Winters 7 to 10 pm
Friday – Short of Stable 8 to 11pm
Saturday – Cryin' Out Loud - 8 to 11
Sunday –– Last Call & Jamie Combs - 2 to 5 pm
Tuesday – Trivia with Scott at 7pm
Wednesday – Queen of Hearts Drawing. 8pm
---
Heathers Café
Tuesday – Open Mic Night with Junior 7pm + the Queen of Hearts Drawing at 8
Wednesday – Name That Tune with Scott. 7pm Call for reservations
Thursday – Dave Taylor of the Inturns 6:30pm
Friday – Smithville South Band 7pm
Saturday – Liars for Hire 7pm
---
The Belle & The Bear (Montgomery)
Thursday "The Jam" featuring a host of local music celebrities at 7:30 pm
Friday – Soul Quest 8:30pm
Saturday _ Brent James and the Vintage Youth 8:30 PM
Sunday – "Strumday" with Mike Lieser
Monday Game Night - 6pm
Tuesday – Jamie Combs 7pm
---
Soft Rock Café
Karaoke – Thursday 7pm - Friday 8pm - Saturday 8:30 pm.
---
Lebanon Grand Opry House
Upcoming shows on Facebook - Reservations by calling 513-850-1770
---
Sorg Opera House
No Music Shows this weekend
Future Show Tickets available at Cincyticket.com
---
Crooked Handle Brewing Co.
Thursday – Michael Moeller at 7pm
Friday – Scott Houchens at 7pm
---
Little River Bar and Grill (Oregonia)
Thursday – DJ Songz – Karaoke at 7pm
Friday – Reeking Havoc at 7pm
Saturday – The Relics 7pm
Tuesday – Bike Night with music
---
The Blue Note Harrison
Saturday - Rush Tribute Project Returns To The Blue Note - 5:30pm doors
Sunday – Hinder Returns with No Resolve 6pm Doors
Tickets available at …. CincyTicket.com
---
Pohlman Lanes & Scott's Bar & Grill (Hamilton Ohio)
Family Entertainment Complex 954 Pyramid Hill Blvd., Hamilton Ohio
Friday Friday at 7pm Pandora Project
Saturday at 7pm. Jason Wilmot Band
Monday - Big Band Swing 7pm to 9pm
Wednesday – The Standard Country Time Band 1pm to 3pm
---
Hidden Gem Music Club
Thursday – Blues Jam at 8pm
Friday –The Kozmic Messengers 8pm
Saturday – The Hathaways – 7pm
Sunday – Bright Moments Quintet 7pm
Wednesday – Open Mic Night 7PM
---
Lori's Roadhouse
Thursday - Thursday Night Live Country Disco 4pm
Friday – County Wide at 6pm
Friday – Frank Ray at 9:00pm
Saturday – Diamonds and Whiskey 9:30pm
---
Miami Valley Gaming
Friday- 90 Proof Twang – 9pm Center Bar
Saturday – Varner Netherton Revival – 9:00pm Center Bar
---
Setters Volleyball Club
Friday – LoudHouse 8pm-Midnight
Saturday – A Vicious Cycle 8pm-Midnight
---
Brick Tap Tavern
Thursday – Open Mic Night with Scott Houchens 7:00pm
Friday – Junior and Guitar Mike at 8:30
Saturday – Pegasus Shaunna & Donely Duo at 8:30pm
---
Scott Hall – Hall Around Town Radio
Tuesday Trivia at Mr. Boros Tavern 7pm
Wednesday – "Name That Tune" at Heathers Café on the patio 7pm "Call for Reservations"
Live Monday to Thursday On Hall Around Town Radio
---
Scotty Long / DJ Songz
Thursday - Little River B&G 7pm-11pm Karaoke Party
Friday Legends B&G 9pm-1am Karaoke Party
Saturday Little River B&G Summer Bash 4pm-12am Scratching & Karaoke. The Relics 7pm-11pm.
Debut for BLOX Spiked Ice! Celebrating June Birthdays! Tons of Games, Drink & Food Specials, Free BLOX Merch, Live Music and Endless Fun! Wear your favorite Summer Outfit!
Tuesday The Barrel 7pm-11pm Karaoke Party
Wednesday Froggys 7pm-10pm Sing 2 Paradise Karaoke Contest Auditions! Winner will receive an All Inclusive Carnival Cruise Vacation w/ DJ Songz & Friends. Debut for BLOX Spiked Ice! Open Karaoke Party 10pm-12am
Bands, Solos, Duos and Events
The Square at Union Center (event)
Thursday – Earth to Mars – Bruno Mars Tribute 6 to 9pm
---
Austin Landing (event)
Friday ESCAPE Journey Tribute 6pm Kid Friendly - Skyler Kooken Memorial Scholarship
---
Valley Vineyards Wine and Beer Festival (event)
Friday with the Naked Karate Girls 7pm
Saturday with DV8 7pm
---
St. Mike's Festival (event)
Friday - DV8 at 8pm
---
Tyler VanB
Saturday – Romer's Bar and Grill (debut) at 8pm
No Refunds Band
Saturday at Dayton Beer Company 7-11pm
---
Standard Country Time Band
Friday – Hunter Pizzeria 6pm
Wednesday – Pohlman Lanes 1 to 3pm
---
Gerhard Albinus Band
Thursday at Hofbrauhaus – Newport Ky 9 to 12pm
Saturday – North Second Tap and Bottle Shop, Hamilton "After Party" 10pm to 1am
---
Sons of Liberty
Thursday – Quaker Steak and Lube Florence Ky 6pm
---
Jay Clark Band
Saturday - The Barrel 8-12
---
Until Rust
Saturday 6/4 Hidden Valley Orchards Lebanon, Oh 6:30 - 9:30
Sunday 6/5 Private Show
Tuesday 6/7 Country Club Of The North Beavercreek, Oh 6-9
Wednesday 6/8 Rip Rap Roadhouse Dayton, Oh 7-10
---
Benny Bodine
Friday at Heroes Pizza Springboro, OH 7-10
Saturday at Miamisburg Eagles Club 2306 8-11 Miamisburg, OH OPEN TO THE PUBLIC
---
Six String Hustle
Thursday 6/2 6-9 Hebron Grille Hebron, KY
---
Route 88 Unplugged
Friday - 9-12 Timothy's Dayton, OH
---
Route 88 Full Band
Saturday at Rip Rap Roadhouse 7-10 Dayton, OH
---
Shawn Bell
Thursday at Gano Tavern West Chester OH Acoustic 3 Piece 630 to 930
Saturday at Trillions Sports Bar and Grill West Chester OH Full Band 8 to 12
---
Velvet Crush Unplugged
Friday at Good time Charlie's Miamisburg, oh 9-1
---
Alex Poteet
Thursday at Smoke Justis Covington, KY 7PM
---
Linus Tate
Friday - Music in Mason Mason Downtown Plaza Mason, OH 6PM
---
Chad Applegate
Saturday - Chad Applegate solo 7pm to11pm Little Miami Brewing Co.
---
Cryin' Out Loud
Saturday at Mr. Boro's Tavern 8pm
---
Bryan Scott
Friday at Gano Tavern 7 to 10
Saturday at the Amvets, Franklin Ohio 8 to 12
---
Ben & Pete
Friday at Jayne's On Main - Miamisburg, 8 to 11 PM
---
Liars for Hire
Saturday debut at Heather's 7-11pm
---
Heath Bowling
Thursday at Liberty Inn 6:30-10:30p West Chester, OH
Friday at Cadillac Jack's 9-1a Shelbyville, IN
Saturday at Foley's Irish Pub 8-12a Reading, OH
Sunday at the Monkey Bar 6-10p Maineville, OH
Wednesday at AJ's Open Mic 8-11p Franklin, OH
---
Chris Lee Acoustic
Friday at the Lucky Turtle Cincinnati / Finneytown OH. 7:30pm-10pm
Saturday at Overlook Lodge Cincinnati OH. 8:30pm-11:30pm
Sunday at Treasure Aisles Flea Market Monroe OH. 11:30am-2:30pm
---
The Weekend Effect
Friday at O'Connors in Springfield 9-1am
Saturday at The Dublin Pub 8-11.
---
David Thornton
Thursday at Jayne's On Main (Miamisburg) 7:30
Friday at The White Dog Distilling Co (Middletown) 8:00
Saturday at The Swire Inn (Middletown) 7:00
---
Michelle Robinson
Friday at Kreimer's 7-11
Saturday opening for Thompson Square and Jerrod Niemann in Xenia - Ceasers Ford
---
Joe Cowels
Friday June 3rd 6:30pm to 9:30pm, special dinner show at BrewRiver Creole Kitchen!
Wednesday June 8th at The Hanger Bar West Chester, 7pm to 11pm
---
Lätter
Saturday June 4th Sandusky Ohio Bike Week if ya wanna road trip. Margaritaville 6-10pm
---
Tori Faith
Thursday - Tori Faith Acoustic at Luna's Bar and Grill ~ 7-10pm
Friday - Whiskey Town at The Squeaky Squirrel ~ 8pm-12am
---
Audio Graffiti
Thursday 6/2- Sunday 6/5 Mr. Ed's - Put in Bay, Oh 9:30-1:30 each night
---
Kevin Cooper
Thursday 730-1130pm: Belle & Bear Jam
Friday 7-11pm: Eyes Up Here at Jeff Ruby's Carlo & Johnny
Saturday 1-5pm: Eyes Up Here at Pirate's Cove
---
Miss Jacque
Friday at Club Trio 8pm
---
RockStar
Saturday at the Grub Pub 9pm
---
Blue September
Saturday at White Dog Distilling 8pm
---
Brett Brock and Dan Kaufman
Friday at Wollys 8pm
---
The Marthas
Friday at Rumbleseat Wine 7pm
---
The Menus
Friday at the Elks Lodge Springfield 7:30pm
Saturday at the All Saints Festival 9pm
Sunday at the St. Jude Festival 6:45pm
---
Vinyl Countdown
Saturday with That Arena Rock Show at the Barrel House of Maysville (Kentucky) open the show at 7
If you would like to have your musical act featured on our weekly podcast or in Warren County Post the contact us @Hall Around Town Radio on Facebook! For additional Band information follow our daily Facebook "Live at Five" program @Hall Around Town Radio