Who's Playing Out – Thursday, June 16th to Wednesday, June 23rd, 2022
Image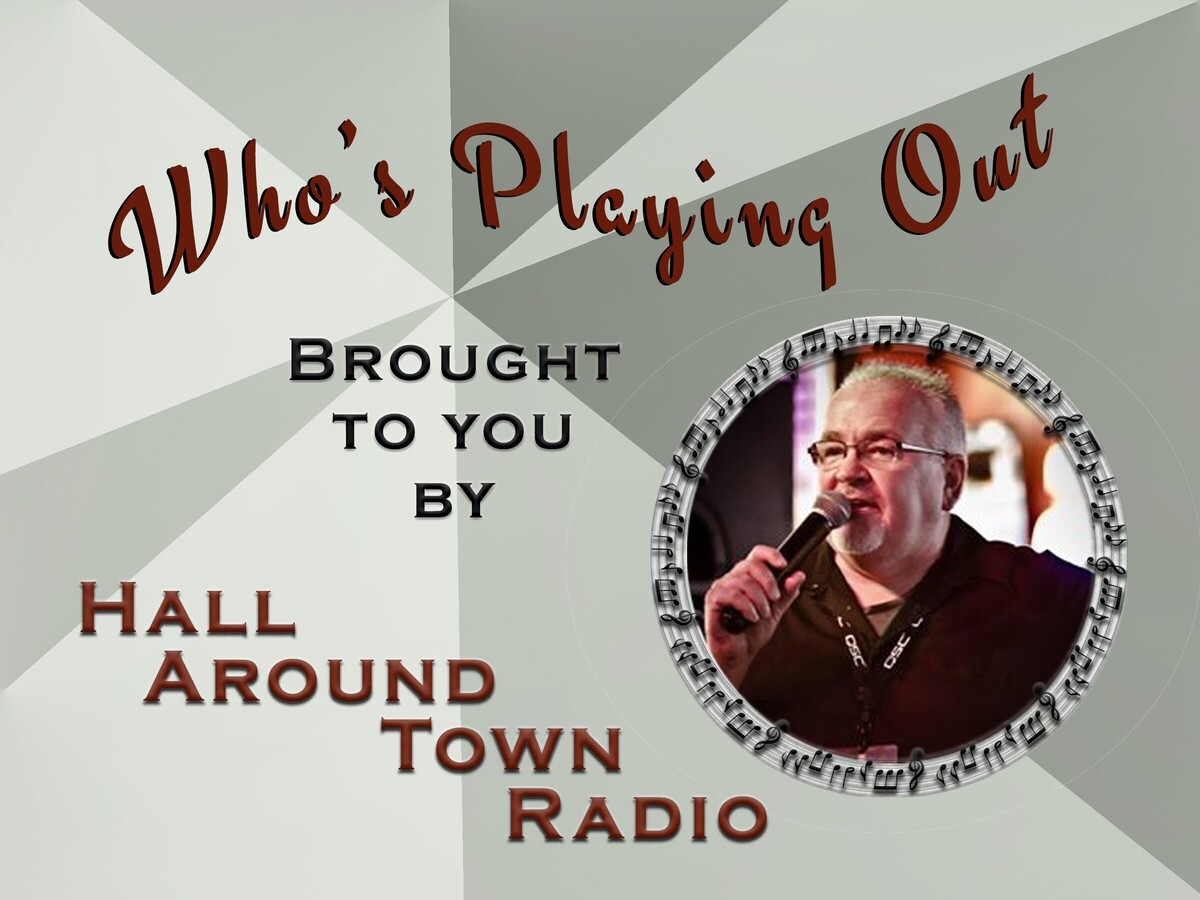 Brought to you by Scott Hall from "Hall Around Town Radio"
A little live music can turn an ordinary day into a memorable experience. The area's top musicians take center stage at some of the tri-states best restaurants and nightspots, bringing live music to our region nearly every night of the week. Make your first stop here weekly to find out "Who's Playing Out" at one of our live local music venues.
Bands and solos brought to you by our friends at Froggy's in Monroe, Ohio and Hall Around Town Radio (follow the on Facebook)
Froggy's in Monroe – Sponsor of our Thursday LIVE show on Facebook
Friday – 4 to 7 Bret Brock & Danny Kaufman
Friday 9pm Driving Force
Tue 6-9 Not far from the Tree
Wednesday 6-9pm Jordan Wood on the Patio
Wednesday - 8pm Karaoke Contest
Online seating reservations / tickets at www.gotofroggys.com
---
Mr. Boro's Tavern Springboro -
Thursday – Paul Cullen 7 to 10 pm
Friday – Until Rust – 8 to 11pm
Saturday – Pearl Street - 8 to 11
Sunday –– Willow - 2 to 5 pm
Tuesday – Trivia with Scott at 7pm
Wednesday – Queen of Hearts Drawing. 8pm
Heathers Café
Tuesday – Open Mic Night with Junior 7pm + the Queen of Hearts Drawing at 8
Wednesday – Name That Tune with Scott. 7pm Call for reservations
Thursday – Pandora Project 6:30pm
Friday – Spungewurthy 7pm
Saturday – A Vicious Cycle 7pm
The Belle & The Bear (Montgomery)
Thursday "The Jam" featuring a host of local music celebrities at 7:30 pm
Friday – Linus Tate 9pm
Saturday _ Strange Love 8:30 PM
Sunday – "Strumday" with Kyle Hacket
Monday Game Night - 6pm
Tuesday – Jamie Combs 7pm
Soft Rock Café
Karaoke – Thursday 7pm - Friday 8pm - Saturday 8:30 pm.
Lebanon Grand Opry House
Saturday – Solid Gold Diva Night with Jessie Lyn and the Opry House Band with Taylor Campbell and Keeli Reservations by calling 513-850-1770
Sorg Opera House
No Music Shows this weekend
Future Show Tickets available at Cincyticket.com
Crooked Handle Brewing Co.
Thursday – Junior at 7pm
Friday – Blind Summit Duo at 7pm
Little River Bar and Grill (Oregonia)
Thursday – DJ Songz – Karaoke at 7pm
Friday – Marshall Hiwatt at 7pm
Saturday – Matt Clarkson Band 7pm
Tuesday – Bike Night with music
The Blue Note Harrison
Saturday – Sonic Slam featuring Tom Keifer of Cinderella and his band aolng with L.A. Guns and Faster Pussycat. Doors open at 5:30pm Tickets available at …. CincyTicket.com
Pohlman Lanes & Scott's Bar & Grill (Hamilton Ohio)
Family Entertainment Complex 954 Pyramid Hill Blvd., Hamilton Ohio
Friday - CFG & The Family 7pm to 11pm
Saturday - Black Violets 7pm to 11pm
Monday - Big Band Swing 7pm to 9pm
Wednesday – The Standard Country Time Band 1pm to 3pm
Hidden Gem Music Club
Thursday – Closed
Friday –Spill The Wine 8pm
Saturday – The Termites – 8pm
Sunday – Dayton Jazz Orchestra 8pm
Wednesday – Open Mic Night 8PM
Lori's Roadhouse
Thursday -
Friday – LANCO at 9:30pm
Saturday – North to Nashville 6pm
Saturday – Yours for the Taking at 9:30pm
Miami Valley Gaming
Friday- Marty Connor Band – 9pm Center Bar
Saturday – Jason Owens Band – 9:00pm Center Bar
Setters Volleyball Club
Friday – St Hellion at 8pm
Saturday – Burke Band – 8pm
Brick Tap Tavern
Thursday – Open Mic Night with Scott Houchens 7:00pm
Friday – Repeat Offenders at 8pm
Saturday – Linus Tate at 8:30pm
Scott Hall – Hall Around Town Radio
Tuesday Trivia at Mr. Boros Tavern 7pm
Wednesday – "Name That Tune" at Heathers Café on the patio 7pm "Call for Reservations"
Live Monday to Thursday On Hall Around Town Radio
Scotty Long / DJ Songz
Thursday - Little River B&G 7pm-11pm Karaoke Party
Friday Legends B&G. 9pm-1am Karaoke Party
Tuesday The Barrel 7pm-11pm Karaoke Party
Wednesday Froggys 7pm-10pm Sing 2 Paradise Karaoke Contest 3rd Audition!
Bands, Solos, Duos and Events
Tyler VanB
Friday – Knollwood Tavern at 9pm
Saturday – Bock Family Brewing 7pm
Sunday – Hosting Open Mic at Good Time Charlies 5 to 9
Wednesday – Courthouse Square Dayton 11:30am
Vinyl Countdown
Saturday at Braxton Brewing for the Weber Grill Father's Day event 6-10.
Cryin Out LOUD
Friday at the Miamisburg Moose 8-11:30 if you are not a member contact the band to be put on the guest list
David Thornton
Thurs, 6/16 Jayne's On Main (Miamisburg) 7:30
Fri, 6/17 Hamilton's Urban Backyard 7:00
Sat, 6/18 The Common Beer Company (Mason) 7:30
Kevin McCoy Band
Friday Jungle Jim's BeerFest 6:30-10:30pm
Saturday: Shademore Park Country Dance 8pm-12midnight
Spungewurthy
Friday at Heathers café 7 to 11
Missing November
Saturday at Sugar Mellon's Fairborn 7-11pm
Blind Faith Duo Acoustic
Thursday from 7-10 At Little Miami Brewery
Blind Faith Duo
Saturday at Sons of Toil Brewery 7-10pm
Don't Tell Steve
Friday 7-11 Beers & Gears Springfield Township art center 9158 Winton Rd
The HomeGrown Band
Friday 8-11 Lucky star Brewery
Michelle Robinson
Thursday Liberty Center 6-9
Friday Cincinnati Zoo for Zoo LaLa 7:30-11
Saturday Urban Meyer's Pint House 9:30-12:30
Heath Bowling Music
Friday 6/17 Good Time Charlies 9-1a Miamisburg, OH
Saturday 6/18 AJ's Franklin Tavern 8-11p Franklin, OH
Monday 6/20 MonkeyBar 6-10p Maineville, OH
Wednesday 6/22 Open Mic(AJ') 8-11p Franklin, OH
Chris Lee Acoustic
Saturday, June 18 Marty's Hops and Vines Cincinnati (Mt. Healthy) OH 8pm-10:30pm
Tori Faith
Friday 6/17 ~ Whiskey Town at the Williamstown Marina ~ 8pm-12am
Saturday 6/18 ~ Whiskey Town at El Toro (Walton) ~ 7:30-11:30pm
Joe Cowels
Thursday at the Belle and the Bear jam session.
Crown Watts
Friday - Evendale Summer Pavillion Series with special quest Jim Questa - 7:30
Saturday - Club Trio - 8:00
The Gamut
Saturday 7pm West Chester Concert Series @ Keehner Park
Acoustic Blue
Thursday - June 16th - Par's Place, Fairfield, Oh. - 6:30 to 9:30pm
Sepia Heyday
Friday and Saturday at Hell is Ohio two day punk fest at swine city in Fairfield starting Friday at 4 and Saturday at 11 Heyday on Saturday at 10pm
Dat Band
Friday at Third Friday on Mulberry. Downtown Lebanon. 8-11.
Kevin Cooper
Thurs 730-1130: B&B Jam
Fri 630-1030pm: Eyes Up Here at Gano Tavern (new earlier time)
Audio Graffiti
Friday June 17 Food Truck Festival at Summit Park in Blue Ash 6:30-9:30
Seiter Haus
Fri 17th @ 9PM at Shorty's Pub
Sat 18th @ 8PM at Dickmann's Sports Cafe
Michelle Robinson Band:
Thurs at Liberty Center 6-9
Fri duo at Cincinnati Zoo's Zoo La La 7:30-11
Sat at Urban's Pint House in Columbus 10-1
StrangeLove
Saturday at The Belle and The Bear from 8:30-12:30
Marsha Brady
Saturday June 18th - Moose Lodge, Celina Ohio 7pm - 11pm.
Xero Hour
Fridaty at Legends in Cheviot doors at 6 music starts at 7. Lineup includes Allogator Alley, Armadeus, KillBillys
Johnny Fink and the Intrusion
Saturday at Creeekside blues and jazz festival- Columbus ohio Saturday 6-18 5:45pm
Jay Clark Band
Saturday at Boardwalk Grill Grand Lake St Mary's 7-11p
Party town
Friday at Peacox in Erlanger 9pm
Twenty Four Seven
Saturday at the Squeaky Squirrel 8pm
Until Rust
Thursday 6/16 Hidden Valley Orchards Lebanon, Oh 6-9 U. R.
Friday 6/17 Mr. Boro's Tavern Springboro, Oh 8-11  U. R.
Saturday 6/18 Jayne's On Main Miamisburg, Oh 8-11 U. R.
Tuesday 6/21 Little River Bar & Grill "Bike Night" Orgeonia, Oh 7-11  S. D. M.
Wednesday 6/22 Milano's  Miamisburg, Oh 7-10
Benny Bodine
Friday 6/17 The Barrel  Springboro, OH 8-11
Tuesday 6/21Country Club of the North Beavercreek, OH 6-9
Route 88 w/ Classic Rock Experience
Friday 17 June 9-1
Wings
Vandalia, OH  Saturday 18 June 9-1
Courtyard Lounge Englewood, OH
Six String Hustle
Thur 6/16 6:30-9:30 Gano Tavern West Chester, Ohio
Fri 6/17 6-10 w/ Cody Doench  Zazou Covington, KY
Sat 6/18 9-1 Tiffany's Saloon Aurora, IN
Tues 6/21 6-10 Jimmy B's  Cincinnati, Ohio
Shawn Bell
Fri June 17th Full band Madison Inn 9 to 1 Middletown OH
Chad Applegate
solo at Chappy in Old Milford Friday 6/17
Full band Saturday 6/18 at Valleyview in Williamsburg Oh 8 till 11.
Jordan Wood
Thurs 6/16 Twenty Mile Tavern - Open Jam 9pm Landen
Friday 6/17 Putters Sports Grill - Liberty Township 7PM
Liberty Township Saturday 6/18
TinCap - full band 6pm Wilmington, OH
Monday 6/20 Misery & Jens Open Jam 8pm - ? Hamilton, OH
Wed 6/22 Froggy's Patio 6pm
Monroe Thurs 6/23 Twenty Mile Tavern - Open Jam 9pm Landen
Billy Brown
Friday June 17 at 11:30am - Ole Red in Orlando FL
Saturday June 18 at 11:30am - Ole Red in Orlando FL
Sunday June 19 at 11:30am - Ole Red in Orlando FL
Wednesday June 22 at 11:30am - Ole Red in Orlando FL
Ithika @ Little York Tavern BIKE NIGHT
Wednesday Sept. 22 8-11pm
Second Wind
Friday Old Coney Moonlight Pavilion
Saturday , Jungle Jim's (Fairfield) Beer fest Saturday evening
If you would like to have your musical act featured on our weekly podcast or in Warren County Post the contact us @Hall Around Town Radio on Facebook! For additional Band information follow our daily Facebook "Live at Five" program @Hall Around Town Radio
More News from Springboro