Carlisle Man Helps Save A Hooked Great Horned Owl
Image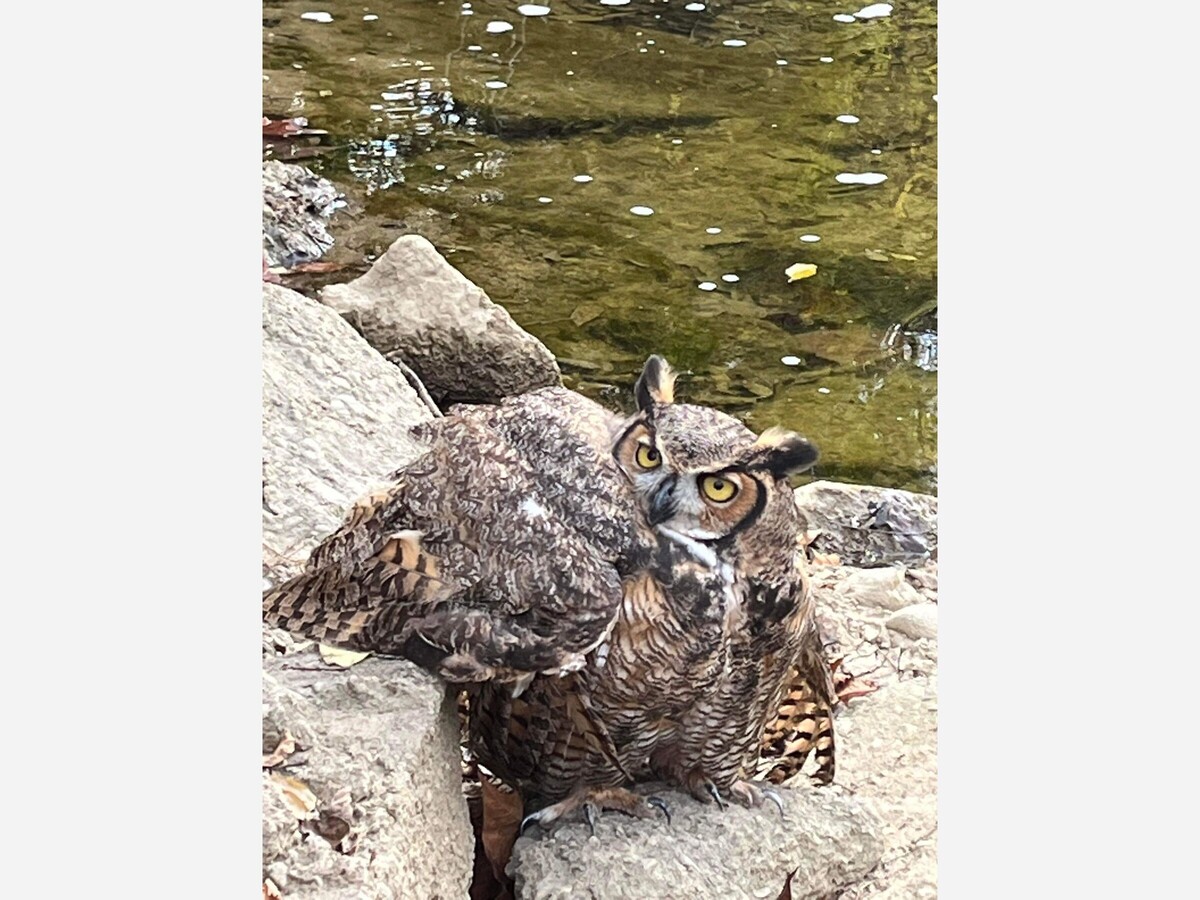 CARLISLE, OH -- Carlisle resident Luke Sizemore happened to be out fishing Sunday morning at Warren County's Carmody Park in Franklin Township when he noticed an owl tangled up in what looked like fishing wire. Once he got to the bird, he was able to cut the wire... but the owl was still not able to move.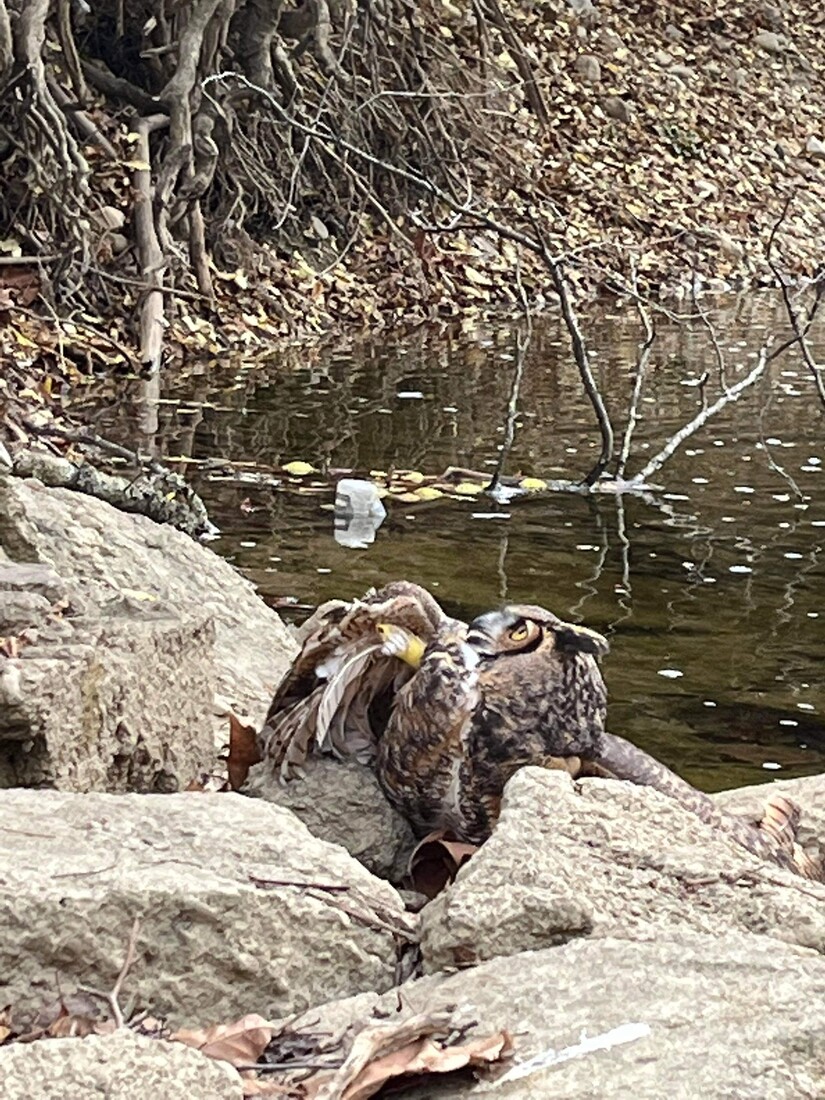 Realizing that there was something else holding the raptor down, he and his fiance, Rucshell Combs got on Facebook and started asking for help and/or assistance on what to do about the injured bird.
Luckily, people were on FB and saw Luke and Rucshell's SOS... and not only did people see it, they began to respond. One of the responders sent Luke contact information for Erica Miller Wildlife Rehab.
Erica Miller took the call.
"My sister and I were about two minutes away from where he was," Erica said, adding that her sister, Marian, knew right where he was in the park for she had been walking her dog back on the trails and had passed where Luke was fishing.
Erica grabbed her tools and she and her sister headed  towards Carmody Park ... back to where Luke had been fishing in Twin Creek.
When they got to Luke, they saw the troubled owl. "It was unable to fly for he had a huge double ended hook in his wing," Erica said.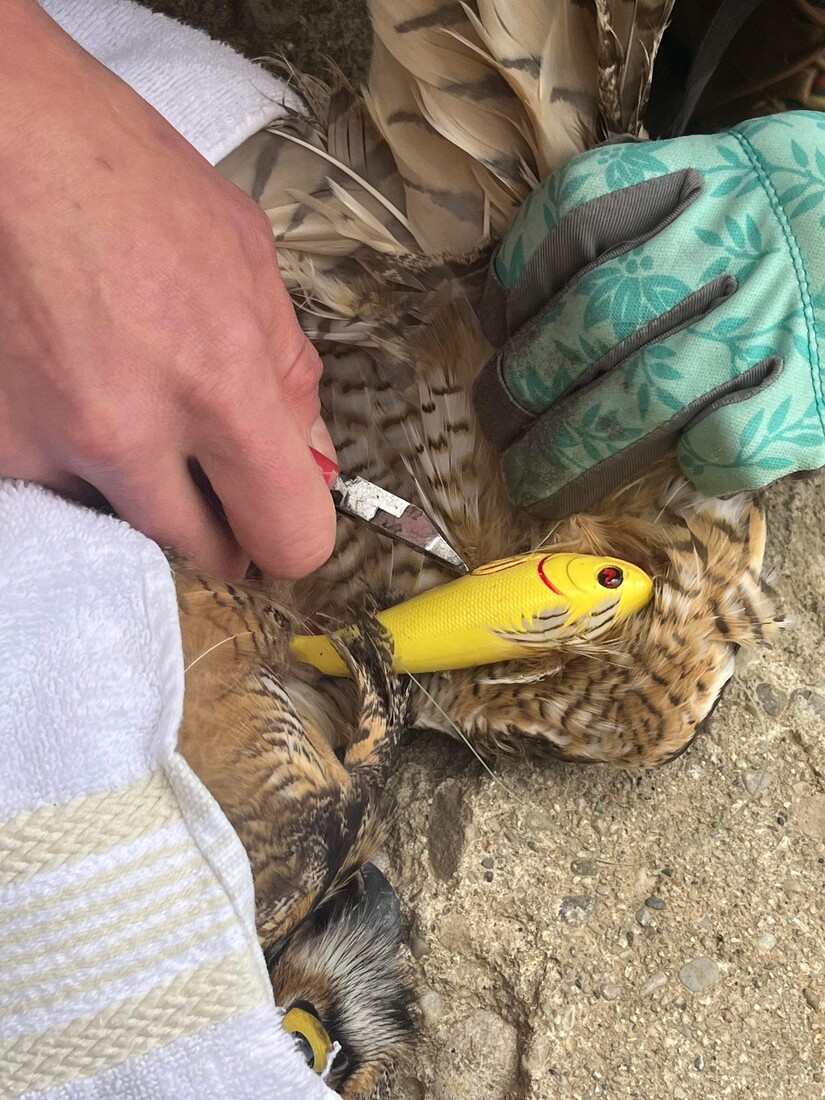 Luke helped hold the huge injured bird down, while Erica performed the procedure necessary to get the owl unhooked.
Once the hook was out, Erica gently let the bird down to see what it would do. Without any hesitation the Great Horned Owl lifted its freed wings and flew away.
To see the successful operation in action watch the video below.
Erica, who spent nearly a decade as a critical and intensive care nurse, has been doing her rehab center for animals since 2016. She explained how she decided to switch from working with people to helping animals.
"My husband was battling cancer and this little racoon shows up at our home," she said.
The raccoon "hung out" with her and their two daughters during this time. "He would swim in the pond with us and stay with us... Things I now know, we arent suppose to do with racoons," she laughed.  "But he (the racoon) was there for my girls when they were going through all that."
"My husband survived," she excitedly said, adding that it was after that she decided to use her nursing skills to learn how to help injured animals.
"I wanted to play forward," she said adding she felt a calling to help injured animals because how the raccoon had helped her and her daughters.
Erica went through all the necessary training and has all the licensing needed to be able to rescue and rehab animals at her rehab center that she has been operating since 2016.
Her training and licensing allows her to rehab animals even on the country's endangered list, which allowed her to be able to rescue the trapped owl at Carmody Park. For even though the Great Horned Owl is not considered an endangered species, it is a federally protected bird, she explained.
"This keeps me busy," Erica said explaining that just this year alone she has helped rehabilitate 2006 animals.
When an animal needs time and a place to heal Erica explained she takes it to her animal rehab center, where she currently has a bob cat and 124 racoons... just to name a few of the critters staying with her.
The mission or goal of the rehab center is to get the animals well enough to release them back into their natural habitat.
She added while she does love her career change, it can get expensive with feeding all the animals, which comes out of her own pocket when donations run out ... so donations are always welcomed.
To learn more on the Erica Miller Wild life rehab visit her website at Ericamiller.org
View the gallery of pictures contributed and taken by Luke Sizemore while video is courtesy of Marian Miller.