Independence Day Celebrations and Fireworks in Warren County
Image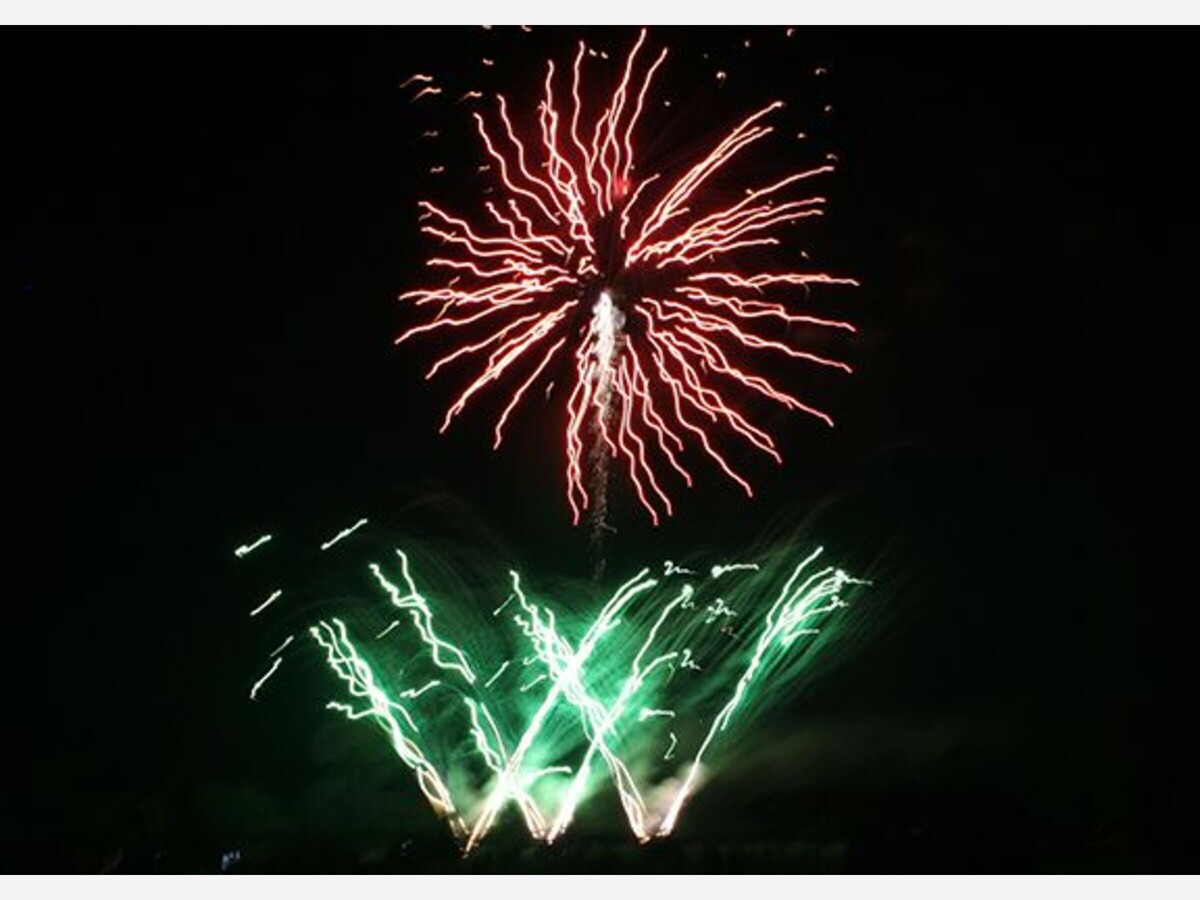 WARREN COUNTY, OH -- Many towns within Warren County boundaries will be celebrating Independence Day with fireworks this weekend.
July 2, 2022
WAYNESVILLE
The Village of Waynesville will be celebrating Independence Day on Saturday July 2 at Waynesville Bicentennial Park, located at 837 Dayton Rd. The days schedule goes as follows:
7:00 p.m. Food & Drinks
7:25 p.m. Sky Divers & National Anthem
7:30 p.m. Free Concert at amphitheater in Bicentennial Park next to Wayne Local Schools
10:00 p.m. Fireworks Courtesy of American Legion #615
Click here for Facebook page
---
July 3, 2022
LEBANON
Lebanon Independence Day Celebration starts at 4 pm on Sunday July 3 with a parade through the streets of Downtown Lebanon.
After the parade the celebration moves down the street to Colonial Park West were family friendly activities are planned such as:
Live music starting at 7 p.m.
Free  inflatables and activities and 
A petting zoo. Music begins at 7
p.m. 
Food vendors are available.
Fireworks launch at 10 p.m.
Parking is available at the
Warren County Fairgrounds. Handicap accessible parking is available at
Colonial Park West.
More information visit: Website | Facebook
---
MASON
The City of Mason will be holding its annual  Red, Rhythm and Boom event on Sunday, July 3 starting at 4 p.m. to celebrate the anniversary of our nation's independence. The event will take place at the Mason Municipal Center, 6000 Mason Montgomery Road.
This year's entertainment will feature multi-platinum and Grammy-nominated band, Smash Mouth. Smash Mouth is an American Rock/Pop band formed in 1994 in California. Their major-label debut "Fush Yu Mang" went more than double platinum and set the table for what most consider their masterpiece, 1999's brilliant follow-up album Astrolounge.
Opening for Smash Mouth at 6:00 p.m.will be the alt-pop band from Cincinnati, The ReUnion of Souls.  The ReUnion of Souls is made up of the original founding members of the Blessed Union Of Souls, reuniting for the first time in over ten years. Smash Mouth will take the stage shortly after at 8:30 p.m.
Access to carnival and kid zone activities such as interactive inflatables, bounce houses, carnival games will begin at 4 p.m. Guests can also enjoy a wide variety of food truck options as well as adult beverages available throughout the evening. A fireworks display presented by Rozzi Famous Fireworks will begin at 10:00 p.m. 
All lawn seating is first come, first serve beginning at 3:00 p.m. on Sunday, July 3. Backstage passes are not available.
SuperGames, Inc. will once again be providing the kids entertainment and attractions for 2022 Red, Rhythm and Boom's Kid Zone. Each child will require a wristband to enjoy the Kid Zone activities and attractions. Wristbands will be sold for $10 at all information booths until approximately 9:30 p.m. Kids Zone activities will conclude once the fireworks begin. All proceeds from Kid-Zone wristbands will benefit the Mason Parks and Recreation Foundation.
For more informaiton visit Website
---
MIDDLETOWN 
Independence Day Celebrations begin at 4 p.m. at Smith Park on Sunday, July 3 in Middletown.
6 to 7:30 p.m. I Dig Pig Band
7:30 to 8 p.m. National Anthem & Flag Jump by Fastrax Skydivers
8 to 9:30 p.m. Dayton Funk Allstars Band
9:45p.m. Yokum Fireworks & Pyro Jump by Fastrax Skydivers
For more information click here for website.
---
July 4, 2022
FRANKLIN
"The Wettest 4th of July Parade in Ohio" will begin at 10 a.m. on Monday, July 4. The parade begins from the Lion's Bridge, to South Main Street and along Sixth Street ending at Franklin Community Park. 
Come back to Community Park at 6 p.m. for Franklin's All American Blast where Naked Karate Girls will perform live on stage. Both food trucks and concessions will be available as well as  inflatables for kids to play on. Event goers will also be able to enjoy face painting and balloon animals.
Fireworks will begin at 10 p.m. at Community Park located at 306 E. Sixth Street. For more information visit Website | Facebook.
---
SPRINGBORO
Because of its elevation, great viewing locations are available all over town, Heatherwoode located at 88 Heatherwoode Blvd., is the location for this year's 4th of July fireworks display on Monday, July 4.
Enjoy a night under the stars as the Heatherwoode staff is planning a fun evening for those in or around the clubhouse. Two options are available: Visit the clubhouse area and bring your own seating. A menu including pulled pork sandwiches, hot dogs and funnel cakes, along with a cash bar and Kona Ice will be open to the public beginning at 6 p.m. outside the clubhouse. Live music goes 6:30 until 9:30 p.m.
For those who prefer reserved seating, the clubhouse is offering inside tables for eight and outdoor deck tables for six for $125, which includes a light buffet and two parking passes. In addition to a private cash bar and restrooms, live music starts at 6:30 p.m. Seating is limited and payment is due with your reservation.
Call Staci, 937-748-3222 ext. 106 for more information or visit Facebook.
---
LOVELAND
The City of Loveland's Independence Day Celebration will be held on Monday, July 4, 2022. 
4 to 6:30 p.m. — Kid Zone at Nisbet Park
4 to 9:30 p.m. — Lawn Games at City Hall Lawn & Fountain Greene
4 to 10 p.m. — Food Trucks throughout the downtown area. 
7 p.m. — Parade
The parade will leave from Loveland Elementary School (600 Loveland Madeira Road), turn on West Loveland Avenue, and travel through the downtown district, ending at the intersection of State Route 48 and East Loveland Avenue. 
8 to 10 p.m. — Concert at Nisbet Park
Color Blind will perform at the Nisbet Park Amphitheater. Don't miss this high-energy party band that specializes in an eclectic blend of music covering the 70s to current radio hits!
10 p.m. — Fireworks
Unlike prior years where there has been a city-wide show to accommodate pandemic viewing, 2022 will mark the return to to one firework show. Downtown Loveland will be the best place to view the show, as the fireworks will be staged from Kiwanis Park.
*Please note the Matt Haverkamp Foundation Dog Park (located at Kiwanis Park) will close at noon on July 4 to allow for event prep.*

---
MONROE
The Monroe Lions Club is once again organizing the Light Up the Sky Event at Monroe Community Park at 500 South Main Street for Monday, July 4 from 4:30 PM – 11 PM. Light Up The Sky Monroe '22 will have a fireworks display by Rozzi's Famous Fireworks beginning around 9:30 p.m. The fireworks display is set off at the top of Mound Cemetery and can been seen by many throughout the City. For questions on the fireworks display you can contact Angela S. Wasson at 513-539-7374 extension 1012 or wassona@monroeohio.org.

Click here for more information. 
---
MAINEVILLE & HAMILTON TOWNSHIP
While fireworks are not part of this year's celebration, the Village of Maineville and Hamilton Township are excited to join forces for the Freedom Parade & Festival. The Parade will begin promptly at 10am and will be followed by a Spectacular Skydiver Show (11am).  LIVE MUSIC, Inflatables, a cool down zone with water slides, games, and food trucks will be located at Testerman Park.
For more information visit https://www.hamilton-township.org/