Who's Playing Out Brought To You By Hall Around Town Radio: July 8
Image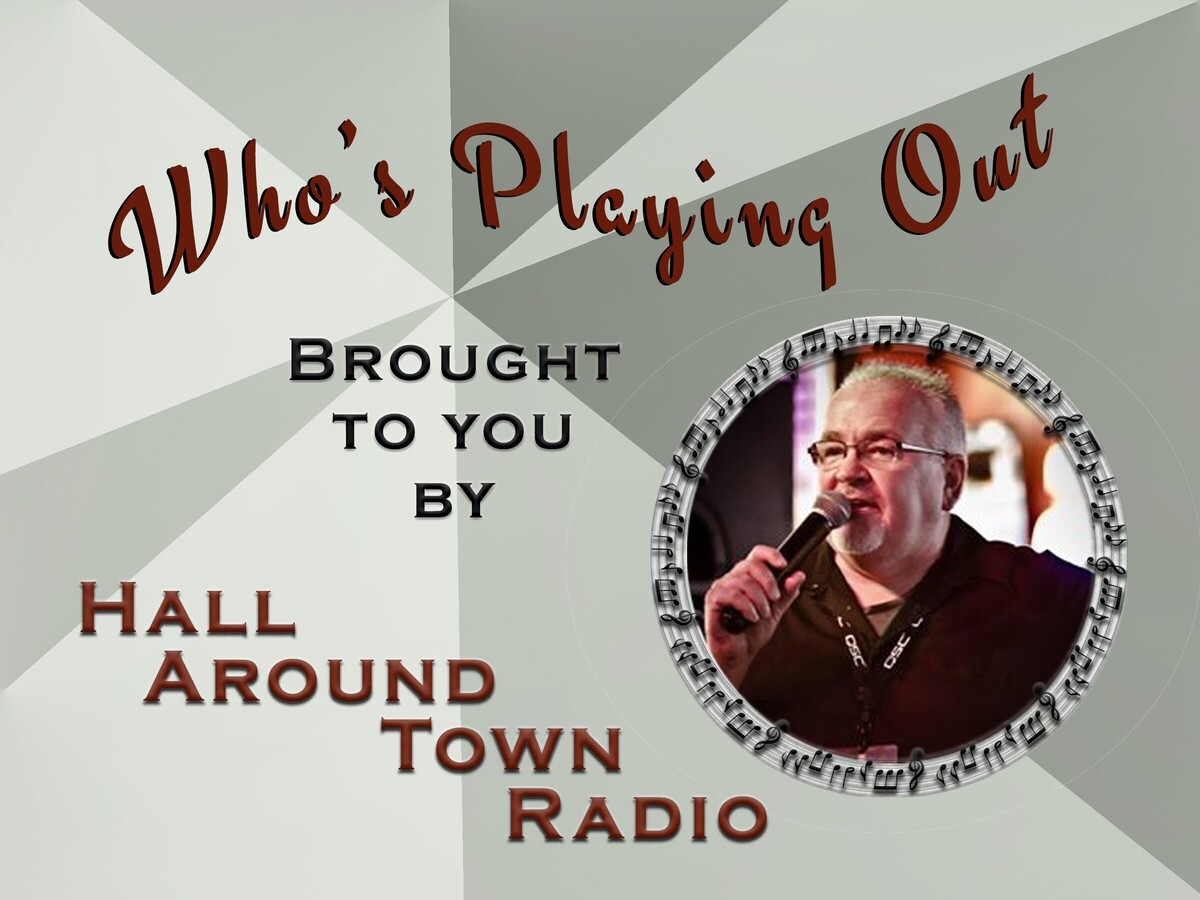 Brought to you by Scott Hall from "Hall Around Town Radio"
A little live music can turn an ordinary day into a memorable experience. The area's top musicians take center stage at some of the tri-states best restaurants and nightspots, bringing live music to our region nearly every night of the week. Make your first stop here weekly to find out "Who's Playing Out" at one of our live local music venues.
Bands and solos brought to you by our friends at Froggy's in Monroe, Ohio and Hall Around Town Radio (follow the on Facebook)
Froggy's in Monroe – Sponsor of our Thursday LIVE show on Facebook
Friday 9pm - Hot Cargo
Saturday 9pm - Cassette Junkies
Tuesday - 6pm Joe Jordan
Wednesdy 6pm - Jamie Combs
Wednesday - 8pm Karaoke Contest
Online seating reservations / tickets at www.gotofroggys.com
---
Mr. Boro's Tavern Springboro 
Friday – Two for the Road – 8 to 11pm
Saturday – Shannon Schmidt and Carey Hunley - 8 to 11
Sunday –– Kevin McCoy and Lee Dixon - 2 to 5 pm
Tuesday – Q&A Trivia with Scott at 7pm
Wednesday – Queen of Hearts Drawing. 8pm
---
Heathers Café
Tuesday – Open Mic Night with Junior 7pm + the Queen of Hearts Drawing at 8
Wednesday – Name That Tune with Scott. 7pm Call for reservations
Thursday – Ollies Acoustic Jam and Sing Along 6:30pm
Friday – Kevin McCoy Band 7pm
Saturday – StrangeLove 7pm
---
The Belle & The Bear (Montgomery)
Thursday "The Jam" featuring a host of local music celebrities at 7:30 pm
Friday – IRL 9pm
Saturday - Crown Watts The Sugar Kings 8:30 PM
Sunday – "Strumday" with Mike Lieser 2pm
Monday Game Night - 6pm
Tuesday – Jamie Combs Acoustic Jam 7pm
---
Pohlman Lanes & Scott's Bar & Grill (Hamilton Ohio)
Family Entertainment Complex 954 Pyramid Hill Blvd., Hamilton Ohio
Friday - Red Hot Riot 7pm
Saturday - Stagger Lee 7pm
Monday 7pm After Hours Big Band
Wednesday – The Standard Country Time Band 1pm to 3pm
---
Soft Rock Café
Karaoke – Thursday 7pm - Friday 8pm - Saturday 8:30 pm.
---
Lebanon Grand Opry House
Saturday – Country Classic and Sax featuring Jessie Lyn and the Opry House Band with Gary Finton Doors open at 6pm
Reservations by calling 513-850-1770
---
Sorg Opera House
No Music Shows this weekend
Tickets available for future shows at Cincyticket.com
---
Crooked Handle Brewing Co.
Friday – Ben and Pete Duo at 7pm
Little River Bar and Grill (Oregonia)
Thursday –– DJ Songz Karaoke at 7pm
Friday thru Sunday Little River Bluegrass Festival - @littleriverbarandgrill.com for details and line up
Tuesday – Bike Night with music
---
The Blue Note Harrison
No shows this weekend
Tickets to future shows available at …. CincyTicket.com
---
Hidden Gem Music Club
Friday – Visitor 8pm
Saturday – Josh Webb and Home Sown – 8pm
Sunday – Monkey Bar 7pm
Tuesday Bourbon and Vinyl Night 6pm
Wednesday – Open Mic Night 8PM
---
Lori's Roadhouse
Friday – Lonestar 8pm tickets at ETIX
Saturday – Jake Taylor Band 6pm
Saturday – Whiskey, Cash and Roses at 9:30pm
---
Miami Valley Gaming
Friday- Richard Lynch – 9pm Center Bar
Saturday – Ladi T of Cinci – 9:00pm Center Bar
Saturday from noon till 10:30pm "Trucks on the Track" featuring Brass Tracks 1pm, Turned Up Band 3pm, Buzzbin 5pm, Jason Owens 7pm and The Eagles Project at 9pm
---
Setters Volleyball Club
No events reported
---
Brick Tap Tavern
Scott Hall – Hall Around Town Radio
Tuesday Trivia at Mr. Boros Tavern 7pm
Wednesday – "Name That Tune" at Heathers Café on the patio 7pm "Call for Reservations"
Live Monday to Thursday On Hall Around Town Radio
---
Scotty Long / DJ Songz
Tuesday - The Barrel Springboro, OH 7pm
Wednesday- Froggys Monroe, OH 7pm
---
Bands, Solos, Duos and Events
Gerhard Albinus Band
Saturday at Ricks Tavern 8pm
---
FM Band
Saturday at Hooters Newport 7:30pm
---
Tyler Van B
Friday at the Knollwood Tavern 9pm
---
Standard Country Time Band
Saturday at Rex Patrick and the Country Legends doors at 5:30 show at 7pm
---
The Whammies
Saturday at Kreimers Beir Haus 7pm
---
Middle Age Man Band
Friday at Kreimers Beir Haus 7pm
---
Benny Bodine
Friday at Good Time Charlie's Miamisburg, OH 9-1pm
Saturday at Audrey's Frogtown Tavern Grandview, OH 8-11pm
Tuesday at Submarine House (with Heath Bowling) Centerville, OH 7-10
---
Until Rust
Saturday at Rip Rap Roadhouse Dayton, Oh 8-11pm
---
Shane Demoss Music
Monday at The Barrel Springboro, Oh 6-8pm
---
Lori's Secret
Friday at Enson Harbor
Saturday at Williamstown Marina
---
Billy Brown
Thursday July 7 at 8pm - Johnson County Fair in Warrensburg Missouri
Friday July 8 at 8pm - Johnson County Fair in Warrensburg Missouri
Saturday July 9 at 8pm - Johnson County Fair in Warrensburg Missouri
---
Geoff Edwards
Thursday - 7-10pm Wings Dayton, OH
---
Route 88 Unplugged
Saturday - 8-11pm Miamisburg Moose Miamisburg, OH
---
Mad Hatter
Saturday opening for Great White at JD Legends. Mad Hatter from 8-9pm
---
Velvet Crush Unplugged
Wednesday at Milanos Miamisburg, oh 7-10
Thursday at Bargos Centerville, oh 7-10
---
Velvet Crush full band
Friday - Dublin Pub Dayton, oh 8-11
---
Six String Hustle
Fri 7-10 Trio w/ Lee Dixon Pendleton Hills Country Club Pendleton, KY
Sat Private Party
Sun 2-5 Zazou's Covington, KY
Wed 6-10 Jimmy B's Cincinnati, Ohio
---
Ithika
Saturday at Wing's Vandalia 9pm-1am
---
Alex Poteet
Friday at Riverside Athletic Club Hamilton, OH 7PM
---
Linus Tate Unplugged
Saturday at DeSha's American Tavern Cincinnati, OH 6PM
---
Joe Cowels
Friday Joe C Solo at miles of golf family entertainment complex 5p to 9p
Saturday Kro-bar beckett ridge 5p to 9p
Sunday at Streetside Brewery 3p to 6p
Monday at Joey's Roadhouse 6p to 9p
---
StrangeLove
Saturday at Heather's Cafe in Springboro from 7-11pm!
---
RED HOT RIOT-
Friday -Pohlman Lanes-7pm;
Saturday -VFW in Southgate, Ky- 8pm
---
Marsha Brady
Saturday - Indian Lake Eagles 7:30pm - 11:30pm
---
The Gamut—
Friday at Big Ash Brewing 7:30
Saturday at Pirates Cove 7:30
---
Kevin Cooper
Fri 9pm-1am: The Hanky Panks at MVP Sports Bar & Grille
Sat 2-4pm: Kevin Cooper solo at March First Brewing (Seltzer Smash event)
Sat 630-830pm: Eyes Up Here -The Belle & The Bear (4th anniversary opening for Crown Watts)
---
Latter
Saturday at The Boardwalk Grill Lakeside Celina Ohio on the deck. 8-12
---
ReDD:
Friday- Fairfield Pub, 9:00pm-1:00am
Wednesday - The Hangar, 8:00pm-12:00am
---
Crown Watts w/special guest Jim Questa
Saturday at 9:00 - The Belle & The Bear 4th Bday Celebration - Eyes Up Here opens the night at 6:30
---
Johnny Fink
Friday - Johnny Fink and the Intrusion- Music in Mason 6pm
Sunday - Thomas More festival 630 pm
---
OVERDRIVE
Saturday at the Ronald McDonald House Charities Poker Run at the 1572 Roadhouse on the Renaissance Festival complex on SR 73. Saturday, 7/9 at 4:00pm. Open to the public.
---
Tori Faith
Friday with Whiskey Town at Flintlock's ~ 8pm-12am
Saturday with Whiskey Town at Dixie Station ~ 9:30pm-1:30am
---
DV8
Saturday the16th Imaculate Heart of Mary Festival / Burlington Ky 7:30 til 12
---
The Times,
Saturday from 8 -11ish at W O Wrights
---
Liars for Hire
Saturday at Urbana Monument Square - from 2p - 6p
---
Blind Faith Duo
Friday at Kroger's Wine Bar in Anderson 4-7pm
---
Fast Forward Band
Saturday at Riverside Marina in Dayton Ky from 8-12
---
Wesley Green Music
Friday with the Bourbon Road Band at Municipal Brew Works Hamilton 7-10pm
Saturday with the Bourbon Road Band at Good Time Charlie's 9-1
---
The Weekend Effect
Friday at Mother Stewart's Brewery in Springfield from 8-11pm
Saturday at Lincoln and Main in Urbana from 6-9pm <- Big lawn bring chairs and blankets
---
Matthew Allen
Fri 7-9 pm at Fratelli's Italian Restaurant (Springfield)
Sat 10:30-1:30 pm Legacy Park 2nd Saturday Monument Square (Urbana)
Sun 2-5 pm Dalton Union Winery (Marysville)
---
Heath Bowling
Friday 7/8 CrackerJaks 8-11p Germantown, OH
Saturday 7/9 Private Party 7-10p Milan, IN
Tuesday 7/12 Submarine House W/ Benny Bodine 7-10p Centerville, OH
Wednesday 7/13 Open Mic(AJ's) 8-11p Franklin, OH
---
Joe Lipinski
Saturday jersey joe brings the country cross-over show to Hidden Valley Orchard, Lebanon from 6:30 to 9:30 PM. Featuring Cincinnati's Tom Kaper on lead guitar, Lee Sullivan on sax and keys, Kim Kelly on drums, and Roger Bowman on bass.
---
Ben & Pete
Friday at Crooked Handle in Springboro from 6 to 9
---
White Knuckle Weekend
Tuesday at Springboro's North Park starting at 7pm
---
Michelle Robinson
Friday Prouty Summer Concert Series in Troy, Ohio 7:30-9:00
Saturday St. Thomas More JulyFest 7:15-9:15
If you would like to have your musical act featured on our weekly podcast or in Warren County Post the contact us @Hall Around Town Radio on Facebook! For additional Band information follow our daily Facebook "Live at Five" program @Hall Around Town Radio