Who's Playing Out Brought To You By Hall Around Town Radio — July 21
Image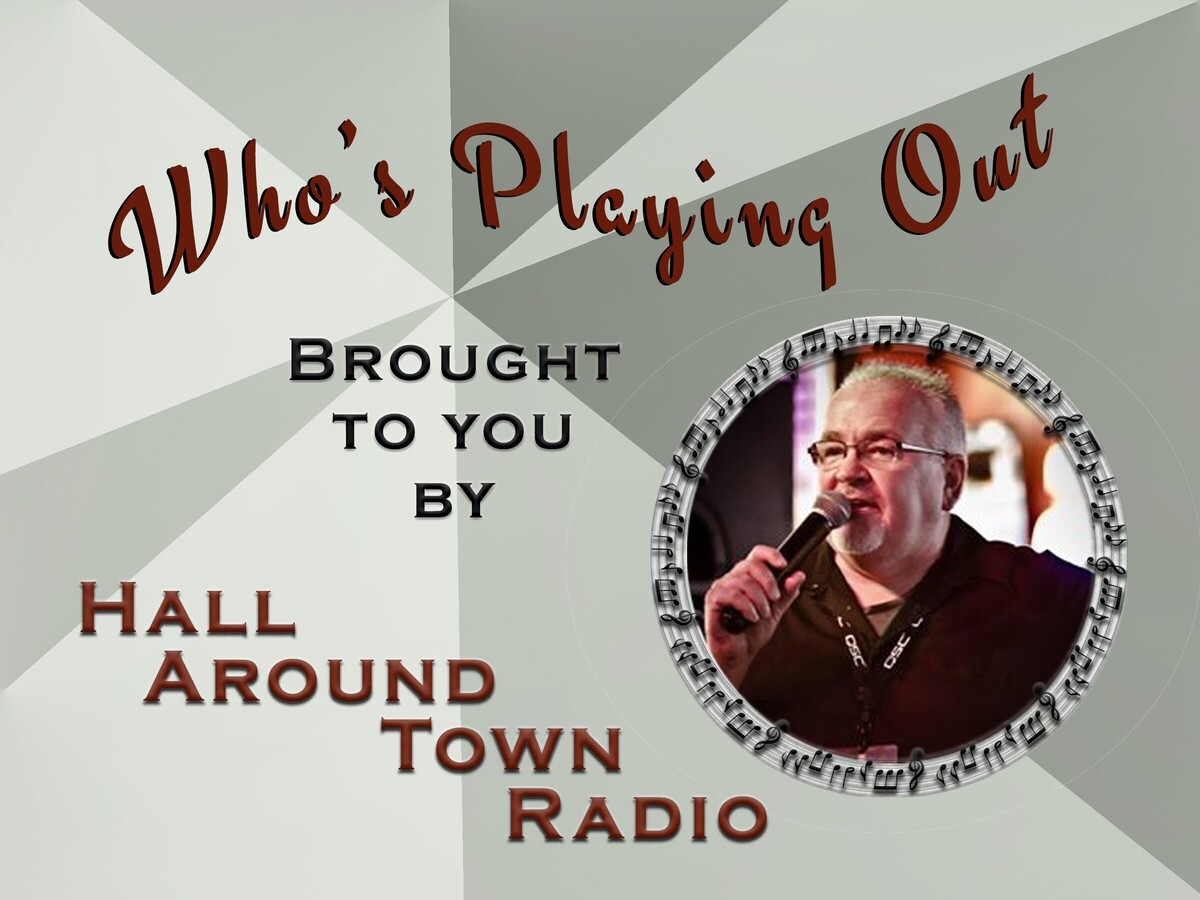 Brought to you by Scott Hall from "Hall Around Town Radio"
A little live music can turn an ordinary day into a memorable experience. The area's top musicians take center stage at some of the tri-states best restaurants and nightspots, bringing live music to our region nearly every night of the week. Make your first stop here weekly to find out "Who's Playing Out" at one of our live local music venues.
Bands and solos brought to you by our friends at Froggy's in Monroe, Ohio and Hall Around Town Radio (follow the on Facebook)
Froggy's in Monroe – Sponsor of our Thursday LIVE show on Facebook
Friday at 9pm - After the Party
Saturday at 9pm - Montage
Tuesday at 6pm - Brett & Danny
Wednesday at 6pm - Jim Williams
Wednesday - 8pm Karaoke Contest with DJ Songz
Online seating reservations / tickets at www.gotofroggys.com
---
Mr. Boro's Tavern Springboro 
Thursday – Six String Hustle 7 to 10 pm
Friday – Southern Summer – 8 to 11pm
Saturday – Amy Ndewhart - 8 to 11
Sunday –– TBD - 2 to 5 pm
Tuesday – Q&A Trivia with Scott at 7pm
Wednesday – Queen of Hearts Drawing. 8pm over 7K
---
Heathers Café
Tuesday – Open Mic Night with Junior 7pm + the Queen of Hearts Drawing at 8
Wednesday – Name That Tune with Scott. 7pm Call for reservations
Thursday – The Wright Brothers III at 6:30pm
Friday – Liars for Hire (Postponed) 7pm
Saturday – Vinyl Countdown at 7pm
---
The Belle & The Bear (Montgomery)
Thursday "The Jam" featuring a host of local music celebrities at 7:30 pm
Friday – Under the Sun at 9pm
Saturday - My Girl at 9pm
Sunday – "Strumday" with Six String Hustle 2pm
Monday Game Night - 6pm
Tuesday – Jamie Combs Acoustic Jam 7pm
---
Pohlman Lanes & Scott's Bar & Grill (Hamilton Ohio)
Family Entertainment Complex 954 Pyramid Hill Blvd., Hamilton Ohio
Friday at 7pm Dj Krutch
Saturday at 7pm The Michelle Robinson Band
Monday 7pm After Hours Big Band
Wednesday – The Standard Country Time Band 1pm to 3pm
---
Soft Rock Café
Karaoke – Thursday 7pm - Friday 8pm - Saturday 8:30 pm.
---
Lebanon Grand Opry House
Saturday – "Elvis the Firecracker" featuring Tyler Christopher - Doors at 5:30 pm
Reservations by calling 513-850-1770
---
Sorg Opera House
No shows this weekend – Future Show Tickets available at Cincyticket.com
---
Crooked Handle Brewing Co.
Thursday – Kevin Gruen at 7pm
Friday – Michael Moeller at 6pm
Little River Bar and Grill (Oregonia)
Thursday –– DJ Songz Karaoke at 7pm
Friday – Jordan Wood Band 7pm
Saturday – Streetwise 7pm
Tuesday – Bike Night with music
---
The Blue Note Harrison
Friday – Nu Metal Madness Tour with Hed PE – Crazy Town Adema – Flaw Doors open at 5:30pm
Tickets available at …. CincyTicket.com
---
Hidden Gem Music Club
Thursday – Closed
Friday – Jim Brahman 8pm
Saturday – Todd the Fox – 8pm
Sunday – Pamela Mallory – Yeagwr Jazz Quartet 7pm
Wednesday – Open Mic Night 8PM
---
Lori's Roadhouse
Thursday – Service Industry Night
Friday – Adam Warner at 9:30pm
Saturday – Jesse Cain at 9:30pm
Tuesday – Line Dancing at 7pm
---
Miami Valley Gaming
Friday- MVG – 9pm Center Bar
Saturday – Chuck Brisbin and the Tuna Project – 9:00pm Center Bar
---
Brick Tap Tavern
Thursday – Open Mic Night with Scott Houchens 7:00pm
Friday – Paul Cullen at 8:30pm
Saturday – Repeat Offenders at 8:30pm
Rex Patrick and the Country Legends Show in Germantown
Saturday – Eddie Kruger and Friends – Doors at 5:30 Music at 7pm
Reservations by calling 513- 594-1282
---
Scott Hall – Hall Around Town Radio
Tuesday Trivia at Mr. Boros Tavern 7pm
Wednesday – "Name That Tune" at Heathers Café on the patio 7pm "Call for Reservations"
Live Monday to Thursday On Hall Around Town Radio
---
Scotty Long / DJ Songz
Thursday- Little River Bar & Grill Oregonia, OH 7-11pm Karaoke Party on the Patio!
Saturday - Putters Sports Bar Liberty Township, OH 7-11pm Karaoke Bash!
Sunday - Orioles of Franklin, OH 2pm-6pm Patio Party & Corn Hole Tournament. Open to the public!
Tuesday - The Barrel Springboro, OH 7pm-11pm Karaoke Party!
Wednesday- Froggys Monroe, OH 7pm-12am Sing to Paradise Karaoke Contest Live Finale Show w/ special musical guest. Open Karaoke Party after the contest is finished.
---
Bands, Solos, Duos and Events
Austin Landing
Sunday at 3pm to 10pm The Yuengling Summer Music Festival
Featuring Cooper Allen with Thomas Mac and Ashley Martin
Free Admission and Food Trucks
Cincinnati Music Festival is happening downtown and at PBS.
Friday - Jonathan Butler, Tony Toni Tone, Anthony Hamilton, Charlie Wilson
Saturday - Kirk Whalum, After 7, Tank, The OJays, Janet Jackson
---
Cincy Soul on Fountain Square all weekend including performances by
Keri Hilson, Dave Hollister, Raekwon
---
Music in Mason –
Friday with 3 Day Rule & The Soul Pocket Band - Downtown Mason Plaza 6pm
---
Shawn Bell
Sunday from 6 to 10 Trillions in West Chester OH - Acoustic
---
Jay Clark Band
Saturday 8-11 at the Dublin Pub
---
Benny Bodine
Thursday – Hanks Local – Dayton - 7pm
Saturday 7/23 - Heroes Pizza House Springboro, OH - 7-10
Tuesday 7/26 - Cracker Jak's - Germantown, OH 7-10
---
Velvet Crush
Thursday 7/21 Miami Valley Sand Volleyball - "Bands and sand" summer concert series
West Carrollton - from 7-9
Friday 7/22 The Phone Booth Lounge Kettering, oh 8-12
Saturday 7/23 City summer block party Westerville, oh 6-10
---
Stranger with LoveBomb
Friday, July 22nd Austin Landing 6:30-10
---
Six String Hustle
Thur 7/21 from 7-10 Mr. Boros Springboro, Ohio
Fri 7/22 from 9:30-1:30 Jimmy Bs Cincinnati, Ohio
Sat 7/23 From 7-7:45 Riverfront Live (90's Party w/ Morgan & Allen and the Achy Breaky Hearts & DJ Tator Sponsored by 94.1FM Cat Country) Cincinnati, Ohio
Sun 7/24 from 2-5 The Belle & The Bear Cincinnati, Ohio
Wed 7/27 from 7-9 Stone House Tavern Waynesville, Ohio
---
Geoff Edwards Music
Thursday from 7-10 Wings Sports Bar Dayton, OH
Friday from 7-10 Rip Rap Roadhouse Dayton, OH
---
Route 88
Saturday from 8-12 at Union VFW Union, OH
---
Billy Brown
Thursday July 21 at 8pm - Kentucky Local in Hebron KY
Friday July 22 at 7pm - the Varsity Sports Bar in Cincinnati OH
Saturday and Sunday July 23-24 at 1pm -
---
Kick Engine with Erin Coburn and Bohemian Funk
Firday July 22nd at Camelstock festival in Loveland
---
Tori Faith
Saturday 7/23 with Whiskey Town at Cuzz's Bar ~ 9pm-1am
---
Crown Watts w/Jim Questa
Saturday - 8:00pm at Ricks Tavern
---
Joe Cowels
Monday Joe C solo show at the Fairfield Pub, 7p-10p
Wednesday at Kro-bar beckett ridge 5p-9p
---
Gamut
Friday 7/22 at the Monkey Bar 7pm-11pm
---
Michelle Robinson Band:
Thursday at Lawrenceburg Music on the River 7-9
Friday the duo at The Syndicate in Bellefontaine 7-10
Saturday at Pohlman Lanes 7-11
Wednesday at Voice of America Summer Concert Series 6-9
---
Kevin Cooper
Thursday 730-1130pm: Host of B&B Jam
Saturday …. Happy Wedding…. Kevin
---
Dat Band
Friday 7/22 Christ Cathedral Jazz-n-Brews. Downtown Cincinnati on 4th St. 6-8pm
Saturday 7/23 Private Event/Wedding/Open Jam Danny Laverde on drums for 2 weeks
---
Ithika
Saturday 7/23 Little York Tavern from 9pm-1am
---
RED HOT RIOT
Saturday at Gano Tavern - 7:00-11:00pm
---
Marsha Brady
Thursday July 21st - Ault Park Summer Music Festival - Cincinnati Ohio - 6pm - 10pm.
Saturday July 23rd - Lakeside RV Park - Indian Lake Ohio - 7pm - 11pm
---
Jordan Wood
Thurs 7/21 Twenty Mile Tavern - Open Jam 9pm Landen
Friday 7/22 Little River Bar - Full Band 7PM Oregonia
Saturday 7/23 Tiffany's Saloon - Full Band 9pm Aurora, IN
Sunday 7/24 Millville Tavern - Open Jam 3pm Millville
Monday 7/25 Misery & Jens Open Jam 8pm - ? Hamilton, OH
Thurs 7/28 Twenty Mile Tavern - Open Jam 9pm Landen
---
Linus Tate
Sunday 7/24 Northern Row Brewery OTR Cincinnati, OH 2PM
---
David Thornton
Thurs, 7/21 Jayne's On Main (7:30) Miamisburg
Fri, 7/22 Valley Vineyards (6:00) Morrow
Sat, 7/23 Firehouse Grill (6:00) Blue Ash
---
Britches Down
Friday at Setters Volleyball Club 8pm
---
Liars for Hire
Friday at Heather's 7p-11p. POSTPONED!
Saturday at Kingspoint Pub 9p. POSTPONED!
---
Blind Faith Duo
Friday Acoustic 5-9pm at Jungle Jim's- Fairfield Cigar Bar
---
Ben & Pete
Thursday at Submarine House on Dorothy Lane in Kettering from 7 to 9
---
The HomeGrown Band
Friday at The Madison Inn from 9-1
---
Don't Tell Steve
Saturday 7-11 Kreimer's river bar
---
Grey Days
Friday at Foleys Irish pub Reading 7 to 11
Saturday at Blacks Place Dayton Ohio 12 pm to 3
Saturday Browns Run country club 5 to 8pm
---
Matthew Allen
Friday at White Dog Distilling Co & Saloon (Middletown)8-11pm
---
White Knuckle Weekend
Saturday at Duckfoot - Grand Lake St Mary's from 8-12
---
Partytown
Friday ath the Knotty Pine 8pm
Saturday at Club Trio 8pm
---
Dan Alley
Friday at Mutts Brewery Lounge in Trenton 8-12
---
The Distance
Friday at the Miamisburg Moose 8:00-11:30
---
The Driving Force Band
Friday at The Dublin Pub 8:00-11:00
---
The Locals
Friday at Little York Tavern with The Pullouts and Seth Canann 8:00-12:00
---
Nick Mitchell
Friday Request Night at Chappys Centerville 8:00-11:00
---
Inturns
Friday at Misery & Jen 8pm
---
Miss Jaque
Friday at Trillions 8pm
If you would like to have your musical act featured on our weekly podcast or in Warren County Post the contact us @Hall Around Town Radio on Facebook! For additional Band information follow our daily Facebook "Live at Five" program @Hall Around Town Radio