Who's Playing Out Brought To You By Hall Around Town Radio — July 29
Image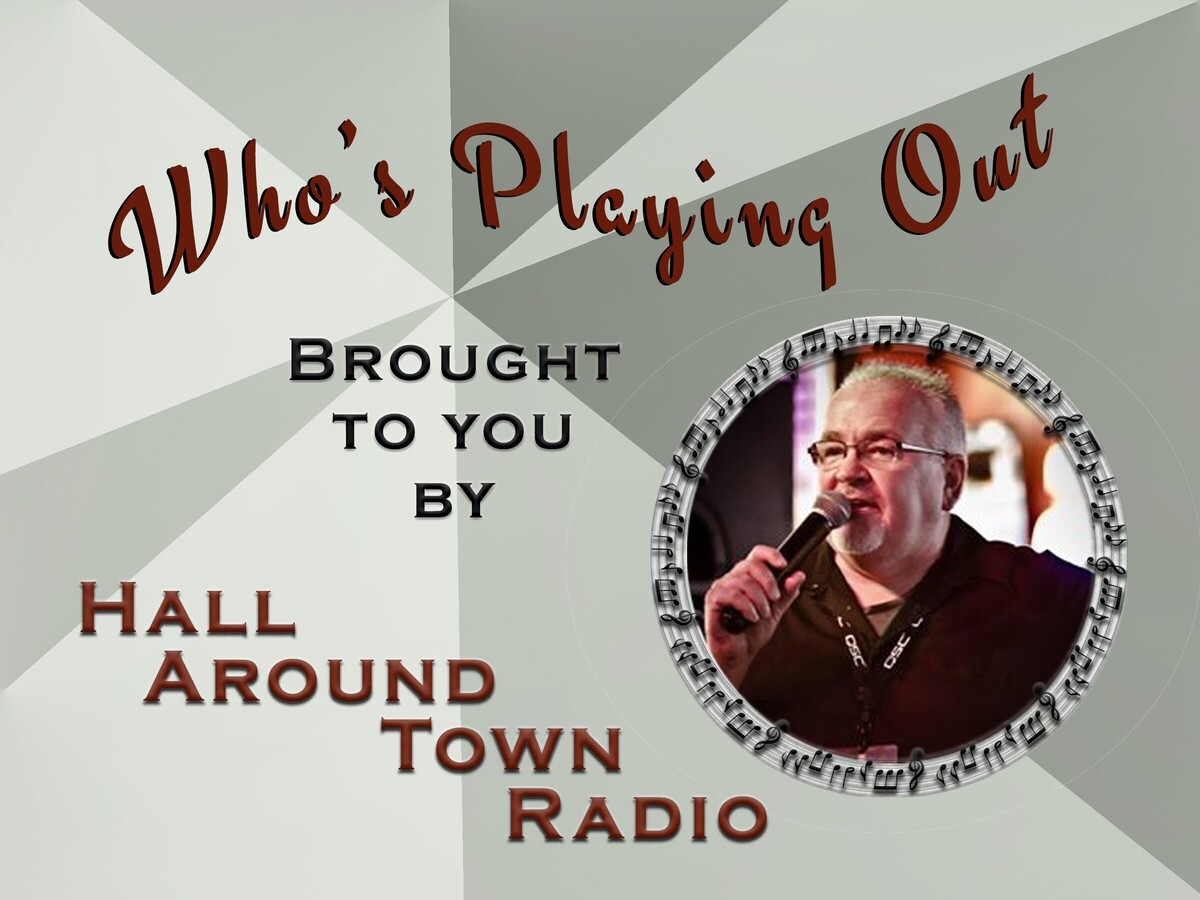 Brought to you by Scott Hall from "Hall Around Town Radio"
A little live music can turn an ordinary day into a memorable experience. The area's top musicians take center stage at some of the tri-states best restaurants and nightspots, bringing live music to our region nearly every night of the week. Make your first stop here weekly to find out "Who's Playing Out" at one of our live local music venues.
Bands and solos brought to you by our friends at Froggy's in Monroe, Ohio and Hall Around Town Radio (follow the on Facebook)
Froggy's in Monroe – Sponsor of our Thursday LIVE show on Facebook
Friday at 9pm - Blackwater w/ Mister Mason
Saturday at 9pm - Five O'clock Friday
Tuesday at 6pm - Joe Jordan
Wednesday at 6pm - Kevin Cooper
Wednesday - 8pm Karaoke with DJ Songz
Online seating reservations / tickets at www.gotofroggys.com
---
Mr. Boro's Tavern Springboro -
Thursday – Jacob William 7 to 10 pm
Friday – Bourbon Road Band "Debut" – 8 to 11pm
Saturday – Irish Road Duo "Debut" - 8 to 11
Sunday –– 9Eight Central - 2 to 5 pm
Tuesday – "Quiztastic" Q&A Trivia with Scott at 7pm
Wednesday – Queen of Hearts Drawing. 8pm over 7K
---
Heathers Café
Tuesday – Open Mic Night with Junior 7pm + the Queen of Hearts Drawing at 8
Wednesday – Name That Tune with Scott. 7pm Call for reservations
Thursday – Rick Sylvester Acoustic Songster at 6:30pm
Friday – The Inturns 7pm
Saturday – What She Said 7pm
---
The Belle & The Bear (Montgomery)
Thursday "The Jam" featuring a host of local music celebrities at 7:30 pm
Friday – Road Trip at 9pm
Saturday - Dat Band at 9 PM
Sunday – "Kyle Hackett" 2pm
Monday Game Night - 6pm
Tuesday – Jamie Combs Acoustic Jam 7pm
---
Pohlman Lanes & Scott's Bar & Grill (Hamilton Ohio)
Family Entertainment Complex 954 Pyramid Hill Blvd., Hamilton Ohio
Saturday at 7pm - H&R Rock
Monday at 7pm After Hours Big Band
---
Soft Rock Café
Karaoke – Thursday 7pm - Friday 8pm - Saturday 8:30 pm.
---
Lebanon Grand Opry House
Saturday – Ladies of Country with Chelsea Calloway featuring Jessie Lyn and the Opry House Band and Kim Campbell Doors open at 6pm for dinner Show - 7pm
Reservations by calling 513-850-1770
Sorg Opera House
Friday – Tyler Christopher as Elvis Presley Doors at 6pm
Tickets available at Cincyticket.com
---
Crooked Handle Brewing Co.
Thursday – Good Music Guy at 6pm
Friday – Nicholas Cay at 7pm
---
Little River Bar and Grill (Oregonia)
Thursday –– DJ Songz Karaoke at 7pm
Friday – Joey Said No 7pm
Saturday – The Mello Fellos 7pm
Tuesday – Bike Night with music
---
The Blue Note Harrison
Friday - Donnie Baker Comedy! Opening the show is Rob Wilfong. Doors at 6pm
Saturday – Annual Pig Roast featuring The Diaz Brothers Gates open at 5pm
Tickets to these and future shows are available at …. CincyTicket.com
---
Hidden Gem Music Club
Thursday – Belly Dance Show … Pink Ribbon Girl Event 8pm
Friday – Linden Davis Group 8pm
Saturday – I Dig Pig – 8pm
Sunday – Kelly Ginn Jazz Quartet 7pm
Wednesday – Open Mic Night 8PM
---
Lori's Roadhouse
Thursday – Service Industry Night 9pm
Friday – Chris Bandi at 8pm
Saturday – The Roasters 6pm
Saturday – Kevin McCoy Band 9:30pm
Tuesday – Line Dancing 7pm
---
Miami Valley Gaming
Friday- Jay Jesse Johnson – 9pm Center Bar
Saturday – Danny Frazier Band – 9:00pm Center Bar
Rex Patrick and the Country Legends Show in Germantown
Saturday Richard Lynch Band – Doors at 5:30 Music at 7pm Reservations by calling 513- 594-1282
---
Brick Tap Tavern
Thursday – Open Mic Night with Scott Houchens 7:00pm
Friday – Rick Sylvester at 8pm
Saturday – Pegasus Shaunna & Donely Duo at 8:30pm
Scott Hall – Hall Around Town Radio
Tuesday Trivia at Mr. Boros Tavern 7pm
Wednesday – "Name That Tune" at Heathers Café on the patio 7pm "Call for Reservations"
---
Live Monday to Thursday On Hall Around Town Radio
Scotty Long / DJ Songz
Thursdays - Little River Bar & Grill Oregonia, OH 7pm PATIOKE PARTY!
Tuesdays - The Barrel Springboro, OH 7pm - KARAOKE & Dance!
Wednesdays - Froggys Monroe, OH 8pm
Bands, Solos, Duos and Events
Dayton Mall
Saturday - Miami Township police is doing National Night Out event during the day from 12pm to 4pm. Kids bounce house and dunk tank plus live music from Until Rust 1 to 4pm
Swat team will be there, the K9 unit, and more for the kids
Shane Demoss is singing the national anthem to kick things off at noon and then they play from 1 to
7th Annual Crafts and Critters Cruise-In & Car Show - 113 N 3rd St, Hamilton, OH
Friday – Frech & Co 5pm and The Feels 7pm
Saturday – The Half Suns at 12pm – Eugene Jackets 1:30pm – Queen City Silver Stars at 3pm - CFG and The Family at 5pm and The Gerhard Albinus Band at 7pm
Fieldstock Concert
Saturday at BAAB's in Middletown
Schedule of acoustic acts Shado 3:30, Adrienne Rose 4:30. Chalice 6:30
closing with Fieldstock House Band DRIVE from 8-12.
Courtney Jo Band
Friday Ladies Night at Final Friday for Boneyfiddle in Portsmouth Ohio, 6pm-7:30pm & Saturday - Chillicothe Ohio at their Moose Lodge 8pm-Midnight
Second Wind
Friday from 7:00-11:00pm at The St. Margaret of York Festival (SMOY fest) in Loveland
Standard Country Time Band
Friday at Hunter Pizzeria / Haddix Hall from 6 to 8pm
The Whammies
Friday at Hollywood Casino Lawrenceburg from 8-12
Saturday with Crown Watts at SharonFest. CW plays 6-8:15 and The Whammies play 8:45-11:30
Cryin Out LOUD
Saturday at Oakcreek Swim Club from 8-11
Wesley Green Music
Friday with the Bourbon Road Band at Mr. Boro's Tavern 8-11
Saturday with BRB at Goetta Fest 12-3pm
Saturday with 9eight Central at White Dog Distillery Middletown from 8-11
Sunday at Mr. Boro's with 9Eight Central from 2-5pm
Monday - Wes hosts Open Mic at the Barrel 8-12
Tuesday - Wes Singing the National Anthem at the Florence Yalls game 5:30pm
Seiter Haus
Saturday at 7PM Dickmann's Sports Cafe
Sunday at 2PM Maloney's Pub
Acoustic Blind Faith Duo
Thursday Jungle Jim's- Fairfield Event center 5-9pm
Friday at Tucker's Landing RV Park on Kellogg Ave 7-10pm
David Thornton
Thursday at Jayne's On Main 7:30 (Miamisburg)
Friday at Middletown ELKS LODGE #257 7:00(Middletown)
Saturday at Grainworks Brewing Company 7:00 (West Chester)
Heath Bowling Music
Friday at Queen City HD 6-9pm Fairfield, OH
Saturday at Jacki's 7-10p Cleves, OH
Sunday - Open Mic(GTC) 5-9p Miamisburg, OH
Tuesday at Gameday 6-9p Lebanon, OH
Wednesday at Open Mic (AJ's) 8-11p Franklin, OH
Spungewurthy
Friday at Little York Tavern 8 to 12
The Donna Kennedy Band
Saturday at the Amvets #24 Dayton 7-11
Don't tell Steve
Friday Saint Barts Festival 7-11pm
Michelle Robinson
Thursday Oxford uptown summer concert series 7-9:30pm
Friday opening for Craig Morgan Clermont County Fair 6:30pm
Saturday Goettafest Night #1 from 4:15-7:45 West Stage
Shane Demoss Music
Wednesday 8/3 at Misery & Jen Hamilton, Oh "Bike Night" 7-10pm
Benny Bodine
Friday 7/29 Wing Bar in Urbana, OH 7-10pm
Saturday 7/30 **OPEN TO THE PUBLIC** Miamisburg Eagles 2306 Miamisburg, OH 8-11pm
Tuesday 8/2 Open Mic Good Time Charlie's Miamisburg, OH 8-12pm
Until Rust
Thursday 7/28 at Hidden Valley Orchards Lebanon, Oh 6-9pm
Friday 7/29 at Jayne's On Main Miamisburg, Oh 8-11pm
Saturday 7/30 at Dayton MallDayton, Oh
"Miami Township Police National Night Out" 1-4pm
Saturday 7/30 Orioles Franklin, Oh 8-11pm
Tuesday 8/2 Little River Bar and Grill Orgeonia, Oh "Bike Night" 6-10pm
Truk
Saturday, July 30 at Crooked Handle, Springboro 7-10pm
Linus Tate
Monday August 1st Mutts Brewery Lounge in Trenton, OH 6PM
Wednesday August 3rd at Butler County Metroparks Summer Concert Series
Voice of America Park Westchester, OH 7PM
Billy Brown
Friday July 29 at 7pm - 4th Street Live in Louisville KY
Saturday July 30 at 12pm - Margarita Festival at Ballpark Village in St Louis MO
Saturday July 30 - Private Show in St Louis
Wednesday Aug 3 at 8pm - Grizzly Rose in Denver CO
Velvet Crush Unplugged with Mike Miller from Party Punch
Friday 7/29 at Brass Brewing Company Colorado Springs, CO 7-9pm
Six String Hustle
Thursday 7/28 8-11pm Kentucky Local Hebron, KY
Friday 7/29 8-11pm O'learys Pub Centerville, Ohio
Saturday 7/30 8-12pm Sloopys Greenville, Ohio
Sunday 7/31 4-7 The Lounge Cincinnati, Ohio
Wednesday 8/3 7-10 The Hangar West Chester, Ohio
Jacob William
Thursday 7/28 at Mr Boro's 7-10pm
Friday 7/29 Pensive Distilling Co Newport, KY 7-10pm
Saturday 8/3 Debut at Gano Tavern 7-10pm
Xero Hour
Saturday at Legends in Cheviot doors open 7pm
Dat Band
Friday 7/29 - The World Ultimate Club Championships Player Party (32 teams from 28 countries) Open To The Public Downtown Lebanon. 8-11:30
Saturday 7/30 - Keep Going 25 (In honor of Michael Currin) Fundraiser at The Belle and The Bear
DJ from 6-8 Dat Band 9-??
Latter,
Saturday Latter, Route 88, Potty Tyme, Rusted Reserve and Axsent all playing the Bad Beer Bash Greenville Ohio. show starts at 6pm till the cows come home.
Kevin Cooper
Saturday 7/30 from 8pm-midnight: The Hanky Panks at Trillions
Wednesday 8/3 from 6-9pm: Kevin Cooper solo at Froggy's
Grocery Store Vodka
Wednesday 8/3 at Little York Tavern 7pm
DRIVE
Saturday (Fieldstock concert) 7/30 8-12 at Baab's in Middletown.
Tori Faith
Friday 7/29 ~ with Whiskey Town at the Middletown Moose ~ 8-11:30pm
Joe Cowels
Saturday The Joe C Band at Foley's Irish Pub 8pm-midnight
Wednesday - Joe C solo The Century Inn 6p-10p
Crown Watts w/Jim Questa
Saturday 6:00 - 8:15pm at Sharonfest
StrangeLove
Friday at Kreimers Bier Haus at 7pm
Saturday July 30 at Club Trio at 8pm
Sepia Heyday
Friday at the slice (battle o the bands) BMP 8pm
Saturday at legends in Cheviot 8pm
GAMUT-
Saturday July 30th Oser-Roth Festival Bands all day long. GAMUT plays 9:30-10
Then Big FIREWORKS GAMUT closes the show 10:30-Midnight Fund raiser for children
Johnny Fink
Friday Cappy wine and spirits loveland 7pm
Saturday Johnny Fink and the Intrusion Mansion Hill Tavern 8pm
Sunday Mansion hill anniversary party 5pm
Kevin McCoy Band
Thursday tonight 8:30 PM Goettafest small stage
Friday July 29 OTR StillHouse
Saturday, July 30 Lori's roadhouse 9:30 PM
Sunday, July 31 Zazou Covington 2 PM Kevin McCoy band acoustic
Partytown
Saturday at Cabana on the Whitewater in Harrison 8 to midnight
If you would like to have your musical act featured on our weekly podcast or in Warren County Post the contact us @Hall Around Town Radio on Facebook! For additional Band information follow our daily Facebook "Live at Five" program @Hall Around Town Radio