Who's Playing Out: Hall Around Town
Image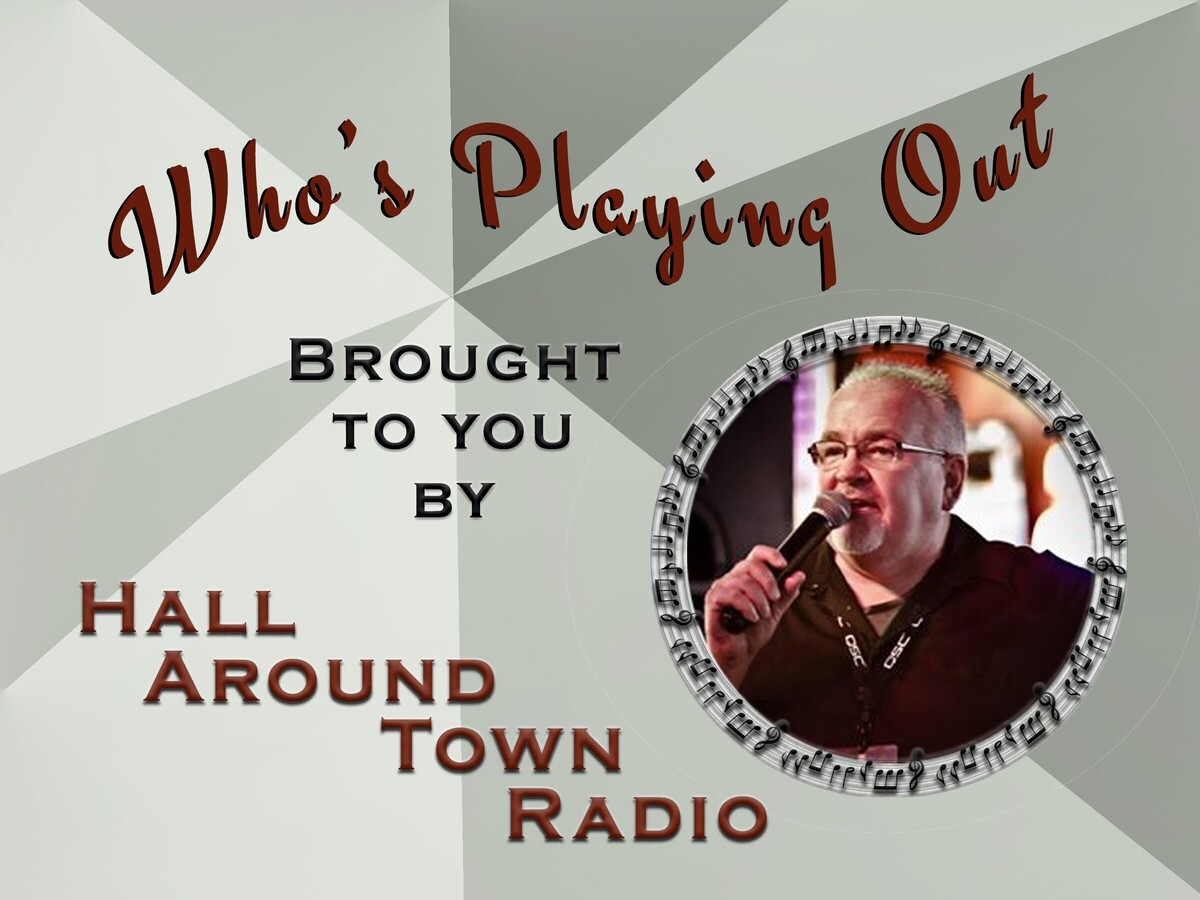 Brought to you by Scott Hall from "Hall Around Town Radio"

A little live music can turn an ordinary day into a memorable experience. The area's top musicians take center stage at some of the tri-states best restaurants and nightspots, bringing live music to our region nearly every night of the week. Make your first stop here weekly to find out "Who's Playing Out" at one of our live local music venues.
Bands and solos brought to you by our friends at Froggy's in Monroe, Ohio and Hall Around Town Radio (follow the on Facebook)
Froggy's in Monroe – Sponsor of our Thursday LIVE show on Facebook
Friday at 9pm - A Vicious Cycle
Saturday - 9pm Route 88
Tuesday - 7p Music trivia with a twist
Tuesday at 7:30 Queen of Hearts Drawing
Wednesdy - Karaoke 7p-11p with Dj Songz
---
Heathers Café
Wednesday – Name That Tune with Scott. NTT Final Championship with Top 20 scoring teams Novemeber 16th at 7pm – Amazing Prizes
Next Friday and Saturday Nov., 18 & 19 Christmas in the Boro With Timestamp Friday at 7 and Vynil Countdown on Saturday at 7pm plus open Sunday at noon
---
Mr. Boro's Tavern Springboro -
Thursday – Jake Gabbard 7 to 10 pm
Friday –– The Party Foul Band 8 to 11pm
Saturday – The Wright Brothers III 8pm
Sunday – NFL Football
Tuesday – "Quiztastic" Q&A Trivia with Scott at 7pm
Wednesday – Queen of Hearts Drawing. 8pm over 18K
---
The Belle & The Bear (Montgomery)
Thursday "The Award Winning Jam" 7:30ish
Friday – In Real Life at 9 pm
Saturday Blackbone Cat at 9 PM
Monday Game Night - 6pm
Tuesday – Jamie Combs Acoustic Jam 7pm
Wednesday – Gina and Johnny 7pm
---
Crooked Handle Brewing Co.
Thursday – Nothing But Treble 6 to 9 pm
Friday – Benny Bodine at 7pm
---
Pohlman Lanes & Scott's Bar & Grill (Hamilton Ohio)
Family Entertainment Complex 954 Pyramid Hill Blvd., Hamilton Ohio
Friday at 7pm - Two Mississippi
Saturday at 7pm - Outta Here (collecting blankets this night for the homeless shelter)
Monday - After Hours Big Band 7pm
Wednesday - Honky Tonk Wednesday at 1pm The Standard Country Time Band
---
Sorg Opera House
No Live Music Shows this weekend
Futurfe Zhow Tickets available at Cincyticket.com. visit SORG page for more info
---
Lebanon Grand Opry House
Saturday Dinner Show – Featuring Jessie Lyn and the Opry House Band – Plus Special Guests Scott Luck Doors at 6pm
Reservations by calling 513-850-1770
---
Little River Bar and Grill (Oregonia)
Thursday –– DJ Songz Karaoke Party at 7pm
Friday –Loop Man Dan at 7pm
Saturday – Terry Metcalf –7pm
---
The Blue Note Harrison
Saturday – DV 8 with specal guests Crown Watts and Flipside Doors open at 5:30pm
Tickets are available at …. CincyTicket.com
---
Hidden Gem Music Club
Thursday – The Marthas at 6pm
Friday – The Distance at 8pm
Saturday – Locking Up Otis at 8pm
Sunday – Blue Wisp Band at 7pm
Tuesday – Open Mic Night 8PM
---
Lori's Roadhouse
Thursday – Service Industry Night and Football
Friday – Elvie Shane 9pm
Saturday – The Bourbon Road Band at 6pm
Saturday – Ryan Griffin at 8:30pm.  Tickets available at LRHLIVE.COM
Tuesday – Line Dancing 7pm
---
Miami Valley Gaming
Friday – Retrobution at 9pm Center Bar
Saturday – Chuck Brisbin and The Tuna Project – 9pm Center Bar
---
Rex Patrick and the Country Legends Show in Germantown
Saturday – The Country Legends Band starring Duece Collins , Dave Gunter, Larry Miller, Doug Baird Greg Wisecup amd Jon Haney - Reservations by calling 513- 594-1282
---
Soft Rock Café
Karaoke – Thursday 7pm - Friday 8pm - Saturday 8:30 pm.
---
Brick Tap Tavern
Thursday - Open Mic Night with Scott Houchens 8:30
Friday – The Locals at 8:30pm
Saturday – Truk at 8:30 pm
---
Scott Hall – Hall Around Town Radio
Thursday – Company 7 BBQ – Box 21 Fundraiser – Emcee
Tuesday "Qiztastic" Trivia at Mr. Boros Tavern 7pm
Wednesday – "Name That Tune" at Heathers Café Season Finale Championship
Live Monday to Thursday On Hall Around Town Radio
---
Scotty Long / DJ Songz
Thursdays - at Little River Bar and Grill 7pm Party.
Tuesdays The Barrel Springboro, OH 7pm-11pm Karaoke
Wednesdays Froggys Monroe, OH 7pm-11am Karaoke Xperience
---
---
Bands, Solos, Duos and Events
Jim Pee-Wee Martin Veteran's Day Fundraiser
Friday at the Dublin Pub from 7 to 11:30pm. This is to support Veterans and raise money for a bronze statue of Pee-Wee that will be placed in Sugarcreek Township, Ohio….National Recording Artist Karen Waldrup plays at 8pm Tickets avilable at the Dublin Pub
---
Preble County Line Band
Friday at the Middletown Moose, from 8-11:30.
---
Dejavu
Saturdayat the Silverton Cafe 8pm
---
Chad Applegate
Friday solo at the Green Kyak in New Richmond OH 8 to 11.
---
Heath Bowling Music
Thursday at the Fairfield Pub from 7-10p Fairfield, OH
Friday at Cadillac Jack's from 830-1230 Shelbyville, IN
Saturday at The Hangar from 8-12 West Chester, OH
---
Cryin Out Loud
Friday at The Barrel from 8-12.pm
---
White Knuckle Weekend
Saturday at Wings Beavercreek from 9-1.
---
Liars for Hire
Friday at Oscar's in Vandalia from 8p-12a
Saturday at Kingspoint Pub from 9p-12a.
---
Matthew Allen
Friday at Fratelli's Italian Restaurant 7 to 9 pm
Sunday at Dalton Union Winery in Marysville from 2 to 5 pm
---
Spungewurthy
Friday at Wings Vandalia start time is 9:45pm
---
Missing November
Saturday at Waverly Moose 9-1am
---
Wesley Green Music
Saturday with The Bourbon Road Band at Lori's Roadhouse from 6-9pm
---
Tyler VanB Music
Friday at Heroes Pizza, Springboro, 7 to 10
---
David Thornton
Thursday at Jayne's On Main from 7:30-10:30
Friday at Grainworks Brewing Co 7-10
---
The Donna Kennedy Band
Saturday as VFW Post 2800 Dayton 7-11
---
The Weekend Effect
Saturday at Wings Vandalia 9pm-1am
---
Chris Lee Acoustic
Friday at - Fibonacci Brewing Company 7pm-9:30pm
---
Ben & Pete
Friday at Lucky Star Brewery 8 to 11 PM
---
Joe Cowels
Friday Joe Cowels solo at Kro-bar beckett ridge 5p-8p
Saturday Joe Cowels solo at Hamilton's Urban Backyard 8p-10p
---
Kevin Cooper
Thurs 730-1130pm: B&B Jam
Fri 7-11pm: Eyes Up Here at Jeff Ruby's Carlo & Johnny
---
Brandy Conarroe
Thursday Brandy and The Beard on their "Northern Indiana Tour" this weekend playing the Marines Birthday celebration in Mishawaka IN from 6-10pm.
Friday in Wakarusa IN at The Shortstop from 8:30-11:30.
---
RED HOT RIOT-
Saturday at Belterrra Casino in the Stadium Bar- 8:00PM
---
Crown Watts:
Friday at MVP's with Tim Butterfield light show extravaganza - 8:00
Saturday at Blue Note Harrison with DV8 & Flipside - 6:30
---
Marsha Brady
Saturday at the Moose Lodge - Beavercreek Ohio - 7:30 - 11:30pm
---
Drive
Saturday at BoJangles West Carrolton 9-1am
---
Jet Pack Academy
Saturday at Jimmy B's from 9:30pm-1:30am
---
Audio Graffiti
Saturday at Turfway Park Racing and Gaming from 10-1
---
The Times
Saturday at Bock Family Brewing from 7-10pm
---
Dv8
Saturday at the Blue Note Harrison Ohio from 8:00 pm til 11:30 pm
---
Benny Bodine
Friday at Crooked Handle Brewing Co. from 7-10 Springboro, OH
Saturday at Heroes Pizza House from 7-10 Springboro, OH
Wednesday at Milano's from 7-10 Miami Township, OH
---
Until Rust
Saturday at Oleary's Centerville, Oh from 8-11
---
Jacob William
Friday at Pensive Distilling Co. in Newport, KY 7-10
---
Velvet Crush
Friday at the Phone booth lounge Kettering, oh from 8-12
Saturday at the Corner club Dayton , oh from 7-10
---
Linus Tate
Friday at Mutts Brewery Lounge in Trenton, OH 8PM
Saturday at DeShas American Tavern in Cincinnati, OH 6PM
---
6 String Hustle
Thursday from 6-10 at Liberty Inn - Liberty Twnshp, Oh
Friday from 9-12 at O'Leary's Pub in Centerville, Ohio
Saturday from 12:30-3:30 Liberty Inn - Liberty Twnshp, Ohio
Saturday from 9:30-1:30 at Highway House Cincinnati, Ohio
---
Truk
Saturday - full band at The Brick TapTavern in Huber Heights 8:30 - 12
If you would like to have your musical act featured on our weekly podcast or in Warren County Post contact us @Hall Around Town Radio on Facebook! For additional Band information follow our daily Facebook "Live at Five" program @Hall Around Town Radio