Thousands Of Dogs Came Out To Compete For "The Ribbon"
Image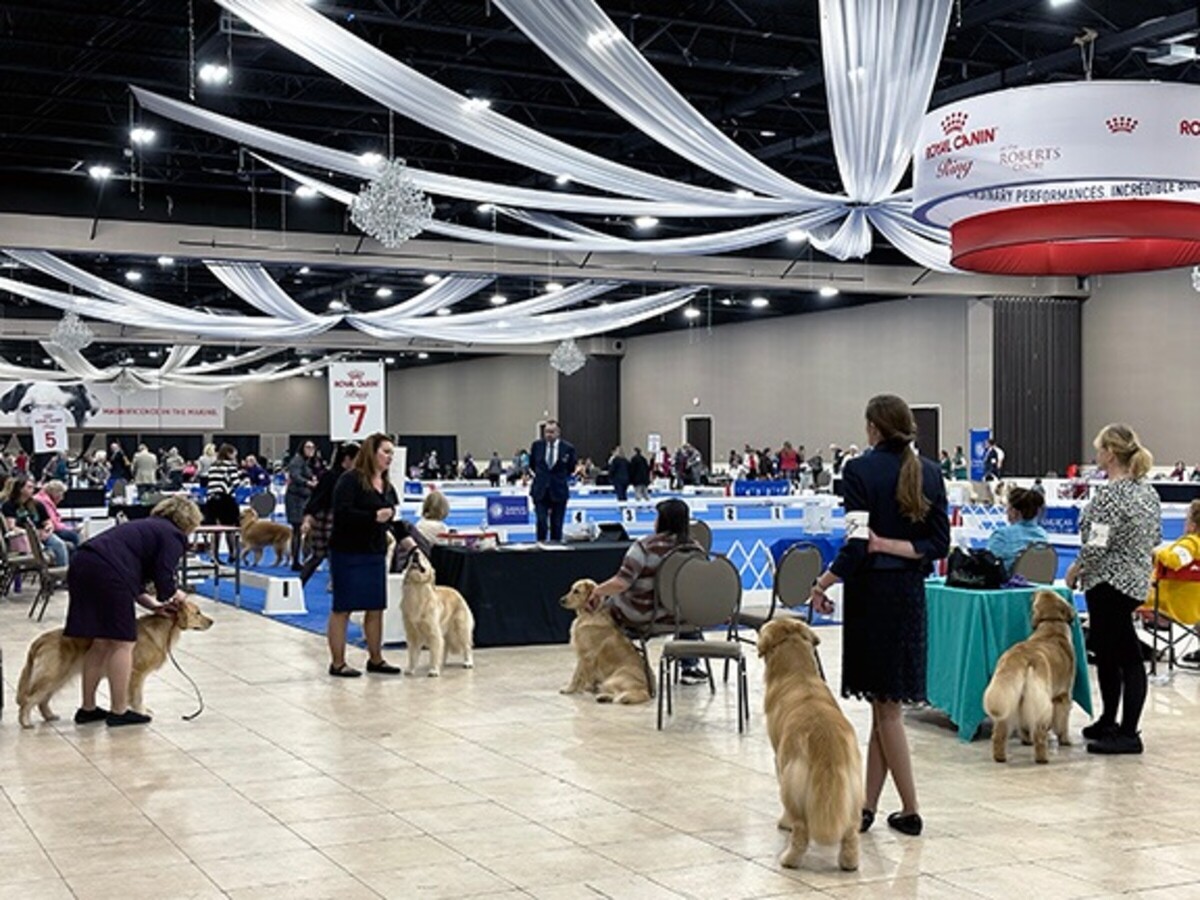 LEBANON, OH -- Last month, on April 1 and 2 to be exact, thousands of dogs from all over the country were brought to the Roberts Centre by their owners in hopes of winning the prestigious Best in Breed... or even better Best in Show Ribbon.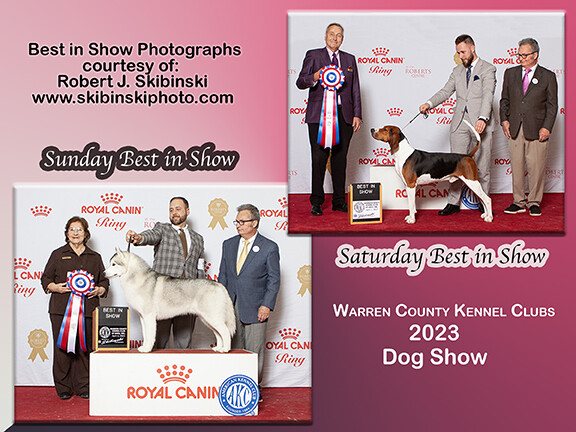 Hosted by the Warren County Kennel Club, the event is held at the Roberts Centre located in Clinton County right off I-71. Not only is the Centre in a good location being right off the highway, it has a large exhibition room, area for campers, a hotel and a restaurant all on the same grounds. And, it allows animals on and in its facilities. "It meets everything we need," explained Warren County Kennel Club Treasurer Austin Schaffter.
The club's website home page reads... Established in 1975 as an AKC affiliated club, its primary focus is on purebreds...."but, we don't limit the club to only purebreds, we provide training and socializing for all dogs," added Schaffter.
One of the ways the club emphasizes socializing is through dog shows, which is under the clubs "sporting side" of life for dogs. "The dog shows are very family friendly and open to those who love their dog and want to compete," Schaffter added.
While the WC Kennel Club was holding its conformation shows on Saturday and Sunday, on Friday, three speciality clubs held shows. " With one coming all the way from Alabama," Schaffter said.
Schaffter explained that these specialty clubs are smaller because the club emphasizes a certain breed while the Warren County Kennel Club does not. Many of the dogs and their owners stick around for Warren County Kennel Clubs Show to attend its conformation shows and the other events that are opened to all dog types... purebreds and mixed.
When entering the main exposition ballroom of the Roberts Center, one third of the ballroom was set up as the back stage where the dogs were being groomed with fur products, blow dryers, and all the other fur essentials needed. Once ready to be presented the dog, along with their owner or trainer, headed out to be judged at one of the 8 stages, which filled the other two-thirds of the huge ballroom.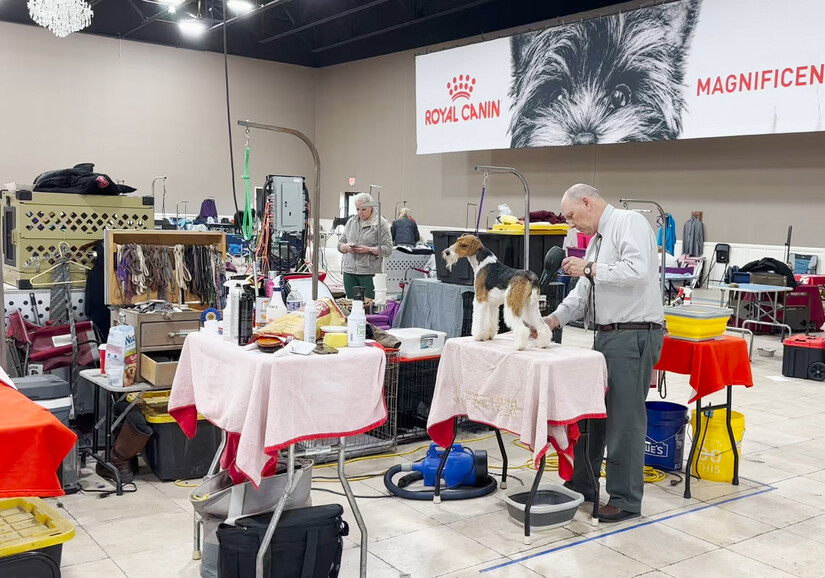 During the conformation shows "each dog is compared to the breed's written standard, and the one coming closest to that is chosen,"noted Schaffter. 
The dog who wins the Best of Breed moves up to compete in Best of Show. "It's all for a ribbon, prestige and love your dog... there is no cash prize," Schaffter added.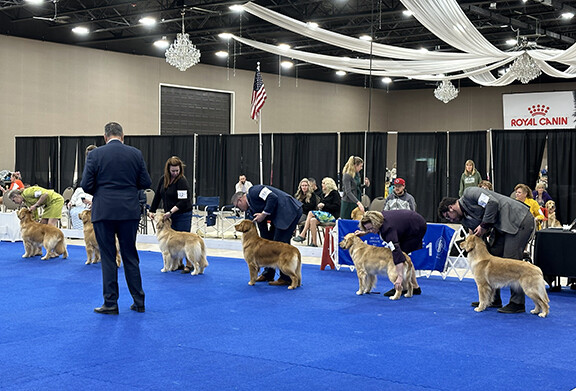 Along with the conformation shows, there were two other events happening outside on the Robert Centre grounds that allow purebreds and mixed to participate and compete amongst each other: Farm Dog and Fast CAT.
Farm Dog allows dogs to get a chance to be around other animals and farm equipment. Open to all breeds of dogs, this test consist of a series of exercises that are typical found in a farm environment:
Being in close proximity to livestock (who are always penned to avoid any altercations);
Jumping and staying on hay/straw bales;
Walking on unusual terrain;
Jumping over logs.
According to the AKC website... "the goal is to assess his aptitude as a working farm dog by exhibiting self-control, confidence and trust with you or his handler."
Next is the Fast CAT competition, which stands for Coursing Ability Test. It, too, is open to all breeds explained board member James Prickett, who was the one who oversaw this year's Fast CAT event.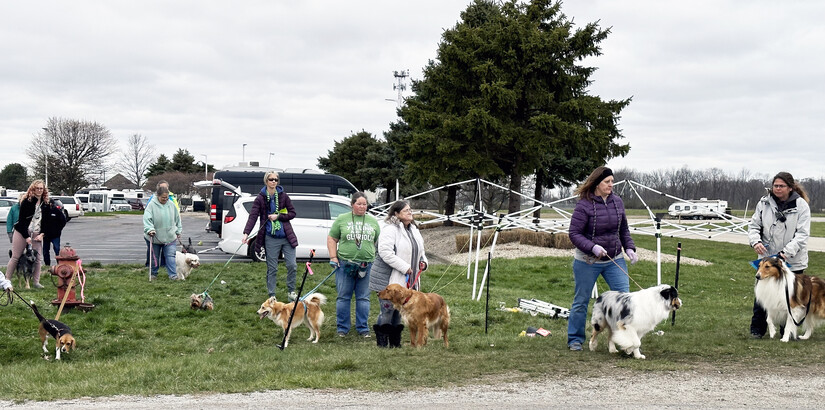 "The dog will run 100 yards ... about the length of a football field, while chasing a lure…usually a shopping bag or white piece of cloth," Prickett explained adding that the dogs are timed from the moment they begin their run to the time they cross the finish line.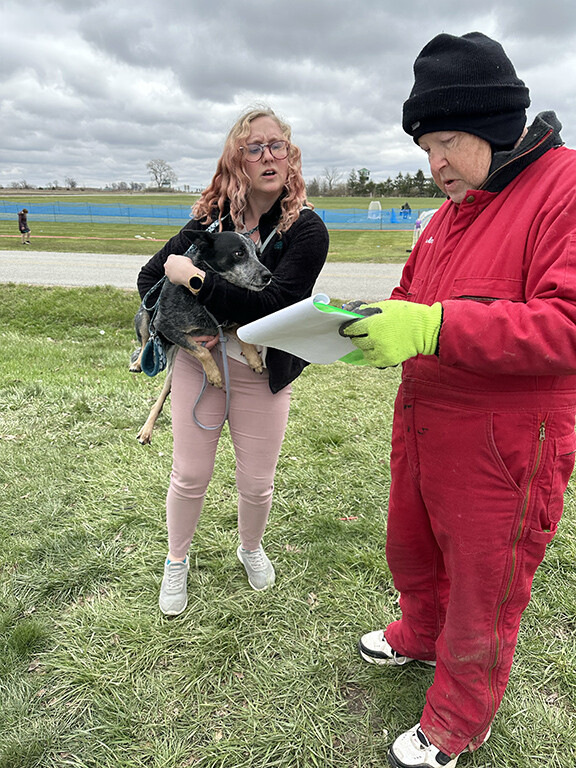 During this year's Fast CAT event, the weather was windy, cold and rainy... but that didn't stop the dogs from having fun, Prickett explained, while he was all wrapped up in winter weather attire registering the hundreds of dogs that came out to participate. 
To learn more about the Warren County Kennel Club visit its website by clicking here.