From the Desk of Brian Bales: Week End Wrap Up
Image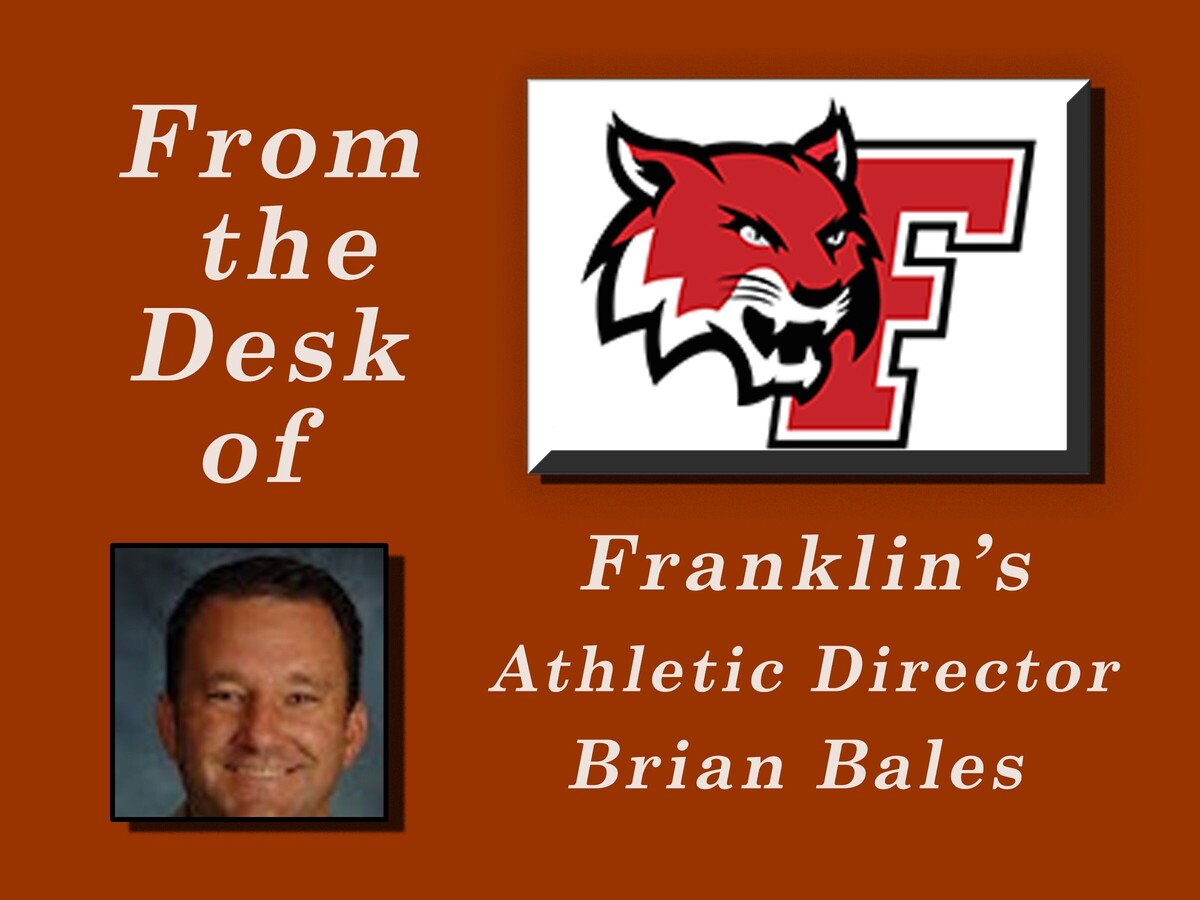 FRANKLIN, OH --Happy Friday!
Spring athletes please make sure your physicals are up to date and your Finalforms are completed in full. Now for this weeks update....
Wrestling
The wrestling team will compete in the Sectional tournament tomorrow at Clinton Massie. Wrestling starts at 9am.
Good luck to the following wrestlers:
106 - Kaizer Downey
113 - Gage Anderson
120 - Nathan Baker
126 - Carter Reed
132 - Cole Stephens
138 - Nathan Briner
144 - Nathan Mullins
150 - Landon Speers
165 - Jude Kuhn
175 - Brandon Garrett
190 - Garrett Tackett
215 - Josh Isaacs
---
Swim
Swimming had an excellent showing at the Boys Southwest District Division 2 Championships! Tyler Bond had a huge 5s drop from his time the previous weekend. He placed 20th at the meet and is excited to have made the meet. 
Swimming will be wrapped up with a banquet on March 10th 6:00 to 7:30 pm in the cafeteria.
---
Basketball Sideline Cheer
Good Luck to our Boys' Basketball team tonight as they take on Wayne at Centerville! Come out to support the team and cheer with us!!!! 
ALSO- a HUGE good luck to our Competition Cheerleaders as they travel to Columbus this weekend to compete in the STATE competition! 
BRING IT BACK HOME, Ladies! Go Cats!
We start Monday with our parent meeting! Thanks for helping us get the info out :)Happy Friday!!!
Reminder to any student in grades 6-11 interested in trying out for jr high or high school sideline cheer for the 22-23 football and basketball seasons, tryout week begins MONDAY with a parent/candidate meeting! 
Comp. Cheer
Last weekend was a very exciting weekend for Franklin Competition cheerleading. Our High School and Junior High programs both won the East Side of the SWBL and were named Grand Champions of the entire league! 
This is the 14th SWBL title for the high school! We want to give a special shoutout to our four senior competition cheerleaders for their hard work and dedication; Isabella Knipper, Emma Madden, Hailey Tirey, and Maren Gilley. These girls and their talent will be missed!! 
This weekend our high school competition is ending their season by competing at the OASSA State Competition at Pickerington North High School! The girls perform at 11:50am. Come out and support your FHS comp squad!

---
Bowling
Girls Bowling: The Girls bowled in the Sectional Tournament on Thursday at Crossgate Lanes where the girls ranked 14 with a cumulative score of 2,793. Payton Perez was the lead bowler bowling a 466 and CJ Jones was our second high bowler with a 456. All in all the girls bowled well and competed against some very tough teams.
Boys Bowling: The Boys Bowling Team competed in the OHSAA Sectionals, on Wednesday. Unfortunately, the Team did not have anyone advance. The season is now complete. The Bowling Cats would like to wish our seniors, Ashton Smiley and Ethan Rebholz good luck as they prepare for graduation.

---
Boys Basketball
The cats were victorious last Monday night vs. #5 seed Northmont by a score of 57-48. Noah Bauerle, Pierce Rich and Nate Paarlberg led us in scoring with 17, 16 and 13. Noah Rich had 11 rebounds and Nate Paarlberg had 4 assists. Isaiah Bales took 2 charges on the night. Kai Cook and Rocky Williams were great handling the basketball for us with great pressure put on them by the Bolts. Evan Fry and Ashton Everitt were great off the bench giving us a spark on the boards!
Tonight we take on Wayne who is #3 seed. The game is at Centerville and will take place at 7:15 pm after the #2 seed Fairmont and #4 seed Beavercreek game. Tickets are on sale online via OHSAA. It should be a great crowd tonight as the games are between the #2, #3, #4 and #6 seeds in Dayton Division 1.
Congratulations to Noah Rich on being selected to the District 15 Senior Team!
Girls Basketball
Good luck to all teams competing in the Winter tournament. Good luck to all the Spring teams that are getting started. We are currently planning our banquet and will get that date out soon.
---
Lacrosse
Lacrosse is having a great week. We've received new helmets, new uniforms are on the way, and our culture is becoming the bedrock of our program. I love our attitudes, work ethic, and determination in grinding to get better each and every day! The future of our program is definitely bright!
We are excited about this upcoming season and if you are interested in playing, regardless of experience, please do not hesitate to join!
Email Coach Abshear at matthew.abshear@lakotaonline.com with any questions.
Link for Youth LAcrosse
https://wildcatlacrosse.sportngin.com/page/show/6285866-registration
---
Flag Football
Alpha Flag Football League Combine
The combine is happening right before the season so that coaches and players have a chance to meet. We are also timing and grading the athletes in drills just like NFL players. This will help us make teams as even as possible during the season.
Sign up at: https://www.alphaflagfootball.org/Default.aspx?tabid=1105204
When:
K-3rd: Saturday March 26th from 2:00-3:00
4th-6th: Sunday March 27th from 10:00-11:00
Where:
Home Field Instruction
201 Shotwell Dr
Franklin, Ohio
How much: 
Special guest speaker Ryan Montgomery on March 27th
Contact: Taylor Briggs  Myalphatraining@gmail.com