From the Desk of Brian Bales: March 25 Friday Week Wrap UP
Image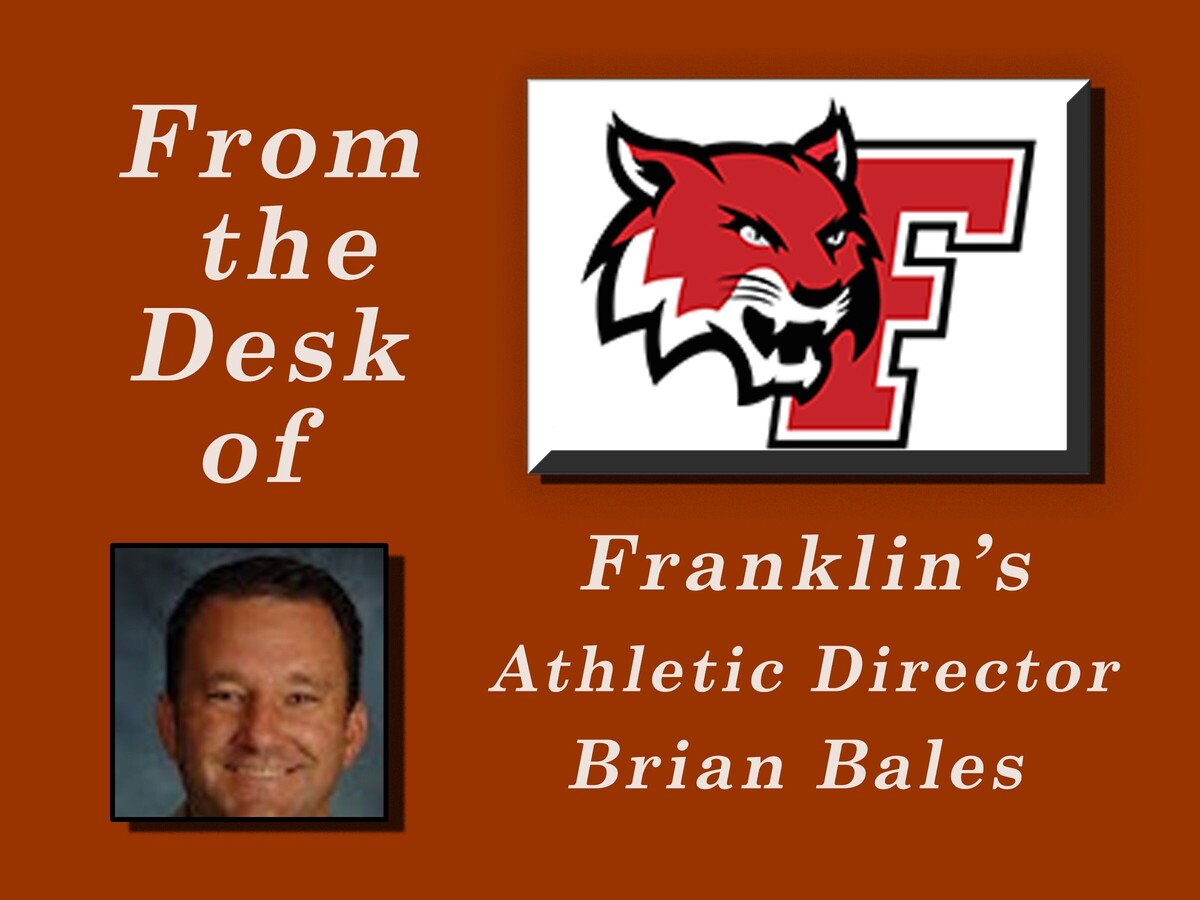 FRANKLIN, OH -- Spring athletes please make sure your physicals are up to date and your Finalforms are completed in full. Pay to participate is due before your first game.
ATHLETIC BOOSTERS
Calling all interested women and men for designer purses!!! Purse Bingo will help support Franklin JH and High School Cross-Country and Track teams. Join us for amazing raffle baskets from your local businesses, split-the-pot, a wristlet and wallet raffle, and a "cash and carry" table for all your needs!
COST:
$35 until April 23rd, at 11:59pm!
Otherwise, it is $45 at the door.
$35 ticket includes: 20 Rounds of bingo AND a Dauber
$45 ticket includes: 20 rounds of Bingo, a Dauber, AND Chick-fil-A sandwich, chips, and a cookie.
Seating: Circular Tables up to 8-10 people.
After you check-in, you will be able to purchase extra Bingo cards to enhance your chances of winning! We will have a raffle for wallets and wristlets throughout the evening.
We will have concessions running. This includes: Pulled Pork Sandwiches (until supplies last), chips, popcorn, and more.The always favorite, split-the-pot!
Come support a wonderful fundraiser for the Cross-Country and Track teams!
**Remember, you MUST be 18 to play Bingo**
**Sorry, no refunds - only transfer of tickets to other individuals**
**Bingo License available upon request** REGISTRATION LINK - We are LIVE NOW! Register below.
***if registering separate from friends and you want to sit together, please put in the "notes" section who you would like to be placed with***
FOR MORE INFORMATION VISIT... Franklinathleticboosters.org
---
Lacrosse
Lacrosse is 1 and 1 with a game at Home tonight against Monroe. Wildcats beat Clinton-Massie 16-4 on Monday and lost a hard fought game against a talented Edgewood team 15-11 on Tuesday. 
We are continuing to work hard and after tonight's game, we will be back in action after spring break April 5th at Northmont! Good luck to our other Spring Sports teams who are playing over break! Go Wildcats!!!

---
Baseball
Franklin Baseball kicks off our season in sunny Destin, Florida at the Beach Ball Bash next Monday. We will play five games on our spring break trip against teams from Ohio, Kentucky, Florida, and Alabama. We've had a great pre-season and off-season and are ready to chase our third consecutive league title this spring. 
Our Peeler card sale was a great success. We appreciate the support from the community and faculty in our annual fundraiser. Go Cats! 
---
Tennis
The boys varsity tennis team is excited to begin match play after spring break! Uniquely enough, this year we have more girls than boys on our team. As a team, I think we are going to definitely be able to compete this year! Our roster includes:
SENIORS
 Adam Osborn, 
Aiden Defrates, 
Riane Todd, 
Hayla Gadd
JUNIORS 
Caleb Powell, 
Riley Retherford, 
Maddox Taulbee, 
Ayana Kazymbekova: 
SOPHOMORES

Zoey Shockley, 
Alexis Taulbee,  
Kaylynne Flores
Come out and support us this year, the team would love it!
---
Track
The varsity track and field team is continuing to stay focused and working hard in every practice in preparation of their first meet on April 1st at Piqua.
---
E-Sports
3/25/22: Our first Fortnite matchup was on Monday, where the Wildcats took on the sinister Skyhawks of Fairborn. The match, as always, was played with the first team to get two winning sets would be the overall winner. 
Our first set saw Beckett Swoll and Owen Hudson Bateson down early 0-2, but then swung back with two quick victories thanks to Hudson Bateson. Swoll and Hudson Bateson worked together like Wildcats on the prowl to a tie, but eventually came up short 4-3. 
Christian Balhetchet and Caden Dill represented the Cats in our second thrilling first-to-seven set. The Wildcats started strong, and got out to an early 2-1 lead. The Skyhawks came back in 4 straight games to make the set Skyhawks 5, Wildcats 2. 
Part of any young program is growing pains and the Wildcats were feeling it in our first Fortnite match this week. Due to illness, the Wildcat captain David Walton played a 2v1 final set against the Fairborn Skyhawks. Captain Walton was locked and ready to take on a fearsome duo of Skyhawks! Captain Walton gave a valiant effort with one victory, but was quickly overwhelmed by a flurry of feathers and wood scraps as he went down to fearsome Fairborn players.
Our second match of the week took place against the Global Impact STEM Geese. We started with a 1v1 with Christian Balhetchet going against a member of GISA. After a quick first victory, our set ended with a 6-1 loss. 
In the second match, Beckett Swoll and Owen Hudson Bateson took on one of the Gesse. The set started with a Wildcat victory and ended with a clean sweep of all seven rounds giving the Wildcats a set victory! 
Our final set had Captain David Walton and Noah Woo facing off against two of the strongest GISA Geese. We started with a win, fell behind and quickly tied the set at two wins each. In a heartbreaking finish, the Geese pulled ahead with three more victories bringing the set total 1-2 in favor of Global Impact.
Our team is always growing and getting better! We have next week off for Spring Break, but then will be back at it with Fortnite and Rocket League!
Interested in watching all of the action? Tune in on Mondays and Wednesdays at 3:30 to watch Live on Twitch, or catch our replays on our YouTube channel!
Twitch: www.twitch.tv/esports_franklinschools
YouTube: www.bit.ly/eSportsFHS
---
Flag Football
Alpha Flag Football League Combine
The combine is happening right before the season so that coaches and players have a chance to meet. We are also timing and grading the athletes in drills just like NFL players. This will help us make teams as even as possible during the season.
Sign up at: https://www.alphaflagfootball.org/Default.aspx?tabid=1105204
When:
K-3rd: Saturday March 26th from 2:00-3:00
4th-6th: Sunday March 27th from 10:00-11:00
Where:
Home Field Instruction
201 Shotwell Dr
Franklin, Ohio
How much: $15
Special guest speaker Ryan Montgomery on March 27th
Contact: Taylor Briggs