From the Desk of Brian Bales: Friday Wrap UP April 15, 2022
Image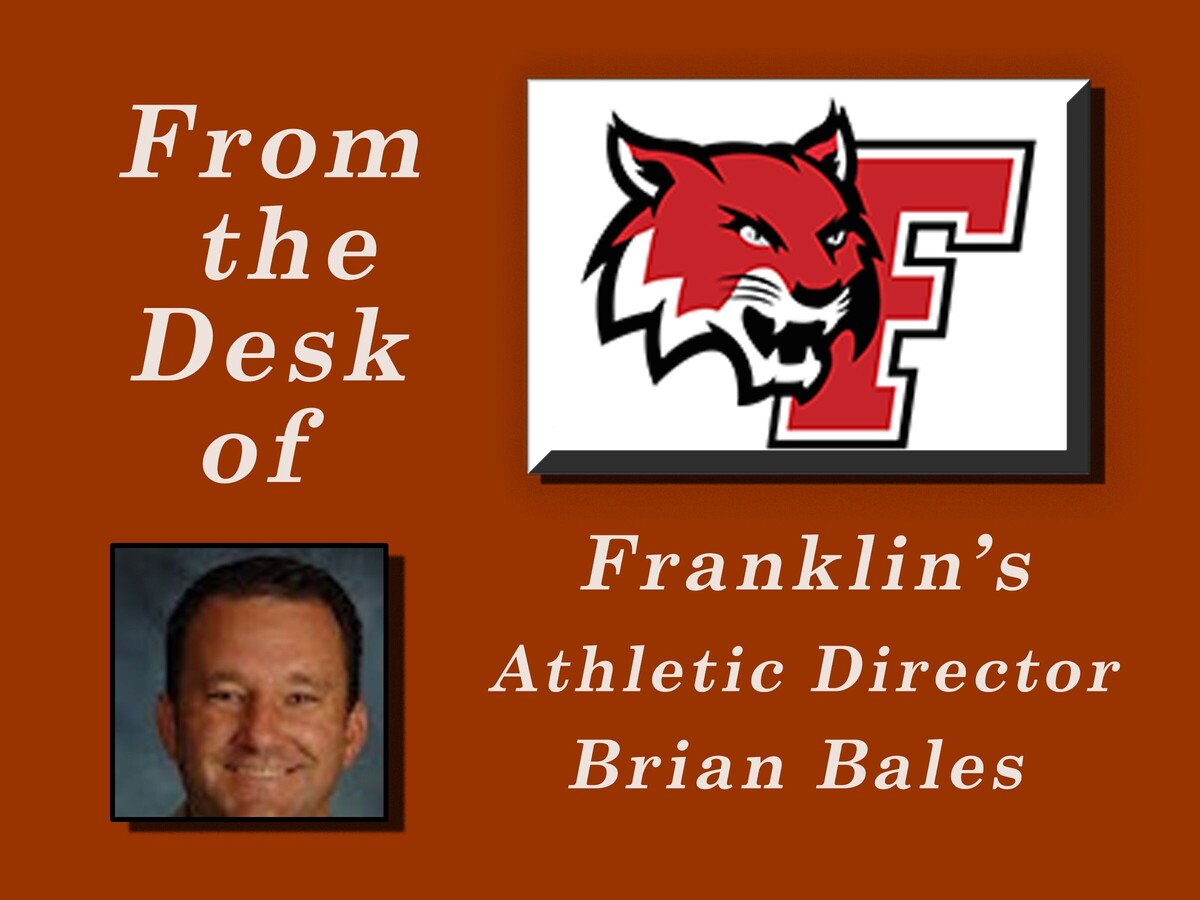 FRANKLIN, OH -- Happy Friday! Spring athletes please make sure your physicals are up to date and your Finalforms are completed in full. Pay to participate is due before your first game.
ATHLETIC BOOSTERS
Calling all interested women and men for designer purses!!! Purse Bingo will help support Franklin JH and High School Cross-Country and Track teams. Join us for amazing raffle baskets from your local businesses, split-the-pot, a wristlet and wallet raffle, and a "cash and carry" table for all your needs!
COST:
$35 until April 23rd, at 11:59pm!
Otherwise, it is $45 at the door.
$35 ticket includes: 20 Rounds of bingo AND a Dauber
$45 ticket includes: 20 rounds of Bingo, a Dauber, AND Chick-fil-A sandwich, chips, and a cookie.
Seating: Circular Tables up to 8-10 people.
After you check-in, you will be able to purchase extra Bingo cards to enhance your chances of winning! We will have a raffle for wallets and wristlets throughout the evening.
We will have concessions running. This includes: Pulled Pork Sandwiches (until supplies last), chips, popcorn, and more.The always favorite, split-the-pot!
Come support a wonderful fundraiser for the Cross-Country and Track teams!
**Remember, you MUST be 18 to play Bingo**
**Sorry, no refunds - only transfer of tickets to other individuals**
**Bingo License available upon request** REGISTRATION LINK - We are LIVE NOW! Register below.
***if registering separate from friends and you want to sit together, please put in the "notes" section who you would like to be placed with***
For more information and to register click... Franklinathleticboosters.org
---
TRACK
On April 12, the boys and girls teams competed at Fairborn. Both teams earned 2nd place finishes with several athletes earning hardware!
The track team competed at Waynesville Invitational on April 8.
The girls team finished 8th out of 14 teams.
Kensi Black finished 1st in the 3200.
Sophie Aldridge placed 5th in the discus.
Annabelle Hunter placed 6th in the 400.
The boys team finished 4th out the 15 teams.
4x800 Team placed 4th consisting of Hudson Black, Connor Green, Carter Black, and Chris Bond
4x200 Team placed 1st consisting of Hunter Covey, Jacob Saunders, Bryson Hall, and Liam Acevedo
4x100 Team placed 5th consisting of Matt Montgomery, Ethan Adkins, Hunter Covey, and Nathan Briner
4x400 Team placed 4th consisting of Hudson Black, Carter Black, Bryson Hall, and Liam Acevedo
Hudson Black placed 5th in the 800
Bryson Hall placed 4th in the 400
Chris Bond placed 1st in the 3200
Liam Acevedo placed 1st in the 200 and 400
---
LACROSSE
 
Lacrosse is 3 and 3 on the year after winning Wednesday night at home in Overtime against Madeira. Wildcats were down one with under two minutes to go and scored when Aiden Creech passed to Eli Fugate who scored the game-tying goal with just seconds left in regulation. In Overtime, Ben Black scored an acrobatic goal with 3 seconds left to give the Wildcats the win!
Wildcats hit the road next week with games Monday, Tuesday, and Friday at Winton Woods, Talawanda, and Xenia! Good luck to the rest of the Spring Sports Teams…Go Cats!

---
E-SPORTS
Fortnite
We were back at it this week again versus the Clermont Northeastern Rockets, but this time in Fortnite. Owen Hudson Bateson and Beckett Swoll started out for the Wildcats and quickly fell behind, losing the first two rounds. Hudson Bateson responded with a series of quick headshots to give FHS a round victory, but the Rockets answered back with 3 more rounds. Swoll and Hudson Bateson took round 6, and 7 leaving the match 4-3 in favor of Clermont Northeastern.
Caden Dill and Christian Balhetchet started the Wildcat second set with a dominating 3 rounds in a row led by Balhetchet. With a simple mistake, the Wildcats lost a round, but took rounds 5, 6, 7 to give the Wildcats a 6-1 victory. With the series tied at 1-1, the final set saw Captain David Walton and Noah Woo against the best of the Rockets.
A quick trigger finger by Captain Walton pulled the Wildcats ahead in the first round and momentum never left. Woo's support propelled the Wildcats to a 4th round win, and gave the Wildcats the go-ahead for the overall match victory! The unstoppable partnership of Woo and Walton lead our team to win ALL 7 ROUNDS. The final match score was 2-1 in favor of FHS! This was our team's first Fortnite victory for the season.
Rocket
Wednesday's Rocket League had the team up against the Skyhawks of Fairborn. To start the first round, Christian Balhetchet scored two goals with the assist from Owen Hudson Bateson and Noah Woo. Noah scored a third goal for the Wildcats, but the Skyhawks responded with two goals of their own. It wasn't enough and FHS took the game 3-2.
The second round started with plenty of defensive action on both sides of the ball. The Fairborn captain made the first score with 1:57 left to play, and followed up two seconds later with a second. Noah Woo and Captain Balhetchet responded with a pair of goals (asst. Hudson Bateson) for Franklin! As time expired in the second game the game went into overtime where the Skyhawk captain scored giving Fairborn the win 3-2.
As the series tied 1-1, Captain Balhetchet gave his team a pep talk to focus the Wildcats. Woo made a tremendous save early in our third game and allowed Balhetchet to score a quick two goals. A minute later, Balhetchet socred a third giving the Wildcats a strong 3-0 lead. Woo also contributed with a goal late into the game, but the Skyhawks responded with a goal. The game went to the Wildcats with a 4-1 victory. This put the Wildcats ahead 2-1 for the series.
After a brief technical pause, the game resumed. The Wildcats put on a three minute defensive clinic but gave up a goal to the Skyhawk captain. Captain Balhetchet retaliated with a goal of his own, tying the game at one all. Fairborn got the upper hand at the very end with the go-ahead goal to win the game for Fairborn and tie the series at 2 victories a piece. Our final game would decide the match.
Woo and Hudson Bateson assisted with the Balhetchet goal to give the Wildcats an early lead. Hudson Bateson scored his first goal of the series, sharing with Woo and Balhetchet. With two seconds left, Hudson Bateson sealed the victory for the Wildcats with a dominating 3-0 win. This won the match for Franklin!
Congratulations to both of our Varsity teams who got a win this week!
Know somebody interested in joining FHS eSports? We have an information session coming up on May 11th at 6:30 in the High School Cafeteria.
Interested in watching all of the action? Tune in on Mondays and Wednesdays at 3:30 to watch Live on Twitch, or catch our replays on our YouTube channel!
Twitch: www.twitch.tv/esports_franklinschools
YouTube: www.bit.ly/eSportsFHS
---
BASEBALL
Varsity will travel to CJ Saturday for a 12 noon game.
Jv will be at home vs. CJ at 12 noon.
---
SOFTBALL
Varsity softball will be at home Saturday vs. WC at 11 am and JV will be at home vs. Valley View at 11 am.
---
TENNIS
Tennis has 3 matches next week with Wednesday being a home match.