From the Desk of Brian Bales: Friday Wrap UP May 13, 2022
Image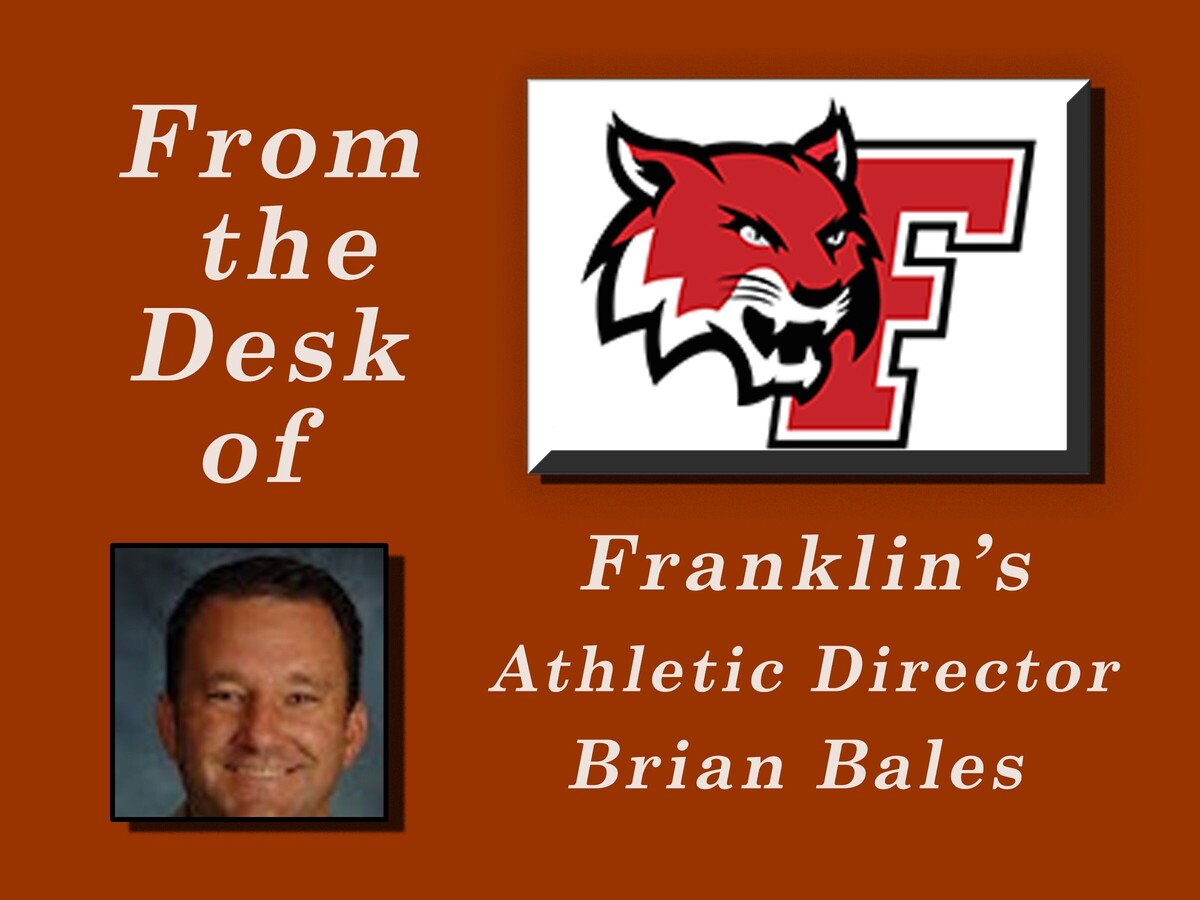 FRANKLIN, OH -- Happy Friday!  Please feel free to forward to others that may enjoy reading it or forward emails to me so I can add to the database.
Athletic Department
- PHYSICALS will be Thursday, May 19th and will take place in the BACK GYM.
Physical Schedule:
2:45 Incoming Seniors
3:15 Incoming Juniors and Sophomores
4:15 Incoming 9th and 8th graders
5:00 Extras
5:15 Doors Closed
https://ohsaaweb.blob.core.windows.net/files/Sports-Medicine/2022-23PPE(English).pdf
---
Track
The Boys and Girls Track team is competing in the SWBL championships this week. It is a two day format. As of day 1, we have some outstanding finishes...
Chris Bond won the 3200 with a time of 9:52.92
Kensie Black finished 3rd in the 3200 with a time of 12:04.54
Sophie Aldridge took 4th in the shot put with a personal best throw of 29'10-1/4"
Ethan Adkins placed 4th in the pole vault with a vault of 10'0"
Eli Baker had a personal best vault of 9'6" just missing the podium
The Boys 4 x 800m Relay finished 4th in a time of 8:52.33 this team included: 
Hudson Black
Carter Black 
Angel Wooten 
Connor Green
We had many athletes advance to Saturday's finals where we should be in position to compete for a team trophy. Liam Acevedo set an SWBL division record in the 200m with a time of 22.29 while qualifying for the final.
---
Lacrosse
The HS program finished the year 9-9…the best finish in program history. Aiden Creech was honored Thursday for receiving Region 8 Honorable Mention. This was the 1st time in program history someone has received this honor. 
The program is growing and with no seniors this year, we are excited for our future! We begin tournament play AT HOME Saturday at 12 vs McNick. Come out and support our boys!
---
Baseball
The Cats are heating up at the right time as WE are winners of 5 of the last 6. Now, we are headed into the OHSAA State Tournament next week where we will travel to Tecumseh High School Tuesday night at 5pm. 
If we win that game, we will play Thursday against Fairmont. 
We would like to thank our four seniors:
Pierce Bauerle
Evan Fry 
Drew Issacs 
Nate Paarlberg
They've been a part of two league championships, a regional trip, and have won over 65 percent of their games in high school. We wish them nothing but the best in their future endeavors.
Come out and support the Cats tomorrow (5/14) at Oakwood 11am and Miamisburg 4:30pm as we wrap up our regular season. 
---
Softball
The Cats ended their season with a 9-4 tourney loss to Fairborn. Overall we finished 13-12 with a 8-5 SWBL East record. Good for a 2nd place league finish.
Thank you to our senior Demi Barnthouse for her years with the program. We are looking forward to 2023.
---
Tennis
The tennis team ended its season on Tuesday at sectionals. We did pretty well with...
Reily Retherford (3rd singles), 
Caleb Powell and Adam Osborn (1st doubles) winning 1 of 2 matches
Zoe Shockely (1st singles) winning 2 of 3 matches. 
Maddox Taulbee (2nd singles) fought hard and played well, but came up short in his two matches.
---
Girls' Basketball
There will be an informational Team Meeting with parents and players for all incoming HS girls interested in playing basketball this upcoming season on Monday, May 16th at 7:30 in the Media Center. If you are interested in playing, but cannot attend, please let Coach Abshear know through email matthew.abshear@lakotaonline.com or by phone 937-479-7889, and we will send you all the information.
---
Cheer
The FHS and FJHS cheerleaders are selling Zink's subs now through May 24th. The subs include 3 meats, cheese, pizza sauce, and can be ordered with or without banana peppers on an 8" hoagie bun. Subs are $6 each (CASH ONLY) and will be ready to be picked up the last week of June.
If you're interested in purchasing subs, ask one of the 22-23 season FHS or FJHS cheerleaders or send order information to Coach Megan Stacy at mstacy@franklincityschools.com - Thanks for your support for our upcoming season.