From the Desk of Brian Bales: Weekly Update from the Week of May 20, 2022
Image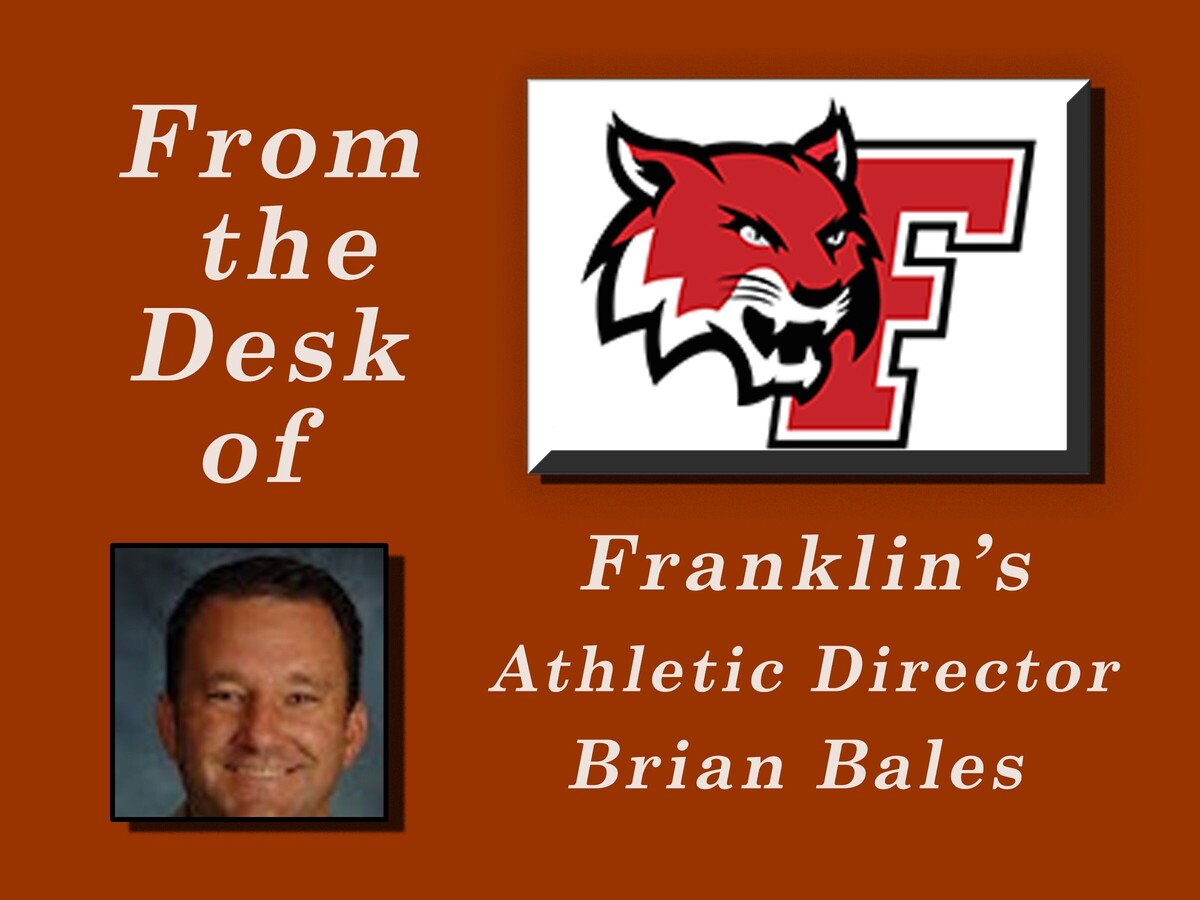 FRANKLIN, OH -- Happy Friday! Please feel free to forward to others that may enjoy reading it.
Athletic Department
Thank you to all of those that helped out with the physicals, especially, Mr. John Dynes and Dr. Chamberlain. We are so lucky to have them here in Franklin. We were able to service about 200 student athletes. We appreciate all of the effort from our coaches who volunteered their time as well.
The athletic department would like to say congratulations to all of our 2022 Graduates. We wish you the best of luck in your future endeavors!!!
Track
The Boys and Girls Track teams competed in the SWBL championships last weekend.
The boys team finished 3rd ... 3 points away from a team trophy. The following boys scored points for the wildcats:
Liam Acevedo: 100m (1st), 200m (1st)**Meet Record, 400m (1st), 4x400 Relay (1st)
Chris Bond: 800m (1st), 1600m (1st) **School Record, 3200m (1st), 4x400 Relay (1st)
Hudson Black: 800m (2nd), 4x200m Relay (1st), 4x400m Relay (1st), 4x800m Relay (4th)
Bryson Hall: 400m (4th), 4x200m Relay (1st), 4x400m Relay (1st)
Carter Black: 4x800m Relay (4th)
Angel Wooten: 4x800m Relay (4th)
Connor Green: 4x800m Relay (4th)
Ethan Adkins: Pole Vault (4th), 4x100m Relay (3rd), 4x200m Relay (1st)
Isaac Elam: 4x100m Relay (3rd)
Matt Montgomery: 4x100m Relay (3rd)
Jacob Saunders: 4x100m Relay (3rd), 200m (5th), 4x200m Relay (1st)
The Girls finished 4th place, and the following ladies scored points for the wildcats:
Kensie Black: 1600m (3rd), 3200m (3rd)
Sophie Aldridge: Shot Put (4th), Disc (2nd) **School Record
Reghan Hall: 100m Hurdles (5th), 4x200m Relay (4th), 4x100m Relay (4th)
Evelynn Jones: 4x200m Relay (4th)
Addie Berry: 4x200m Relay (4th)
Julionnya McCall: 4x200m Relay (4th)
Riley Hall: 4x100m Relay (4th)
Kaity Dalton: 4x100m Relay (4th)
Hayla Gadd: 4x100m Relay (4th)
Both Track teams are competing in the District Championships this week. The top 4 individuals/Relay Teams will move on to the Regionals next week. 
Qualifying for tonight's finals are the following athletes:
Liam Acevedo: 400m
Hudson Black: 800m
Emma Madden: 800m
Chris Bond: 1600m
Tyler Bond: 1600m
Kensie Black: 1600m
Alivia Peters-Fryer: 1600m
H Black, C Bond, B Hall, L Acevedo: 4x400m Relay
Sophie Aldridge: Discus
Natalie Garner: Discus
Donovan Holweger: Shot Put
Max Patrick: Shot Put
Camille Lafferty: Pole Vault
Maria Koss: Pole Vault
Addie Lloyd: Long Jump
Riley Hall: Long Jump
Isaac Elam: High Jump
Carter Black: High Jump
Connor Green: 3200m
Austin Hitte: 3200m
Hailey Hitte: 3200m
---
Baseball
The baseball Cats saw their season come to an end last night in the second round of the OHSAA tournament against Fairmont 8-0. We finished the season 11-17 winning 7 of our last 9 games. At the SWBL league meeting we had five players receive honors:
1st Team: Pierce Bauerle (Player of the Year) Evan Fry and Bryce Swoll
2nd Team: Jaxson Rudd
Honorable Mention: Jordan Hipsher
---
Cheer
The FHS and FJHS cheerleaders are selling Zink's subs now through May 24th. The subs include 3 meats, cheese, pizza sauce, and can be ordered with or without banana peppers on an 8" hoagie bun. Subs are $6 each (CASH ONLY) and will be ready to be picked up the last week of June. 
If you're interested in purchasing subs, ask one of the 22-23 season FHS or FJHS cheerleaders or send order information to Coach Megan Stacy at mstacy@franklincityschools.com - Thanks for your support for our upcoming season!
---
Boys Basketball
The Franklin Boys Youth basketball summer camp will be held June 6-8 at FHS for incoming 2nd-8th graders. Click on the link below to register.
https://forms.gle/vFTjPNo79tJgzm9J6
---
Wrestling
The Franklin Wrestling team has had a busy Spring competing in the Olympic Styles of Freestyle and Greco Roman. Six Franklin wrestlers have qualified for the Freestyle/Greco Roman State Championships to be held Memorial Weekend at Ohio Northern University.
Competing are: 
Garret Tackett 
Junior Creager 
Cody Ferguson 
Cole Stephens 
Carter Reed
Jack Berry 
---
Football
The football program is doing a spirit shop fundraiser starting now! This will run until 5/31 at 11:59pm. If you choose the "pick up" option, you will actually pick it up from Coach Brown at Franklin High school when it comes in.(This option is free. It is $12 if you choose to ship it to your house.)
If you have any questions contact Coach Hurst at (937)581-2297 or Coach Brown at (513)646-8946. Thanks for all of your support! https://franklincatsfootball2022.itemorder.com/shop/home/
---
Boys Soccer
ALL Summer Practices are from 6pm to 9pm at the Stadium. Dates are:
6/14
6/16
6/28
6/30
7/12
7/14
7/26
7/28  
For more information or questions contact Coach Luke McNeil at lmcneil@wcsd.k12.oh.us
Please spread the word about are fun and exciting Coed Youth Camp.
2022 Soccer Cam
---
Girls Soccer
Thursday evening the girl's soccer team had an informational meeting about the upcoming fall season. If you are interested in trying out for the varsity soccer team in the fall please let me know.
You can email me at karen.fhsgirlssoccer@gmail.com. 
Also, the boy's and girl's soccer teams are putting on a youth camp June 7-9 6:30-7:30 pm at the Franklin stadium. 2022 Soccer Cam
---
Cross Country 
We had a meeting a couple of weeks ago about cross country for the fall. If you were unable to make the meeting and are interested in joining us please let Coach Applegate know. You can email him at Happlegate@franklincityschools.com. 
You can also join the Remind in order to receive updates about conditioning this summer by texting @FranklinCC to 81010.

---
Boys Golf
Any high school boy interested in playing High School Golf this fall please contact Coach Harris at jaharris@franklincityschools.com for summer practice schedule and to be added to the remind list.
---
Girls Golf
We need girl golfers who are interested in playing golf this fall. We sent a notice out on the Franklin Website about a month ago. As of this moment, I have received no responses. If anyone is interested in playing golf this fall please let me know at broe@franklincityschools.com. 
No experience is necessary. Look forward to hearing from you. Coach Scott Roe
---
Cheer
The high school cheerleading program is excited to host our annual cheer clinic! The clinic will be held at the high school August 1st and 2nd, 6-8pm and will cost $50 to participate. 
All participants will receive a t-shirt and will be invited to cheer at a home varsity football game in the fall! 
Please check social media and the Franklin City Schools website for more information about registration this summer! We hope to see a lot of future wildcat cheerleaders there! 
Have a great and safe summer everyone!