A Few More Days Left to Recycle Christmas Trees and Lights
Image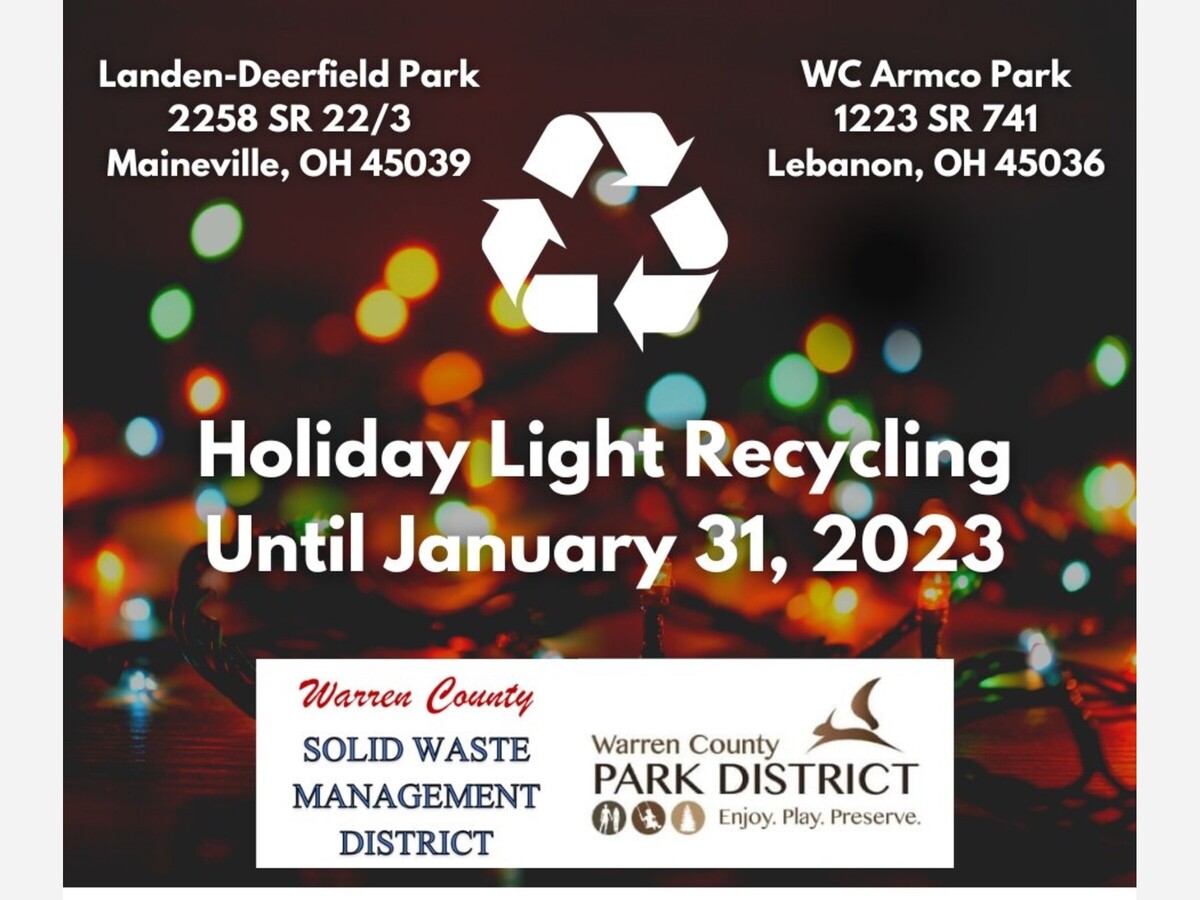 WARREN COUNTY, OH -- For those who are still doing clean up from the holiday season,  keep in mind that live trees and lights can be recycled notes Warren County Park District notes on its Facebook page. To help with the recycling, the district has partnered with several entities to help collect the unwanted holiday lights and live Christmas Trees.
For Christmas Trees, Deerfield Township is still collecting live trees until January 20 at these two parks:
Deerfield Township Parks are open daily from dawn until dusk. Areas will be sectioned off and posted with signs for township residents to drop off their Christmas trees.For more More info on Tree Recycling in Deerfield Township: visit Deerfield Townships Website by clicking here.  
For the holiday lights the WC Park District has partnered with Warren County Solid Waste Management District to offer convenient drop-off locations until January 31, 2023. Light locations are: 
Warren County Administration Building - 406 Justice Drive
Hamilton Township Administration Building - 7780 S. St. Rt. 48
Deerfield Township Administration Office - 4900 Parkway Drive
Deerfield Twp Fire Station #57 - 3435 US Route 22 & 3
Mason Community Center - 6050 Mason Montgomery Road
Landen Deerfield Park - 2258 US Route 22 & 3
Armco Park - 1223 OH-741
City of Franklin City Building - 1 Benjamin Franklin Way
Lebanon City Building - 50 South Broadway
Springboro Performing Arts Center - 115 Wright Station Way
Springboro City Building - 320 W.Central Ave.
Questions call Warren County Solid Waste District at 513-695-1210. To learn more about Warren County Parks visit the district's Facebook Page or Friends of Warren County Park District Web page.