Who's Playing Out: Brought To You By Hall Around Town Radio January 26th
Image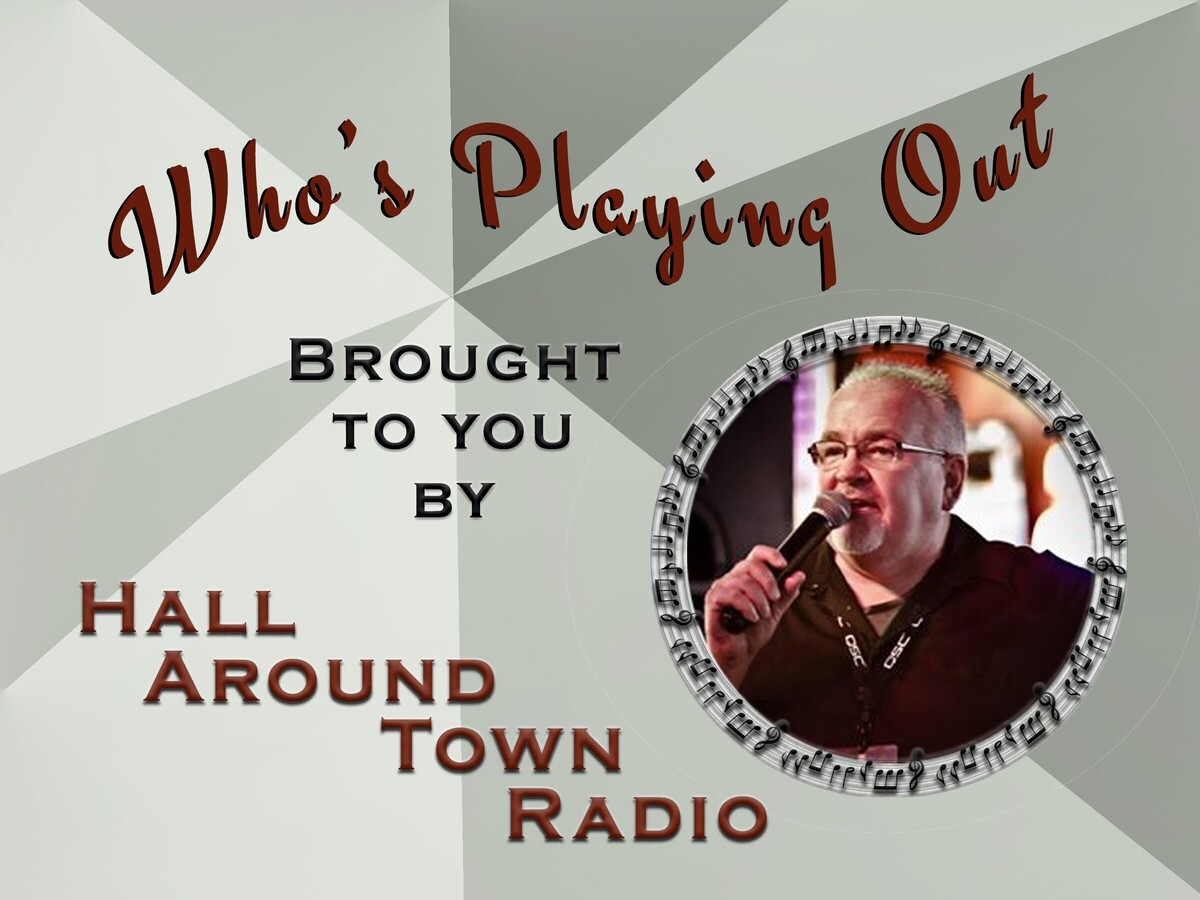 Brought to you by Scott Hall from "Hall Around Town Radio"
A little live music can turn an ordinary day into a memorable experience. The area's top musicians take center stage at some of the tri-states best restaurants and nightspots, bringing live music to our region nearly every night of the week. Make your first stop here weekly to find out "Who's Playing Out" at one of our live local music venues. Bands and solos brought to you by our friends at Froggy's in Monroe, Ohio and Hall Around Town Radio (follow the on Facebook)
---
Froggy's in Monroe – Sponsor of our Thursday LIVE show on Facebook
Friday at 9pm Dirty Water Revival
Saturday at 9pm Diamonds and Boots Party
Sunday – Who Dey – Game Day 6pm
Tuesday – 7:30pm Queen of Hearts jackpot is over $1K
Wednesday - 7pm Karaoke with DJ Songz
---
Mr. Boro's Tavern Springboro 
Thursday – Heather Linville & Josh Fierrea 7 to 10
Friday – Velvet Crush Unplugged 8 to 11pm
Saturday – My Day Off (debut) 8 to 11pm
Sunday – Bengals Gameat 6pm
Tuesday – "Quiztastic" Q&A Trivia with Scott at 7pm
Wednesday – Queen of Hearts Drawing. 8pm over 34K
---
The Belle & The Bear (Montgomery)
Thursday "The Award Winning Jam" EVH Tribute with Mad Hatter 7:30ish
Friday – The Hanky Panks at 8:30 pm
Saturday - Crown Watts at 9:00pm
Monday Game Night - 6pm
Tuesday – Jamie Combs Acoustic Jam 7pm
---
Crooked Handle Brewing Co. Springboro
Friday – Ricky Veeneman 7pm
---
Crooked Handle Brewing Co. Piqua
Saturday – Nothing But Treble 6pm
---
Pohlman Lanes & Scott's Bar & Grill (Hamilton Ohio)
Family Entertainment Complex 954 Pyramid Hill Blvd., Hamilton Ohio
Friday at 7pm – CFG & The Family
Saturday 7pm – Sean Poole opening for Stagger Lee - HollewoodsB-Day Bash
Monday at 7pm The After Hours Big Band on the lanes
Wednesday at 1pm matinee performance with the Standard Country Time Band
---
Sorg Opera House
Lorrie Morgan – Friday February 3 rd
Future show tickets available at Cincyticket.com visit SORG page for more info
---
Soft Rock Café
Karaoke – Thursday- 7:30 pm - Friday 8:30pm - Saturday - 8:30 pm.
---
Little River Bar and Grill (Oregonia)
Thursday –– DJ Songz Patioke Party at 7pm Party on the covered enclosed patio
Friday – Missing Pieces at 7pm
Saturday – Grey Days 7pm
---
The Blue Note Harrison
Friday –Lynch Mob Opening the show Sweet Sister Mercy & Russell Jenkins XL! Rocking in the pub it's The New Machine & Sons Of Liberty! 6:00pm
Saturday - Saturday January 28th Van Halen "Panama" Returns to the Blue Note with Sammy Hagar tribute "One Way To Rock" Rocking in the pub it's 1330! Rock night is ON! Doors at 6pm
Future show tickets available at Cincyticket.com
---
Hidden Gem Music Club
Thursday – UD Jazz Ensemble 7:30pm
Friday – Visitor at 8pm
Saturday – Subterranean and The Gillespie Express 9pm
Sunday – Jazz Brunch with The Burns/Berg/Leslie Trio 11am
Tuesday – Open Mic Night 8PM
---
Lori's Roadhouse
Thursday – Football and Wings
Friday – Kevin McCoy opening for Mark Willis at 8pm Tickets at LRHLIVE.com
Saturday – Carter New 7pm
Tuesday – Line Dancing 7pm
Wednesday – Boozy Bingo and Karaoke at 6pm
---
Miami Valley Gaming
Friday – Chuck Brisbin and the Tuna Project 9pm Center Bar
Saturday – MVG 9pm Center Bar
---
Rex Patrick and the Country Legends Show in Germantown
Saturday – Country Legends Band starring Tim Hembree 7pm
Reserve your table now 513-594-1282
---
The Brick Tap and Tavern
Thursday – Open Mic with Scott Houchens 8:30
Friday – Truk at 8:30pm
Saturday – More than Zero 8:30pm
---
Fairfield Pub
Thursday – Mike Lieser for Thirsty Thursday 7pm
Friday – The Hatfield Band 9pm
Saturday – Strang Brew Band 9pm
---
Avenue Sports and Spirits Lebanon
Wednesday – Open Jam with Wishlist 6:30pm
Friday – Wood and Steel Revival 8pm
Saturday – Mark Goodwin 7pm
---
Ricks Tavern
Friday – The Gamut at 8pm
---
Scott Hall – Hall Around Town Radio
Tuesday "Qiztastic" at Mr. Boros Tavern 7pm
Live Monday to Thursday on Hall Around Town Radio
---
Scotty Long / DJ Songz
Wednesdays Froggys Monroe, OH 7pm-11am Karaoke Xperience
Thursdays at Little River Bar and Grill 7pm
Friday - J.D. Legends Jamie Suttle opening for Alexis Gomez with Karaoke After Party @ 10pm.
Saturday Froggys 9pm Diamonds & Boots Dance Party.
Bands, Solos, Duos and Events
New Century
Friday at the Barrel in Springboro 8pm
Reeking Havoc
Saturday at 8:30pm Jens Bar & Grill
Flatline
Saturday at Club Trio 9pm
Benny Bodine
Friday 1/27 The Hitching Post Saloon 7-10 Oxford, OH
Shane deMoss
Thursday 1/26 O'Leary's Night 2 with Heath Bowling - Centerville, Oh 7-10ish
Chad Applegate
Saturday - Chad Applegate solo – 7 to 10 at Little Miami Brewing Company in Milford OH.
Billy Brown
Friday Jan 27 at 10pm - Red Rock Saloon in Milwaukee WI
Saturday Jan 28 at 9pm - Firewater Saloon in Chicago IL
Mad Hatter
Saturday at JD Legends 8pm
Truk - full band
Friday at The Brick Tap& Tavern in Huber Heights. 8:30-12
Rise II Reign
Friday from 8-12 at Moe Harrigan's Tavern Kettering, Ohio
Velvet Crush Unplugged
FRIDAY 1/27 at Mr Boros Springboro oh 8-11
Tuesday 1/31at Submarine house Centerville oh7-10
The Menus
Friday at Turfway Park 9:30pm
That One Party Band
Friday at Latitudes 8pm showtime
Saturday in Aberdeen Ohio at Jethros Tiki Hut from 9-1
Pandora Effect
Saturday at Anderson Tap House 9pm
Angela and Rob Olsen
Thursday at 7pm Legends Bar in Hamilton
The Marthas
Saturday at Jaynes on Main 7:30pm
Templin Road
Saturday at the Monkey Bar 7pm
David Scanlon
Friday at Bock Family Brewing 6pm
Courtney Jo Harr
Saturday in Nashville at Tootsies from 2 to 6pm
Standard Country Time Band
Friday at Hunter Pizzareia 6pm
Wednesday at Pohlman Lanes from 1 to 3pm
Joe Lipinski
Friday - jersey joe Lipinski at Devil Wind Brewing in Xenia from 7 to 9pm
Ben & Pete
Friday at Lucky Star Brewery- Miamisburg from 8 to 11 PM
Heath Bowling Music
Saturday 1/28 fronting Route 88 at The Stable from 7-11p in Eaton, OH
Wednesday 2/1 with Beauty and The Beast at O'Leary's 7-10p Centerville, OH
Tyler VanB Music
Sat. 1/28 at Bock Family Brewing 12pm-3pm in Centerville, OH
Sat. 1/28 at Oscar's Bar 7 to 10 in Vandalia,OH
Wesley Green Music
Friday - 9eight Central Private show at 7 Mile Winery from 6-7
Wes will be playing a few with New Century at the Barrel Friday. 8-12
Michelle Robinson
Friday at Knox Joseph Distillery in OTR from 8-12
Kevin McCoy Band
Friday at Lori's Roadhouse 6pm - Support for Mark Wills
Spungewurthy
Friday from 9 to 1 at Katz Lounge in Kettering
Chris Lee Acoustic
Saturday at Fibonacci Brewing Cincinnati/Mt Healthy from 7pm-9pm
David Thornton
Thursday at Jayne's On Main in Miamisburg from 7-10
Friday at Hamilton's Urban Backyard from 7-9
The Liquor Store Dogs
Friday – Anderson Tap House from 9 to 1
Pauly and the Fall From Grace
Saturday at Bobby Mackeys 7:30 to 9pm
Time Stamp
Saturday at Jimmy B's 9:30pm
Rockstar
Friday at Pirates Den from 9 to 1
Saturday at Peecox
MONA
Saturday at WO Wrights 8pm
Rick George Acoustic
Thursday 1/26 at The Pub Beavercreek 6:30-9:30
Sweet Sister Mercy
Friday at the Blue-note w/Lynch Mob 8:15-9:30
Crown Watts
Saturday at the Belle & Bear 9pm
Johnny Fink
Friday 1/27 Gina and Johnny duo at Grandview tavern 7pm
Saturday 1/28 Johnny Fink and the Intrusion at Mariemont Theater 7pm
The Times
Saturday at BoJangles in West Carrollton, 9P -1A
Kevin Cooper
Thurs 730-1130pm: B&B Jam
Fri 830pm-1230am: The Hanky Panks at The Belle & The Bear
Sat 9pm-1am: The Hanky Panks at Mt Lookout Tavern
The Gratfeul Dads and the Naked Karate Girls
Saturday at the Knotty Pine from 8 till 2am
Timeless
Saturday at The Blind Squirrel Florence, Ky 9pm
Sunday Pregame Party - Little Miami Brewing Co. Bengals Tailgate Party Sunday 4-6pm
White Liger
Saturday at 8pm - PEECOX Independence Ky
If you would like to have your musical act featured on our weekly podcast or in Warren County Post contact us @Hall Around Town Radio on Facebook! For additional Band information follow our daily Facebook "Live at Five" program @Hall Around Town Radio