Image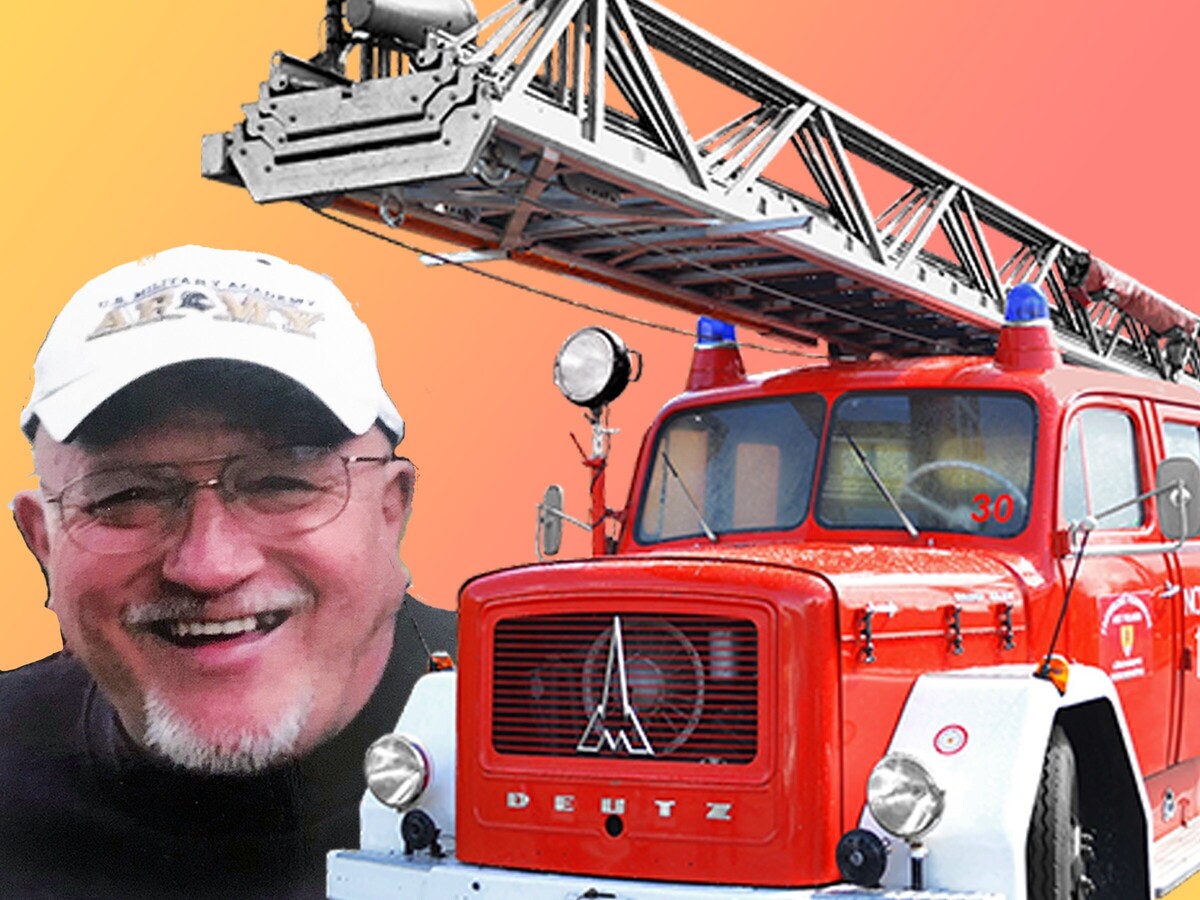 Lebanon resident Terry Susong retired as a professional firefighter back in 1995 from Middletown Fire Department. "Some firemen after leaving the department are finished with their past life and move on to other things and never look back. The majority of us have it in our blood and carry the good, the bad, and sometimes the ugly for the reminding breathing moments of our lives. My goal is to give you, the reader, a small look inside the happenings of the firehouse and the firefighters."
---
I served two years in the Army, and one of those years was spent in Vietnam as a combat medic. There is a brotherhood in the military. I often see many men (and a few women) proudly wearing their hats and shirts displaying the branch of service. It only takes a few words of "thank you for your service" and a hand shake to get a conversation started, which I've done many times. 
I love to see an elderly man with a World War II hat on his head. They will stand (or sit in their wheelchair) and talk for a long time and tell you their stories. They are so proud of the service they gave to our country.
In the fire department, there is also a brotherhood similar to the military. Firefighters wear their hats and shirts and are equally as proud as the soldier guys. And, then you have firefighters who have also served in the military, this creates even a stronger connection.
The day of September 11, 2001 changed lives forever. People over 30-years-old remember where they were and what they were doing the first time they heard of the events of the day. I was glued to the TV for five days. You might say I was in a funk. The thing that affected me the most was the moment I heard of the 343 firefighters who lost their lives when one of the towers fell. I cried like a baby. Even though I had never met any of those firefighters, I felt the brotherhood. I must admit any time I hear of a firefighter(s) getting killed in the line of duty, it affects me deeply.
When Perry (nicknamed Monk) came on the fire department, we became good friends. Monk saw a lot of bad things in Vietnam. He was with an Army infantry unit and saw a lot of action. Many of the firemen were scared of him for they didn't how to read him. The word was out "don't mess with Monk!"
Monk and I had several conversations about Vietnam. He told me some stories that would make your skin crawl. In one of our talks, he shared another battle story he was in. After he finished, I said to Monk, "I didn't see as much action in Vietnam as you."
Monk looked into my eyes, stuck out his large right hand and gave me a strong handshake. 
"Terry, none of that matters. You did what you were  asked to do and you were there! We will always be brothers!" 
My brother died last year.
There is always an exception to the brotherhood rule. On a return trip from Tennessee, my bother Dennie, his wife Jill, my wife Connie and I stopped for lunch at a northern Kentucky Wendy's. In the parking lot, I saw a large shiny red fire truck. Many times I have talked to my family about how tight-knit the fire department brotherhood is...  no matter where you are in the country.
We ordered our meal, and I headed for a table. I spotted an empty table behind the three young firemen seated by the window. Before taking my first bite of my lunch, I made eye contact with one of the firemen. I smiled at him and extended my hand towards him. I wanted to prove to my family the truth about our brotherhood. 
"Hello, my name is Terry Susong and I've been a firefighter in Middletown, Ohio for sixteen years." 
Without cracking a smile or shaking my hand the young man said "That's nice." He returned to his meal.
So much for "our brotherhood."
It was all my family could do to keep from bursting out loud with laughter. But they saved the funny stuff until we got back on the road. For the next two hours, if one of us told a story, someone else would end it with... "That's Nice!"
In the middle 1980's as a second job, while still working on the fire department, I sold TV and audio equipment. Once a year our store attended The Consumer Electronics Show held in Chicago. The previous year I attended the show with several co-workers from the store. We had a great time, but this time I drove separate from the group. I wanted to stay an extra day at the show.
We had a great time at the show, and it was time to say good bye to everyone as they headed back to Ohio. I headed down Lake Shore Drive toward downtown. About fifteen minutes past when I heard a loud clunk. It was as if my car went into neutral. 
My transmission had malfunctioned. I was now stranded on the side of the road. Almost an hour passed and nobody stopped to help. Suddenly, a small red sports car pulled in behind me. A young couple offered their car phone (my first time using one) to call for a wrecker. I called AAA. 
It was about another hour before Mr. Cool and his wrecker showed up. After the hookup, we headed back up Lake Shore Drive. Weaving in and out of traffic, Mr. Cool asked me where I wanted to be towed. 
"Beats me, Pal. I am at your mercy," I answered.
"I have a buddy downtown who has a transmission shop, is that OK?" he asked.
"Sure, go for it."
We reached the downtown area and all of a sudden Mr. Cool stopped the wrecker in the middle of the street and said "I'll be right back." 
He fished some coins from his pocket and headed for the pay phone on the corner. Such was life before cell phones!
Ten minutes later we were back on the road, weaving in and out like a taxi driver. Occasionally, I would look back through the rear window to see if my car was still there. We arrived at Mr. Cool's friends' transmission shop. He unhooked my car, and I signed the proper papers. And now, I was alone in the big city.
It was almost dark, and I was starting to get a little concerned of what to do next. So, I bowed my head and said a little prayer asking God for protection and guidance. 
After I opened my eyes, they came focused on three men in front of a building. The transmission shop was next door to a Chicago Firehouse! God had answered my prayer (that was quick).
I walked over to the firehouse. The firemen were talking and joking around with each other — a scene I recognized many times at my firehouse back home.
I walked up and greeted them with a smile, and they returned the same. 
"Hi, guys. My car broke down, and it is next door at the transmission shop," I explained.
One fireman spoke up. "Oh, you are very lucky. Jim is the best transmission man in Chicago. He will do you right."
"Great!" I said. "Do you know where the nearest motel is located?"
"Sure, there are a couple of reasonable motels about two blocks down and to the right," another one answered.
I continued to talk to them about my car and the events of my day. Then, I shared with them that I was a career fireman from Middletown, Ohio. All of sudden everything changed. 
"Well, you are not going to any motel. We have an extra bunk here for you! Let me go and make sure it's okay with my Captain first ...but, I'm sure you will be able to stay with us." In about three minutes, he returned with confirmation. 
I received the grand tour of the firehouse. I was in my glory.
Things couldn't have worked out any better. I spent two full nights at the firehouse. Although, I wasn't allowed to go on fire runs with them —liability, I was treated just like one of the guys and was made to feel at home. This truly fulfilled the definition of the word Brotherhood.
After getting back home I shared the story with my brother and his response was... "THAT'S NICE!"