Warren County Parks Offering FREE Fun Activities For Kids During The Summer
Image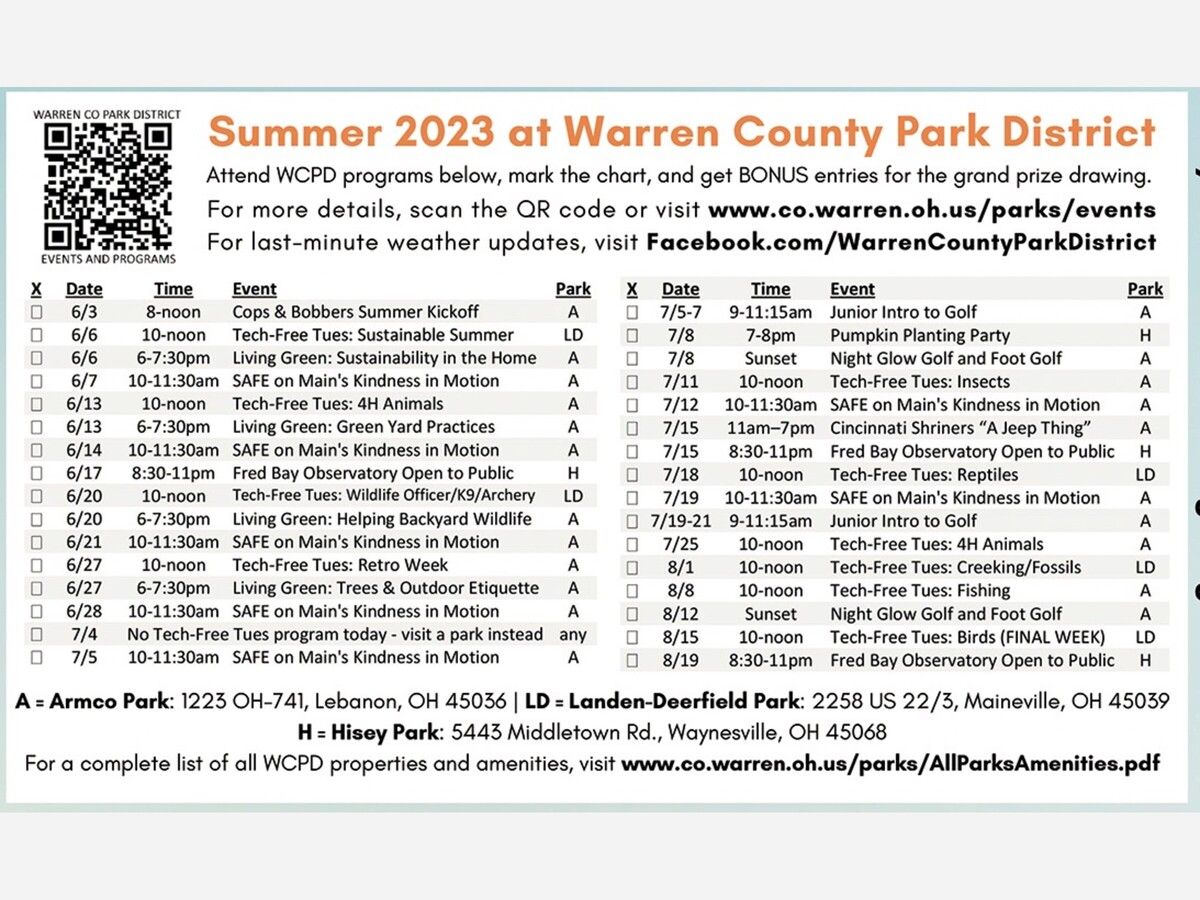 WARREN COUNTY PARK DISTRICT, OH -- For many of us, Memorial Day Weekend starts the beginning of summertime. And for those with children, trying to find ways to entertain them can be a challenge.
Good News... Friends of Warren County Park District (FWCPD) has two great summertime activities that are not only fun and educational, but they are FREE!
The first FREE activity is actually a challenge... a challenge to get your child to spend 100 hours outside. May it be taking a walk, visiting a new park, going camping, swimming, fishing, and bike riding… just to mention a few, it's a challenge to get kids outside away from the TV, computer games and get some fresh air.
"Today, there is plenty of scientific evidence that nature is not only good, but great for us," notes Linda McGurk in her 2013 article in rainorshinemamma.com. In the article McGurk shares 13 benefits outside play has and it is backed by science. Everything from better test scores to stronger awareness reasoning and observations skills have been linked to children who spend time outside.
And to make the challenge even more fun for Warren County kids, "every child who completes the challenge will receive a prize and will be entered into a grand prize drawing," noted Warren County Naturalist Shannon Pennington.
The challenge begins on Monday May 29, 2023 and runs until Midnight Labor Day 2023. The form is easy to download and can be found here.
The other fun FREE activity that FWCPD offers is Tech Free Tuesday. Every Tuesday, starting June 6 and ending Aug. 15 (excluding July 4th) will ru from 10 am till noon. Pennington, who also runs this program, has a different activity planned each week for kids.
During Free Tech Tuesday kids will be introduced to and have activities available to help them learn about such things as wildlife, archery, insects, reptiles, fishing and much more. Children attending must be accompanied by an adult.
The activity rotates every other week from Armco Park located at 1223 OH-741, Lebanon, OH 45036 to Landen-Deerfield Park located at 2258 US 22/3, Maineville, OH 45039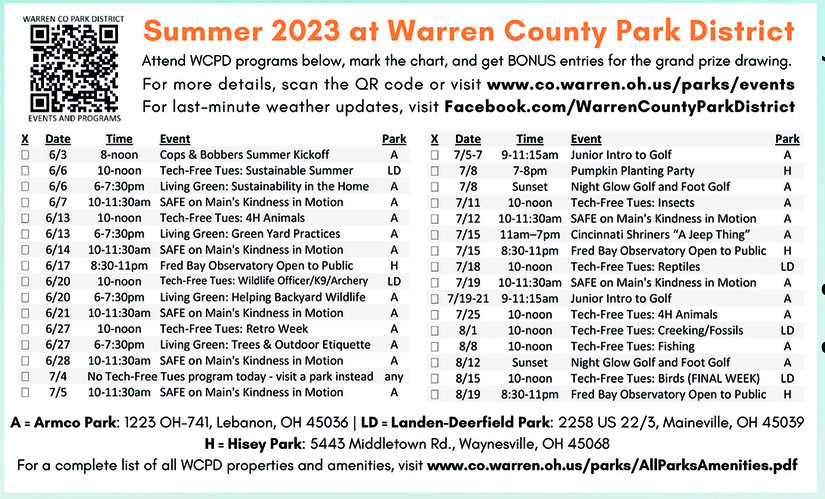 To learn more visit https://fwcpdoh.com/ or Facebook.com/WarrenCountyParkDistrict