Nature Close to Home: 2022 GREAT BACKYARD BIRD COUNT
Image
LEBANON, OH -- Dave Woehr, an Ohio Certified Volunteer Naturalist, participated in the World Wide Citizen's Science Event  where people all over the world come together to watch, learn about, count, and celebrate birds. 
This year the event, in its 25th year, started Friday Feb., 18  and goes until Monday Feb., 21. 
To help participate in this world wide event, Warren County's Armco Park opened the Jones Pavilion for a bird class on Friday. Then, on Saturday and Sunday the pavilion was opened for people to come sit inside to watch and count the birds that visited the bird feeders set up outside the windows of the pavilion. 
Shannon Pennington, Warren County Park District's Staff Naturalist, was there along with other volunteers to help people learn birding skills and make nutritious "Zick Suet" bird food.
An outdoor alternative is also available for those who want to still participant but missed Friday, Saturday and Sunday.  There are tally sheets in an outdoor box for people to take a walk through the park, record observations, and drop off the tally sheet when done.
This self-guided activity will be available during normal park hours on today Monday 2/21.
Also, if you decide to participate in the world wide bird count, and you can't make it to the park, you can do it in your own back yard and send your tally to https://www.birdcount.org.
Here's an example of Dave Woehr's tally from his backyard!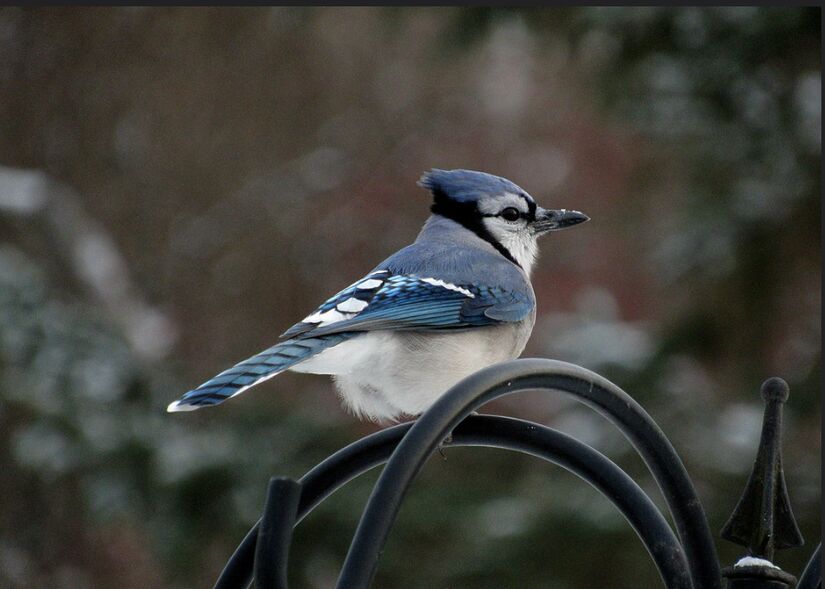 A beautiful Blue Jay enjoying Dave's backyard.
What Dave saw in his own backyard for a duration of nine hours. He recorded that he saw 16 different species in the 50 different birds... 
Canada Goose...Number observed: 9
Mourning Dove...Number observed: 12
Red-bellied Woodpecker...Number observed: 1
Downy Woodpecker...Number observed: 1
Hairy Woodpecker...Number observed: 1
Northern Flicker...Number observed: 1
Blue Jay...Number observed: 1
Carolina Chickadee...Number observed: 2
Tufted Titmouse...Number observed: 1
White-breasted Nuthatch...Number observed: 1
American Robin...Number observed: 2
House Finch...Number observed: 8
American Goldfinch...Number observed: 2
Dark-eyed Junco...Number observed: 2
White-throated Sparrow...Number observed: 2
Northern Cardinal...Number observed: 4
Some Bird Trivia: 
According to Ornithologist Ana Luz Porzecanski, about 10 years ago, two scientists decided to estimate the total number of birds on the planet. The number they came up with was 200 to 400 billion individual birds. Compared to 5 billion people, this amounts to about 40 to 60 birds per person.
https://www.amnh.org/explore/ology/earth/ask-a-scientist-about-our-envi….