Four Warren County Career Center Students Heading to Texas for National Cybersecurity Competition
Image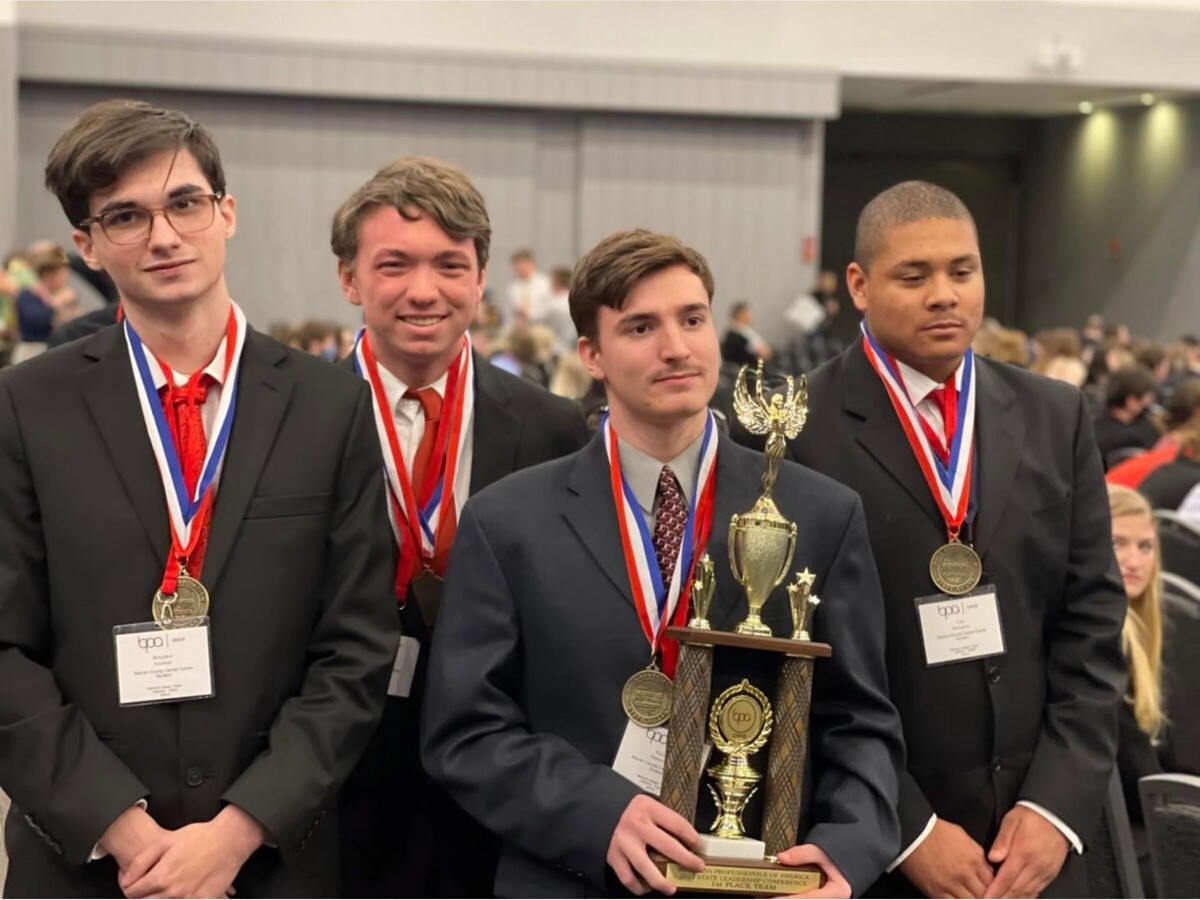 WARREN COUNTY, OH -- Four Warren County Career Center students are Heading to Texas.
Brayden Goodyk, Kaleb Derouen, Timothy Williams and John Yates won the State Title for their Cybersecurity Project earlier this month in Columbus. Their win is now sending them to Texas to compete in the National Competition.
"Going up on stage with my teammates, in front of thousands of people, was an overwhelming but great experience. I wouldn't've wanted to be on that stage with anyone else," said Goodyk.
Goodyk, along with his partners, compiled a network design for an Esports league. "We composed a proposal for the design, which as of now is 20 pages long," Goodyk added.
Assisting the team with their project is Diana Marks, WCCC's Cybersecurity Instructor. After, what Marks explains was a lifetime working in the IT/Cybersecurity field for such companies as IBM, Dell and Hitachi, she decided to use her knowledge and experience to teach students who would like a career in IT/Cybersecurity.
Marks who has been  teaching IT/Cybersecurity for 5 years at WCCC explained, "I became a career technical educator because I want to help students have a success career like I had over my lifetime."
According to Marks, WCCC's two-year Cybersecurity Program helps prepare students for careers using technical and academic skills to design, develop, implement, and test secure information technology systems. Students learn:
IT Fundamentals, 
Computer Hardware and Software, 
Operating Systems and System Managment, 
Computer Networking, 
Network Security, 
Introduction to Programming, 
Introduction to Databases, 
Web Design, 
Cybersecurity, 
Digital Forensics,  
and, Ethical Hacking with a goal of earning CompTIA industry credentials
"These credentials certify the student is knowledgeable and ready for the workforce in IT/Cybersecurity," she added.
Besides instructing students at WCCC, Marks also teaches freshman level IT courses at the University of Cincinnati where she is an adjunct professor.
"Students in my program at WCCC participate in the Early College Entry Program for Information Technology at UC and are also enrolled as a junior in high school as a student at Sinclair Community college. These programs give students the opportunity to complete their freshman year of college while in high school," she noted.
During their two years in the WCCC program taught by Marks, she has her students participant in many competitions including:
BPA, 
UC IT Expo, 
Tech Olympics, 
Sinclair Tech Prep Showcase, 
and, National Cyber League.
"These competitions exhibit student knowledge and enable them to win awards and travel to state and national competitions," she said.
"Doing this project, it didn't feel like I was 'stuck' or 'forced' to work with my partners. We felt like a genuine team. All of the faults each teammate had, there was someone to accommodate for them," Goodyk added.
"Almost daily when John's entire class enters my room they shout 'Cyber Team' in unison. He and his classmates share a special bond that I expect will last long past high school," Marks said. 
So, we here at the WarrenCountyPost.com agree whole heartedly with Ms. Marks when she said... "As for a quote, the first thing that comes to mind is 'Go Cyber Team!!!'"