Who's Playing Out Brought To You By Hall Around Town Radio June 23, 2022
Image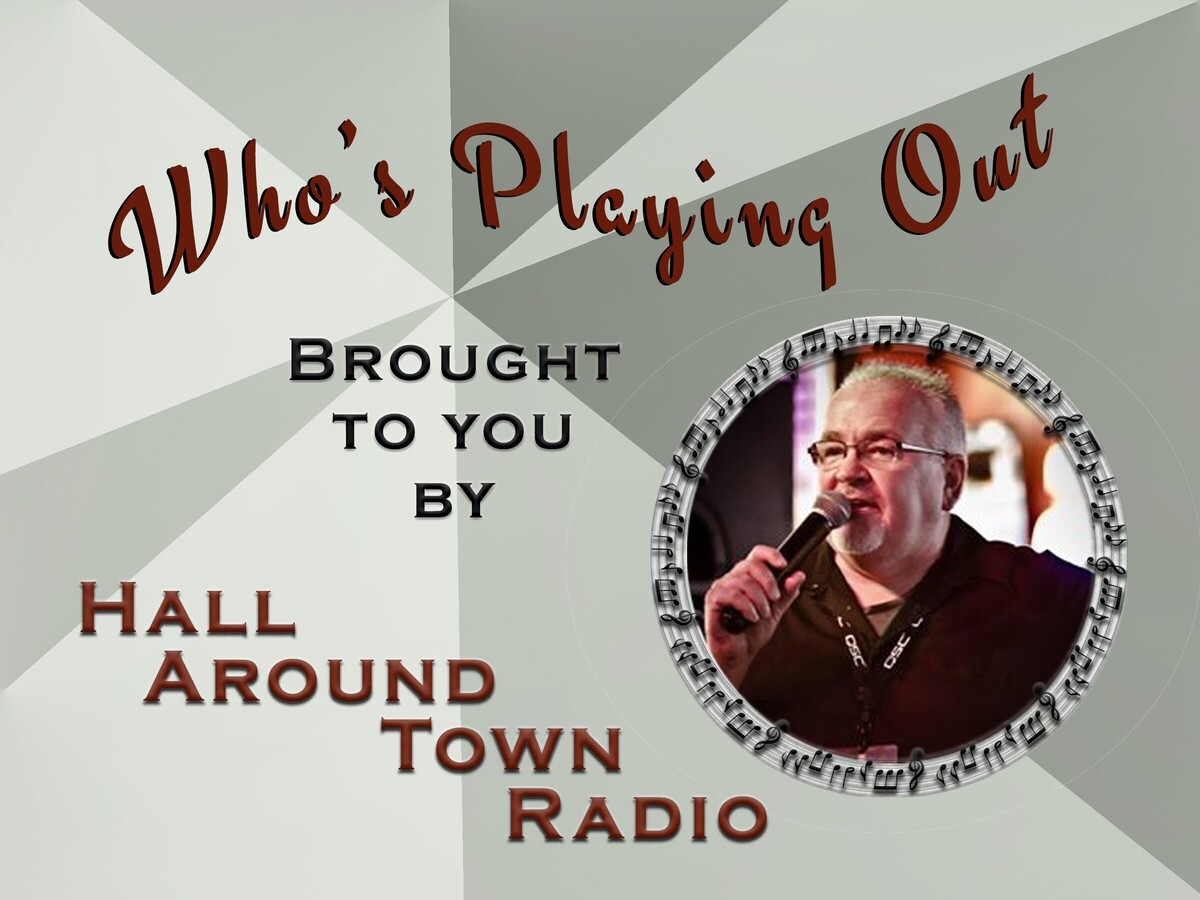 Brought to you by Scott Hall from "Hall Around Town Radio"
A little live music can turn an ordinary day into a memorable experience. The area's top musicians take center stage at some of the tri-states best restaurants and nightspots, bringing live music to our region nearly every night of the week. Make your first stop here weekly to find out "Who's Playing Out" at one of our live local music venues.
Bands and solos brought to you by our friends at Froggy's in Monroe, Ohio and Hall Around Town Radio (follow the on Facebook)
Froggy's in Monroe – Sponsor of our Thursday LIVE show on Facebook
Friday 9pm- ATP
Saturday 9pm - Social Chemist
Tuesday - 6-9 Benny Bodine
Wednesday - 6-9 Bret & Danny
Wednesday - 8pm Karaoke Contest
Online seating reservations / tickets at www.gotofroggys.com
---
Mr. Boro's Tavern Springboro 
Thursday – David Thornton 7 to 10 pm
Friday – TRUK – 8 to 11pm
Saturday – Firecreek Revival - 8 to 11
Sunday –– Jamie Combs - 2 to 5 pm
Tuesday – Q&A Trivia with Scott at 7pm
Wednesday – Queen of Hearts Drawing. 8pm
---
Heathers Café
Tuesday – Open Mic Night with Junior 7pm + the Queen of Hearts Drawing at 8
Wednesday – Name That Tune with Scott. 7pm Call for reservations
Thursday – Last Call with special guest David Garwood 6:30pm
Friday – Hi Fi Honey 7pm
Saturday – Don't Tell Steve 7pm
---
The Belle & The Bear (Montgomery)
Thursday "The Jam" featuring a host of local music celebrities at 7:30 pm
Friday – Sweet Sister Mercy 9pm
Saturday _ Templin Road 8:30 PM
Sunday – "Strumday" with Dave Wade and Rick Kern
Monday Game Night - 6pm
Tuesday – Jamie Combs 7pm
---
Soft Rock Café
Karaoke – Thursday 7pm - Friday 8pm - Saturday 8:30 pm.
---
Lebanon Grand Opry House
Saturday – Stage and Dinner Show with Jessie Lyn and the Opry House Band with Dave Hudson and Artie White Doors open at 6pm
Reservations by calling 513-850-1770
---
Sorg Opera House
Saturday – The 4 Horsemen (Metallica Tribute) 7:30pm
Tickets available at Cincyticket.com
---
Crooked Handle Brewing Co.
Thursday – Dennis Chrisman at 7pm
Friday – Ricky Veenaman at 7pm
Little River Bar and Grill (Oregonia)
Thursday – DJ Songz – Karaoke at 7pm
Friday – Ninety-Four.04 at 7pm
Saturday – Bourbon Road Band at 7pm
Tuesday – Bike Night with music
---
The Blue Note Harrison
Thursday – Glam Slam Metal Jam featuring Enuff Z' Nuff with Pretty Boy Floyd and Midnight Devils Doors open at 5:30pm
Tickets available at …. CincyTicket.com
---
Pohlman Lanes & Scott's Bar & Grill (Hamilton Ohio)
Family Entertainment Complex 954 Pyramid Hill Blvd., Hamilton Ohio
Friday - Linus Tate 7pm to 11pm
Saturday Dj Krutch with special Boogieroot
Monday - Big Band Swing 7pm to 9pm
Wednesday – The Standard Country Time Band 1pm to 3pm
---
Hidden Gem Music Club
Thursday – Enter Glass 8pm
Friday –The Mind Reels 7pm
Saturday – Nasty Bingo – 8pm
Sunday – Live Your Dream a night of soul 6pm
Tuesday Bourbon and Vinyl Night 6pm
Wednesday – Open Mic Night 8PM
---
Lori's Roadhouse
Friday – Kenny Welch 6pm
Friday – Tera Lynne Fister at 9:30pm
Saturday – The Roasters 6pm
Saturday – LRH Allstars Alexis Gomez and Blake Tyler at 9:30pm
---
Miami Valley Gaming
Friday- Turned Up Band – 9pm Center Bar
Saturday – Danny Frazier Band – 9:00pm Center Bar
---
Setters Volleyball Club
Saturday – Britches Down – 8pm
---
Brick Tap Tavern
Thursday – Open Mic Night with Scott Houchens 7:00pm
Friday – Bamboo Haris at 8:30pm
Saturday – Matthew Allen Acoustic at 8:30pm
---
Scott Hall – Hall Around Town Radio
Tuesday Trivia at Mr. Boros Tavern 7pm
Wednesday – "Name That Tune" at Heathers Café on the patio 7pm "Call for Reservations"
Live Monday to Thursday On Hall Around Town Radio
---
Scotty Long / DJ Songz
Thursday - Little River B&G Oregonia, OH 7pm
Friday - Putters Sports Grill Maineville, OH 7pm
Sunday - Orioles Franklin, OH - Spinning Tunes for CornHole Tournament at 2pm.
Tuesday - The Barrel Springboro, OH 7pm
Wednesday- Froggys Monroe, OH 7pm
---
Bands, Solos, Duos and Events
Rahe Mountain Live (Event) in Independence Ky.
Saturday – Black Mountain Throwdown & Controversy for Breakfast with special guest Rick Kinman
Gates open at 5pm – Bonfire – Camping – Field Party
---
Brandon Jones
Sunday at Third Eye brewing from 4 to 7pm
---
Tyler VanB
Thursday – The Pub at the Greene at 6pm
Sunday – The Barrel at 4pm
---
Son's of Liberty
Friday at Cabana on the River 8-12pm
---
StrangeLove
Saturday at Monkey Bar 7-11pm
---
The GAMUT
Friday at MVP 8pm
---
Joe Cowels
Joe C Solo
Thursday - Foley's Irish Pub 7-11
Friday - Kro-bar Beckett Ridge 5-9
Wednesday - Olde Village Tavern 7-11
---
Tori Faith
Saturday with Whiskey Town at Cabana on the River ~ 8pm-12am
---
Lätter
Saturday at Little York tavern debut on the patio! 8pm
---
Whiskey State Line
Friday at the Monkey Bar 7-11pm
---
Dat Band
Thursday at Takeover The Square West Chester 6-9pm
Friday at Hollywood Casino Lawrenceburg 8-Midnight
Saturday Street Food XPO (Food truck rally) Bechtold Park Sycamore Twp Noon-2pm
Followed by the Danby 4, Final Order, and NKG
---
Kevin Cooper
Thursday 730-1130pm: B&B Jam
Friday 8pm-12am: The Hanky Panks at Trillions
Wednesday 6/29 7-11pm: Dos Bozos (Pat Riley, Kevin Cooper, Mike Roberts) Hangar Bar & Grill
---
Johnny Fink
Friday Johnny Fink and the Intrusion at Smoke Justis 7pm
Saturday at Fretboard Brewery 9pm
---
RED HOT RIOT
Saturday at Big Ash Brewing 8:00PM
---
Marsha Brady
Thursday June 23rd - Quaker Steak & Lube Colerain Bike Night 5:30pm - 9:30pm
Friday June 24th - Knox Joseph Distillery OTR - FC Cincinnati Soccer Pre-Game party 6pm - 8:45pm
Saturday June 25th - Private Wedding Anderson Ohio 9pm - 1am
---
Audio Graffiti
Friday 6/24 Mt. Lookout Tavern 10-2
Saturday 6/25 Hyde Park Blast (Hyde Park Square) 9- midnight
---
The Weekend Effect
Saturday at Wings Vandalia patio show. 9pm-1am
---
White Knuckle Weeked
Friday at Setters Volleyball Club at 8pm
---
Matthew Allen
Friday at White Dog Distilling Co (Middletown) 8-11 pm
Saturday at Brick Tap & Tavern (Huber Heights) from 8:30 - 11:30 pm
---
Joe Lipinski
Thursday - jersey joe solo, Dingle House Irish Pub, West Chester, 9-11PM.
Tuesday - jersey joe with Bill Schuerman at The University of Dayton, 7 pm, Daniel J. Curran Place.
---
David Thornton
Thursday at Mr. Boro's Tavern (Springboro) 7:00pm
Friday at Grainworks Brewing Company (West Chester) 7:00pm
Saturday at Jayne's On Main (Miamisburg) 7:30pm
---
Blind Faith Duo Acoustic
Thursday at Jungle Jim's-Fairfield Cigar Bar. 5 to 9pm
Friday at Quaker Steak and Lube patio in Florence Ky 6-9pm
---
Wesley Green Music
Friday with 9Eight Central 9 to 1am
Saturday with the Bourbon Road Band at Little River Bar 7-11
Monday with Bourbon Road Band at Mutt's Brewery 6-10
Tuesday - open Mic at Heroes Pizza 6:30-9:30
Thursday the 30th with 9eight Central at Liberty Inn. 6:30-10:30
---
Chris Lee Acoustic
Thursday at Railyard Bar and Grille Sunman IN. 6pm-9pm
Saturday at the Hangar West Chester West Chester OH. 8pm-Midnight
Wednesday at Little Miami Brewing Co. 7pm-10pm
---
Short of Stable
Saturday at Good Time Charlie's (Cruise the Burg after party). 8:30-1am
Sunday at Good Time Charlie's Mike & Tiff - Open Mic. 5-9pm
Tuesday at Cracker Jaks Bike Night Mike & Tiff 7-10pm
---
Spungewurthy
Thursday at Bargos Centerville 6 to 10pm
Saturday at Brixland 6 to 9pm
---
Don't Tell Steve
Saturday at Heathers in Springboro 7 to 11pm
---
Missing November
Saturday at the Freedom Festival at Adams County Fair Ground 7-10pm
---
Until Rust
Friday at Hidden Valley Orchards Lebanon, Oh 6:30-9:30pm
Saturday at Patricia Allen Park "Five Points Neighborhood Summer Block Party" Lebanon, Oh 2-4pm
Saturday at Romer's Bar & Grill Bellbrook, Oh 8-11pm
---
Shane Demoss Music
Wednesday at Misery & Jen Hamilton, Oh 7-10pm
---
Benny Bodine
Thursday at Courthouse Square - Downtown Dayton Dayton, OH 11:30am - 1:00pm
Friday at Lock 27 Brewing Centerville, OH 7-9pm
Saturday a Private Party Bellbrook, OH 7-11pm
Tuesday at Froggy's in Monroe, OH 6-9pm
---
Velvet Crush Unplugged
Thursday - Joining LAST CALL at Heather's Cafe Springboro, Oh 630-930
Friday at Heroes Pizza House Springboro, OH 7-10pm
Saturday at Hank's Pub Dayton, OH 8-11pm
---
Truk
Friday at Mr. Boro's Tavern 8-11pm
---
Bourbon Road Band
Saturday at the Little River Bar and Grill from 7-11pm
---
ReDD
Thursday at Legends Bar 8-11pm
Friday at Foley's 8-12am
---
Six String Hustle
Thursday at Liberty Inn in Liberty Township, Ohio
Friday from 8-11pm at the Dublin Pub in Dayton, Ohio
Saturday at Billies Burgers Lebanon Oh 7 to 10pm
Sunday from 1-4 Miamiville Trailyard. Loveland, Ohio
---
Billy Brown
Friday June 24 at 5:30pm - Enson Harbor in Bellevue KY
Saturday June 25 at 6:30pm - Velocity Esports in Newport KY
Sunday June 26 - Rock & Roll Hall of Fame in Cleveland OH
---
Jordan Wood
Thurs 6/23 at Twenty Mile Tavern - Open Jam 9pm Landen
Friday 6/24 at Strauss House w/Party Foul Band 8PM Covington, KY
Saturday 6/25 - Private Event
Sunday 6/26 Open Jam Miamiville Tavern Miamiville oh
Monday 6/27 Misery & Jens Open Jam 8pm - ? Hamilton, OH
Thurs 6/30 Twenty Mile Tavern - Open Jam 9pm Landen
---
Heath Bowling Music
Friday 6/24 Misery & Jens 6-10p Hamilton, OH
Saturday 6/25 Bonnie's Birthday Bash W/ Benny Bodine 7-11p Centerville, OH
Wednesday 6/29 Open Mic(AJ's) 8-11p Franklin, OH
---
Lakes Ridge Band
Saturday at Heritage Pavilion – Brookville Lake 7pm
---
Vinyl Countdown
Saturday at Tin Cap in Wilmington 6-10.
Sunday at Loveland Summer Concert Series 6-8.
If you would like to have your musical act featured on our weekly podcast or in Warren County Post the contact us @Hall Around Town Radio on Facebook! For additional Band information follow our daily Facebook "Live at Five" program @Hall Around Town Radio