Former Loveland Jazz Saxophonist Earns The Hoagy Carmichael Scholarship
Image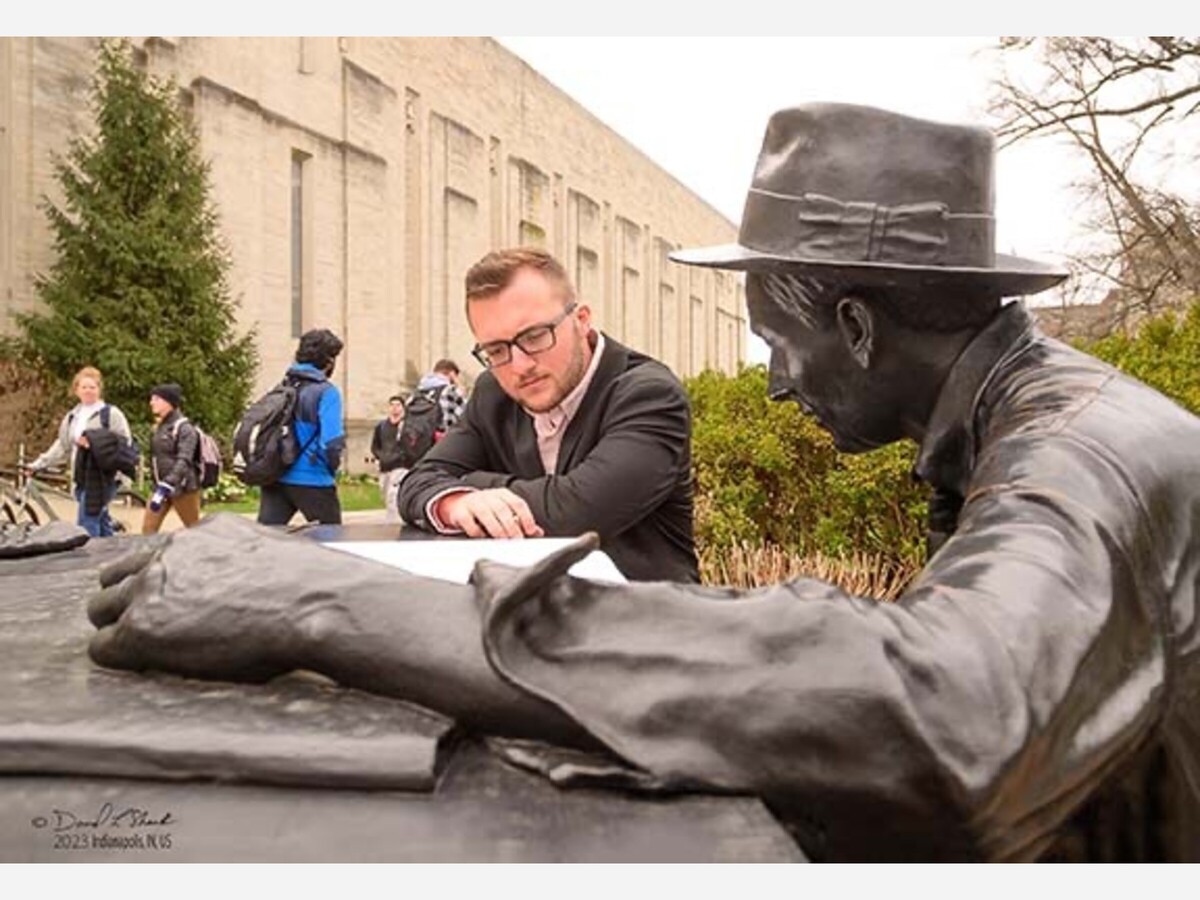 BLOOMINGTON, IN --  Garrett Fasig, a former Loveland High School student, is the recipient of the second annual Hoagy Carmichael Award for Excellence in Jazz Composition from the Indiana University Jacobs School of Music. 
The scholarship will be presented to Fasig at the Indiana University Jacobs School of Music Jazz Celebration at the Musical Arts Center during the introduction of The Gennett Suite, which celebrates the 100-year anniversary of Gennett Records. Fasig says he was inspired by Hoagy Carmichael, who recorded early works at Gennett Records.
(Gennett Records was a turn-of-the-20th Century studio in Richmond, Indiana about 70 miles northwest of Cincinnati. The Gennett Suite was composed by Brent Wallarab and performed by the Buselli-Wallarab Jazz Orchestra.)
Fasig is a tenor saxophone artist and composer. He is the son Greg Fasig, who lives in Toledo, and  Jodi Fasig, who lives in Landen, Ohio causing him to spend his growing up years in both Loveland and Defiance areas with his younger sister Rachel.
The Hoagy Carmichael Award for Excellence in Jazz Composition is granted to a music student based on faculty review of student compositions. The award includes $3,000, a plaque and a copy of Richard Sudhalter's biography of Hoagy Carmichael.
Garrett comes from a musical family: Learning about saxophones from a cousin.
Garrett remembers his mom's sister being an accomplished clarinet player. He also remembers, as an elementary school student, seeing his cousin, a classically trained saxophonist, play in a musical.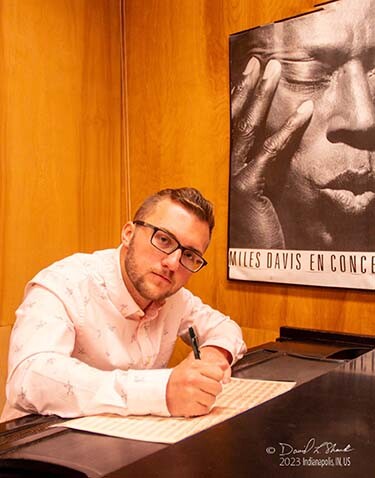 "I knew, then, I wanted to play saxophone. I got into playing a recorder at Loveland Middle School," he said.
By seventh grade, he was playing tenor sax in the Loveland Middle School stage band with music teacher Bruce Maegly. In the eighth grade, the band went on the "Purple Potamus" tour to elementary schools and their favorite song was "Purple Hippopotamus" which was "fun, funky and cheesy," he remembered. 
Bernardo Lopez, his high school music teacher, encouraged his early music path.
"From the beginning, Mr. Lopez, at Loveland High School, was really interested in helping people who knew they wanted to be professional musicians," Garrett said, explaining, "for three or four semesters, they gave me time for independent studies, and I used that time to practice. I wrote my first songs for guitar. He also gave me the opportunity for my first big band writing. I could write with no experience, no instruction and see if it worked."
Garrett headed for the world-renown IU Jacobs School of Music expecting to study tenor saxophone with Walter Smith III. "But as I was finishing my sophomore year, Walter left and I almost left, too. But then Greg Ward came, and I studied with him for the last four years. Greg and Brent Wallarab have formed me into the musician, composer and saxophone player I am." 
Fasig is now a second year Masters student.
Fasig: Hoagy's legacy is special.
"This is such an honor to be included in the Hoagy Carmichael award," said Fasig. "Hoagy was one of the best Tin Pan Alley writers, ever ... if not the best. And as a performer, he was the baddest." 
Fasig added that if a legacy can survive that many years, it's special. He pointed to the Carmichael top hits: "You've got Stardust, Skylark, The Nearness of You, Georgia On My Mind – these are songs that will forever be stamped as classic jazz songs…forever!" 
He said jazz musicians in the year 2100 are "still going to have to learn The Nearness of You."
"I could never imagine anyone learning and knowing my songs 200 years after I pass away. The approach he took to ballads will carry on forever. He's going to be a canonical name, just like Beethoven or Bach."
Indiana's Carmichael was a record breaker as composer and artist.
One of Carmichael's earliest and greatest songs, Stardust, has been recorded more than 1,500 times … and counting. Stardust was first recorded by Carmichael at the Richmond, IN Gennett Records in 1927. Legend has it this classic came to him in 1927 after leaving an IU hangout.
Carmichael started to whistle a tune that he later developed. When composing the song, he was inspired by the end of one of his love affairs. A suggestion by a university classmate led to its title. That same year, Carmichael recorded an instrumental version of the song for Gennet Records.
Another Carmichael jazz standard, Up A Lazy River, is considered by many to be the standard for jazz musicians. As one of the most successful Tin Pan Alley songwriters of the 1930s, he was among the first singer-songwriters to recognize the value and use the new communication technologies such as television, electronic microphones and sound recordings.
Ironically, Carmichael graduated from the IU School of Law, now the Maurer School of Law, and not the IU School of Music. He once told a family member, "There's more money in law." 
He law clerked for a short time in Florida but returned to Indiana to become a musician.
Hoagy Award at the Jacobs School of Music is natural
"Offering a jazz composition award in Hoagy Carmichael's name is natural for the Jacobs School of Music at his alma mater, Indiana University," said Brent Wallarab, the David Baker Professor of Jazz Studies and chairs the award criteria and selection. "Hoagy distinguished himself among the top echelon of jazz composers of all time. 
Hoagy's son, Hoagy Bix Carmichael said, "We always encouraged Dad to establish such an award, but he chose not to. Our family is happy to have it now in place at Dad's alma mater, Indiana University."
"Garrett is a worthy recipient given his already extensive portfolio of original jazz compositions, many of which have been recorded and performed," Wallarab said.
Carmichael Award is managed by the Indiana Entertainment Foundation.
Founded by the Reynolds family of Richmond, Bloomington and Indianapolis, the Indiana Entertainment Foundation is a 501-c(3) Indianapolis-based not-for-profit organization.