Coming Together to Make a Regional Desitination
Image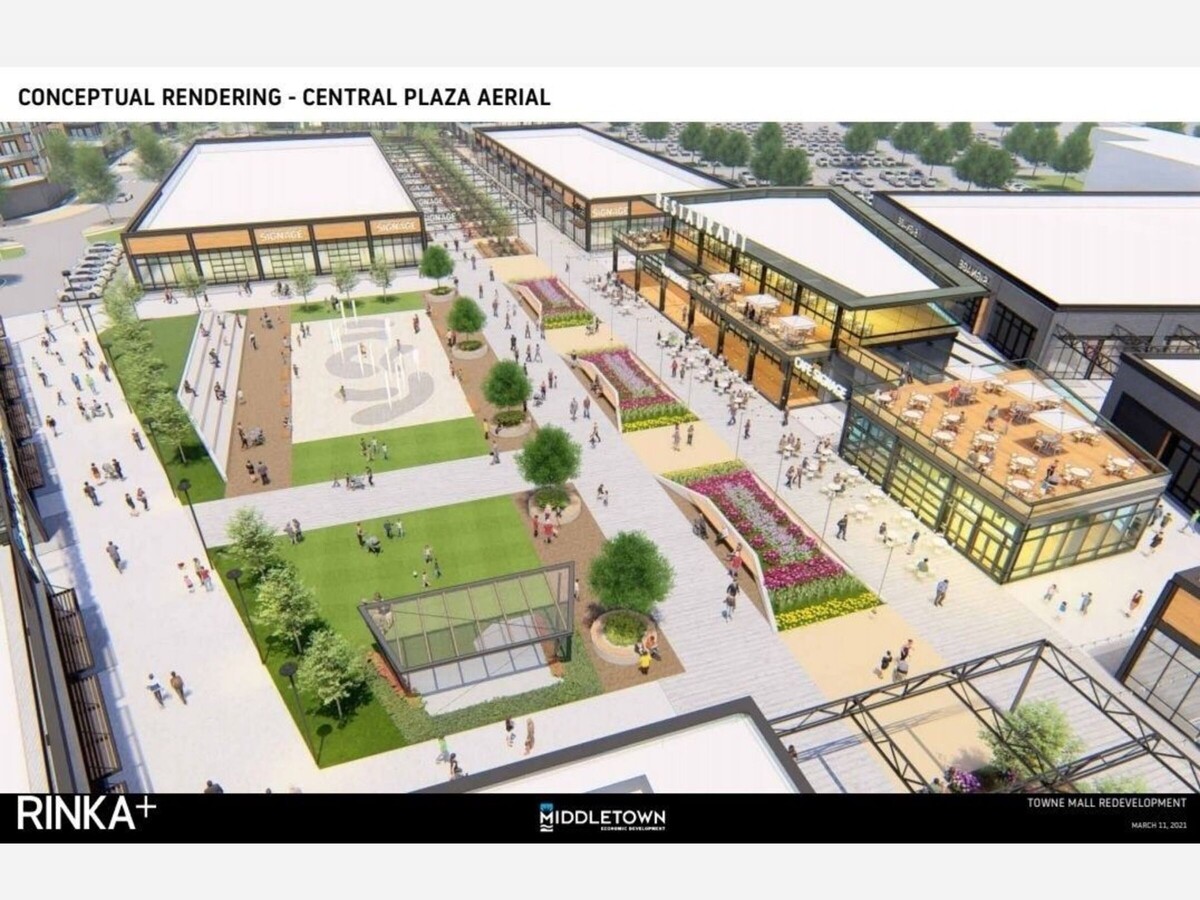 Middletown, OH -- Warren County, the City of Middletown and George Ragheb owner of Town Mall Galleria LLC have been working together for a little over a year to come up with plans to redevelop the Towne Mall Area. 
Hired to help guide them in this project is the firm RINKA+ out of Milwaukee, Wisconsin. RINKA+ , a broad based architectural firm that has received over 75 awards in its 15 years of operation and is known in the architectural world for its design of the Milwaukee Bucks Deer District, presented plans to Middletown Council back in April of 2021 for the Towne Mall Master Plan.
The vision, for the area that sits right off I-75 in the Warren County portion of the City of Middletown, is to be transformed and maximized… "into a regional community and entertainment destination," said Steve Morales, Partner at Rinka+.
The desitantion is designed to have entertainment, green space, a splash pad area that can turn into an outdoor ice rink during winter months, an outdoor stage, dining, retail, office space, lodging and multi family housing.
Martin Russel, Executive Director for the Warren County Port Authority, noted that Tourism is Warren County's largest industry and brings in $1.3 to $1.4 billion dollars a year.
During the April meeting Russell shared with City of Middletown Council Members that there is a need for an ice rink in the area, especially now that Dayton's Hara Arena and the Cincinnati Gardens are gone. And by building an ice arena, it could change this area into becoming the hub for ice sports such as hockey, curling, and figure skating.
Things have been progressing in a positive manner for the redevelopment.  In December, Ragheb, owner of the Towne Mall Galleria, signed a contract with  K1 Speed, an indoor go-kart racing track, to come to the area.
Last week during a Warren County Commissioners Meeting, Russell asked for the commissioners consent to partner with the city in doing a feasibility and market study, with the county paying $73,000 of the cost.
"We have an investment group who is looking to do a sports franchise, a tier-two junior hockey team. We a have a couple other groups that have committed. The landowner is willing to give the land for this enternatment venue free of charge for this," Russell said.
Russell explained that the study is needed to understand the size of the market and what it can and cannot handle. 
"You don't want it to be too small that you're not able to attract the big tourism items, and you don't want it so big that you are paying for something that isn't being utilized appropriately," Russell said.
Middletown City manager James Palenick is scheduled to go before his council on Tuesday (Jan., 18) to ask for money for the study, Russel said.
Both the city and county are using some of their monies from the American Rescue Plan (ARP) to fund the study.
Morales of RINKA+ said the goal is to get people excited to come here and  Palenick said things are starting to come together.
"It's a great partnership (working with Warren County). They are really professional folks that we have had a chance to work with... They really understand how you support and market and move forward in the entertainment and tourism industry. They have a great convention and visitors bureau... and that's the part of the team that we're working with to make certain that that this development really will be a shining example for the entire region," said Palenick on his Updates with the City Manager Youtube Channel.