Springboro's Guy Pasvogel Shares How He Became Both Golden and Wiser
Image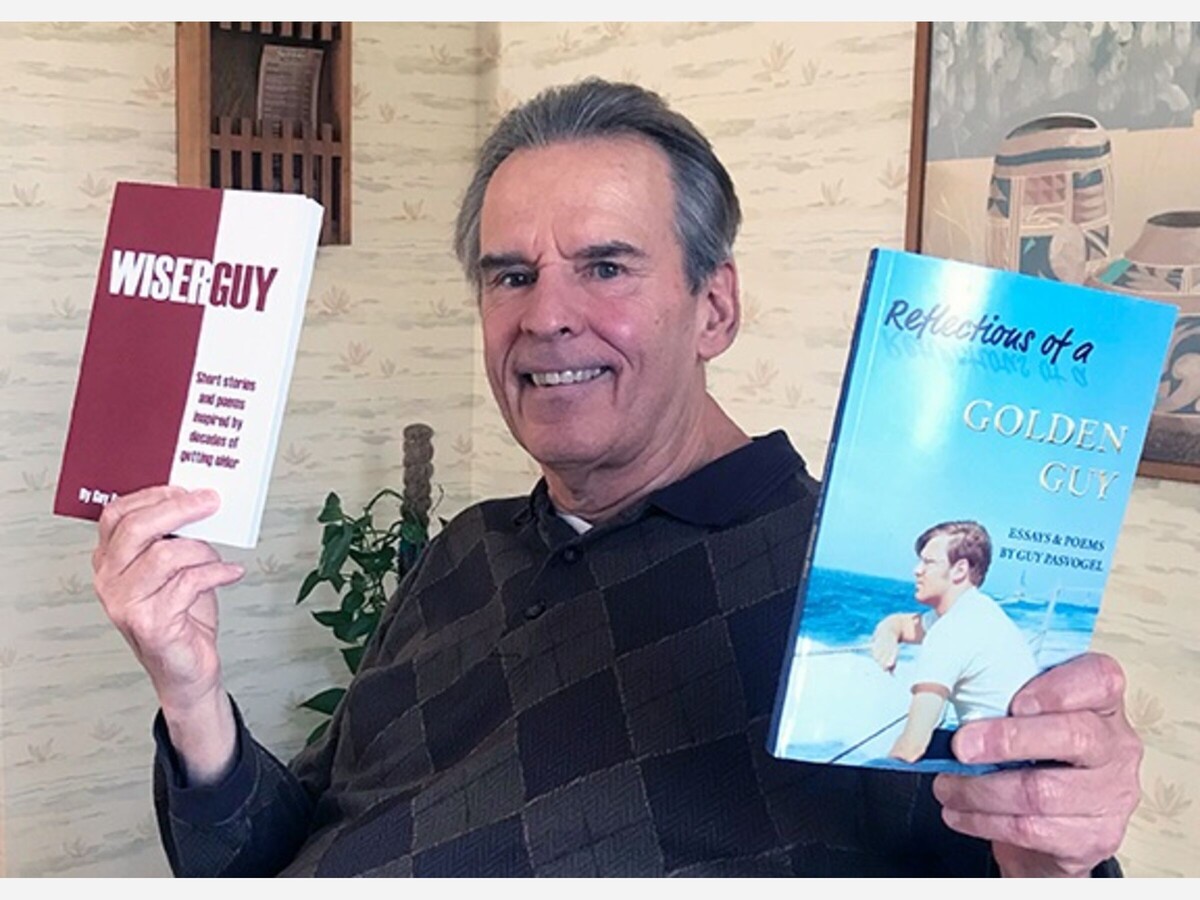 SPRINGBORO, OH -- WarrenCountyPost.com's contributing columnist Guy Pasvogel is a published author of two books: Reflections of a Golden Guy and Wiser Guy, both of which were published in 2021.
The Springboro resident began writing short stories back in 2014 after retiring as an account manager for a major appliance company.
"I had a lot of spare time," Pasvogel said, explaining, "you can only play so much golf. And, a lot of the people who were around me when I was working, they weren't there anymore."
Pasvogel found he had a lot of free time on his hands.
"Time to reflect … and think," he said, adding with a laugh, "My best friend became the postman. He gets to see me six times a week… except Sunday, that's when we both get the day off."
Standing in front of his computer one morning, he decided to sit down and take a try at writing a story. After writing his first three-page story, Pasvogel found he had fun doing it.
"I titled it Reflections of a Golden Guy. It was a play on words from another book I had read titled Reflections of a Golden Eye," he said, noting being over 65, more than an eye was golden, his whole life is golden... now that he is in the golden years.
"One story became two... then, two became three... I never intended to write a book, but six years later, I had a collection of stories," he said.
Pasvogel's friend Terry Susong, who had just published a book, Sir, When is Our Next  Stop? introduced him to a person who was able to help him self-publish.
"I was told that I really had enough material for two books," Pasvogel said.
Pasvogel worked on getting his first book published, Reflections of a Golden Guy.
The picture on the cover is of him 50 years ago in April of 1972. "I was heading from Long Beach, California to North Vietnam."
Pasvogel had just graduated from college. "I had a diploma in one hand and a low draft number in the other. I knew within the 30 days I would be drafted."
So rather than being drafted, he joined the Navy thinking, "I'd get out of going over into the rice paddies and get on a ship to stay out of Vietnam. In school I was a protester of Vietnam. I thought it was an unfair war, but I went over there and served…. reluctantly," he said.
Pasvogel explained how the front cover picture reflects the deep thoughts as he was having while crossing the Pacific … heading into war.
"I was wondering:'What am I doing here?'...'What's my life going to be?'...'Am I going to get home?'... 'Will I be alive when I get home?'… 'Am I going to get married?'… 'Am I going to have kids?'… What kind of job will I have?'" Pasvogel explained.
Fifty years later, he has the answers to those questions.
Reflecting back onto his two week "boat trip" Pasvogel noted, "The only benefit I got during those two weeks of being on that boat was a tan ... I got a golden tan."
His back book-cover reflects his golden tan days along with a photo 50 years later... "where I'm now into the golden years of my life," he explained.
His second book Wiser Guy reflects back on his life's stories over the last six decades in America that have molded him into the older, yet wiser, Guy he is today.
"My writings are definitely satire. I like to call them 'Andy Rooneyish,'" Pasvogel chuckled, adding that he hopes his readers not only find them entertaining, but thought provoking.
"I know the reader isn't going to agree with everything I write. But maybe, it will make them think of how their life went. They can ask themselves, 'Did I learn from that?' or 'What would I tell my younger self?'"
To purchase one or both of Guy's books contact him at crosleyguy9648@gmail.com.
More News from Springboro