Who's Playing Out For The Week of Oct., 27: Brought You by Hall Around Town
Image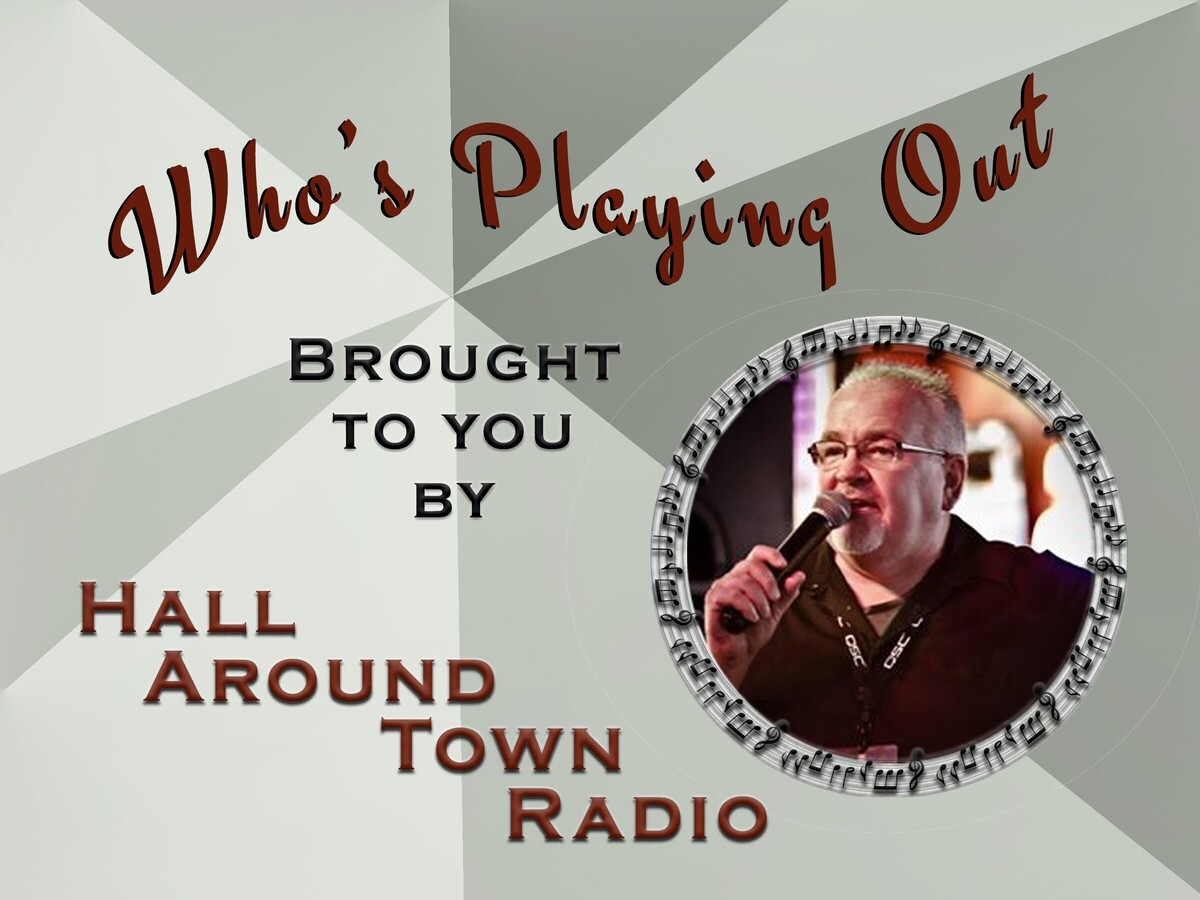 Brought to you by Scott Hall from "Hall Around Town Radio"
A little live music can turn an ordinary day into a memorable experience. The area's top musicians take center stage at some of the tri-states best restaurants and nightspots, bringing live music to our region nearly every night of the week. Make your first stop here weekly to find out "Who's Playing Out" at one of our live local music venues.
Bands and solos brought to you by our friends at Froggy's in Monroe, Ohio and Hall Around Town Radio (follow the on Facebook)
Froggy's in Monroe – Sponsor of our Thursday LIVE show on Facebook
Friday at 9pm - Social Chemist
Saturday at 9pm Jet Pack Academy plus Halloween Bash, costume contest, etc..
Monday 7pm Bengals/ Browns Hoo-dey Halloween party
Tuesday at 7:30 Queen of Hearts Drawing
Wednesdy - Karaoke 7p-11p with Dj Songz
Online seating reservations for weekend shows only (but not required) at www.gotofroggys.com
---
Heathers Café
No Music - Sides up on Tents Awaiting Christmas in the Boro
Wednesday – Name That Tune with Scott. 7pm Call for reservations. Only a 2 more weeks
---
Mr. Boro's Tavern Springboro 
Thursday – Eric Thompson 7 to 10 pm
Friday –– Stoney Doperella 8 to 11pm
Saturday – No Refunds Band and the Halloween Party 8pm
Sunday – NFL Football
Tuesday – "Quiztastic" Q&A Trivia with Scott at 7pm
Wednesday – Queen of Hearts Drawing. 8pm over 17K
---
The Belle & The Bear (Montgomery)
Thursday "The Award Winning Jam" and Costume Party 7:30ish Halloween 1
Friday – Billy Rock Band at 9 pm Halloween Part 2
Saturday - Caffein-O-ween at 9 PM Halloween Part 3
Monday Game Night - 6pm
Tuesday – Jamie Combs Acoustic Jam 7pm
---
Crooked Handle Brewing Co.
Thursday – Blind Summit Duo 6 to 9 pm
Friday – Benny Bodine at 7pm
---
Pohlman Lanes & Scott's Bar & Grill (Hamilton Ohio)
Family Entertainment Complex 954 Pyramid Hill Blvd., Hamilton Ohio
Friday at 7pm Boo's & Booze Bash #5 Night 1 Jimmy's New Invention
Saturday at 7pm Boo's & Booze Bash #5 Night 2 Don't Tell Steve
Monday - After Hours Big Band 7pm
Wednesday - Honky Tonk Wednesday at 1pm The Standard Country Time Band
---
Sorg Opera House
Friday Saturday and Sunday – "The Rocky Horror Show"
Tickets available at Cincyticket.com. See the SORG page for more info
---
Lebanon Grand Opry House
Halloween Show – Featuring Jessie Lyn and the Opry House Band – Mike Hutchinson and Terri Barnett Doors at 6pm
Reservations by calling 513-850-1770
---
Little River Bar and Grill (Oregonia)
Thursday –– DJ Songz Karaoke at 7pm
Friday –Element 3 at 7pm
Saturday – Short of Stable – Halloween Party 7pm
---
The Blue Note Harrison
Friday - Queen Tribute "Absolute Queen" on one stage with an after party with Def Leppard tribute "Armageddon" - Poison tribute "Rock of Love" & Ratt tribute "Rattrap" Doors open at 5:30pm and music starts at 7pm. One ticket gets you all the bands!
Saturday – Tantric returns to the Blue Note - Opening the show is Xero Hour and Chelsea & The Chain! Doors open at 5:30pm
Tickets are available at …. CincyTicket.com
---
Hidden Gem Music Club
Thursday – Generations Big Band at 7pm
Friday – The Hathaways – 7pm
Saturday – Fleetwood Dreams 8pm
Tuesday – Open Mic Night 8PM
---
Lori's Roadhouse
Thursday – Service Industry Night and Football
Friday – Jo Dee Messina 8pm SOLD OUT
Saturday – Q102 Halloween Hoedown –Party Yours For The Taking and Jake Taylor Band
Sunday – Stagger Lee's Anniversary Bash 4pm
Tickets available at LRHLIVE.COM
Tuesday – Line Dancing 7pm
---
Miami Valley Gaming
Friday – The Menus - 9pm Center Bar
Saturday – Jay Jesse Johnson – 9pm Center Bar
---
Rex Patrick and the Country Legends Show in Germantown
Saturday – Halloween dance with the Richard Lynch Band. Doors open at 5:30pm 7-10pm from 7-10pm Reservations by calling 513- 594-1282
---
Brick Tap Tavern
Thursday - Open Mic Night with Scott Houchens 8:30
Friday – The Interstate All Stars at 8:30pm
Saturday – Diddley Halloween Bash at 8:30 pm
---
Soft Rock Café
Karaoke – Thursday 7pm - Friday 8pm - Saturday 8:30 pm.
---
Scott Hall – Hall Around Town Radio
Tuesday Trivia at Mr. Boros Tavern 7pm
Wednesday – "Name That Tune" at Heathers Café on the patio 7pm "Call for Reservations"
---
Live Monday to Thursday On Hall Around Town Radio
Scotty Long / DJ Songz
Thursdays - at Little River Bar and Grill 7pm Party.
Mondays The Avenue Sports & Spirits Lebanon, OH 6pm-10pm Karaoke Madness!
Tuesdays The Barrel Springboro, OH 7pm-11pm Karaoke
Wednesdays Froggys Monroe, OH 7pm-11am Karaoke Xperience
Bands, Solos, Duos and Events
Vinyl Countdown
Friday from 6:30 to 11pm at Little Miami Brewing Company Halloween Will Rock Party
---
Donnie Hall and Mike Lieser
Thursday at Fairfield Pub 7pm
Until Rust
Friday 10/28 Hidden Valley Orchards Lebanon, Oh 6 – 9pm
Saturday 10/29 Oscar's Vandalia, Oh Opening for Next To Nowhere 8 – 12pm
Ithika
Friday 10/28 at Wings Vandalia 9pm-1am with Special Guest:Side Piece
Saturday 10/29 at Dublin Pub 9pm-1am
Benny Bodine
Thursday 10/27 Solo acoustic The Liberty Inn with Heath Bowling 6:30-10:30 West Chester, OH
Friday 10/28 Solo acoustic Crooked Handle Brewing Co. 7-10 Springboro, OH
Saturday 10/29 Next To Nowhere with Until Rust Oscar's Bar 8-12 Vandalia, OH
Mad Hatter
Friday at Little York Tavern 8-12pm costume party also.
6 String Hustle
Thursday - 10/27 from 8-11pm at The Lounge in Cincinnati, Ohio
Friday - 10/28 from 7-11pm at the Monkey Bar w/Cody Doench and Greg Goforth Maineville, OH
Cryin Out Loud
Saturday, October 29th, the Beavercreek Moose Halloween Party from 7:30-11:30. Must be a member or guest of a member. There will be a costume contest with cash prizes
David Thornton
Thursday, 10/27 Jayne's On Main (Miamisburg) 7:30-10:30
Friday, 10/28 Grainworks Brewing Company (West Chester) 7-10
Sat, 10/29 Sure Shot Tap House (Greenville) 7-10
Liars for Hire
Friday the Ooky Spooky Halloween Special at Katz from 9p - 1a
Tyler VanB Music:
Saturday: Wellston Legion Post 371, Wellston, Ohio 7:30 to 11:30PM
Sunday: Open Mic at Good Time Charlie's, Miamisburg 5 to 9pm
Sunday: Open Mic at Good Time Charlie's, Miamisburg 5 to 9pm
Ben & Pete
Friday at Lucky Star Brewery in Miamisburg from 8:00 to 11 PM
The Weekend Effect
Saturday at Wings Beavercreek for Halloween Bash #2. 8-12pm.
The Donna Kennedy Band
Saturday at DC Roadhouse in Middletown 8-12pm
Grey days
Friday Oct 28 th at The Possum Saloon Bright Indiana 9pm to 1 am
Short of Stable
Saturday at Little River Bar and Grill Halloween party. From 7-11
Chris Lee Acoustic
Saturday, Oct. 29 Fibonacci Brewing Company 1445 Compton Rd., Cincinnati OH 7pm-9:30pm
Fast Forward Band
Saturday at Riverside Marina in Dayton, KY for Halloween Bash 22! from 8-12!
Heath Bowling
Thursday at Liberty Inn W/ Benny Bodine 630-1030p Liberty Township, OH
Saturday at Billy T's 11-2a Middletown, OH
Wednesday at Milano's 7-10p Miamisburg, OH
Don't tell Steve
Saturday - Halloween show Pohlman lanes from 7-11
Jordan Wood
Thursday 10/27 Twenty Mile Tavern - Open Jam 9pm Landen
Saturday 10/29 Harley Davidson Eastgate Open House - full Band 11:30am Eastgate
Saturday at Grub Pub - Full Band 9pm Hamilton
Sunday 10/30 at Miamiville Tavern - Open Jam 3pm Miamiville
Monday 10/31 Misery & Jens Open Jam 8pm - ? Hamilton, OH
Kevin Cooper
Thurs 730-1130pm: B&B Jam
Fri 8pm-12am: The Hanky Panks at Trillions
Sat 7-11pm: Eyes Up Here at Gano Tavern
Wed 11/2 8-11pm: Olde Village Tavern open mic - I'm covering hosting duties for Pat Riley. Featured singer/songwriter is Chris Lee
StrangeLove
Friday at Latitudes "Halloween Costume" show from 9-1
Joe Cowels
Thursday October 27th Joe Cowels solo at Cappy's in Loveland 6p-9p
Friday October 28th Solo at Kro-bar Beckett Ridge 5p-8p
Sunday October 30th The Joe Cowels Band at Trillions 6p-10p
Wednesday November 2nd The Joe Cowels Band at Little York Tavern 8p-11p
Dat Band
Saturday at the Monkey Bar Halloween Party (costumes encouraged) 7-11pm Saturday
Sepia Heyday
Saturday part of the black market party" let's get Sheet faced" at the Slice in Middletown action starting at 4 !!! Costume contest and all sorts of shenanigans, come out and be part of it
GAMUT
Friday 10/28 from 10pm-1am Churchills Bourbon & Brew Turfway Park
Saturday 10/29 from 9pm-12am Strohbash (private)
Marsha Brady
Saturday Oct 29th - The Eagles, Indian Lake Ohio, Halloween Bash - 7:30pm - 11:30pm
Latter
Saturday at Duckfoot's Halloween Bash in the Dome!! Celina Ohio 8-12am
Johnny Fink
Friday 10/28 Gina and Johnny (duo) smoke justis in covington 730 pm
Saturday 10/29 Johnny Fink and the Intrusion- Mansion hill Halloween party 8pm
Acoustic Blue 
Thursday at Par's Place, Fairfield Oh 6:30pm
Xero Hour
Saturday opening for Tantric at Blue Note in Harrison show starts at 730
Chelsea and the Chain
Saturday Opening for Tanric at the Blue Note Harrison
The Times
Saturday Halloween Party - American Legion in New Carlisle, 8-midnight. Open to the public
Jet Pack Academy
Saturday at Froggy's in Monroe, 9p-1a
RED HOT RIOT
Saturday at Southgate Ky VFW-Halloween Party- 8:00PM
Audio Graffiti
Friday 10/28 - MVP Sports Bar Halloween Party 9-1
Saturday 10/29 - Anderson Tap House Halloween Party 9-midnight
If you would like to have your musical act featured on our weekly podcast or in Warren County Post contact us@Hall Around Town Radio on Facebook! For additional Band information follow our daily Facebook "Live at Five" program @Hall Around Town Radio.