Who's Playing Out – Brought to you by "Hall Around Town Radio" January 5, 2023
Image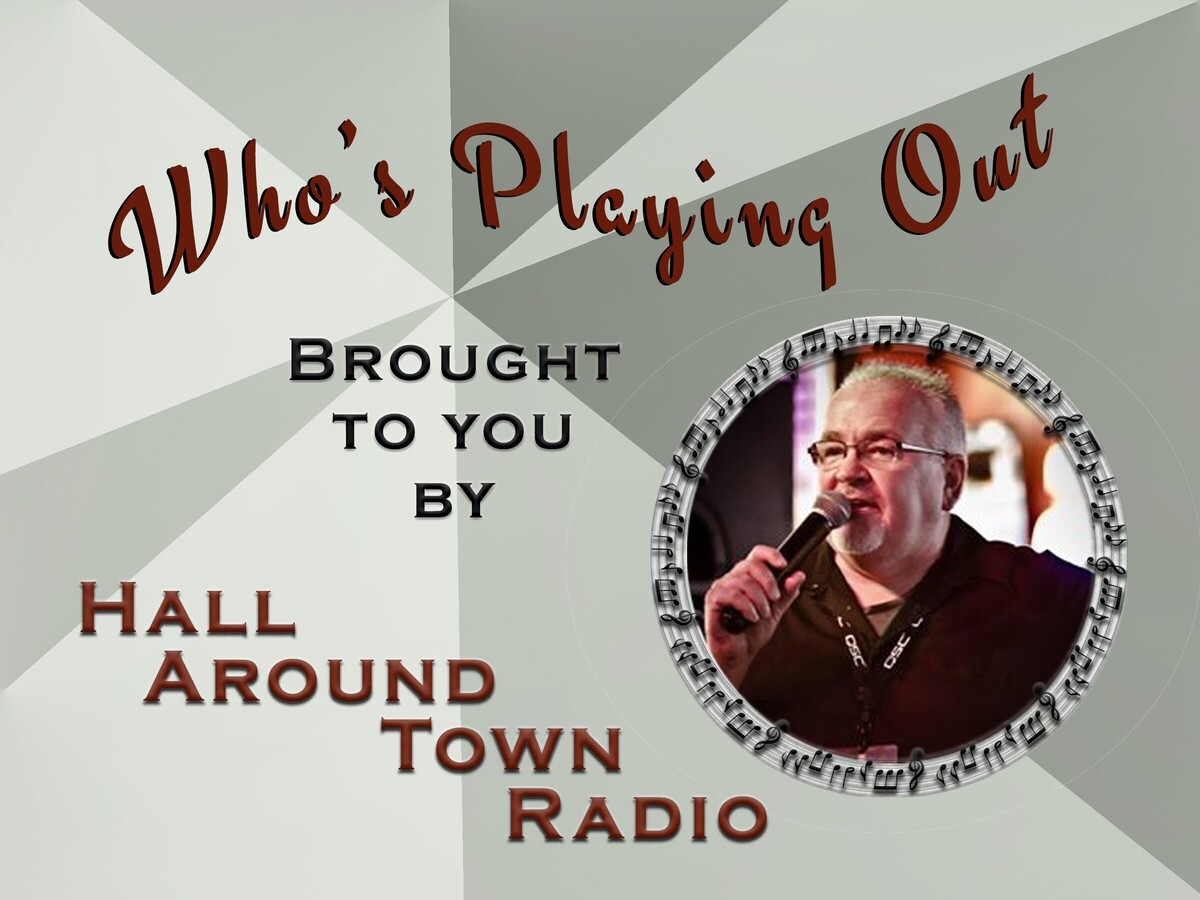 Brought to you by Scott Hall from "Hall Around Town Radio"
A little live music can turn an ordinary day into a memorable experience. The area's top musicians take center stage at some of the tri-states best restaurants and nightspots, bringing live music to our region nearly every night of the week. Make your first stop here weekly to find out "Who's Playing Out" at one of our live local music venues.
Bands and solos brought to you by our friends at Froggy's in Monroe, Ohio and Hall Around Town Radio (follow the on Facebook)
Froggy's in Monroe – Sponsor of our Thursday LIVE show on Facebook
Friday at 9pm The Diamonds & Boots dance. Dj Songz All dance music from popular bar dances, Disco, Latin, to Country line dances. Sing-alongs from all genres. All boots welcome! Cowboy boots, stilettos, Uggs, Chunkys.. and throw on some sparkly bling for fun!
Saturday at 9pm Don't Tell Steve
Sunday at 1pm the Bengals game
Tuesday – 7:30pm Queen of Hearts jackpot is over $1K
Wednesday - 7pm Karaoke with DJ Songz
---
Mr. Boro's Tavern Springboro 
Thursday – Shannon Schmidt and Carey Hunley 7 to 10
Friday - Party Foul Bandt 8 to 11pm
Saturday - Black Water Voodoo 8 to 11pm
Tuesday – "Quiztastic" Q&A Trivia with Scott at 7pm
Wednesday – Queen of Hearts Drawing. 8pm over 28K
---
The Belle & The Bear (Montgomery)
Thursday "The Award Winning Jam" 7:30ish
Friday – Linus Tate at 8:30 pm
Saturday - Mojo Rizin at 8:30pm
Monday Game Night - 6pm
Tuesday – Jamie Combs Acoustic Jam 7pm
Wednesday – Name That Tune Trivia with Scott 7pm
---
Crooked Handle Brewing Co. Springboro - Piqua location now open
Thursday – TBA - 6pm
Friday – Scott Houchens 7pm
---
Pohlman Lanes & Scott's Bar & Grill (Hamilton Ohio)
Family Entertainment Complex 954 Pyramid Hill Blvd., Hamilton Ohio
Friday at 7pm - Fat Chance
Saturday at 7pm - Locking Up Otis
Monday at 7pm The After Hours Big Band on the lanes
Tuesday at 7pm - Karaoke With Dj KODIE
Wednesday at 1pm matinee performance with the Standard Country Time Band
---
Sorg Opera House
Future show tickets available at Cincyticket.com visit SORG page for more info
---
Soft Rock Café
Karaoke – Thursday- 7:30 pm - Friday 8:30pm - Saturday - 8:30 pm.
---
Lebanon Grand Opry House
TBA - Future Show Reservations by calling 513-850-1770
---
Little River Bar and Grill (Oregonia)
Thursday –– DJ Songz Patioke Party at 7pm Party on the covered enclosed patio
Friday – Streetwise at 7pm
Saturday – Sean Poole and Buckin Krazy 7pm
---
The Blue Note Harrison
Saturday - AC/DC Tribute "Hells Bells" returns to the Blue Note to rock the house! Opening the show it's H & R Rock! 6pm
Future show tickets available at Cincyticket.com
---
Hidden Gem Music Club
Thursday – Blues Jam 8pm
Friday – Bad Movie Night with The Quantumspace Kung Fu Jazz Sccratch Quartet at 7pm
Saturday - California Howdy with special guest Matt Hobbs 8pm
Sunday - Brian Cashwell, Chris Berg, Jim Leslie; Jazz Trio 7pm
Tuesday – Open Mic Night 8PM
---
Lori's Roadhouse
Thursday – Football and Wings
Friday – 4 Low at 8pm
Saturday – Danny Frazier Band 8pm
Sunday – Game Day Football
Tuesday – Line Dancing 7pm
Wednesday – Boozy Bingo and Karaoke at 6pm
---
Miami Valley Gaming
Friday – TBA 9pm Center Bar
Saturday – TBA 9pm Center Bar
---
Rex Patrick and the Country Legends Show in Germantown
Saturday – From 7-10pm live Country music/ Dancing with the Hibberd Connection Band starring Bruce Thomas - Reserve your table now 513-594-1282
---
Brick Tap Tavern
Thursday – Open Mic with Scott Houchens 8:30
Friday – TBA at 8:30pm
Saturday – Side Piece at 8:30 pm
---
Scott Hall – Hall Around Town Radio
Tuesday "Qiztastic" at Mr. Boros Tavern 7pm
Wednesday at The Belle and The Bear for Name That Tune 7pm
Live Monday to Thursday on Hall Around Town Radio
---
Scotty Long / DJ Songz
Wednesdays Froggys Monroe, OH 7pm-11am Karaoke Xperience
Thursdays at Little River Bar and Grill 7pm
Friday at Froggys again this week - The Diamonds & Boots dance
---
Bands, Solos, Duos and Events
Jordan Wood
Monday – Misery and Jen Open Jam 8 till ??
Standard Country Time Band
Friday at Hunter Pizzeria from 6 to 8pm
Wednesday at Pohlman Lanes from 1 to 3pm
Shane deMoss
Thursday at Moe Harrigan's Tavern Kettering, Oh 8:30-11:30
Benny Bodine
Friday at Hank's Local from 7-10 Dayton, OH
Rockstar
Friday at KJ'S in Northern KY from 9- 1pm
Joe Cowels
Thursday Jan 5th The Joe Cowels Band at Trillions, West Chester 7p-11p
Friday Jan 6th Joe Cowels solo at The Grape Vines wine Bar, Crittenden KY 7p-10p
Saturday Jan 7th The Joe Cowels Band at Avenue Sports and Spirits, Lebanon Ohio, 7p-10p
Wednesday Jan 11th Joe Cowels solo at Little York Tavern. Dayton Ohio 7p-10p
Crown Watts
Friday at the KnottyPine 9:00pm
GAMUT—
Saturday at Greenies Sports Bar in Milford, Ohio. 7:30pm-11:30pm
Xero Hour
Friday Xero Hour with Arrows of Apocalypse - Desalitt and Alien Super Jesus (rescheduled from December 23rd) Legends bar and venue in Cheviot, $15 doors open at 7
Dat Band
Saturday at Latitudes from 8:30-12:30
Jet Pack Academy
Kevin McCoy Band
Saturday at Turfway Park 9:30pm
Ben & Pete
Friday at Jayne's on Main- Miamisburg from 8 to 11 PM
Kevin Cooper
Thurs from 730-1130pm: B&B Jam
Friday from 7-11pm: Eyes Up Here at Carlo & Johnny
Saturday from 8-10pm: Kevin Cooper solo at Hamilton's Urban Backyard
Heath Bowling Music
Thursday 1/5 Fairfield Pub 7-10p Fairfield, OH
Saturday 1/6 Cadillac Jacks 830-1230 Shelbyville, IN
Wednesday 1/11 Milano's 7-10p Miamisburg, OH
Donna Kennedy Band
Saturday atn the Amvets 464 Huber Heights 7-11
The Weekend Effect
Saturday opening O'Connor's brand new stage and live music venue addition in Springfield 9-1am. 5$
Short of Stable (full band)
Saturday at The Barrel from 8-12
David Thornton
Thurs,1/5 at Jayne's On Main Miamisburg 7-10
Fri,1/6 at The Rusty Nail in Middletown 8-11
Sat,1/7 at The Swire Inn Middletown 7-10
Don't tell Steve
Saturday at Froggy's from 9-1
Spungewurthy
Friday at the Phonebooth Lounge from 8 to 12
Matthew Allen
Sunday at Dalton Union Winery & Brewery (Marysville) from 2-5 pm
Grey days
Thursday at Krobar from 5-8pm
Friday at E street pub Richmond Indiana from 9 to 12
Jacob William
Saturday at the Rusty Nail from 8-11 Middletown, OH
Linus Tate
Friday January 6 The Belle and The Bear Montgomery, OH 9PM
Linus Tate Unplugged
Saturday January 7 Element Eatery Cincinnati, OH 7PM
Billy Brown
Saturday Jan 7 at 10pm - Bristol Republic in Columbus OH
Margo & Adam
Friday at The Varsity Sports Bar and Grill 7-10pm
6 String Hustle
Thur 1/5 at Liberty Inn from 6-10 Liberty Twnshp, Oh
Fri 1/6 at O'Learys Pub w/ Ashley Knapp from 9-12 Centerville, Ohio
Sat 1/7 at the Loyal Order Of Moose 7:30-11:30 Beavercreek, Ohio
Stays in Vegas
Friday at Fretboard Brewing 8pm
Partytown
Saturday at the Knotty Pine 9:30pm
Suburban Riot
Saturday at Bock Family Brewing 7pm
Goldie
Friday – Tim Goldrainer at Jefferson Social 6pm
Paul Cullen
Saturday at Good Time Charlies 8:30pm
If you would like to have your musical act featured on our weekly podcast or in Warren County Post contact us @Hall Around Town Radio on Facebook! For additional Band information follow our daily Facebook "Live at Five" program @Hall Around Town Radio
More News from Springboro