Who's Playing Out: Brought To You By Hall Around Town Radio April 27th
Image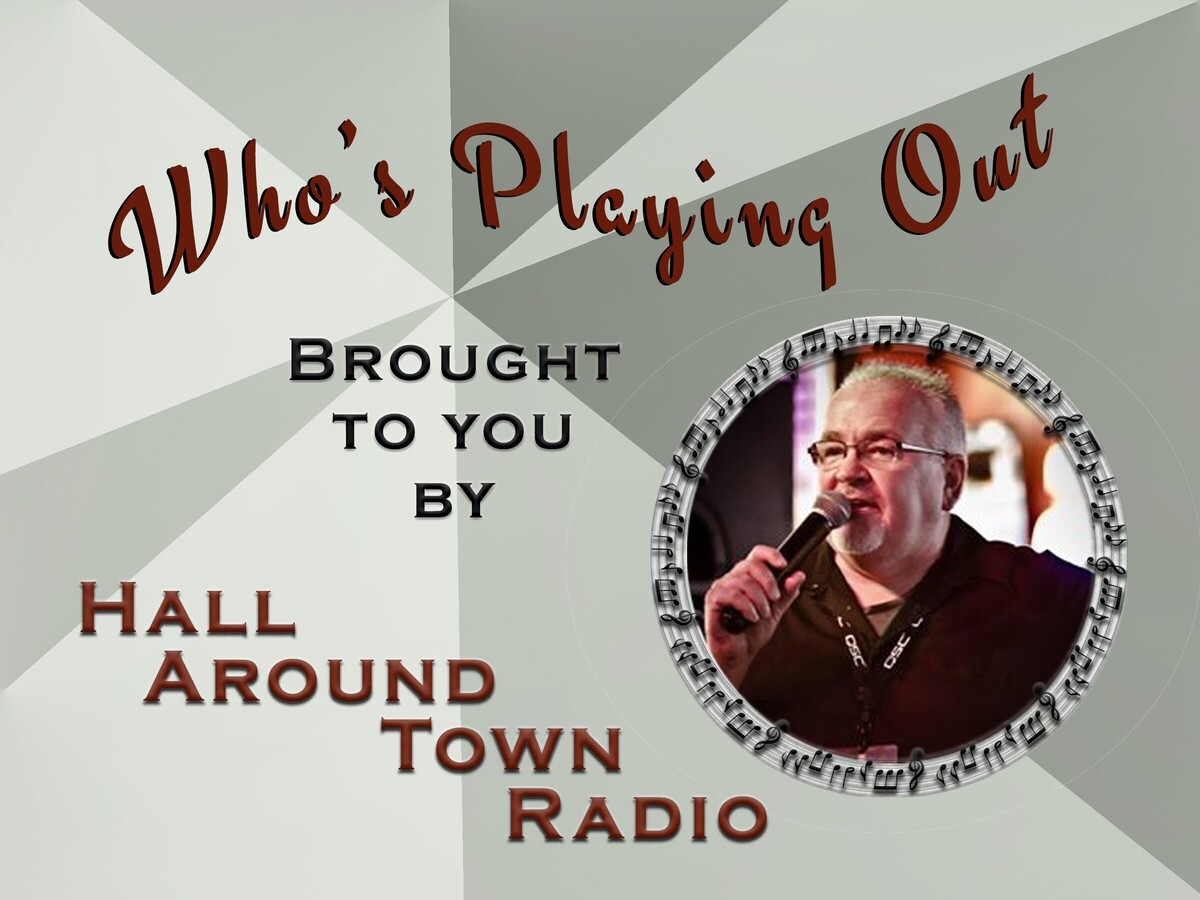 Brought to you by Scott Hall from "Hall Around Town Radio"
A little live music can turn an ordinary day into a memorable experience. The area's top musicians take center stage at some of the tri-states best restaurants and nightspots, bringing live music to our region nearly every night of the week. Make your first stop here weekly to find out "Who's Playing Out" at one of our live local music venues.
Bands and solos brought to you by our friends at Froggy's in Monroe, Ohio and Hall Around Town Radio (follow them on Facebook)
---
Froggy's in Monroe – Sponsor of our Thursday LIVE show on Facebook
Friday at No Band … Touch Tunes
Saturday at 8pm Ninety-four
Tuesday 7pm Frog-ingo, 7:30 Queen of hearts
Wednesday 7pm Just Fun Karaoke with DJ Cliff
Starting in May on Thursdays – Acoustic Artists Patio Ssries 5 to 9pm
---
Mr. Boro's Tavern Springboro
Thursday – Benny Bodine with Heath Bowling 7 to 10
Friday – Route 88 8 to 11pm
Saturday – White Knuckle Weekend 8 to 11pm
Sunday – The Wright Brothers III 2 to 5pm
Tuesday – "Quiztastic" Q&A Trivia with Scott at 7pm
Wednesday – Queen of Hearts Drawing. 8pm 32K.
---
Heathers "On the Patio"
Seasonal - Grand Opening Week Begins May 2nd
Tuesdays – Bingo & Queen of Hearts Starts May 16th
Wednesdays – Name That Tune with Scott 7pm Season Opener
Thursday – Friday and Saturday Live Music
---
The Belle & The Bear (Montgomery) - Award Winning
Thursday "The Award Winning Jam" 7:30ish
Friday – The Inturns at 5pm and Johnny Fink and the Intrusion at 8:30 pm Poker Run/Ride
Saturday - Under The Sun at 9pm
Monday - Game Night - 6pm
Wednesday – Rick Kern - 7pm
---
Crooked Handle Brewing Co. Springboro
Thursday – Ricky Veeneman 6 to 9pm
Friday – Good Song Guy 6pm to 9pm
---
Crooked Handle Brewing Co. Piqua
Saturday – Until Rust 6pm to 9pm
---
Soft Rock Café
Karaoke – Thursday- 7:30 pm - Friday 8:30pm - Saturday - 8:30 pm.
---
Pohlman Lanes & Scott's Bar & Grill (Hamilton Ohio)
Family Entertainment Complex 954 Pyramid Hill Blvd., Hamilton Ohio
Friday - Rock and Bowl with DJ Krutch at 7pm
Saturday – Locking Up Otis 7pm
Monday - After Hours Band 7pm
Tuesday Karaoke DJ KODIE 7pm
Wednesday - Standard Country Time Band 1pm
---
O'Connors Irish Pub Springfield
Thursday – Open Jam 7 to 10 in the music venue
Thursday - Karaoke 9pm in the dining room
Friday – Matthew Clarkson Band 9pm
Saturday – DJ EZ at 9:30pm
Monday – Trivia with Matt Allen 7pm
Tuesday – Acoustic with Ryan Fyffe 8pm
Wednesday – Karaoke 10pm
---
Sorg Opera House
Saturday May 6th – Riders In the Sky at 8pm
Future show tickets available at Cincyticket.com visit SORG page for more info
---
Little River Bar and Grill (Oregonia)
Thursday –– DJ Songz Patioke Party at 7pm Party on the covered enclosed patio
Friday – Sean Poole and Buckin Crazy at 7pm
Saturday – Simple Daze at 8pm
Wednesday – Singer Songwriter Open Mic 6 to 9pm
---
The Blue Note Harrison
Friday – it's Rittz! Opening the show it's Emilo Rojas and Noble Poets! at 6pm
Saturday - Styx tribute "Best Of Times"! Opening the show it's Foreigner tribute "Hot Blooded"! Rocking in the pub it's Flipside! Show starts at 6pm.Tickets available at Cincyticket.com
---
Hidden Gem Music Club
Thursday – Generations Big Band 7pm
Friday – Ohio Dreamfest Pre Party with Dustin Smith and the Daydreamers, Zoo Trippin', Easy Tiger, Tell No One at 5pm
Saturday – Soul Express at 8pm
Sunday – UD New Horizons Jazz 7pm
Tuesday – Open Mic Night 7:30PM
---
Lori's Roadhouse
Friday – Ella Langley at 8pm
Saturday – 4 Low at 8pm
Tuesday – Line Dancing Lessons 7pm
Wednesday – Boozy Bingo and Karaoke at 6pm plus Queen of Hearts …
Tickets at LRHLIVE.com
---
Miami Valley Gaming
Friday - Billy Rock Band 9pm Center Bar
Saturday – DJ Big Daddy Walker 9pm Center Bar
---
Milanos (Miami Township)
Wednesday – Live Music 6 to 9pm
Rex Patrick and the Country Legends Show in Germantown
Saturday – Tyler Christopher as Elvis –doors open at 5:30 Music 7 to 10
Reserve your table now 513-594-1282
---
Moe Harrigan's Tavern
Thursday – Doug Hart (Debut) 7:30
Friday – Benny Bodine at 8pm
Wednesday – Nick Mitchell 8pm
---
The Brick Tap and Tavern
Thursday – Scott Houchens LIVE at 8:30pm
Friday – Finding Melissa at 8:30pm
Saturday – The Doug Hart Band from 8:30 to midnight
Wednesday – Doug Hart Solo 7:30pm
---
Ricks Tavern
Friday – Counting Skeletons at 8pm
Saturday – Don't Tell Steve at 8pm
---
KnottyPine
Thursday – TBA 7pm
Friday – Black Bone Cat from 9 to 1
Saturday – Crown Watts from 9 to 1
---
Scotty Long / DJ Songz
Thursdays - Little River Oregonia, OH. PatiOKE Party 7pm!
Tuesday – Boozeday at Trillions in West Chester, OH. Karaoke Party 8pm
---
Scott Hall
Tuesday at Mr Boros Taver for Quiztastic Tuesday Trivia at 7pm
Wednesday – Heathers Season Debuts on Wednesday May 3rd Name That Tune Weekly Residency
Bands, Solos, Duos and Events
VISITOR
Tuesday at Cracker Jacks "Bike Night" from 7-11.
Liquor Store Dogs
Friday at The Dugout 8:30pm
Pauly and the Fall From Grace
Saturday at Satch's Bar and Grill 8pm -12
Side Piece
Friday at O'Learys in Centerville from 8 to 11
Retroactive Band
Friday from 7 to 11pm at the Monkey Bar
Benny Bodine
Thursday at Mr. Boro's Tavern (with Heath Bowling) from 7-10 - Springboro, OH
Friday at Moe Harrigan's Tavern from 8-11 - Kettering, OH
Until Rust
Saturday at Crooked Handle in Piqua, Oh 6 – 9pm
Nick Wheeler
Friday - Performing at the Kyle Mayes memorial show Courtyard Lounge in Englewood 7-12
Velvet Crush unplugged
Friday at the Dublin Pub Dayton oh from 8-11
Velvet Crush full band
Saturday - Oregon district park party brought to you by "Glass House Reaty" Dayton oh 2-6 public welcome
Chad Applegate
Friday solo at Talon Tavern in Milford Oh from 8 to 11pm.
Wednsday every week at Chiefs Lake in Clarksville Oh from 7 to 10pm
Six String Hustle
Thursday from 7 -11 at BAAB's Middletown, OH
Friday from 9-1at Club Trio Cincinnati, OH
Saturday from 8-12 at Spinning Wheel Tavern Morning View, KY
Wednesday from 7-10 at O'learys Pub in Centerville, OH
Linus Tate
Thursday - Tunes and Blooms 2023 The Grove at Cincinnati Zoo 6PM
Friday at Smoke Justis Covington, KY 7:30PM
Saturday at DeShas American Tavern Cincinnati, OH 6PM
Joe Cowels
Friday The Joe Cowels band at the Avenue Sports and Spirits Lebanon Ohio 7p-11p
Saturday April 29thJoe Cowels solo show at Putters in Maineville 7p-10p
GAMUT
Friday at Belterra Park 8pm
Saturday at MVP Sports Bar 8:30
Kevin Cooper
Thursday from 730-1130pm: B&B Jam
Friday from 6-10pm: Kevin Cooper solo at Z Place For Wine And Cheese (Montgomery)
Saturday from 8pm-12am: The Hanky Panks at Trillions
Sunday from 4-8pm: The Hanky Panks at Kreimer's River Bar (Cleves)
RED HOT RIOT
Saturday at Gano Tavern- 7:00 PM-"80's Rock 'N Soul Dance Party"
The BillyRock Band
Friday at 9:00pm Miami Valley Gaming
Saturday at 8pm - Bishop's Quarter
Johnny Fink
Friday - Johnny Fink and the Intrusion at the Belle and the Bear 830pm
Saturday the Gina and Johnny duo at Smoke Justis 7:30pm
Whiskey Town
Friday at Peecox in Erlanger 8pm
Saturday at Dixie Station 8pm
Marsha Brady
Saturday at Boots n Bourbon in Celina Ohio - 9:30pm - 1:30am
Acoustic Blue
Thursday 6:30 at Par's Place, Fairfield, Oh.
Crown Watts w/Jim Questa
Saturday at KnottyPine 9:00pm
Adam West and the Beez Kneez
Friday from 9-11 at Woolly's in Franklin
Xero Hour
Saturday at Madison Live doors open at 8 music starts at 830. Also featuring Form of Aggression and The Eternal Now $12 at the door. $8 presale.
Lee Dixon
Thursday at Smoke Justis 7:30pm
Michelle Robinson Band
Friday at Turfway Park 9:30-12:30
Stays in Vegas
Saturday at Fretboard Brewery's "Promery" 8-11
Joe Lipinski
Friday - jersey joe will be on bass with the fabulous party band "Dave'd and Confused" at the Phone Booth Lounge in Kettering 8 -12.
Cryin Out LOUD
Friday from 8-12, at the Miamisburg Moose
White Knuckle Weekend
Saturday at Mr Boro's Tavern from 8-11.
The Weekend Effect
Saturday at Bojangles (debut) 9pm-1am
Ben & Pete
Friday at Lucky Star Brewery/Miamisburg from 8 to 11 PM
Chris Lee Acoustic
Saturday at Maya Mexican Restaurant in Milford OH. 6pm-9pm
Short of Stable (full band)
Friday at Good Time Charlie's from 8:30-12:30
The Homegrown Band
Friday from 7-10 at Jaynes on Main
Don't Tell Steve
Saturday at Ricks Tavern 8-12 for Steph's birthday extravaganza
Bryan Scott
Friday the Bryan Scott project at Queen City Harley Davidson bike night 6 to 9 West chester
Saturday at Krobar at Becket Ridge 6 to 8pm
If you would like to have your musical act featured on our weekly podcast or in Warren County Post contact us @Hall Around Town Radio on Facebook! For additional Band information follow our daily Facebook "Live at Five" program @Hall Around Town Radio